Day Trip to Suan Son Pradipat Beach by Train
The following is my live trip report that I posted on Facebook and Twitter as the train journey progressed. All photos were shot on my iPhone. For more details about this trip, visit the main page for Excursion Train to Suan Son Pradipat Beach.
LINK: How to Buy Train Tickets Online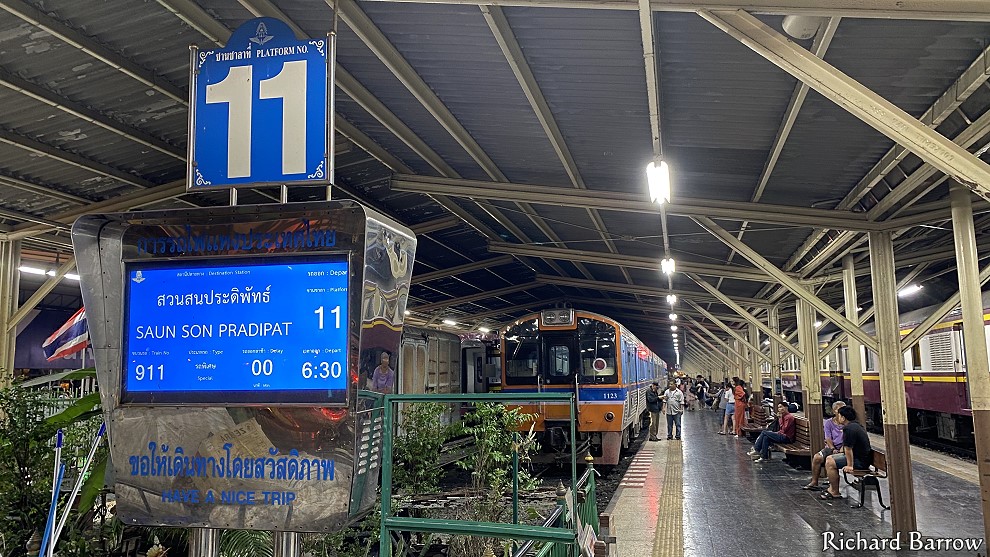 Good morning from Bangkok Railway Station. Today I'm catching the special excursion train to Suan Son Pradipat beach to the south of Hua Hin. The train left on time which is a good start. First stop will be in Nakhon Pathom.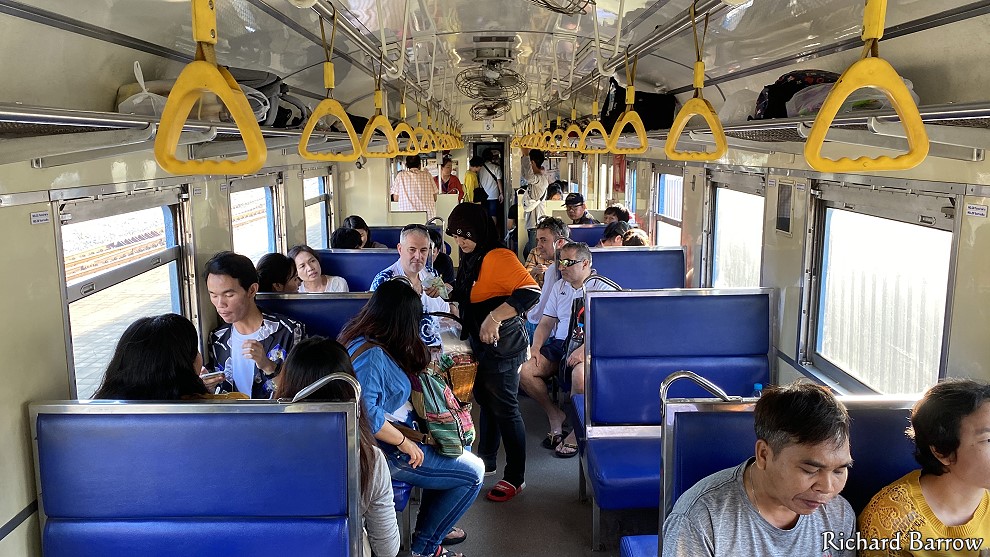 The special weekend excursion train to Suan Son Pradipat has three carriages. One is 2nd Class with air-con and two are 3rd Class with fan. I'm in the 3rd Class carriage as the views through the open windows are better. The seats are padded but I guess not really that comfortable for long journeys. The return journey in 3rd Class is 120 Baht and 2nd Class is 240 Baht. It is advisable to book at least a week or two in advance. However, I bought mine two days ago. At that time 2nd Class only had two seats left and 3rd Class 54 seats. I was very lucky. The excursion trip to Kanchanaburi sells out a lot quicker.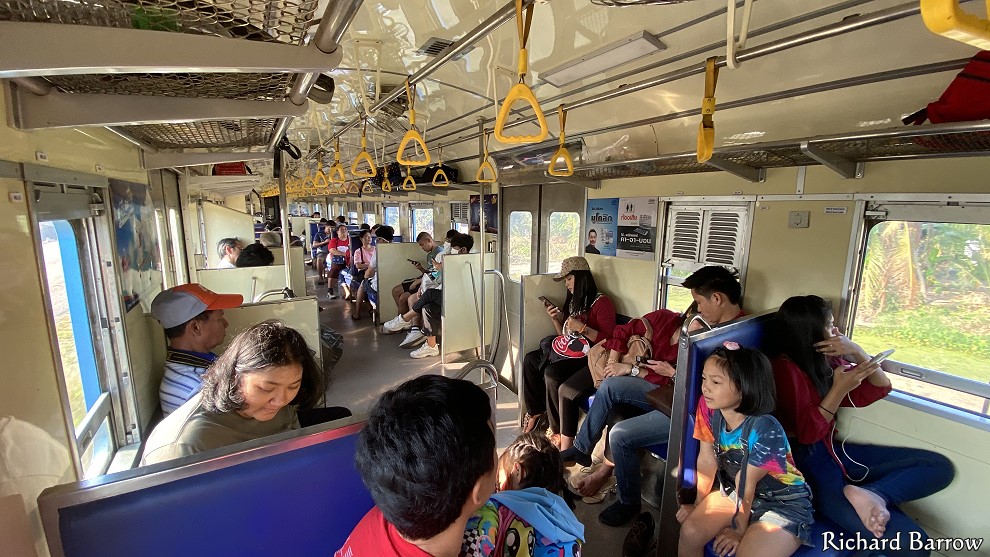 Some branch lines still have wooden seats so I guess I should be grateful that we had some padding on the seats. However, there wasn't much leg room. Most seats face each other and so if you are sitting opposite a large person with long legs, like myself, you won't have much leg room. I was fortunate that I was sitting opposite a four year old kid who spent most of the journey sitting cross-legged on the seat or sleeping in his father's arms. At first I thought those seats facing inwards would be better, but that was when only two people were sitting there. A man who had bought a seat on the left in this picture had to sit on the floor as there wasn't enough room for the three of them. I should point out that when you buy tickets for the excursion train, you are given seat numbers. The conductor checks this when he comes round. Not everyone gets on at the the first station and so an empty seat might actually be reserved for someone.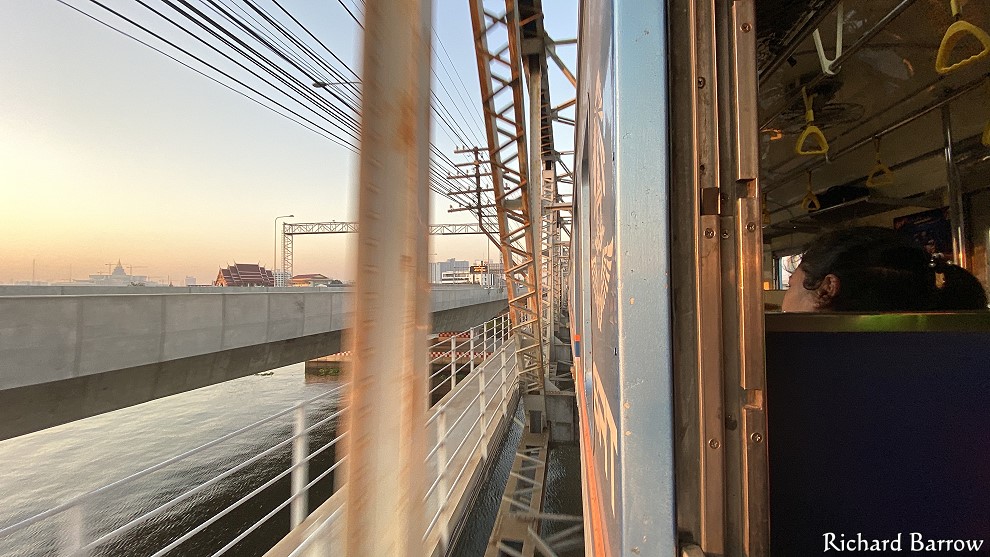 This is the King Rama VI railway bridge in Bangkok (see map). We crossed it at sunrise. In the background, you can see the spire of the new parliament building. This was the first bridge that was built to cross the Chao Phraya River. It was officially opened on 1st January 1927. Trains cross this bridge to go to Southern Thailand and out to the West to Kanchanaburi. It was badly damaged by Allied bombers during the Second World War. Repair work was carried out during 1950-53 and it was then officially re-opened on 12th December 1953. At 441 meters, it is the longest railway bridge in Thailand. The River Kwai bridge is 132 meters.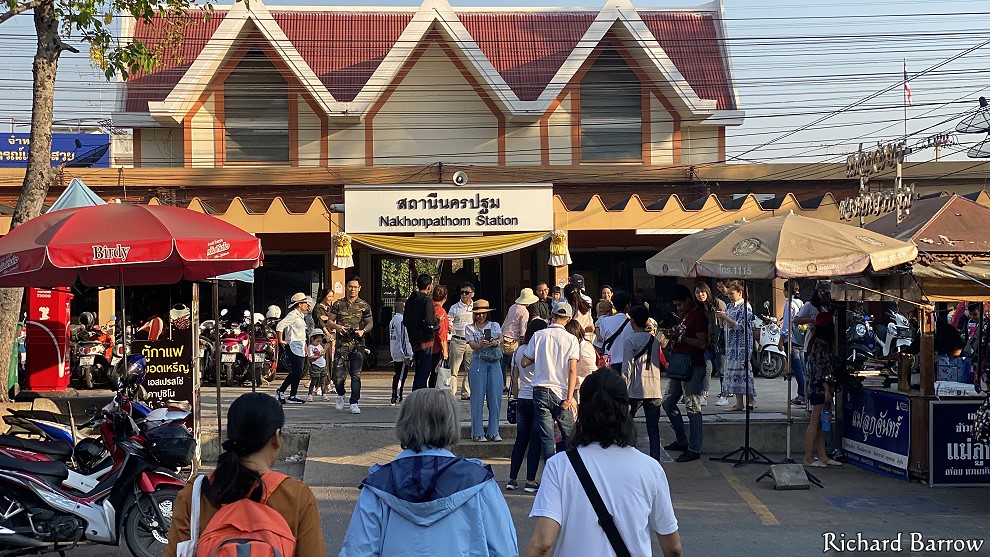 Our first stop on the special weekend train excursion to Hua Hin was in Nakhon Pathom. From Bangkok, it is only one hour and ten minutes to reach here. The conductor said we were allowed to get off here and explore for 40 minutes. He added a warning that if we were late back, they wouldn't wait.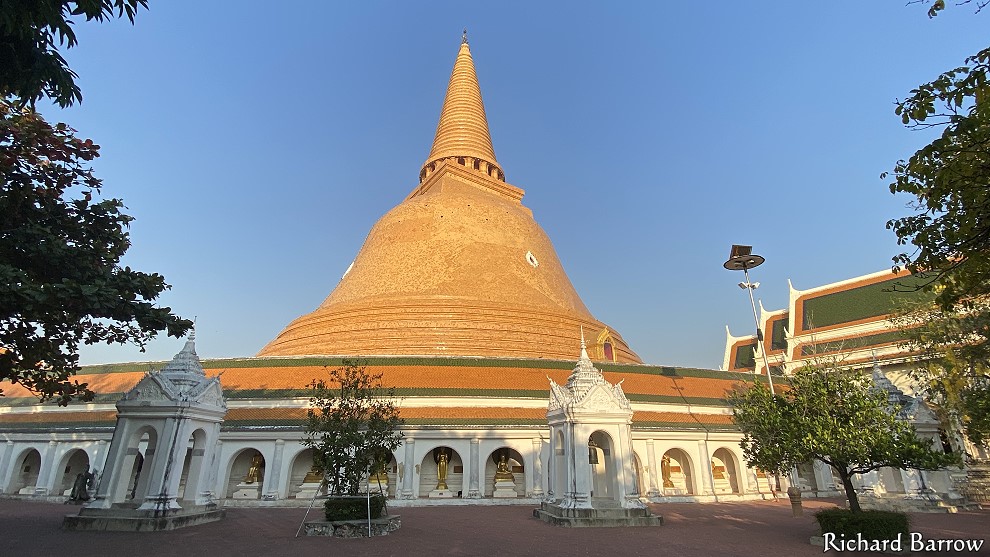 Most people went to pay respect to the Buddha images at Phra Pathom Chedi. This is only a ten minute walk. The giant stupa is the biggest in Thailand at 120.45 meters high and with a base circumference of 235.50 meters. The short walk goes through a market and this is a good place to eat breakfast or buy some snacks to eat later on the train.
📍 Map: https://goo.gl/maps/3EGZ6xT7o4tq9X9D7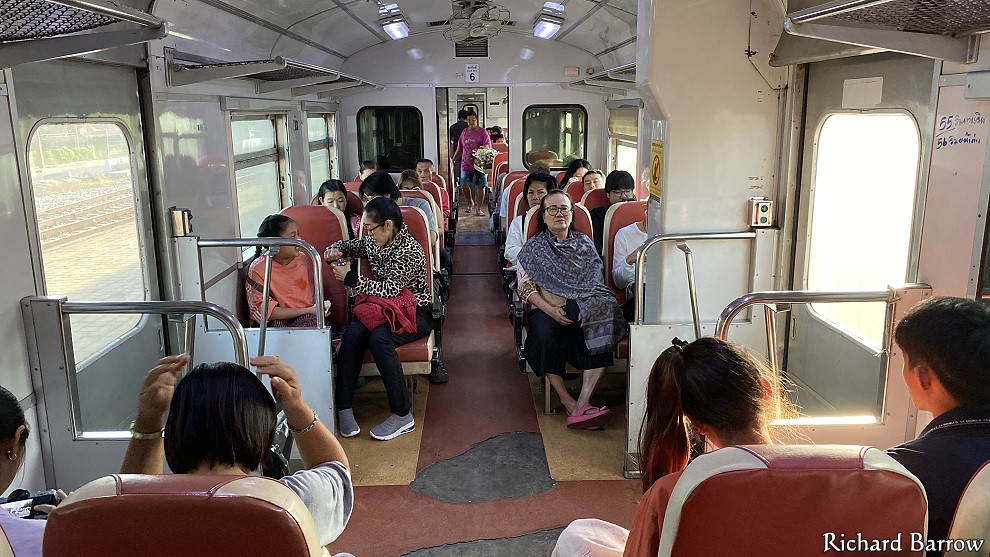 These two photos show what it is like in the 2nd class carriage. As you can see, the seats are more cushioned, they recline and probably have more leg-room. This carriage is also air-conditioned. However, it is not the best of the 2nd Class carriages that the SRT have. Their newer ones are much better than this one.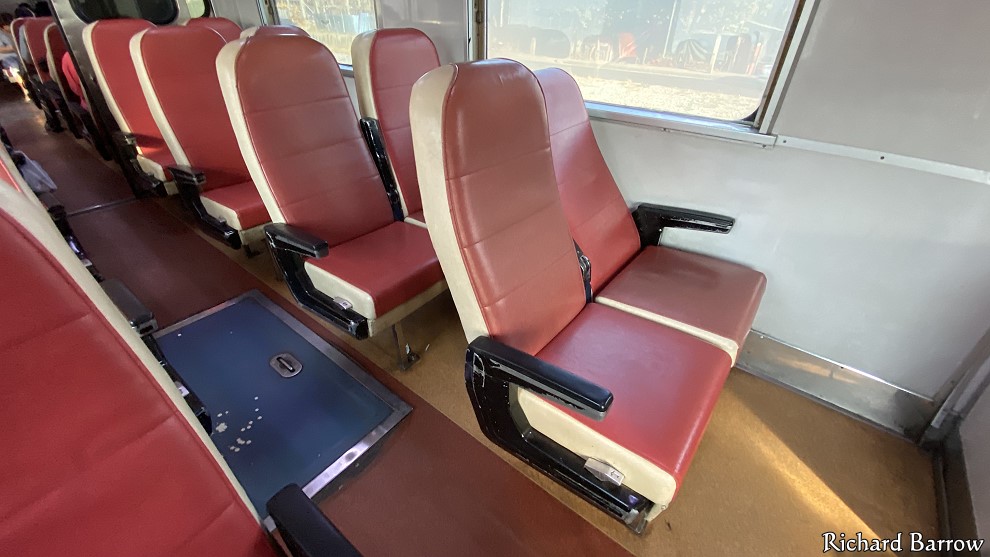 The downside to the air-conditioned carriages is that you cannot open the windows. Yes, some people might prefer that kind of comfort, but I find that the windows are often dirty and you don't really get much of a view. For me, the train journey and the people you meet as you go along are as much part of the adventure as the destination. Yes, having the window open might be a bit hotter and probably a lot dirtier, but for me, it is a lot more enjoyable this way. Well, at least for those journeys that don't last too long!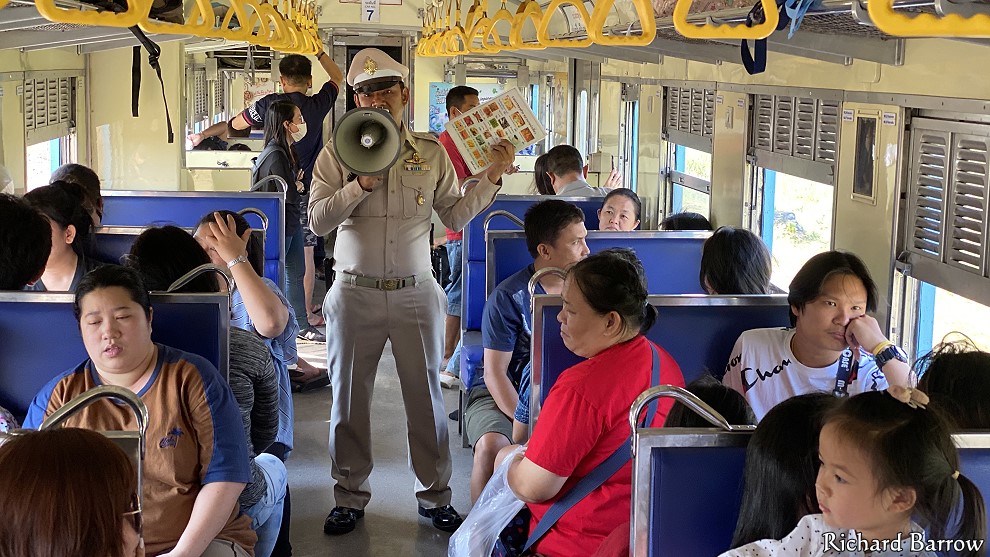 One thing that you shouldn't miss on train journeys is the food. At nearly every station we stopped, vendors came on the train selling local food. In addition, you can order food from a menu for your return trip. After we left Nakhon Pathom, the conductor came around the carriages to give out information about the trip and also to show us a menu of food souvenirs. He said that we could order them now and they would then be delivered to us on the return journey.
As you can see, the menu is in Thai, but if you are unable to read it, you should be able to work out what is on offer. I ordered Ratchaburi noodles and a fish curry, the first two on the menu. I will then get that fish curry when the train stops in Cha-am and the noodles when it stops in Ratchaburi on the return journey.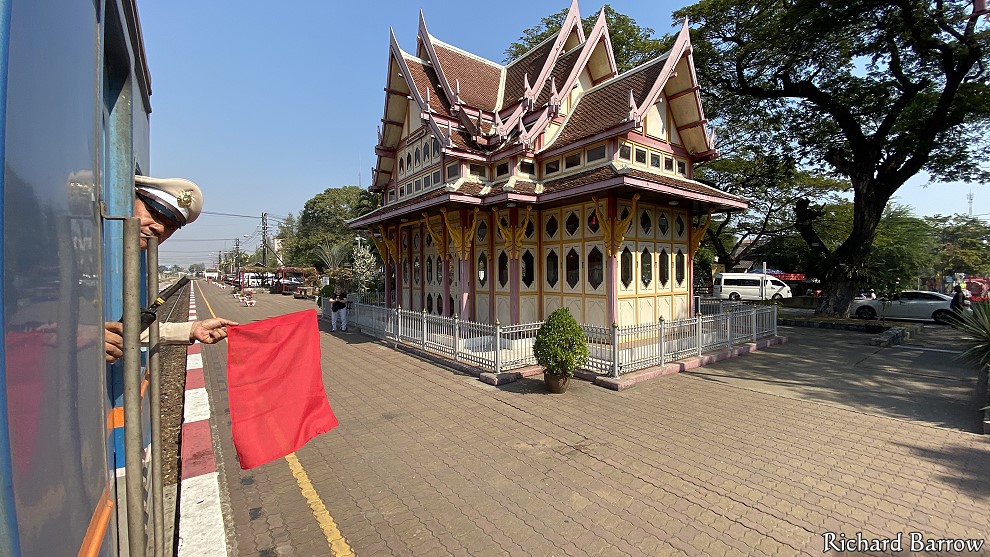 Ten minutes before we reached our final destination at Suan Soan Pradipat station, the train stopped in Hua Hin town. The conductor had told us that we had three options for beaches. The first one was Cha-am Beach. I don't think anyone got off there. The second option is this one in Hua Hin town. He said you can get a songtaew from here to the beach or walk for about 10-15 minutes. I think I saw only half a dozen people get off here.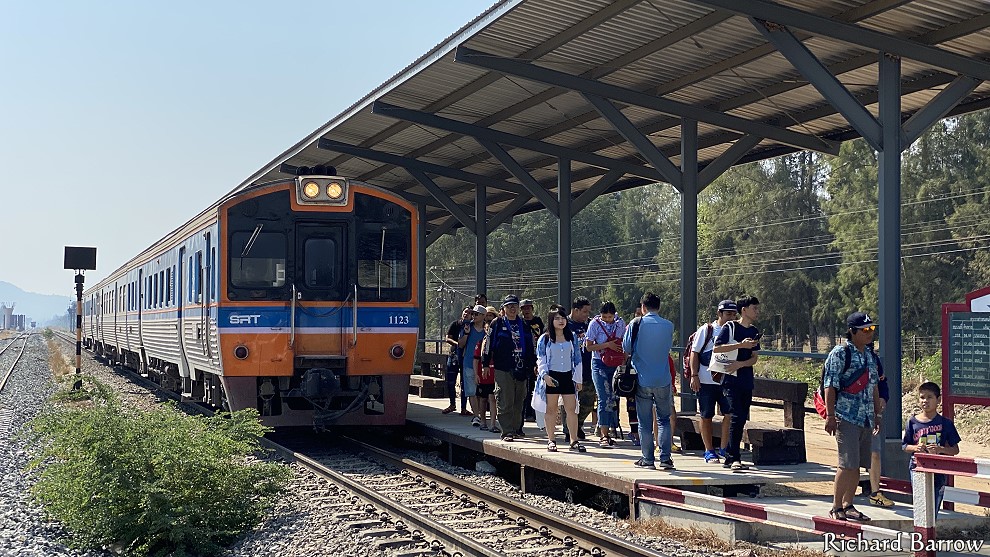 This is Suan Soan Pradipat station where the majority of people got off. It is about ten minutes south of Hua Hin. Of all of the stations, this is the nearest one to the beach. From the platform, just cross the tracks, turn left at the junction and then right and you are there! I guess it takes less than five minutes. The train doesn't stay here so the conductor told us to take all of our belongings. He said he would be back shortly before 3:30pm. He said the train will leave on time and so don't be late. The alternative would be to take a bus back to Bangkok.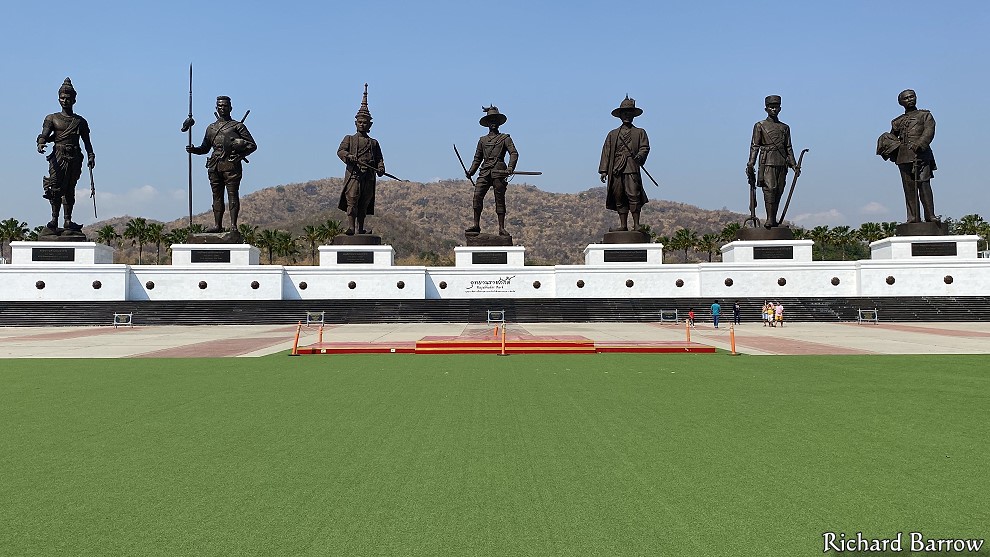 My first stop after arriving at Suan Soan Pradipat station was Rajabhakti Park. This is only a 15 minute walk away. Everyone else headed straight to the beach, but I wanted to see the seven giant Thai kings. To reach here, turn left from the station and head to the main road. Turn right and walk a short destination to the traffic lights. Cross the road here and you will see the main entrance to the park. I knew the statues were going to be big, but it is only once you are up close do you fully realize their size. Each statue is made from bronze and has an average height of 13.9 meters.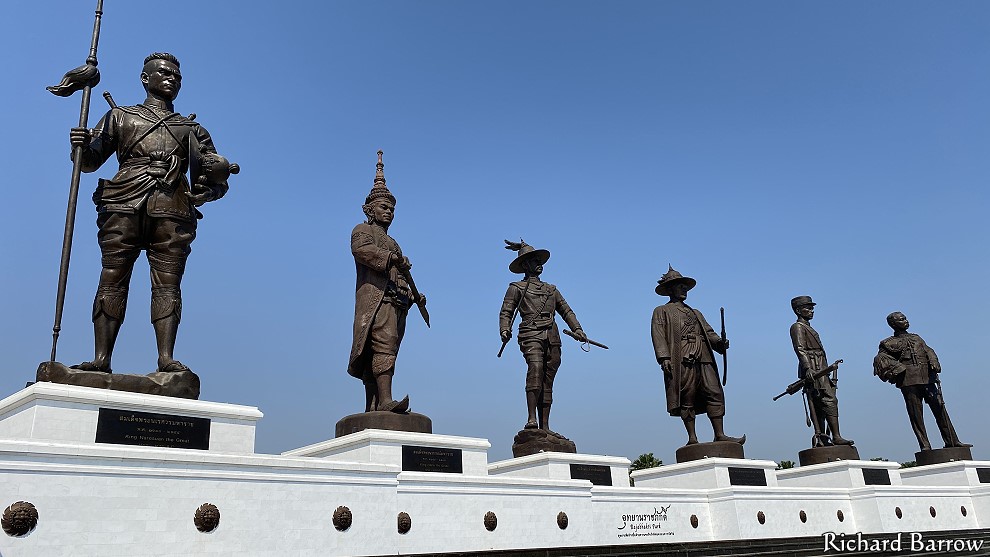 The seven revered kings depicted here are King Ram Khamhaeng (reigned 1279-1298) of the Sukhothai period, King Naresuan (1590-1605) and King Narai (1656-1688) of the Ayutthaya period, King Taksin (1767-1782) of the Thonburi period, and King Rama I (1782-1809), King Mongkut (1851-1868), and King Chulalongkorn (1868-1910) of the Rattanakosin period. Entry to the park is free.
📍Map: https://goo.gl/maps/nSu4trkrBybz4uZA9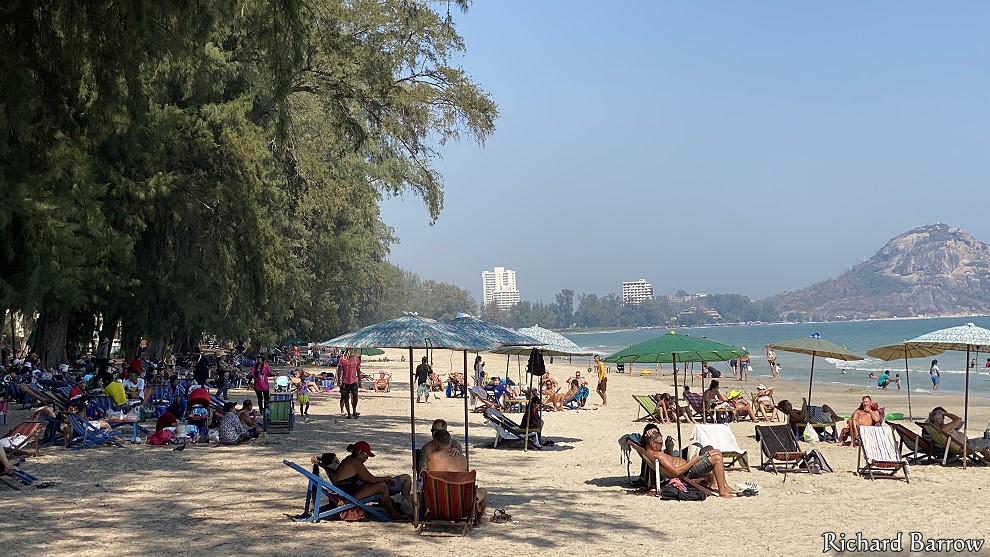 This is Suan Son Pradipat Beach in Hua Hin District of Prachuap Khiri Khan province. I'm here on the weekend excursion train trip from Bangkok. We have just over four hours here before the train returns to Bangkok at 3:30pm sharp.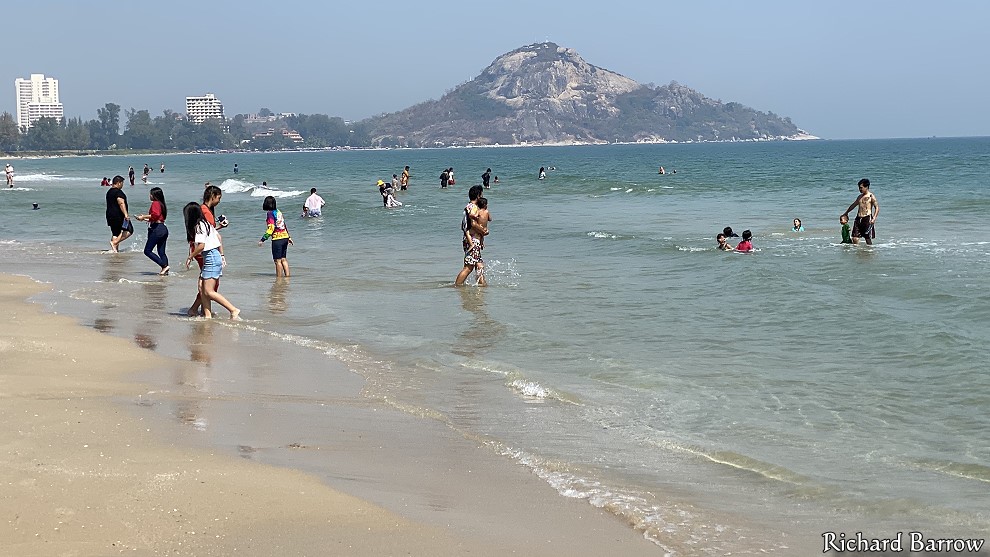 Suan Son Pradipat Beach is in the Army Rehabilitation and Recreation Center. The public are allowed in here for free. It is actually quite a nice beach. Unlike Hua Hin Beach further north, there are no rocks or boulders. There are large Casuarina trees at the top of the beach which provides some shade for people who don't like too much sun. Or if you want to sunbathe, then you can sit on the white sand or a deck chair which only costs 20 Baht for the day. The perfect kind of beach as you have the best of both worlds.
📍Map: https://goo.gl/maps/DZVV2XgxZhR3EkGh8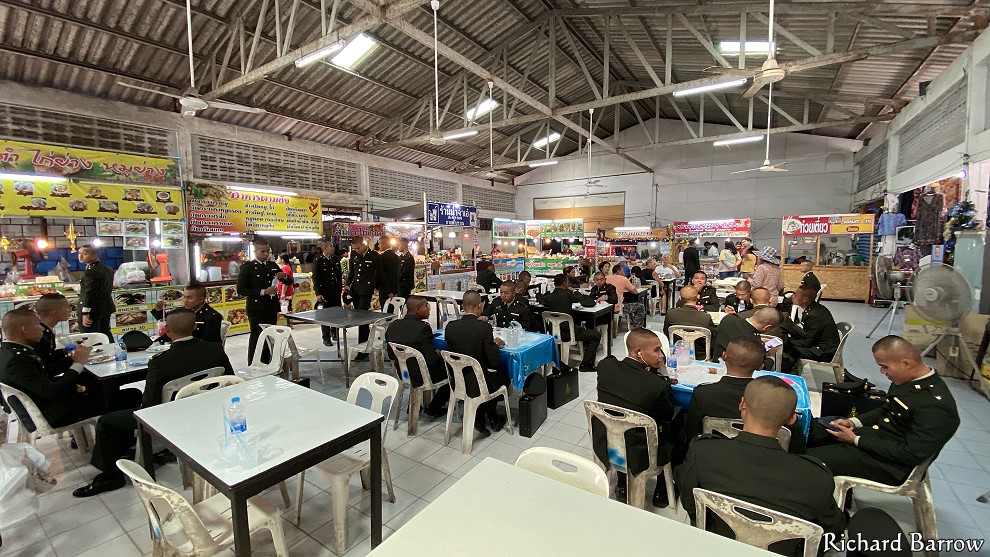 Food options on ‪Suan Son Pradipat Beach are pretty good. If you don't mind the price, there is a restaurant called Tiw Son at the top of the beach. But I chose to eat in the food court as the prices were better and there was more choice. As you can see, army cadets chose to eat here too, and so it must be a good price.
📍Map: https://goo.gl/maps/R4kMXSjZ7c484MGD7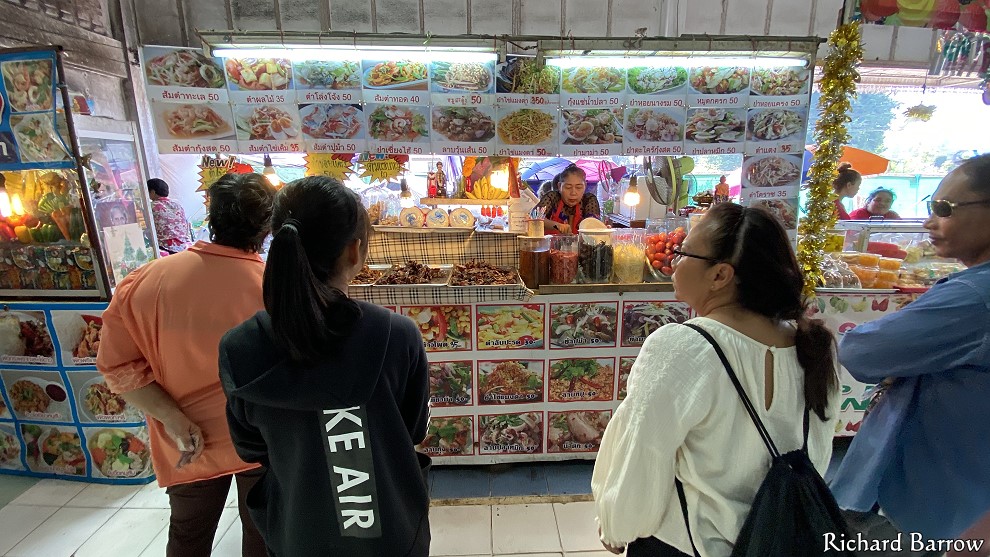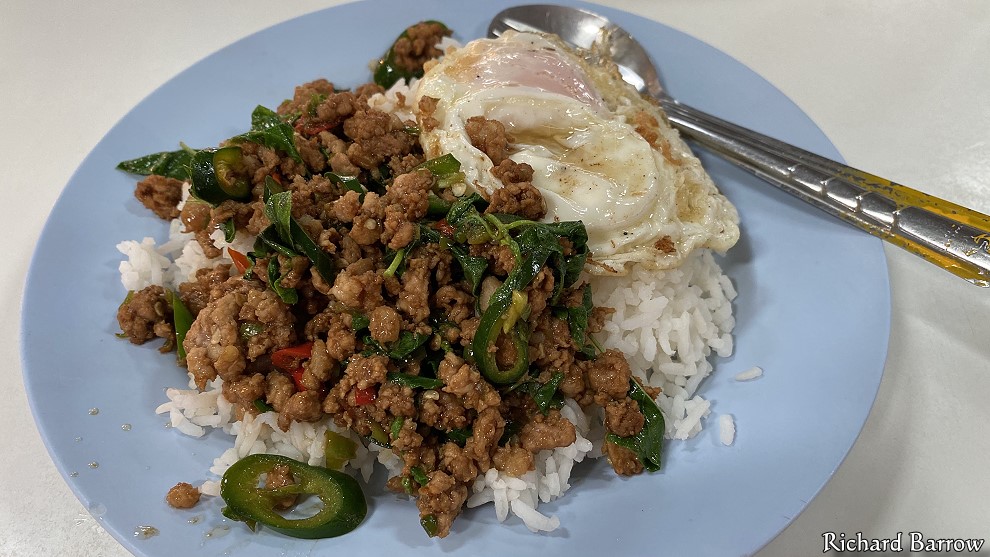 I had stir fried basil and minced pork on rice with a fried egg for 50 Baht.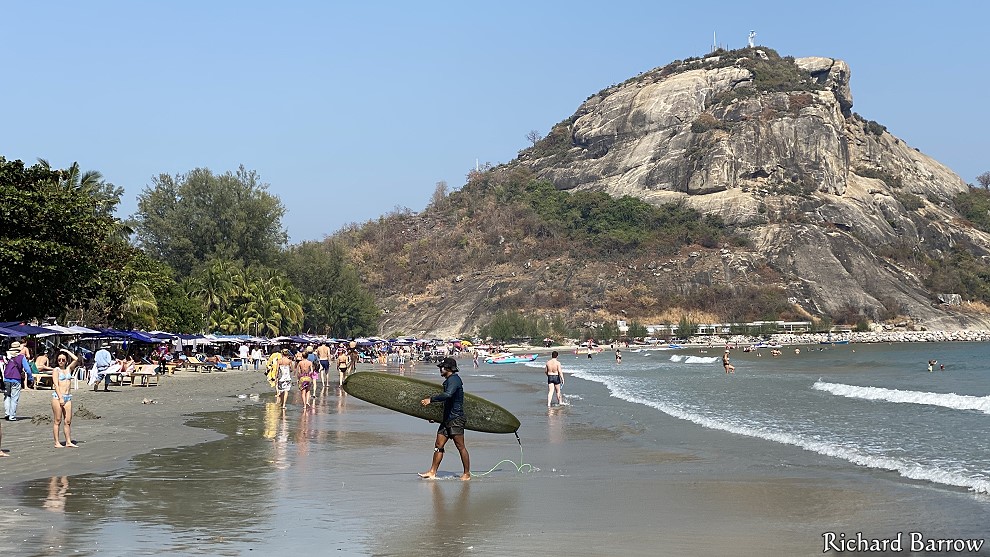 A twenty minute walk north of Suan Son Pradipat beach is Khao Takiab beach. This end is more popular with foreigners and so is more expensive. There is a temple with monkeys on top of the hill and a Standing Buddha on the shoreline on the other side. I was originally planning on exploring the hill too but I will save that for another day. ‬
‪📍Map: https://goo.gl/maps/wiXwPVP7KMA1q3ur7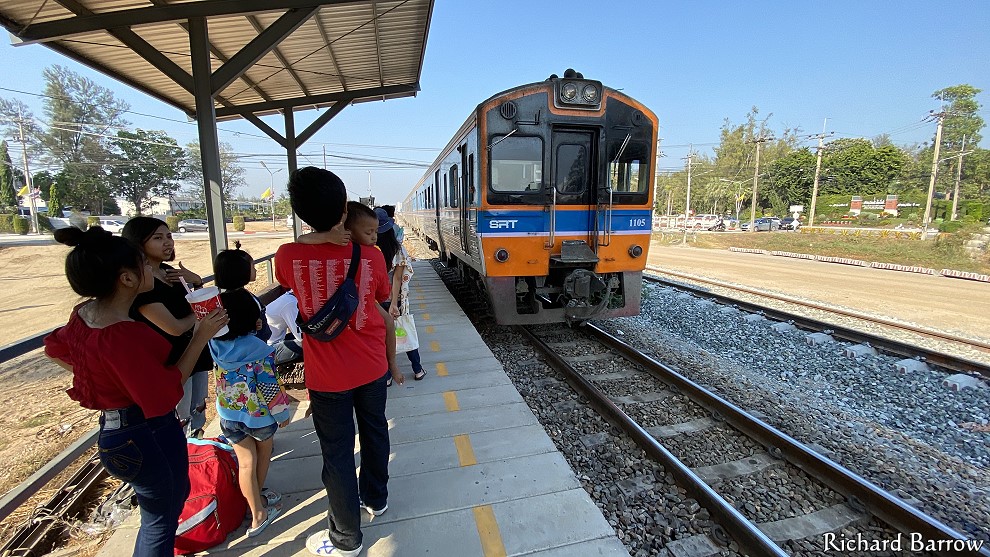 Back on the excursion train after a relaxing time on Suan Son Pradipat beach. It's now a straight four hour ride back to Bangkok. We should arrive at about 7:30pm.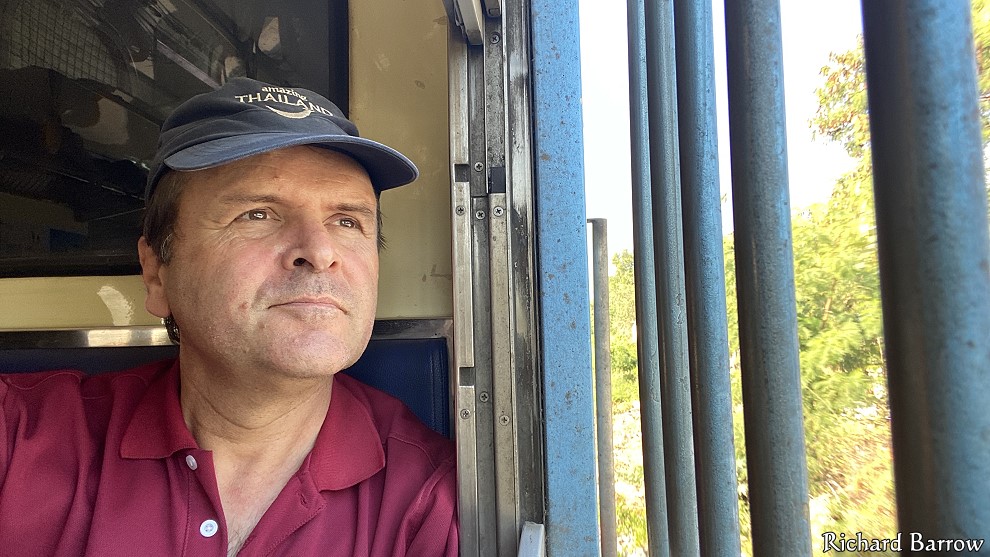 Someone said that it was a long way to go for just a few hours on the beach. But, I disagree. The journey there and back is just as much part of the adventure as the destination. I brought along a book to read but I didn't touch it. I was busy looking out of the windows enjoying the changing countryside and chatting with my fellow passengers. Though, I think on the way back, many will be fast asleep.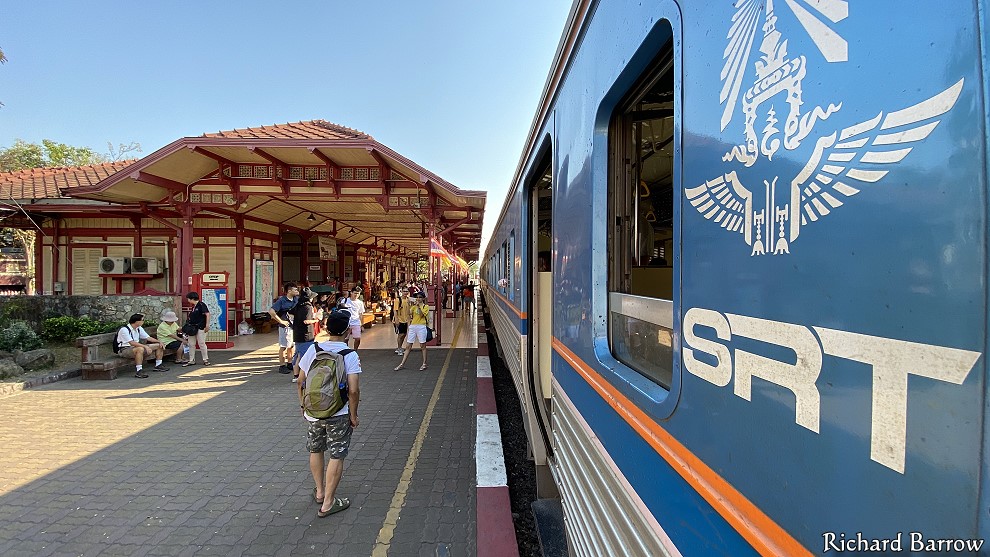 This is Hua Hin railway station. Probably one of the most beautiful stations in Thailand. We picked up a few passengers here who had decided to make this their destination for the excursion trip.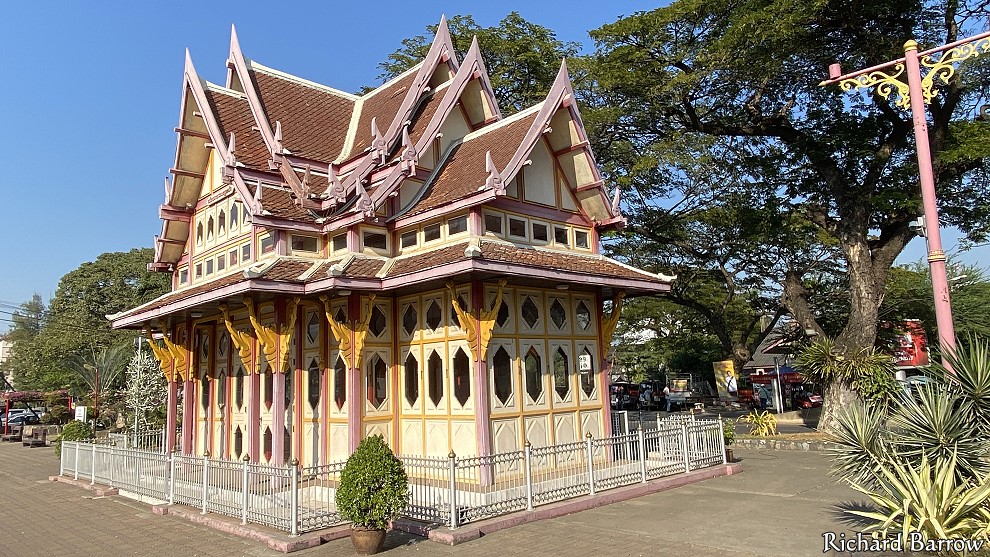 This is the royal waiting room on the platform at Hua Hin station. It is looking quite dilapidated now. It desperately needs a new coat of paint and a changing of the roof tiles.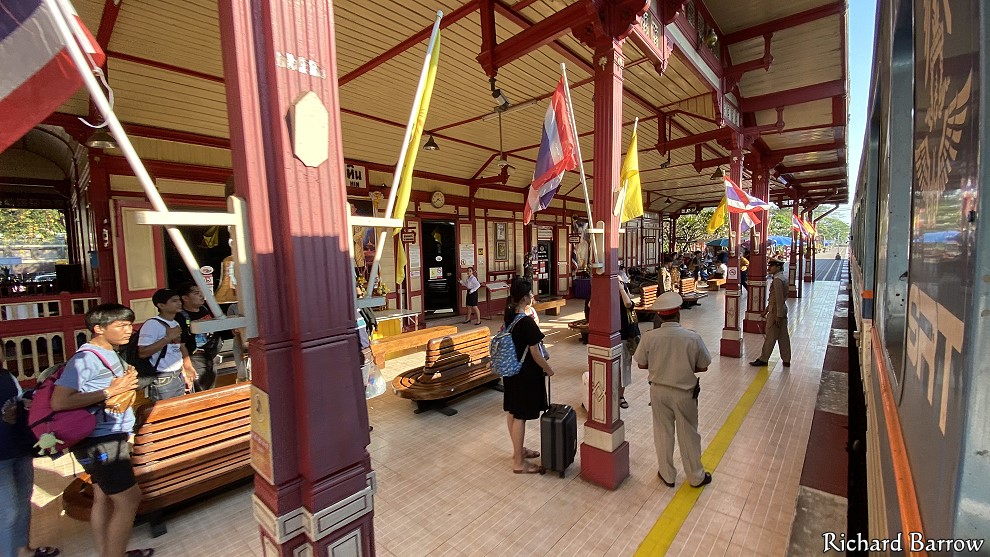 The Hua Hin railway station as we pulled in. Whenever I visit this seaside resort, even if I come by car, I usually try and visit the train station as it is a tourist attraction in its own right.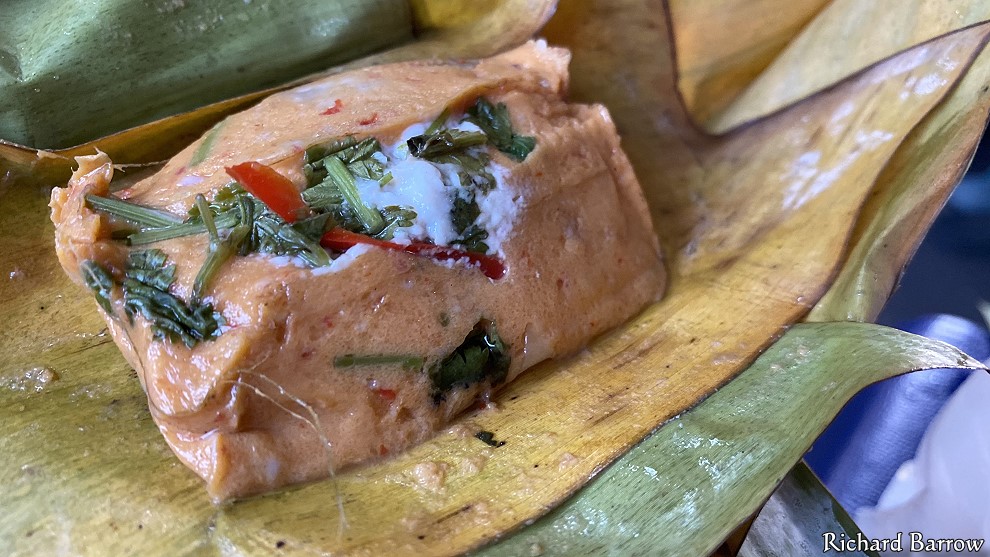 This is my meal this evening on the train. I ordered it earlier. The fish curry came on board when we reached Cha-am station. Four of these cost me 60 Baht.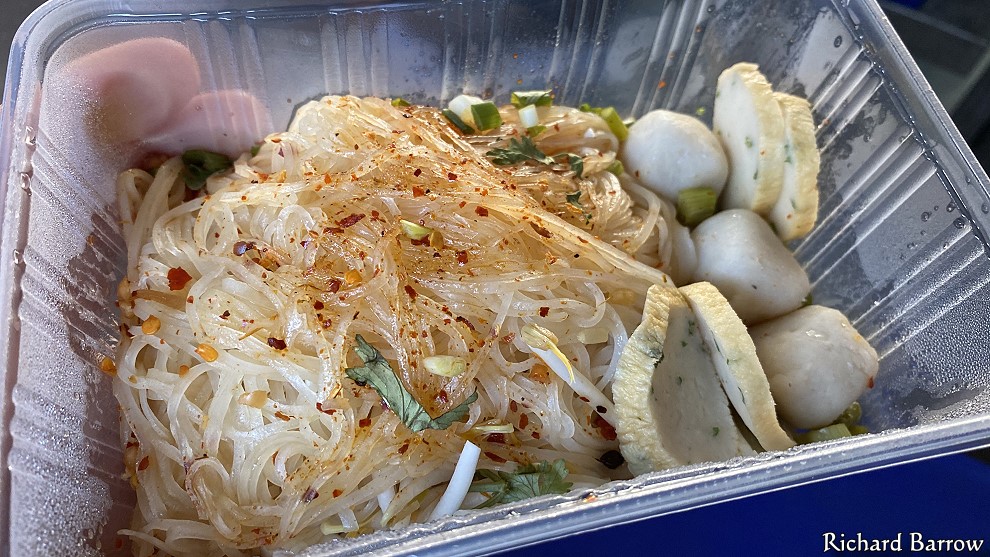 The noodles with fish balls came on board when we reached Ratchaburi station. The noodles were only 20 Baht and very tasty.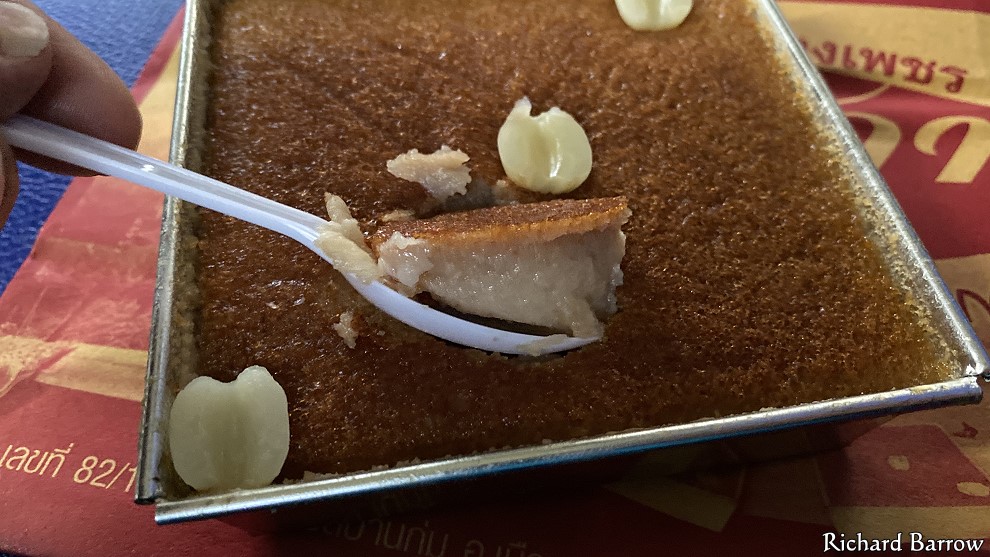 I hadn't ordered this is advance but a vendor came on the train at one of the stops. It is a Thai dessert called Mor Gaeng from Phetchaburi and cost 35 Baht.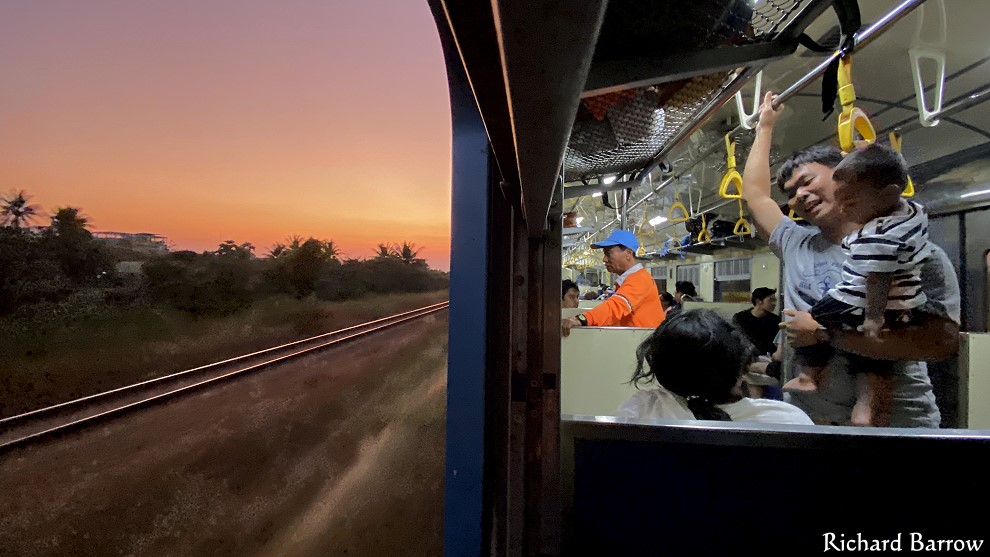 Sunset from the train window this evening. I did initially have reservations about traveling 3rd Class but it worked out well in the end. Great views and interesting travel companions. In fact, as soon as the train arrived back at Bangkok railway station, a few minutes early in fact, I went straight to the ticket office to see if I could buy a ticket for next week's excursion to Kanchanaburi. Unfortunately, they were fully booked.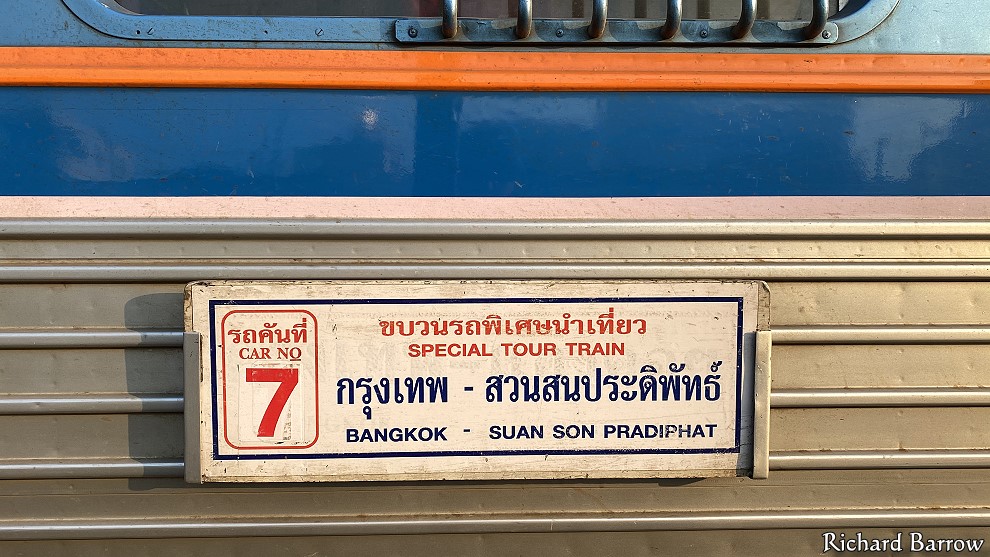 For more details about this trip, visit the main page for Excursion Train to Suan Son Pradipat Beach.