Steam Train Trip to Ayutthaya
The following is my live trip report of the steam train excursion to Ayutthaya that I posted on social media. All photos were shot on my iPhone. This trip was made on 5th December 2021. For more details about steam train trips, please visit the main page for Steam Train Excursions in Thailand.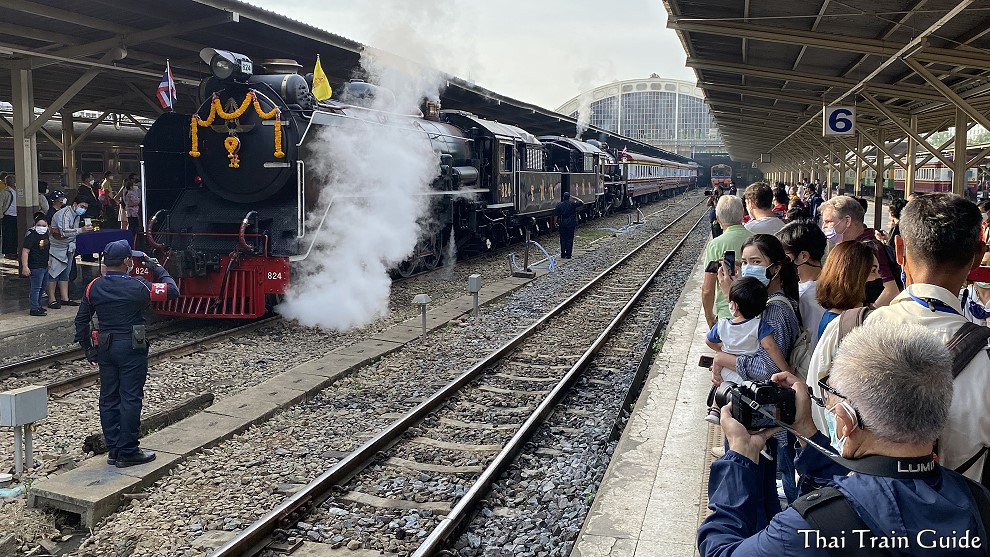 Good morning from Bangkok Railway Station (Hua Lamphong). A good turnout this morning for what is possibly the last time the steam locomotive will depart from the 105 year old Bangkok Railway Station. From later this month, all trains are expected to leave from the modern Bang Sue Grand Station.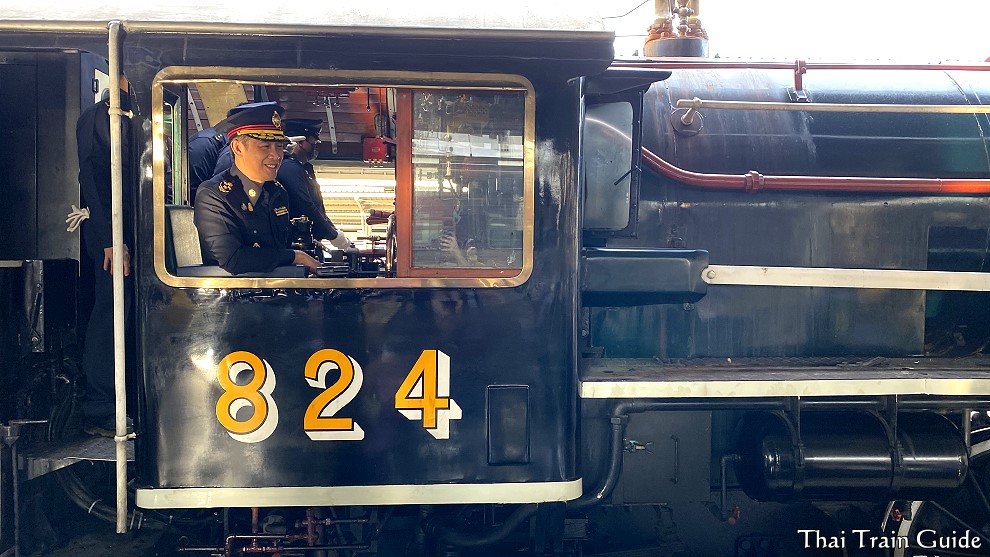 Pacific steam locomotives No. 824 and 850 were manufactured by the Japan Association of Railway Industry. Originally there were 30 of these steam locomotives with running numbers 821-850. They were designed with 4-6-2 wheel configuration.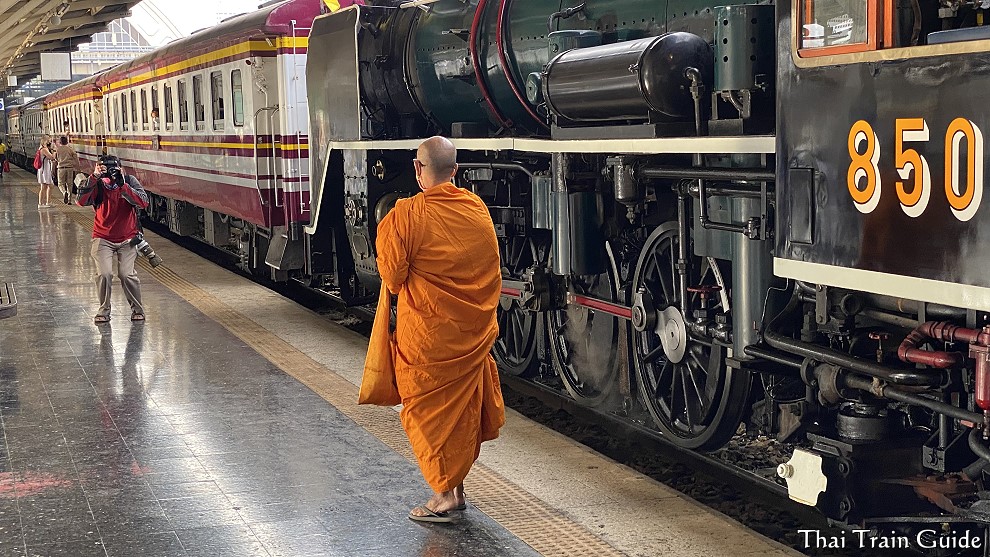 Locomotive No. 824 officially ran from 1949-1950 while No. 850 ran in 1951. SRT repaired and modified the locomotives in 2012. They are now stabled and serviced at Thonburi locomotive Depot and run on special occasions six times a year.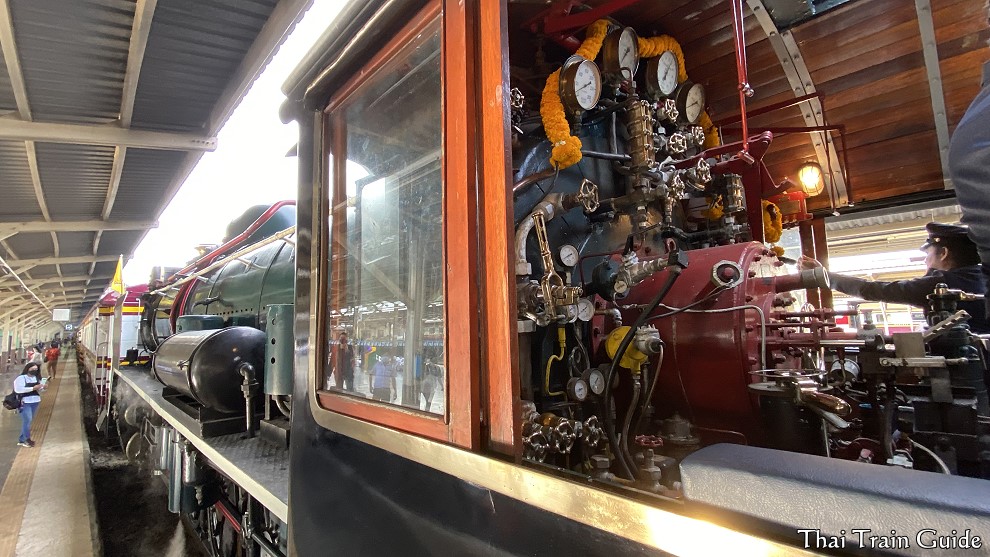 8:10am Steam locomotive now leaving Bangkok Railway Station on its way to Ayutthaya.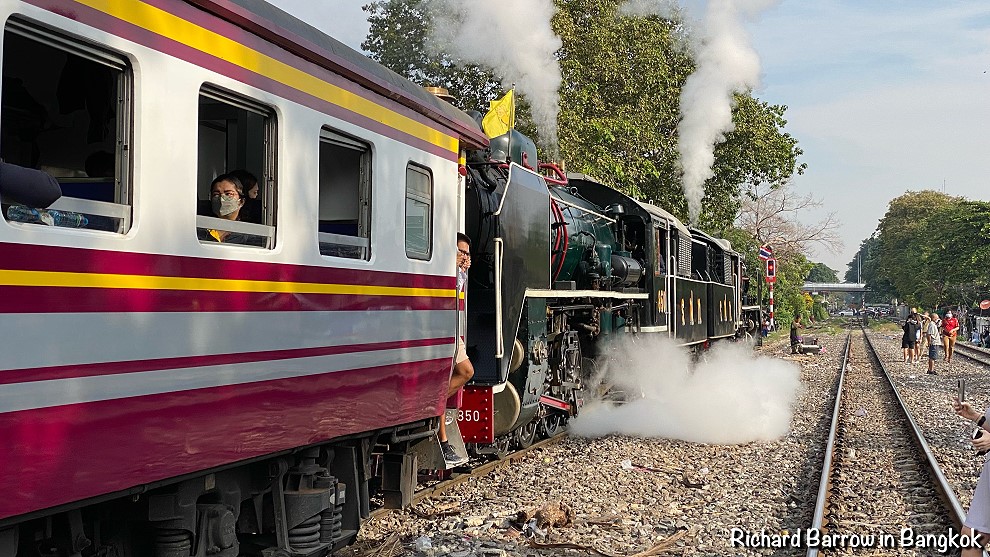 8:50am we have been delayed at a level crossing for nearly 30 minutes while waiting for a royal motorcade to pass. On our way now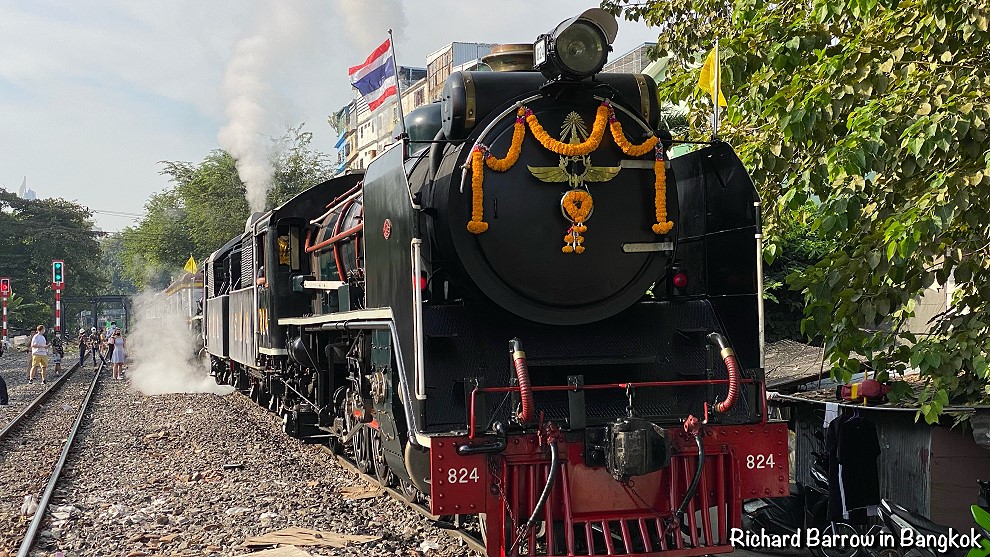 8:58am Steam train now arriving at Samsen station. We are running about 30 minutes late due to waiting for the royal motorcade to pass at the level crossing. We should be at Bang Sue station in ten minutes if you're waiting to take a photo.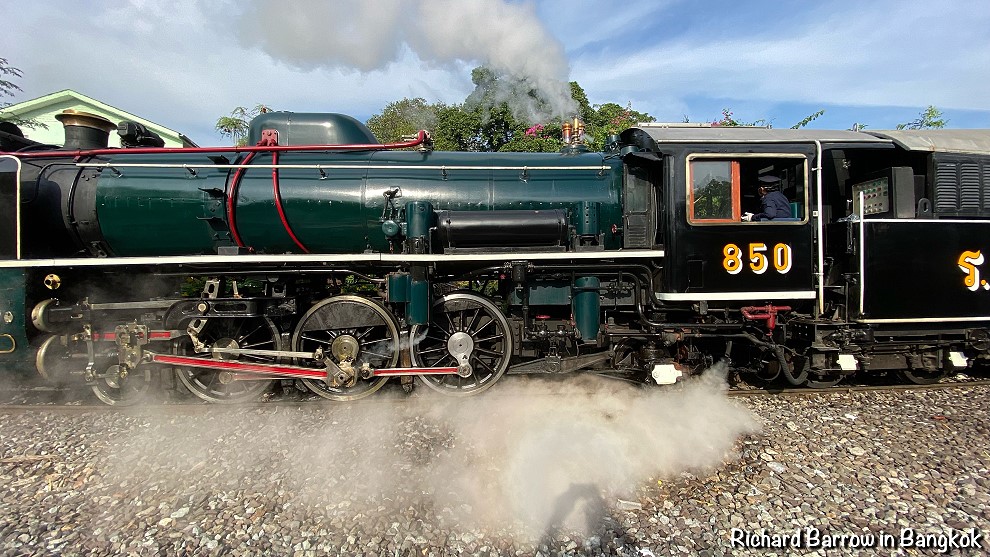 9:56am The steam locomotive has just arrived at Laksi station. We are now running more than one hour late. We are still in Bangkok. We should be at Don Mueang Airport station in about ten minutes if you're waiting to taking a picture there.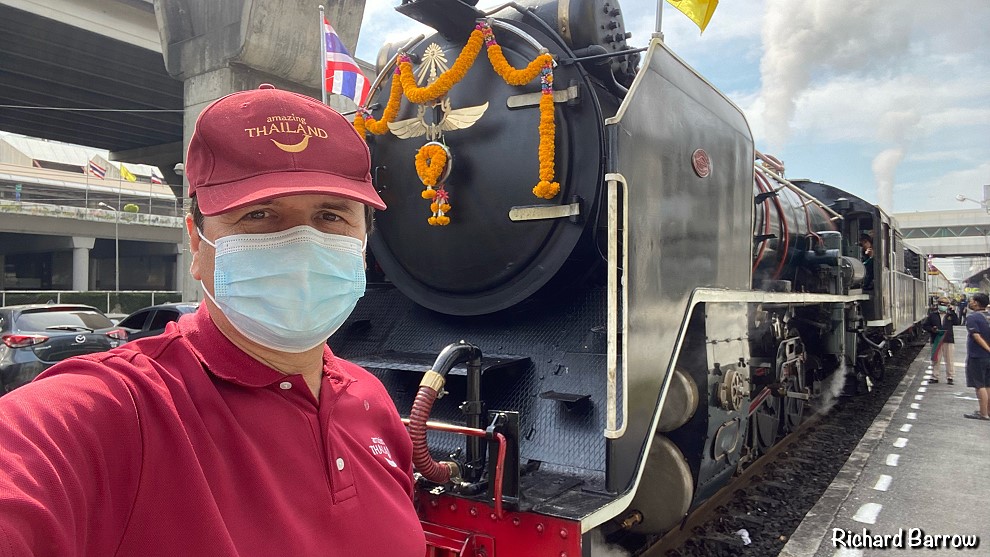 One good thing about the delays is that I've been able to jump off at the stations to get some good pictures of the steam locomotive while we are waiting for the green light. We are running over an hour late now.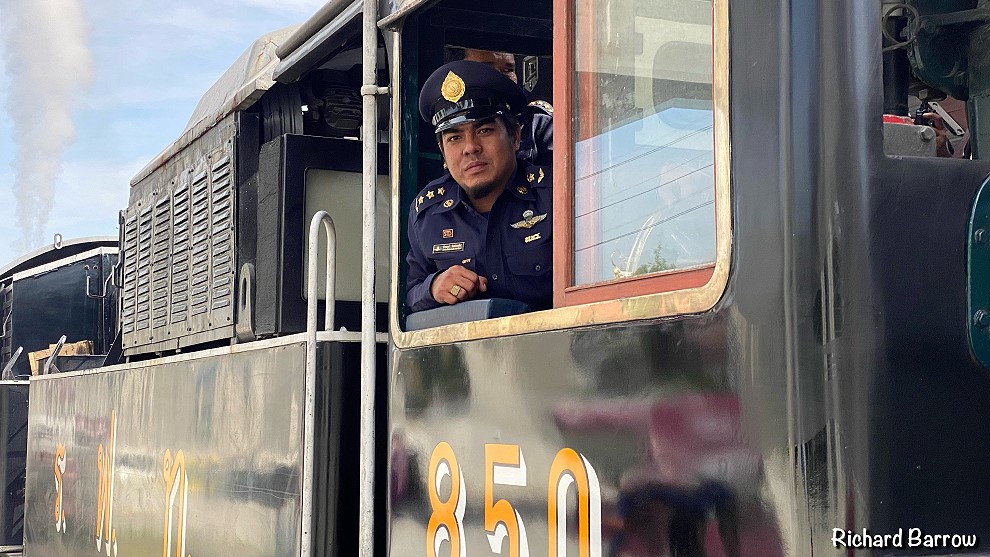 We are now leaving the outskirts of Bangkok. Next stop is Ayutthaya which is about one hour away. We will be back at Bangkok Railway Station at 6:55pm. It will take about one hour to pass through the city. So at Don Mueang Airport at about 5:55pm if you want to take a photo.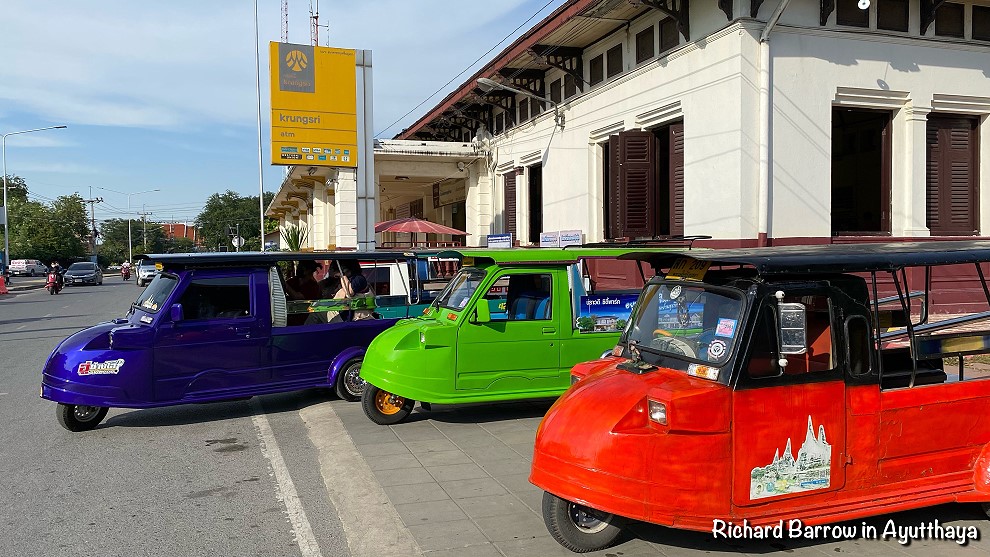 At Ayutthaya Railway Station there are a couple of places opposite that rent motorcycles for 200 Baht and bicycles for 50 Baht for the day. You can even go on a Tuk Tuk tour that starts at 300 Baht for 1 hour and up to 1,500 Baht for 5 hours. There are also options for boat tours. For myself, I brought along my e-scooter. It folds up and was light enough to put on the overhead luggage racks. So no extra charge to bring on the train.
Wat Lokayasutharam in Ayutthaya is not often visited by tourists but it has a nice 42 meter long Reclining Buddha image. Unlike the one in Bangkok, this one is outside and easier to take a photo. Free entry.
MAP: https://goo.gl/maps/BLvL1sVZdv4VKrk47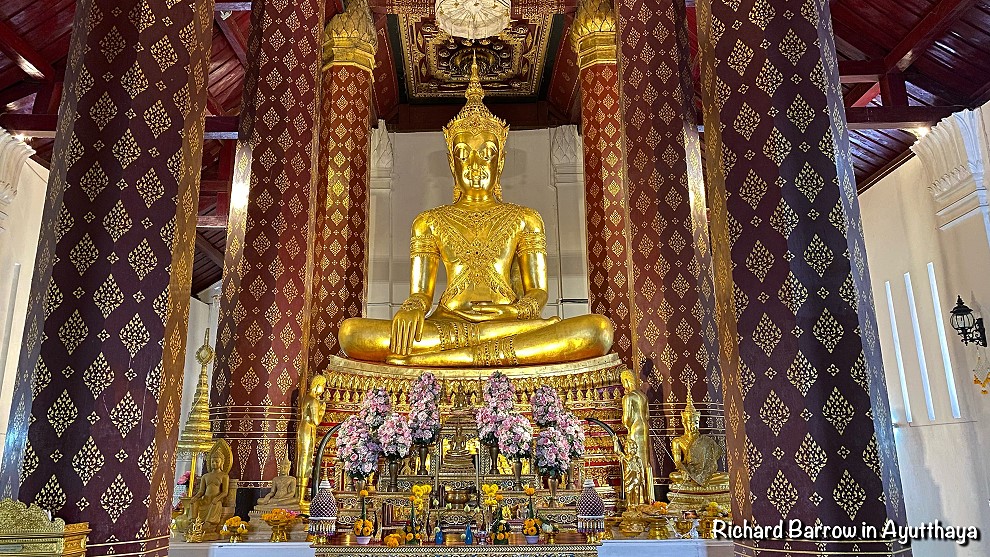 Probably the most beautiful Buddha image in Ayutthaya is this one at Wat Na Phra Meru. It is six meters tall and has a crown. It remarkably survived the defeat of Ayutthaya to the Burmese in 1767. Entry is free.
MAP: https://goo.gl/maps/L93bFQdaSx25Snqx9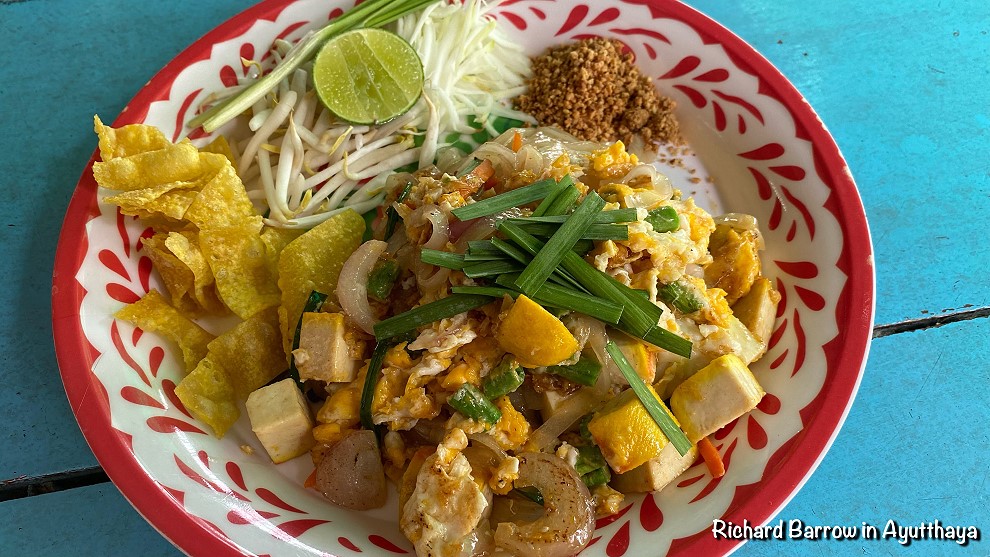 Lunch today was Pad Thai Kung.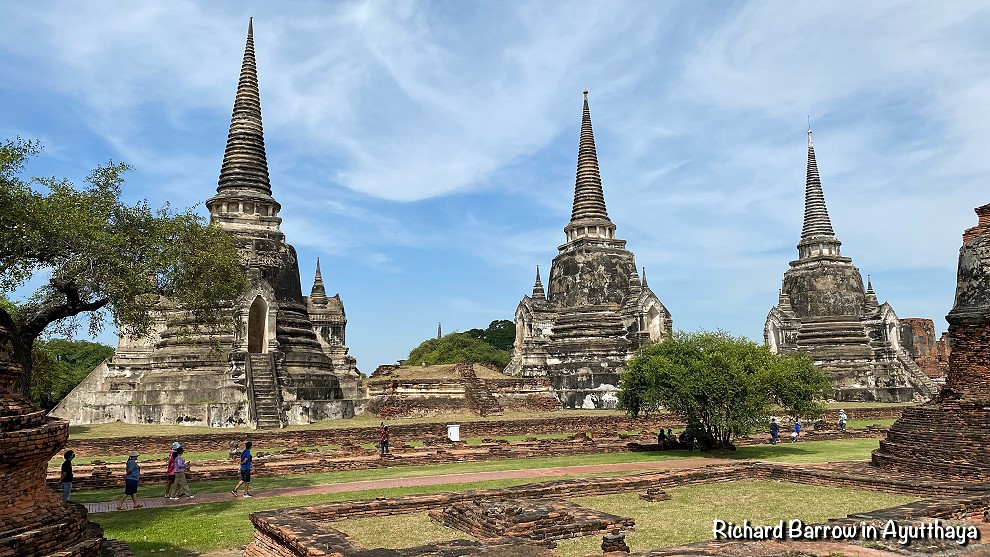 Wat Phra Si Sanphet is the most famous ruins in Ayutthaya Historical Park. It used to be in the Grand Palace complex in Ayutthaya when it was the capital. Only these three Chedis remain. Entrance is ฿50 for foreigners and ฿10 for Thais.
MAP: https://goo.gl/maps/8j2uLWDMwjg9S9Uk6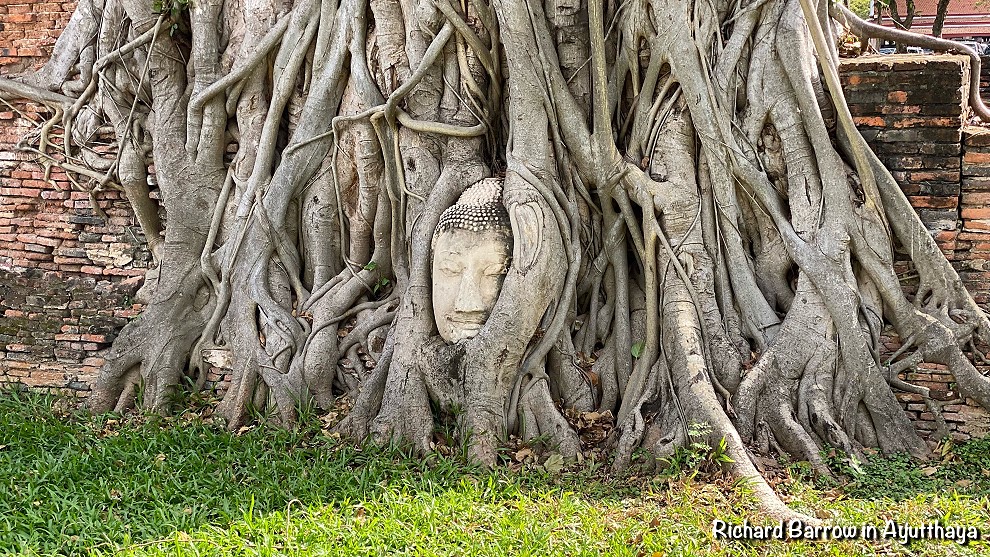 The famous Buddha Head in the tree is at Wat Mahathat in Ayutthaya Historical Park. If you are only visiting five places in Ayutthaya, this should be among them. Entrance is 50 Baht for foreigners and 10 Baht for Thais.
MAP: https://goo.gl/maps/37BS2FSTtS3JgC4G6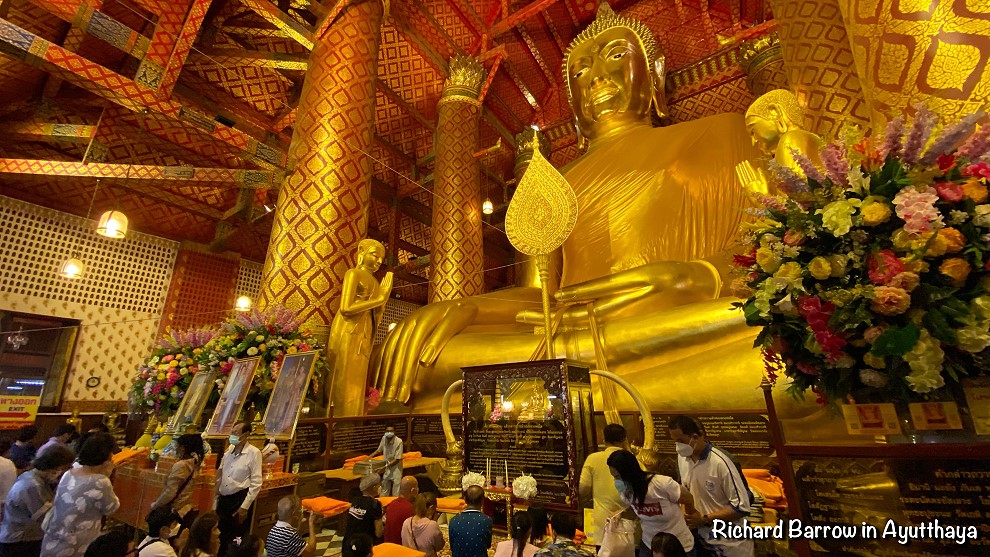 Wat Phanan Choeng Worawihan was founded shortly before the establishment of Ayutthaya as the capital. Its main building enshrines a 17 meter tall seated Buddha image.
MAP: https://goo.gl/maps/Egz3PuTcebN7jB347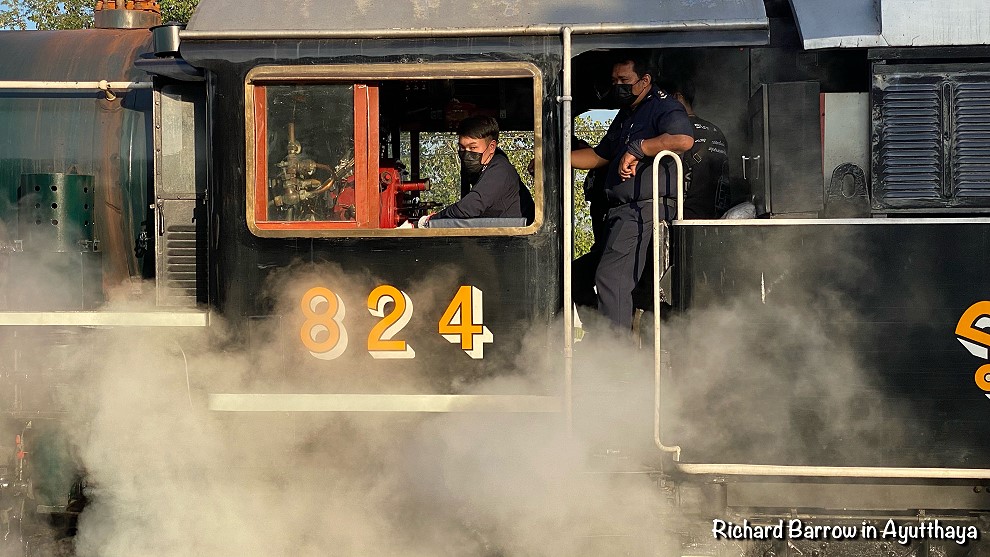 4:40pm The steam excursion train has just left Ayutthaya. We should arrive back at Bangkok Railway Station at 6:55pm. From the outskirts of Bangkok, it takes about an hour to reach the terminal station.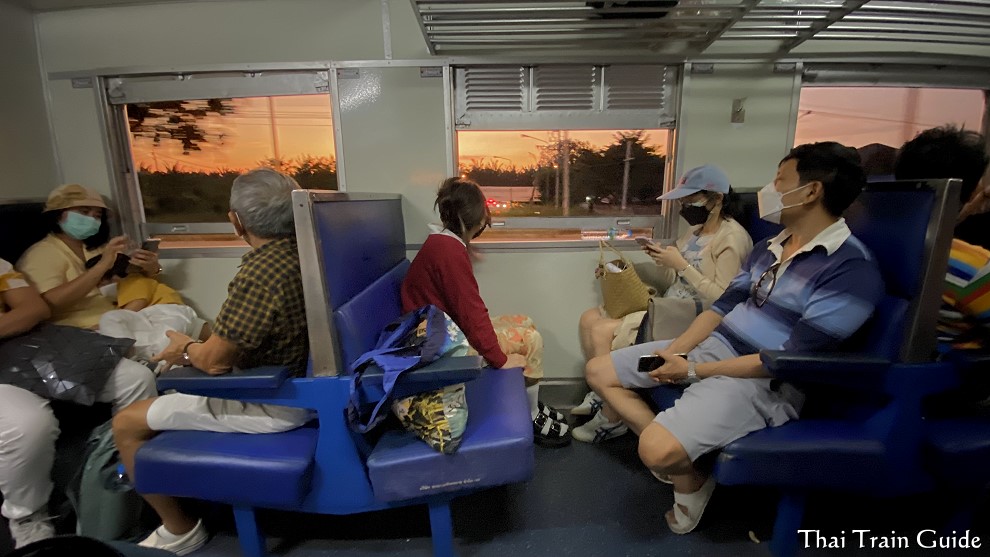 A nice sunset from the carriage windows in 3rd Class. The atmosphere is made perfect with the whistle of the steam locomotive.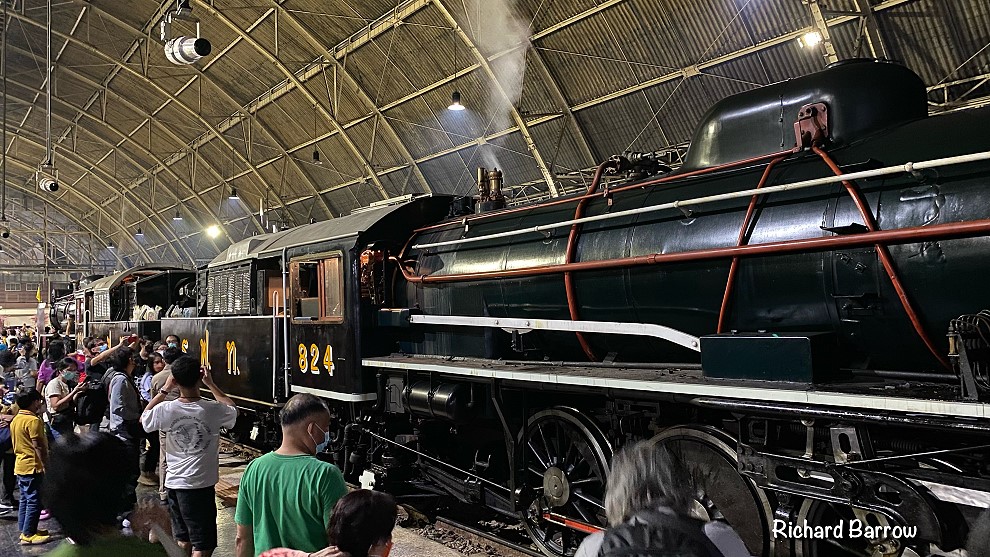 We've arrived safely back at Bangkok Railway Station. This 105 year old station is definitely the best way to start and finish a steam locomotive trip. It just won't be the same once they move to Bang Sue Grand Station later this month. However, the latest I'm hearing is that this station will be allowed to remain open for commuter trains and possibly special excursion trains like this one.
For more details about steam train trips, please visit the main page for Steam Train Excursions in Thailand.
FOOTNOTE: Since I wrote this blog, the news came out that the closure of Hua Lamphong has been delayed. The earliest that trains will be moved is in September 2022. Even then, some trains will remain at Hua Lamphong for a few more years.