Is it the River Kwai Bridge or River Khwae Yai Bridge or Maeklong Bridge?
Pierre Boulle, the author of the book which later became the popular movie 'The Bridge on the River Kwai' has a lot to answer for. Although he was a prisoner of war of the Japanese, he had never visited the bridge that he wrote about and presumed incorrectly that it crossed the Khwae Noi River. But in fact, it crossed the bigger Maeklong River. He had made this mistake as the railway on the other side of the bridge follows the Khwae Noi River for much of the way to the Burmese border. This river is a tributary of the bigger Maeklong River. The second mistake is that foreigners mispronounced the name "Khwae" (which rhymes with square) as Kwai.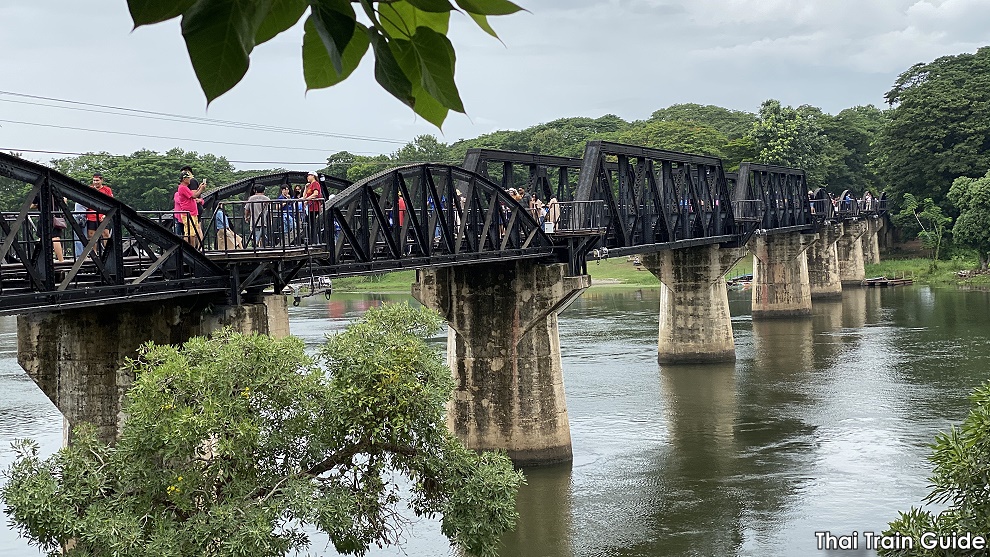 So, that is how River Khwae became River Kwai and the title of the book and movie. But how did Maeklong become Khwae Yai as that is now the name of the river below the bridge? Well, the answer is that after the release of the movie in 1957, tourists began to visit the "River Kwai Bridge'. So, in the 1960's the Thai government decided to change the name of this stretch of the river from Maeklong River to Khwae Yai River. The tributary stayed as Khwae Noi River. Thankfully they didn't rename it Kwai Bridge as "kwai" in Thai means buffalo which is what some people call stupid people.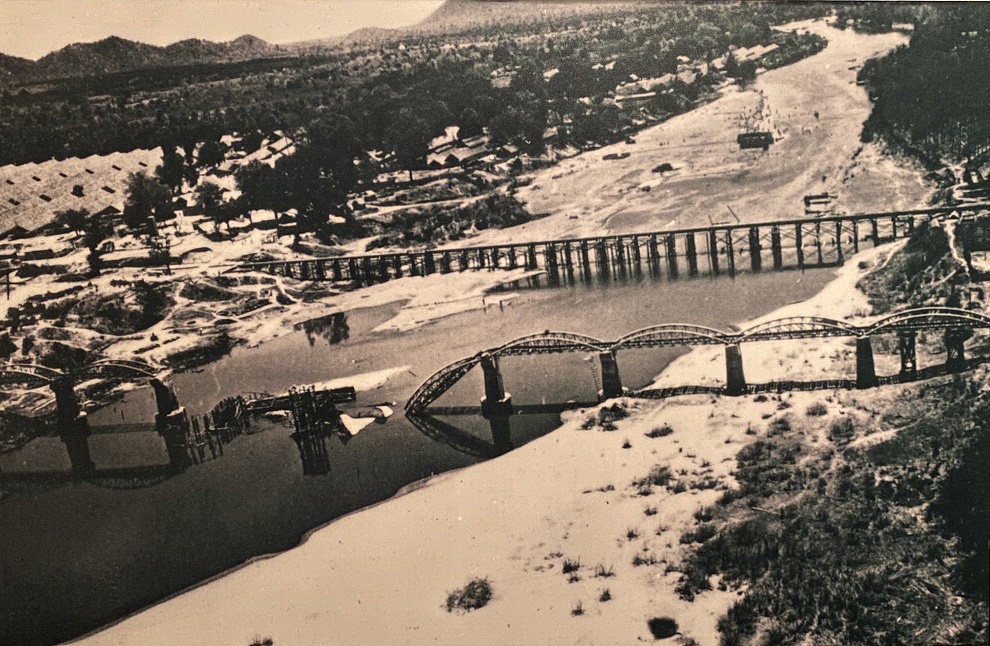 While I am here, I will just add a few more misconceptions. The movie was actually shot in Sri Lanka and not in Thailand. Yes, there was a wooden bridge over the Maeklong River but it wasn't as impressive as the movie version. A more permanent bridge was also built with concrete and steel. In the wartime photo above, you can see several spans of the bridge which were damaged by Allied bombers during raids in 1944 and 1945. The wooden bridge in the background was also damaged but was repaired by prisoners of war.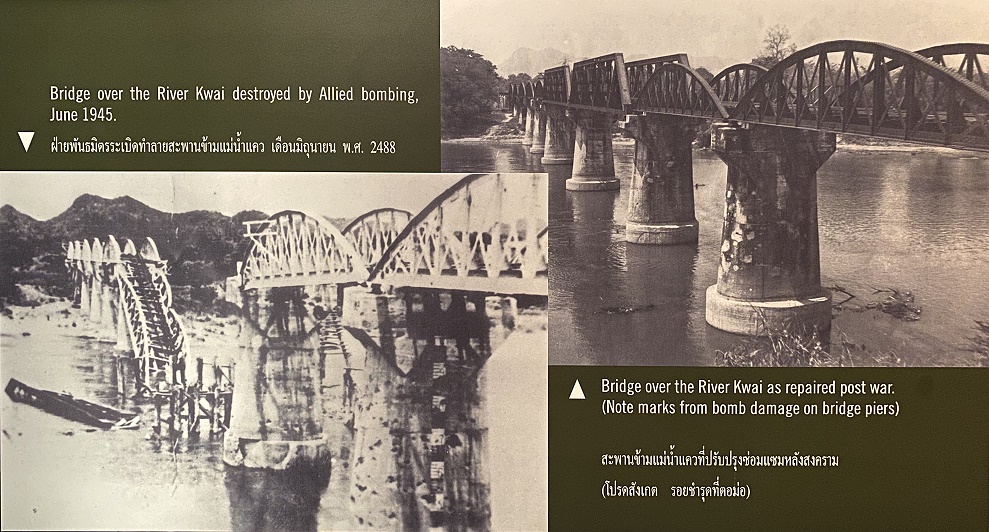 The steel bridge wasn't repaired until after the war. The two spans in the middle were replaced but the rest are original. If you look closely at the concrete pillars, you can see some shrapnel damage. The wooden bridge is no longer there, nor is the prison of war camp. However, if you visit the JEATH War Museum next to the bridge, you will see where the wooden bridge was. Opposite to the museum is the southwest corner of the former prisoner of war camp. There is no evidence left of this.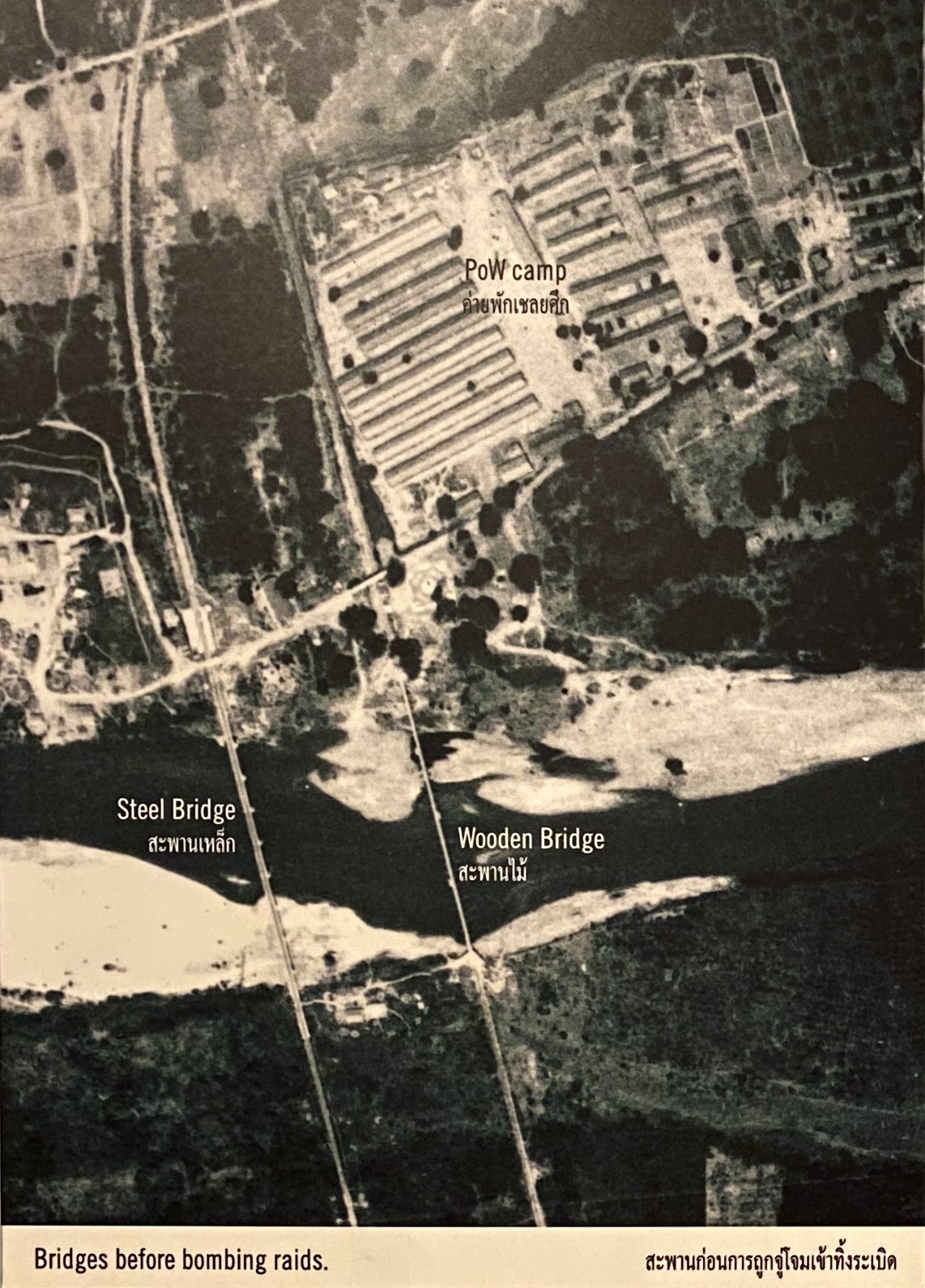 The above three photos are from the excellent Thailand-Burma Railway Centre which is across the road from the main war cemetery in Kanchanaburi town.