Three Day Trip to Sukhothai by Train
The following is my live trip report that I posted on Facebook and Twitter as the train journey progressed. All photos were shot on my iPhone. I went on the trip from 2nd-4th September 2022.
LINK: How to Buy Train Tickets Online
DAY ONE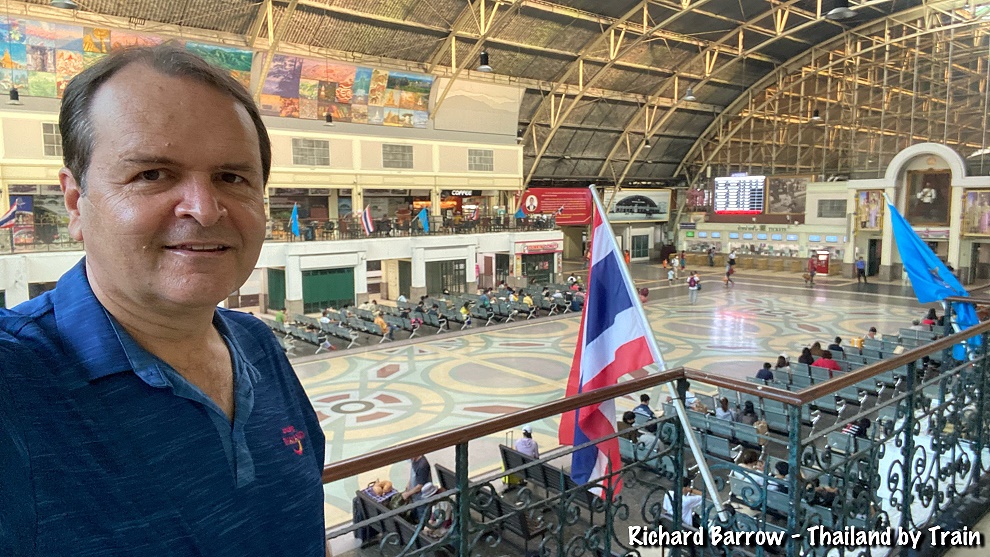 Good morning from Bangkok Railway Station (Hua Lamphong). I'm setting off on a three-day trip to Sukhothai. The train part of the journey is just under five hours. Then I will switch to a bus between Phitsanulok and Sukhothai.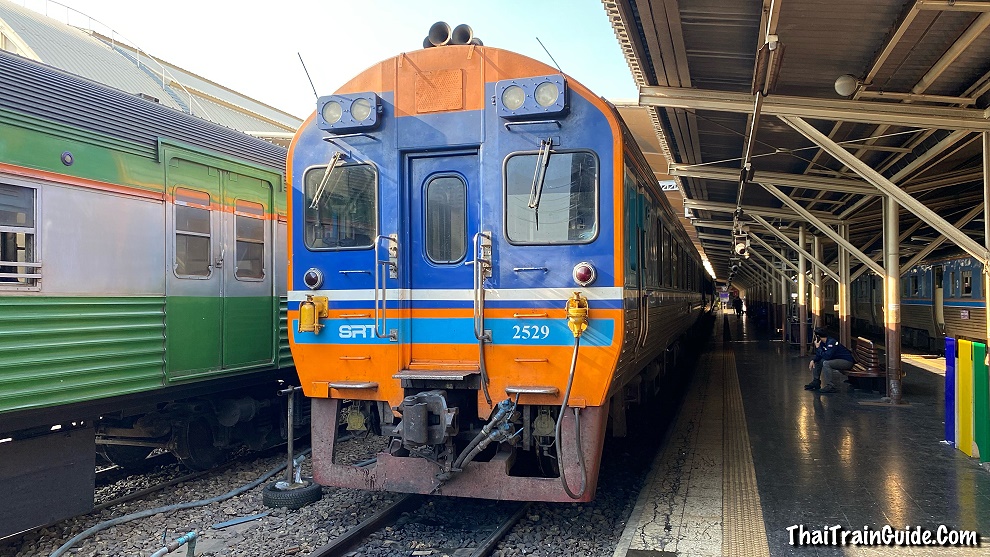 Special Express No. 7 from Bangkok to Chiang Mai (8:30am-7:30pm). Three 2nd Class Daewoo carriages with air-con and reclining seats. I will be getting off in Phitsanulok at 1:12pm. Ticket for me is 479 Baht which includes a meal.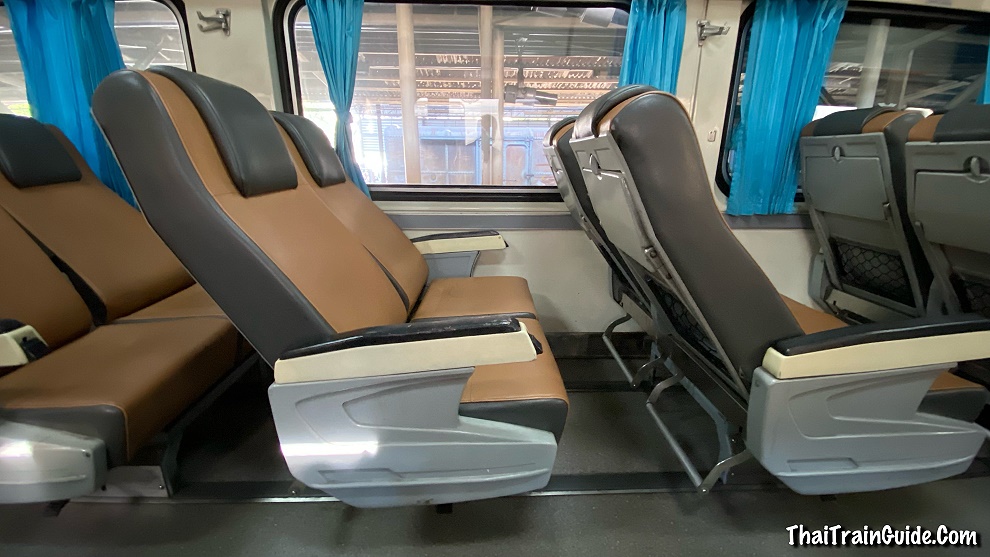 The seats on the No.7/8 recline and there's a reasonable amount of leg room. The drop-down table on the seat-back looks reasonably clean but I would bring soft wipes. Luggage space is adequate if your bags are not too big.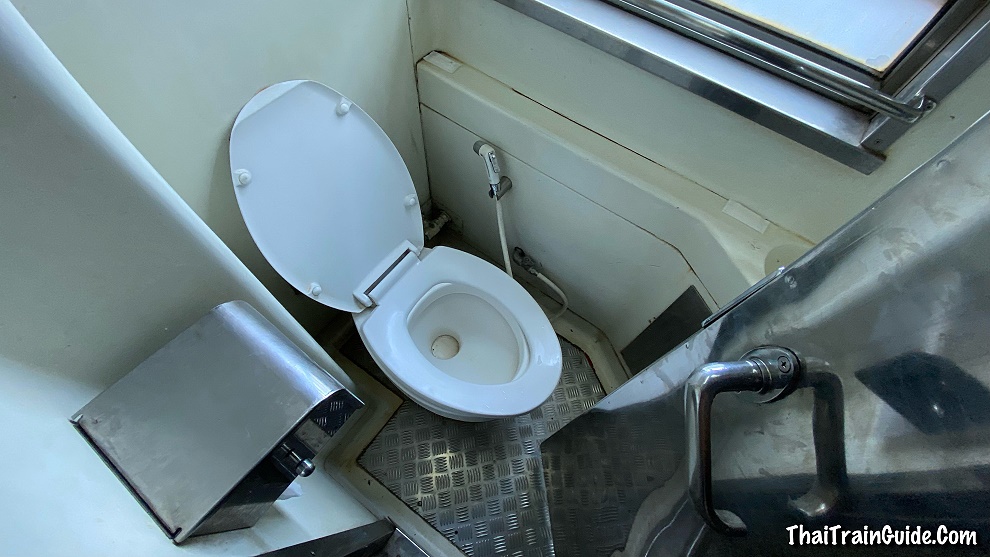 The toilets are clean enough. You have the choice between squat toilets and Western style. There's a washbasin with a small bar of soap. There's also a microwave where the attendant for our carriage is already warming up our meals six at a time.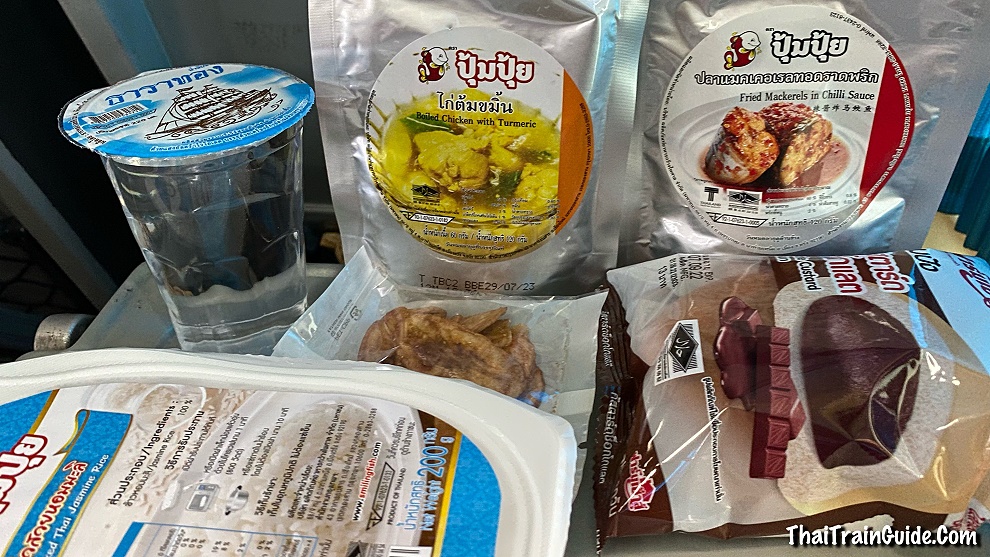 Lunch is served to your seat on Special Express No.7 (Bangkok-Chiang Mai).  Boiled Chicken with Turmeric, Fried Mackerels in Chilli Sauce, Jasmine rice, Chocolate Custard Filled Bun, Fried Banana Chips, and Drinking Water.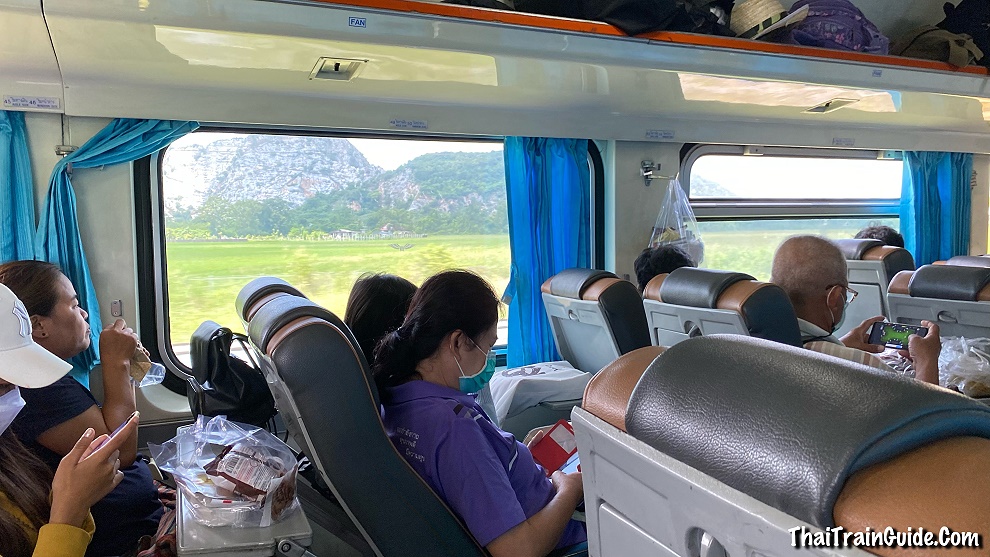 The downside of riding in an air-conditioned carriage is that it is not so easy to take photos or videos without a reflection. The best place to shoot some video is in the toilet as it has an open window. But I cannot keep running there as people are starting to talk. Nakhon Sawan province is particularly beautiful. Just after the provincial station you pass the wetlands surrounding Bueng Boraphet.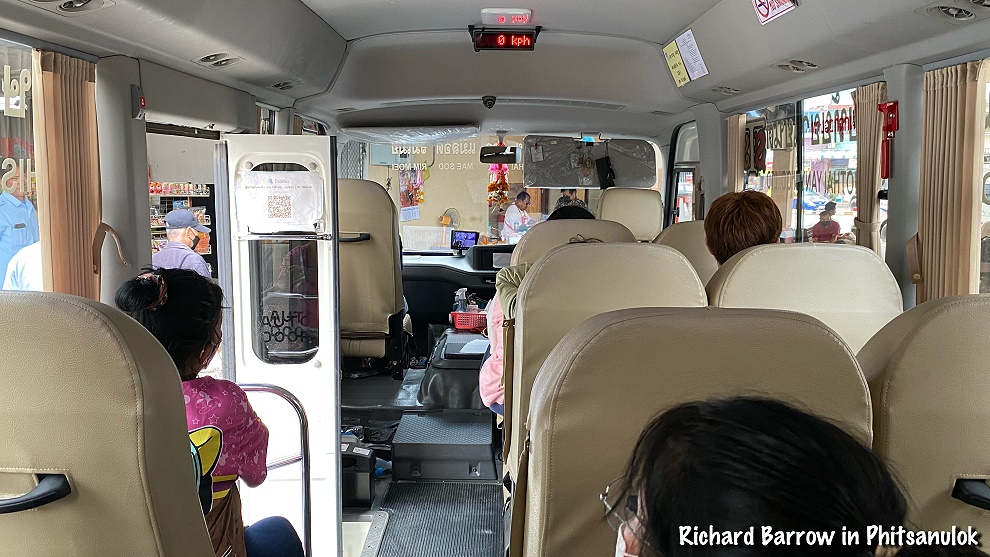 The train arrived in Phitsanulok only ten minutes late. So a five hour journey. But not over yet. I jumped on a motorcycle taxi (60 Baht) to the bus terminal where I'm now on a mini-bus to Sukhothai Historical Park (Muang Kao). Ticket is 90 Baht. Originally I thought I would have to go to Sukhothai New Town first and then change there but this bus to Tak goes past the entrance to the Sukhothai Historical Park.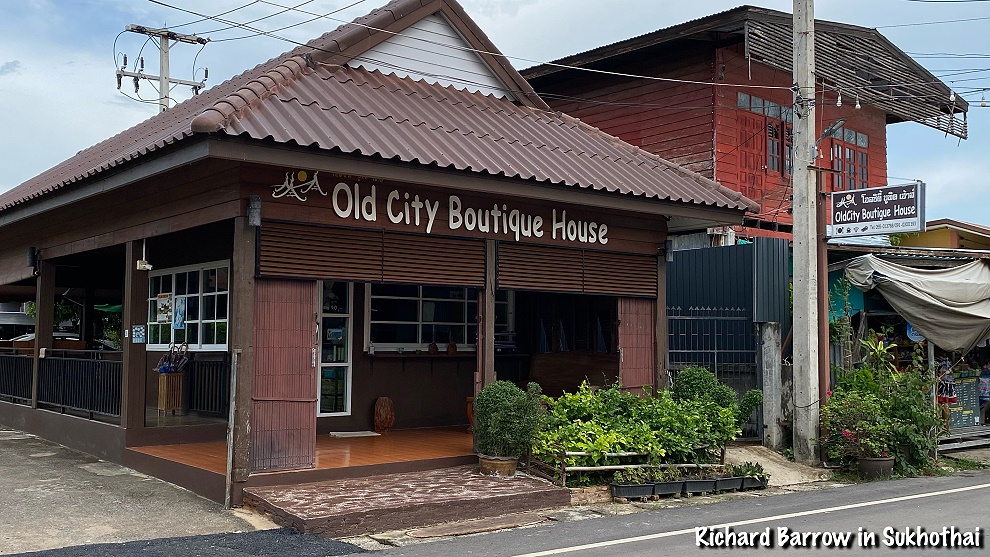 At the entrance to Sukhothai Historical Park there are quite a few small hotels. I'm staying at Old City Boutique House which was a two minute walk from where the bus dropped me off. It's 500 Baht a night which is within my budget. It is only a few minutes walk to the entrance to the historical park.
MAP: https://goo.gl/maps/zvGTxgk2vNLyFgC76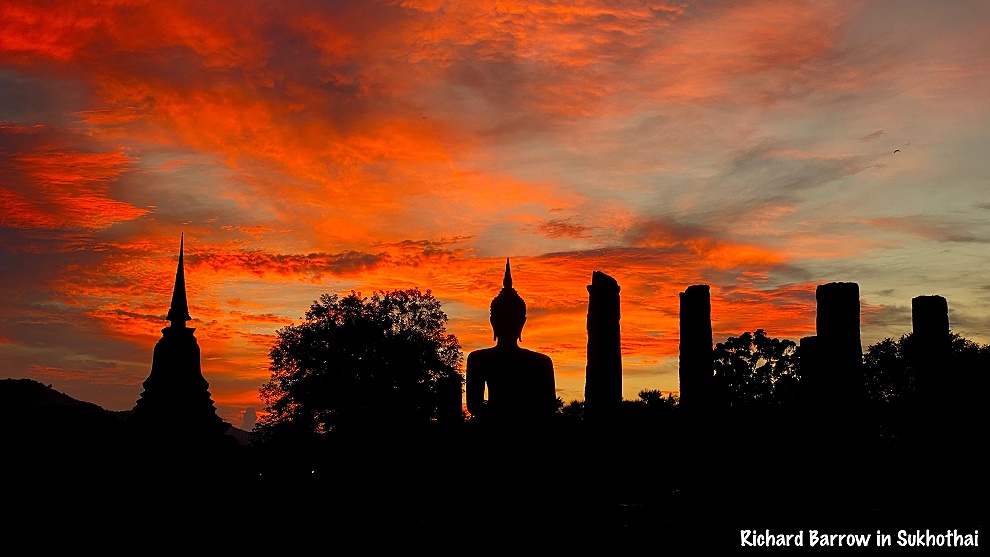 A superb sunset just now. You should have been here to see it. But here's the next best thing! After 6pm you are allowed to enter Sukhothai Historical Park for free. There's a night market here from Friday to Sunday from about 5pm onwards.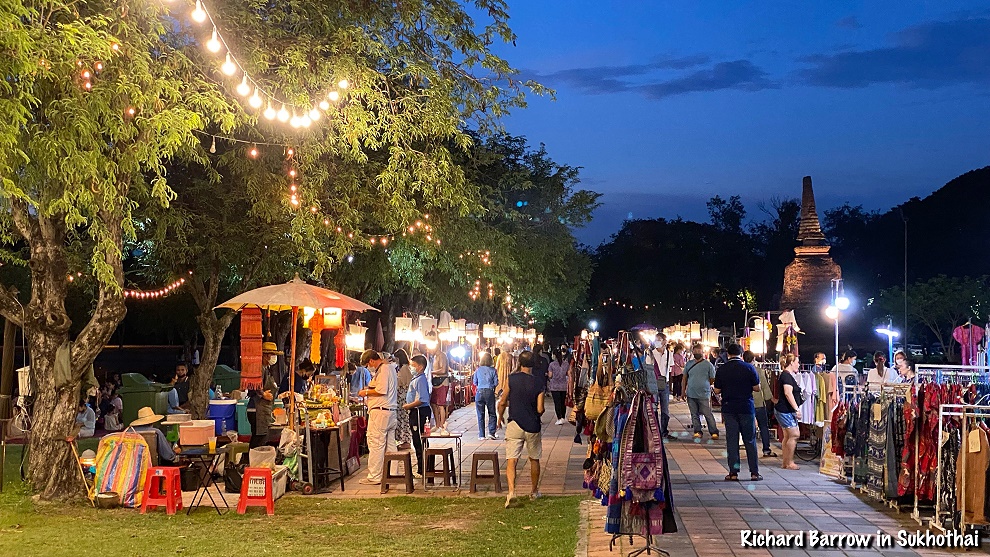 Every weekend there's a popular night food market in Sukhothai Historical Park. It's open 5pm-9pm. Entry is free. A lot of delicious food here. It was really difficult for me to choose. I will be back tomorrow night for sure.
MAP: https://goo.gl/maps/v6bQptUBJPCFZcir5
DAY TWO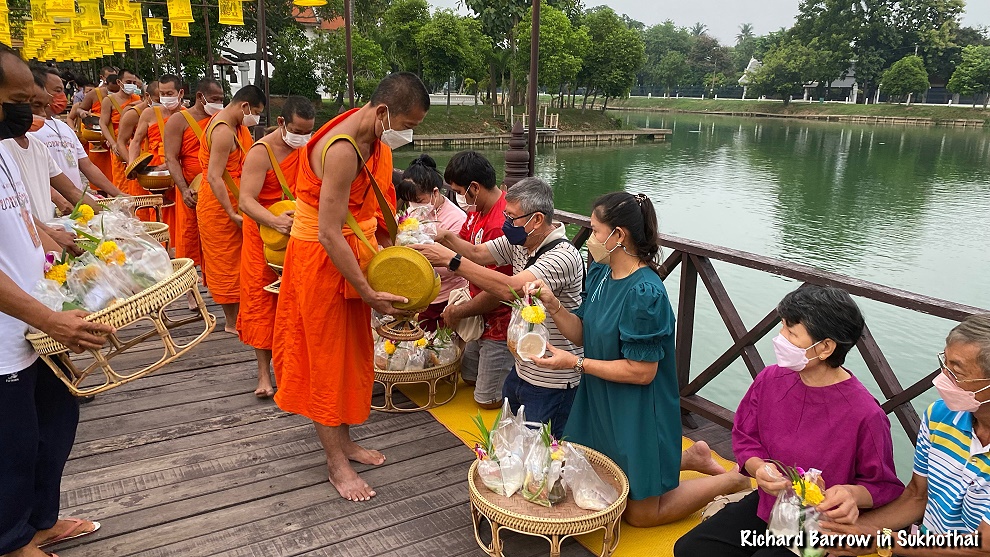 Good morning from the old town of Sukhothai. I got up early to witness the monks from Wat Traphang Thong leaving the temple on their morning alms round. They cross the picturesque bridge at 6:20 a.m. every day.
MAP: https://goo.gl/maps/VMTMUX9QYNFxtDgK6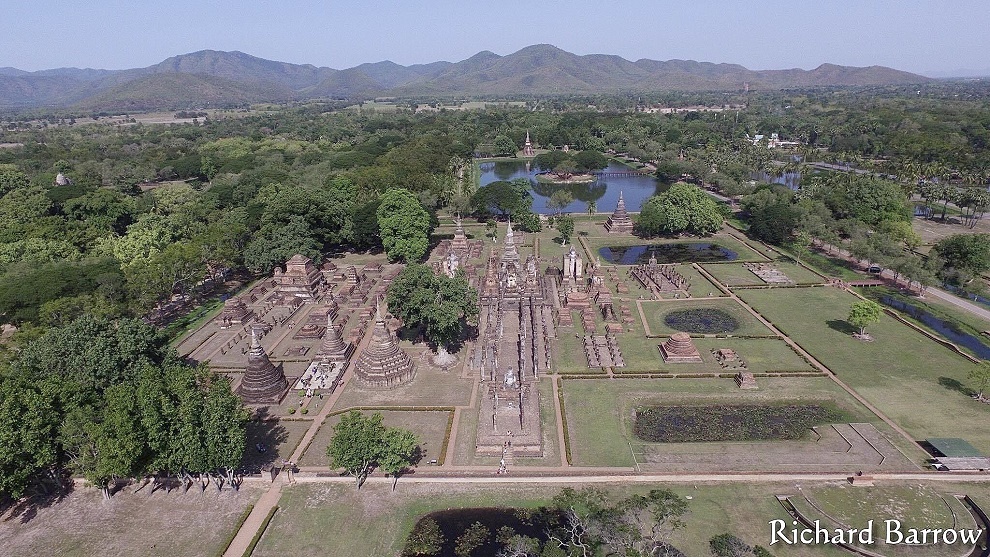 Today I will be exploring Sukhothai Historical Park. The park is split into three zones and the ticket price to each one is 100 Baht for foreigners.
MAP: https://goo.gl/maps/xrHjGEGu9zzg1sSa7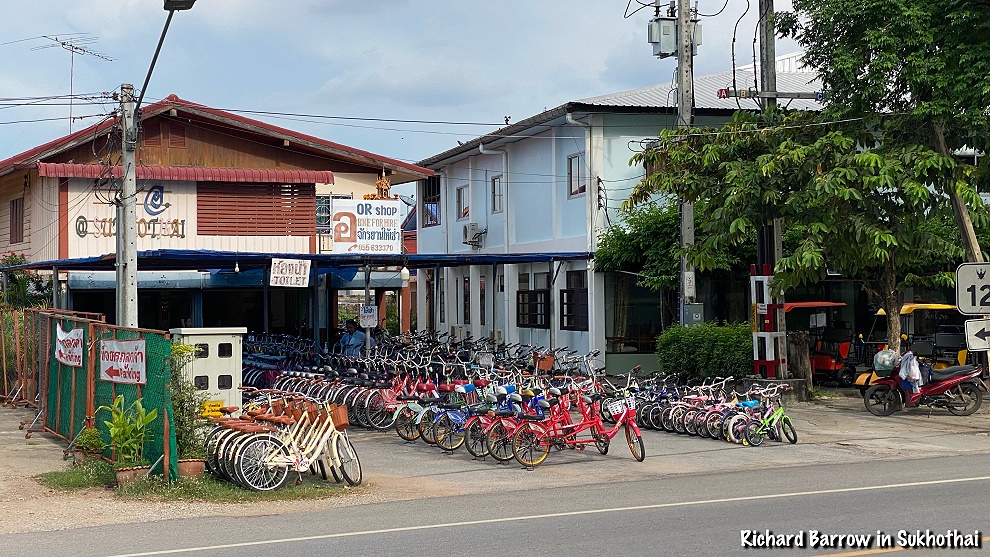 Sukhothai Old Town is mainly flat and so the best way to explore the area is to rent a bicycle. There are several shops near to the entrance of the park that rent out a variety of bicycles for only 30 Baht for the whole day. You can also rent out a variety of different golf carts from 200 Baht per hour or buy a tram ticket for 60 Baht which has a number of stops around the park.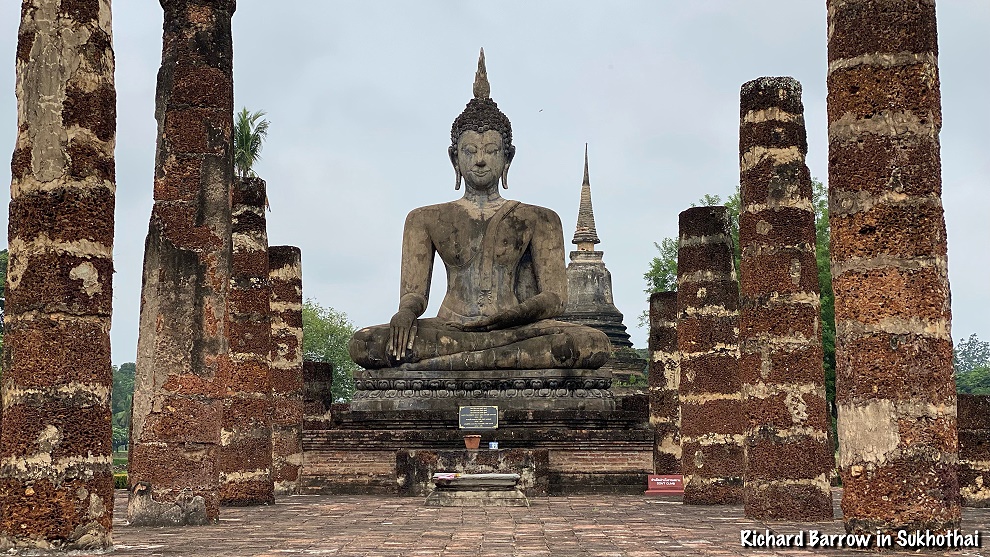 The most important temple ruin in Sukhothai Historical Park is Wat Mahathat. It is also one of the most impressive. Highlights include the large lotus-bud shaped stupa, numerous Seated Buddhas and a Standing Buddha.
MAP: https://goo.gl/maps/YSASv6n7CiRRwUby9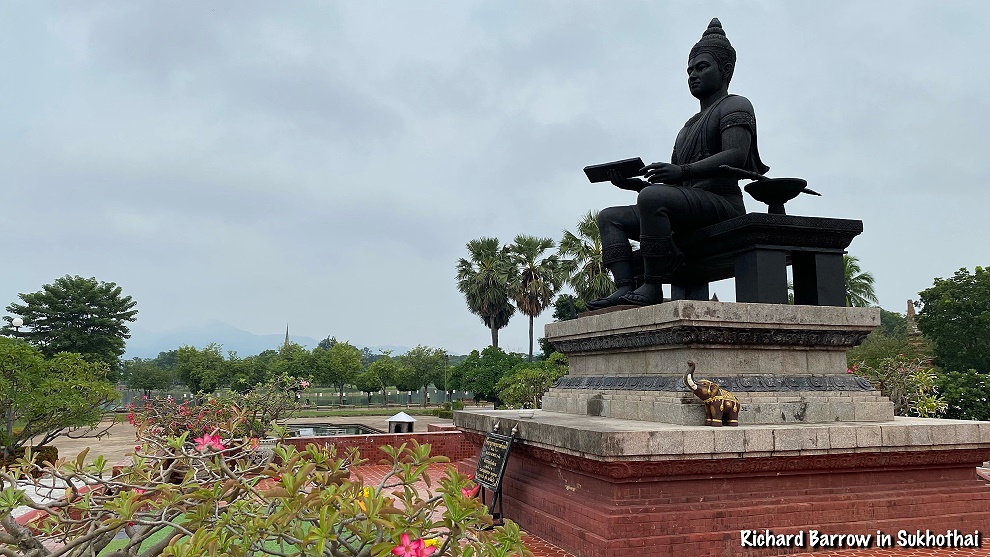 Sukhothai's greatest ruler was King Ramkhamhaeng. He is not only regarded as one of the nation's founders but is also credited for inventing the Thai alphabet. There is a large bronze statue of him by the park entrance.
MAP: https://goo.gl/maps/D7bnRe6HijswmoFh8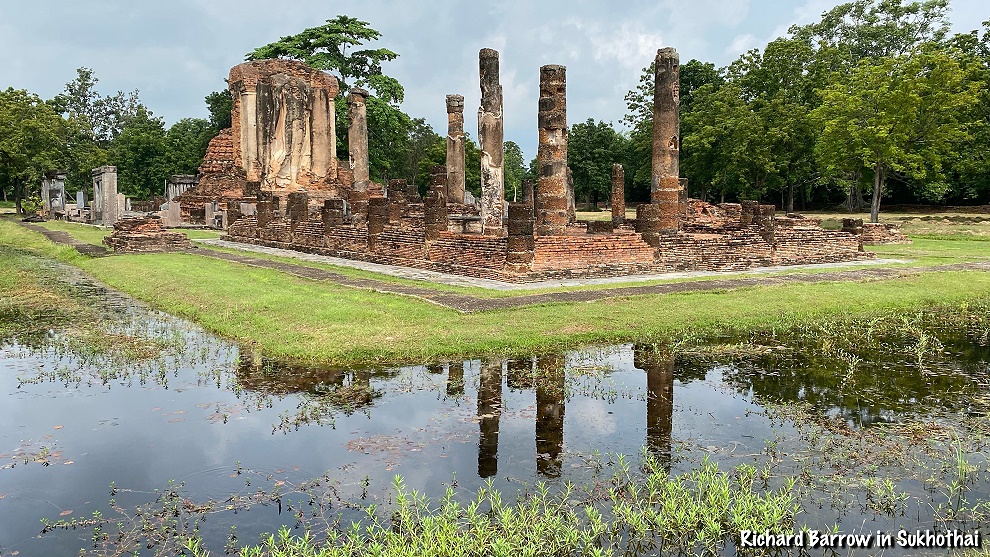 To the south of the old city wall are two ruins. The most impressive is Wat Chetuphon. It's Mondop houses four Buddha images in four different poses: Standing, Walking, Sitting and Reclining. Unfortunately you will need to use your imagination.
MAP: https://goo.gl/maps/iVbefLs6Y6wwUy7M8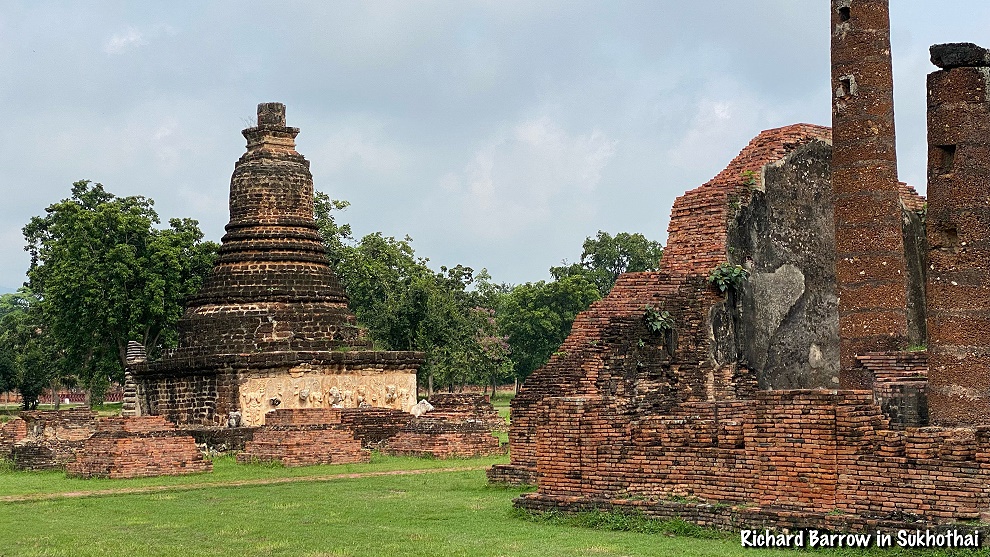 Next door is Wat Chedi Si Hong. The principal stupa has sculptures around the base with figures of singha, a mythical lion, astride elephants. These last two temple ruins are free to visit.
MAP: https://goo.gl/maps/dsXtUJLYHp67DgVw6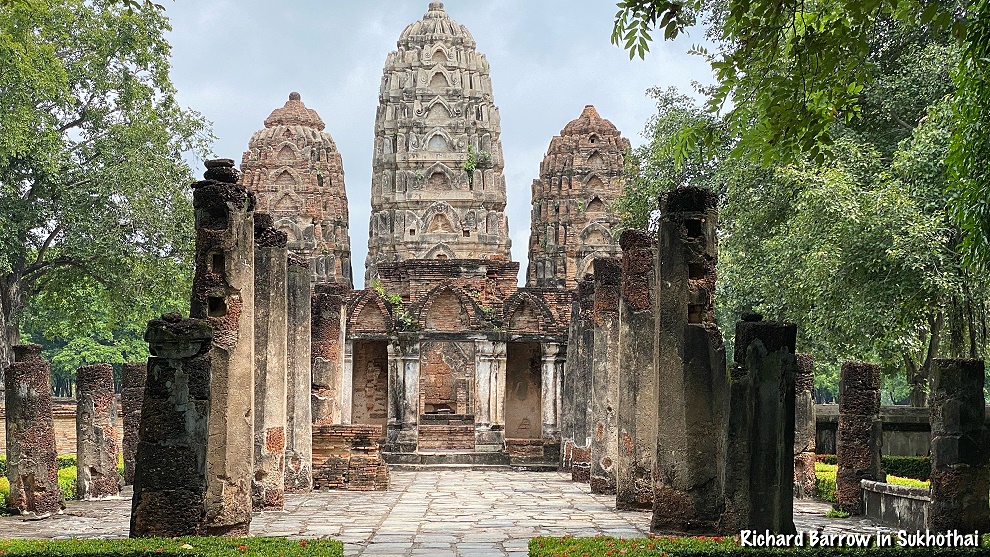 Wat Si Sawai is an impressive site with three large prangs. It was formerly a Hindu shrine but was later converted to a Buddhist temple. This and the next one are included in the 100 Baht ticket with Wat Mahathat.
MAP: https://goo.gl/maps/oTH3xCuYnzzXwVdw9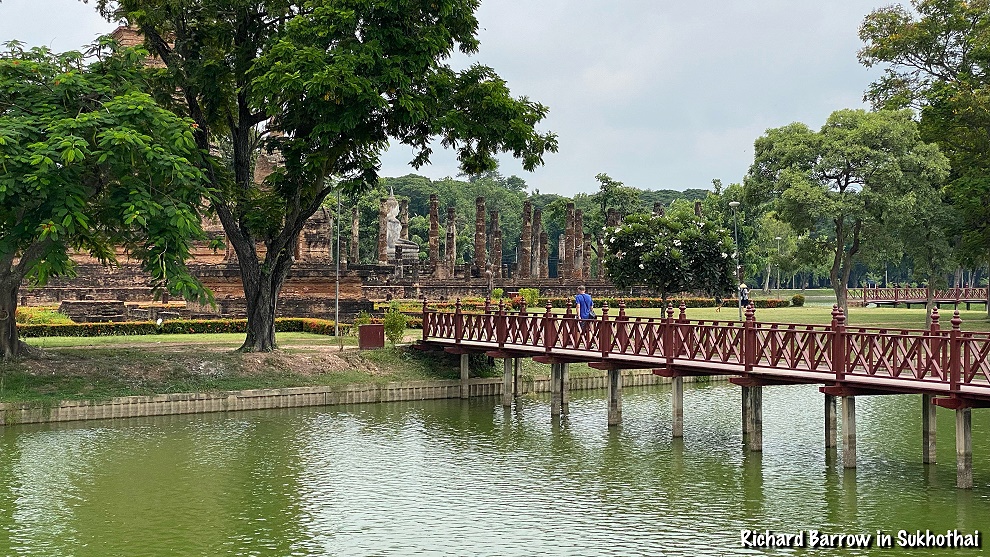 Wat Sa Si is on two connecting islands in a large pond. This is one of the good places to watch a sunset. They also sometimes have free light and sound shows here.
MAP: https://goo.gl/maps/KcgZCjwx4EpdovQ57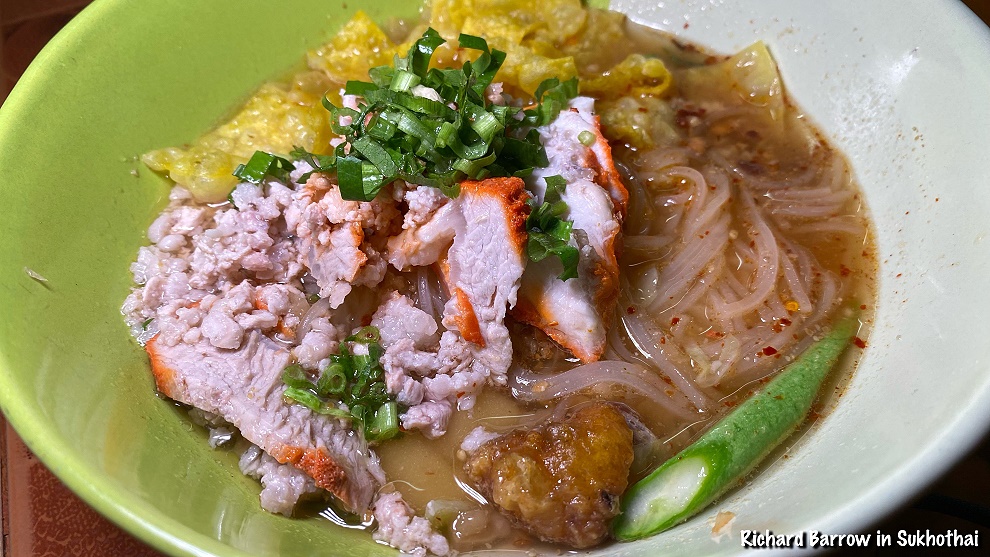 I cannot come to Sukhothai without having Sukhothai Noodles for lunch. Janthong Restaurant is a good place to eat it. Very delicious. I will come here for breakfast tomorrow while I'm waiting for my bus. A nice variety of food here.
MAP: https://goo.gl/maps/Yub3QLc2soQJUKPP9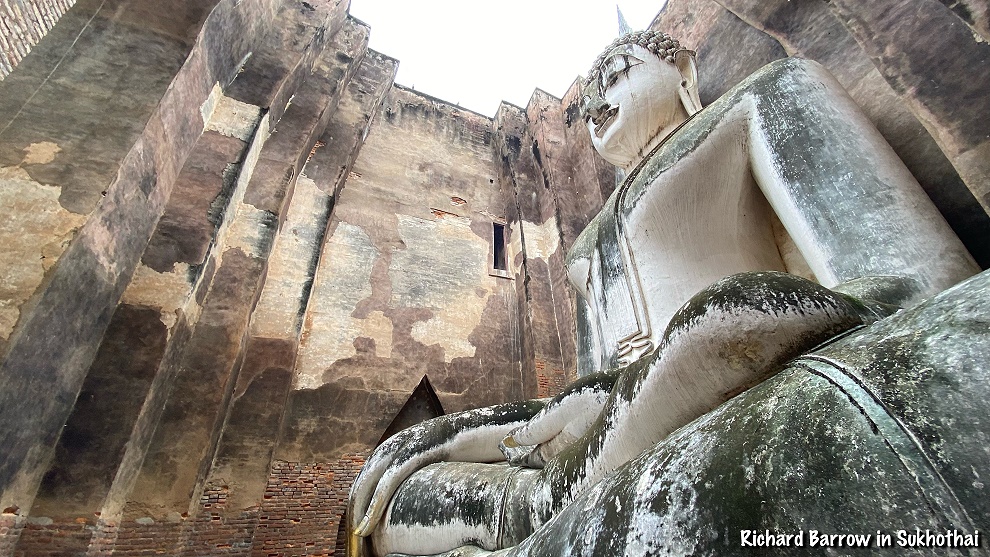 Wat Si Chum is outside the old city wall to the north. For this temple and the next you have to pay another 100 Baht as it's a different zone. But the giant Buddha squeezed inside a mondop is certainly a highlight of the park.
MAP: https://goo.gl/maps/iLZ4QdxYFzbtxnxg6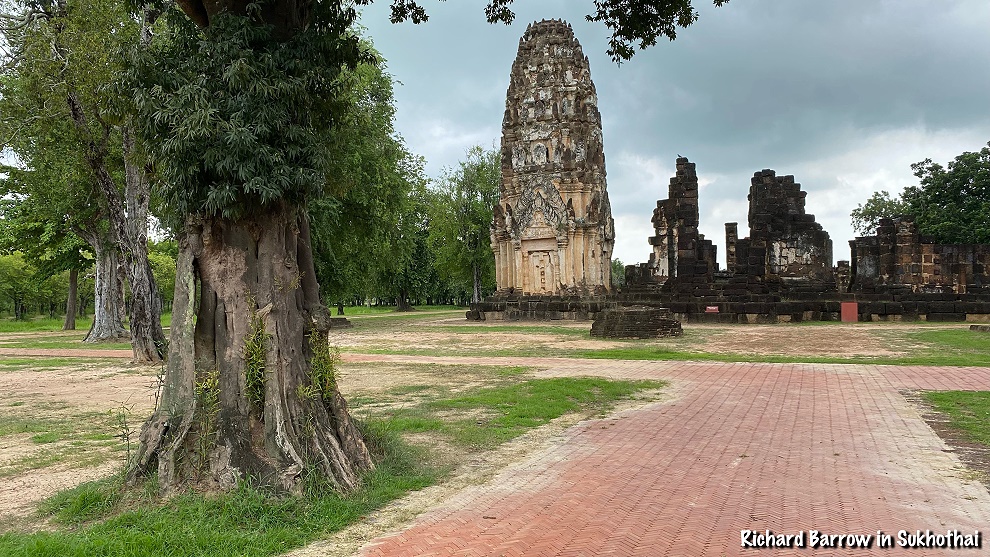 Wat Phrapai Luang is the oldest temple in the historical park and second most important temple after Wat Mahathat. The three prangs made from laterite are said to date back more than 700 years.
MAP: https://goo.gl/maps/ZNieSA1EEwTJ2heX6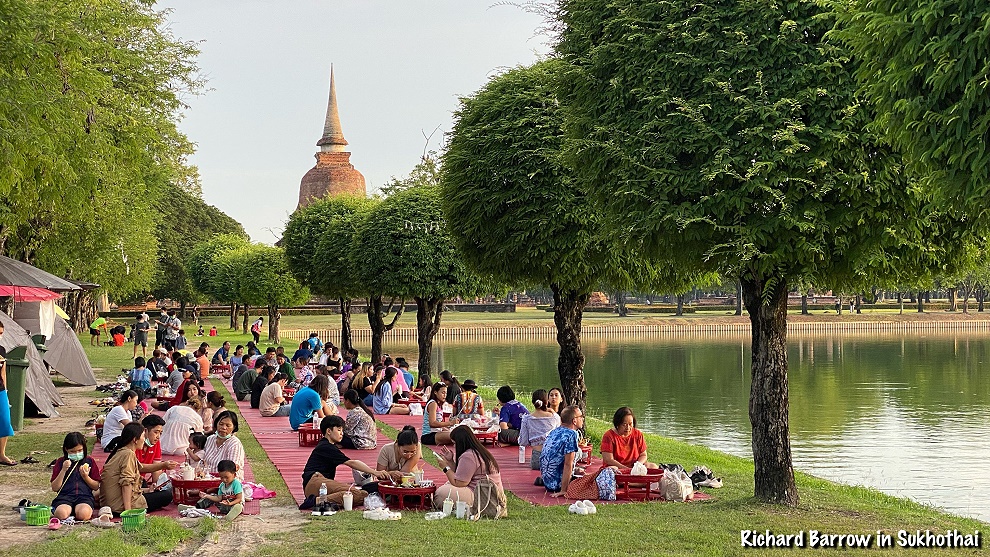 A good place to end a tour of Sukhothai Historical Park is their walking street and food market that takes place here from Friday-Sunday, 5pm-9pm.
MAP: https://goo.gl/maps/i7N3MWYUPgE6gV7C6
DAY THREE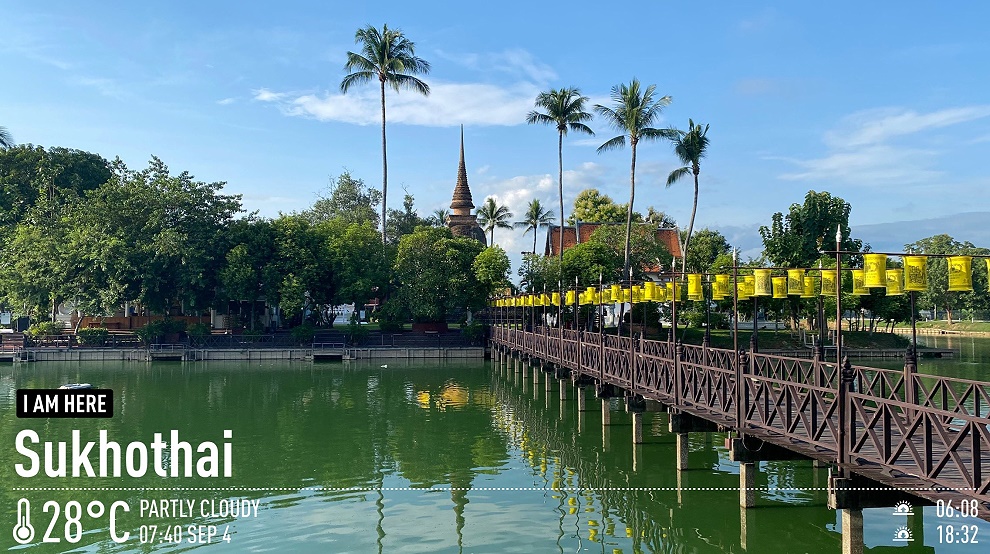 Good morning from the old town in Sukhothai. I'm about to have breakfast and then I will catch a bus to the bus station in Sukhothai for the bus to Phitsanulok. I will have a few hours to explore and eat lunch before catching the train back to Bangkok.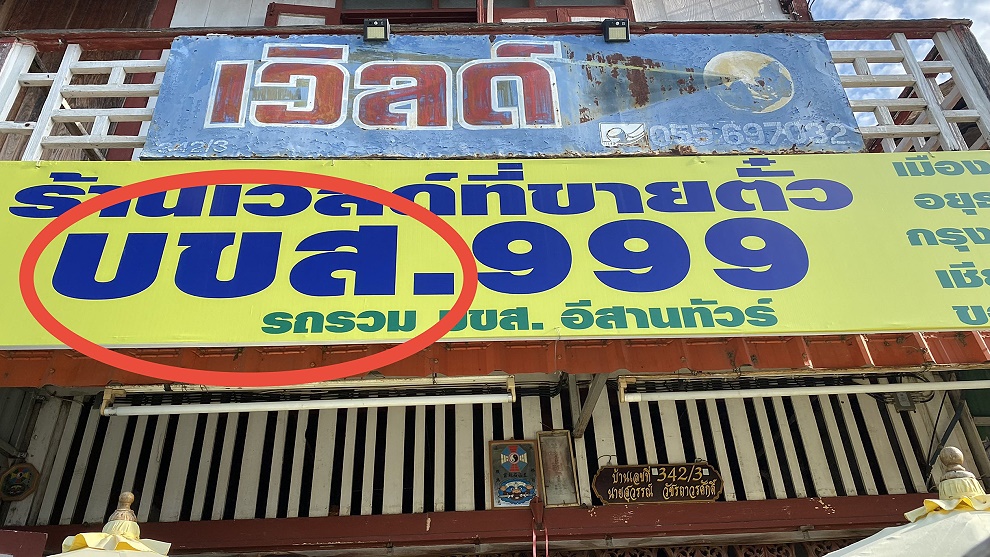 I haven't caught a long distance bus for many years, and so here's a tip if you are new like me. Bus terminals are known by the initials บขส. (Bor Kor Sor). Which stands for The Transport Co., Ltd. When I got off the train, all I had to tell the motorcycle taxi was "Bor Kor Sor".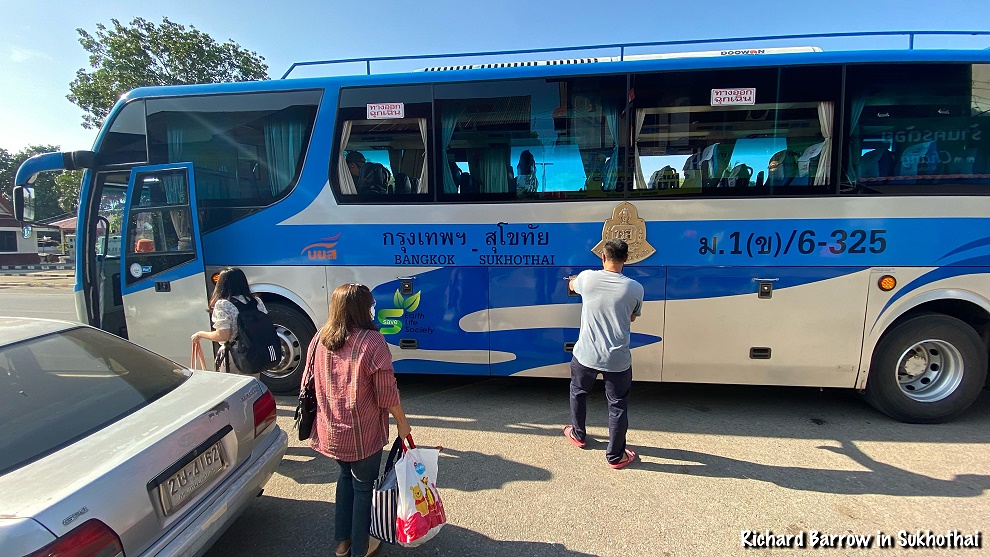 There's a shop close to the entrance to Sukhothai Historical Park that sells bus tickets to Bangkok for 346 Baht. It leaves every day at 8:15am. I'm just going as far as the bus terminal in Sukhothai New Town and so my ticket is only 40 Baht.  But of course, you have the option to take this bus all the way back to Bangkok if you like. Buses to Chiang Mai and Khon Kaen also stop here.
MAP: https://goo.gl/maps/cdnJofCAiGCayJwH9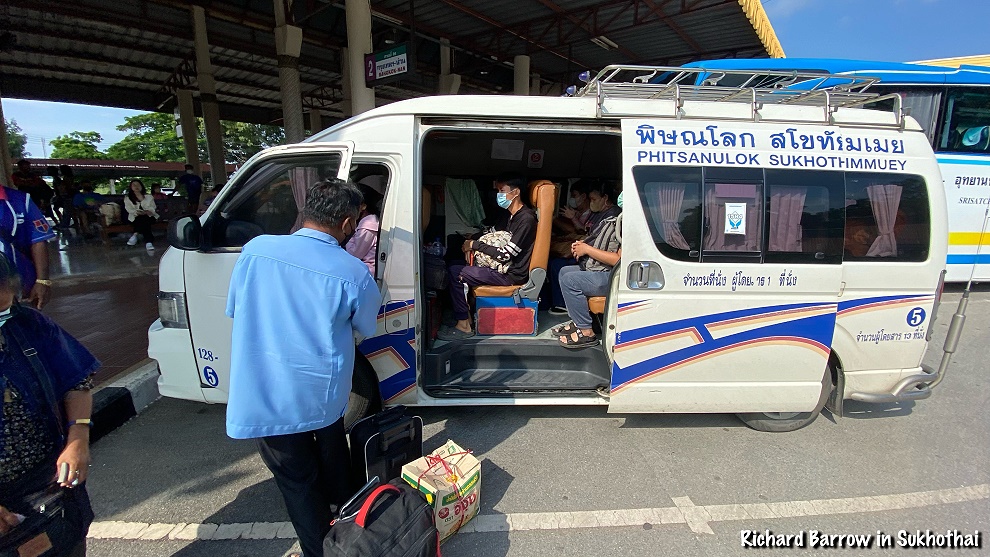 Luckily I didn't have to wait too long at Sukhothai Bus Terminal for a minivan going to Phitsanulok. I got the last seat. 60 Baht for this stretch. There doesn't seem to be any minivans starting here so it's pot luck when I can go.
MAP: https://goo.gl/maps/kx1KGk19zxrmpZg9A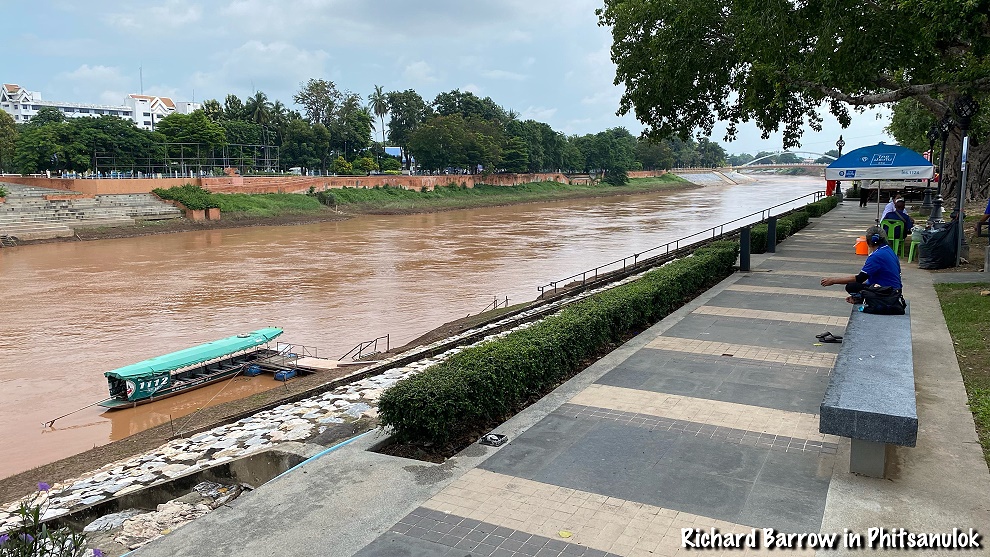 The minivan driver kindly dropped me off at Wat Phra Si Rattana Mahathat on the edge of Phitsanulok town. This saved me 60 Baht on a motorcycle taxi. The river here is the Nan River. It is 630 kilometres long and is one of the most important tributaries of the Chao Phraya River.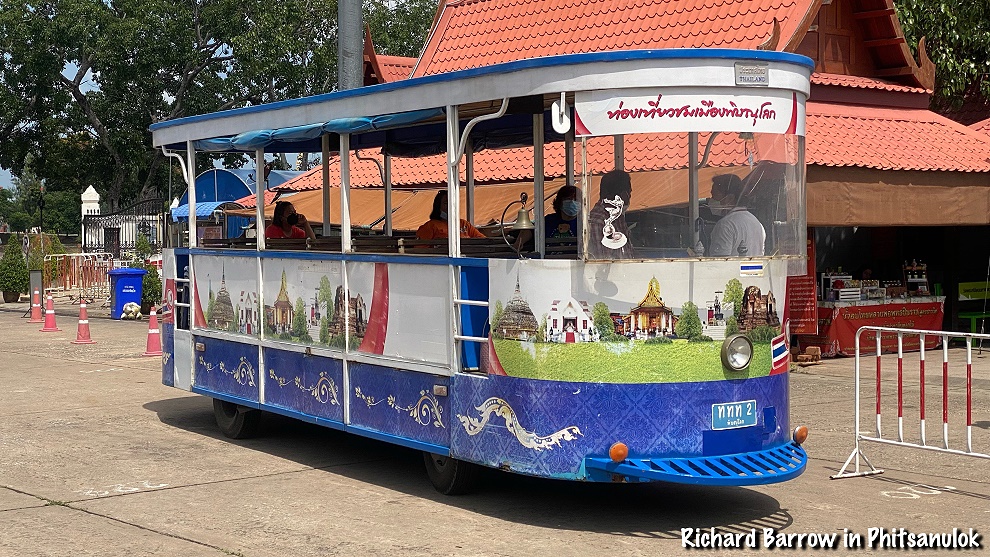 At Wat Yai I was lucky to come across this tram that takes tourists on a tour around Phitsanulok. Only 50 Baht for a 45 minute tour. As they were about to leave I decided to join them. I have about 3 hours before my train to Bangkok leaves. It will be a good way to see the city.
MAP: https://goo.gl/maps/sDTdquHS6DqDDQod9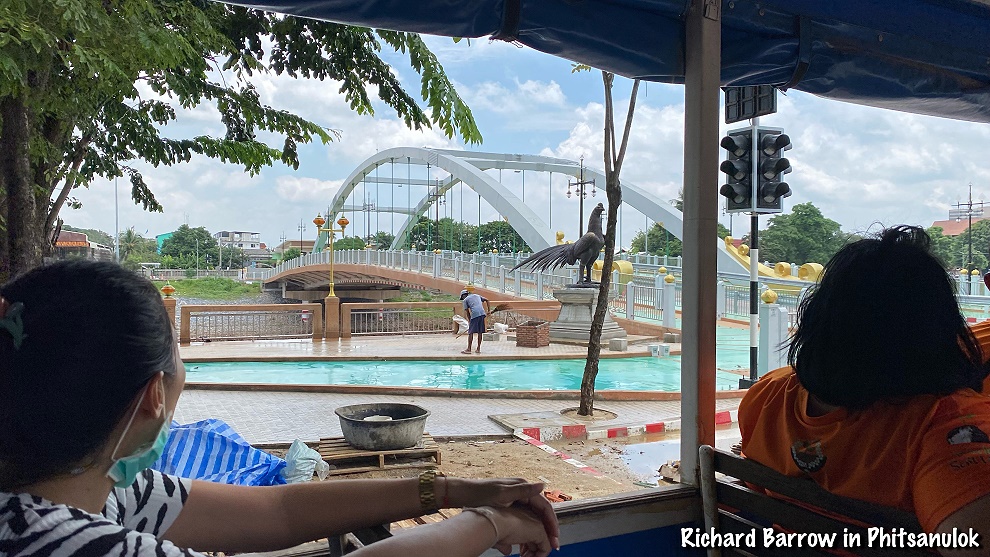 There are no fixed times for the tours as it depends on number of tourists. On a busy weekend they do around 3-4 rounds.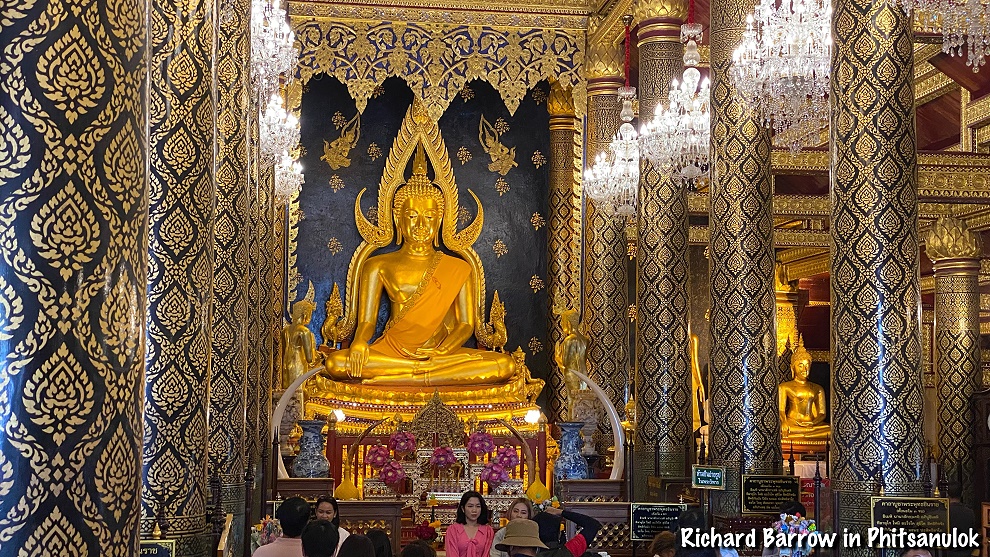 Wat Phra Si Rattana Mahathat is said to have the most beautiful Buddha image in Thailand. The bronze image is called Phra Phuttha Chinnarat and is hundreds of years old. In the 17th Century it was covered in a layer of gold.
MAP: https://goo.gl/maps/sDTdquHS6DqDDQod9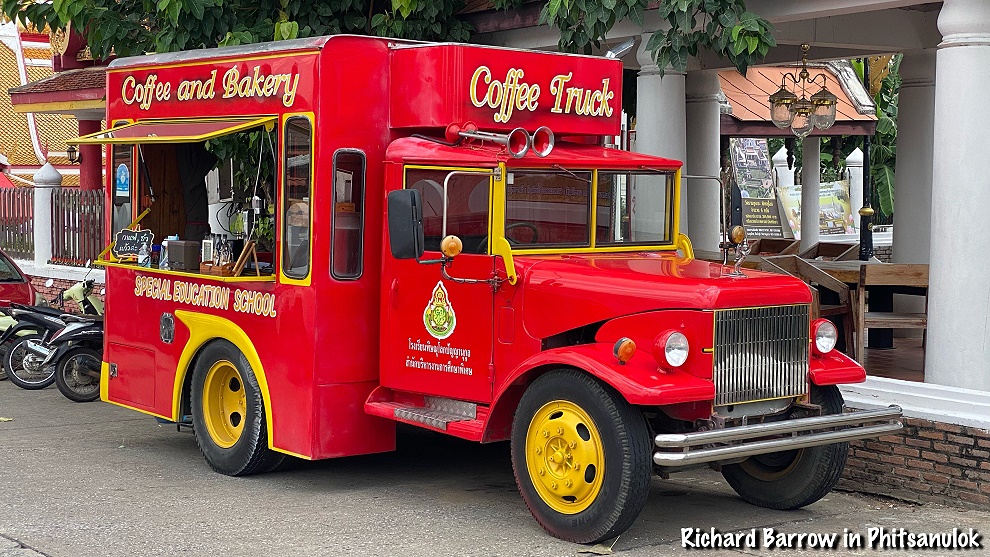 Coffee break in front of Wat Yai in Phitsanulok. I couldn't really pass this red truck without stopping, could I?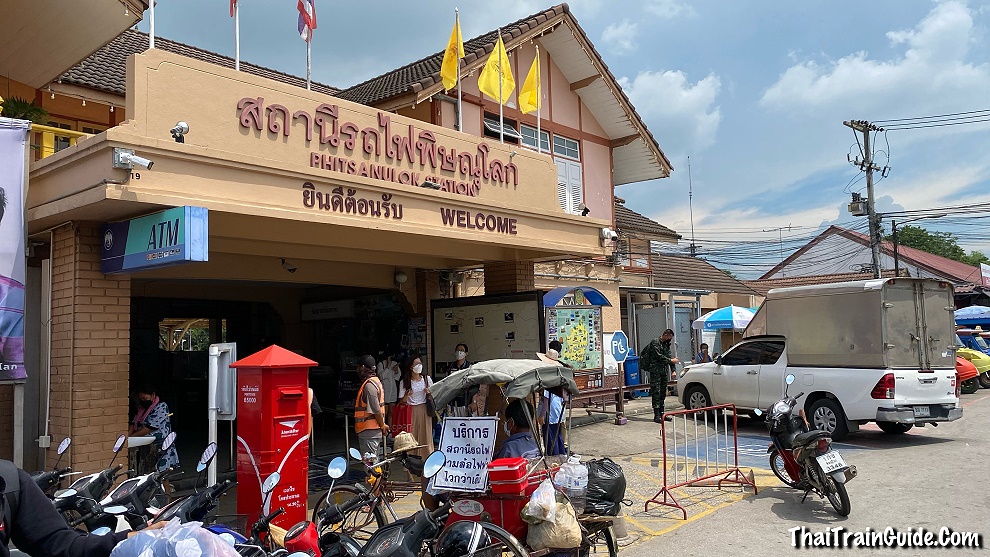 Phitsanulok Railway Station on the Northern Line. The station opened on 24th January 1907. Steam locomotive 181 is on permanent display in front of the station.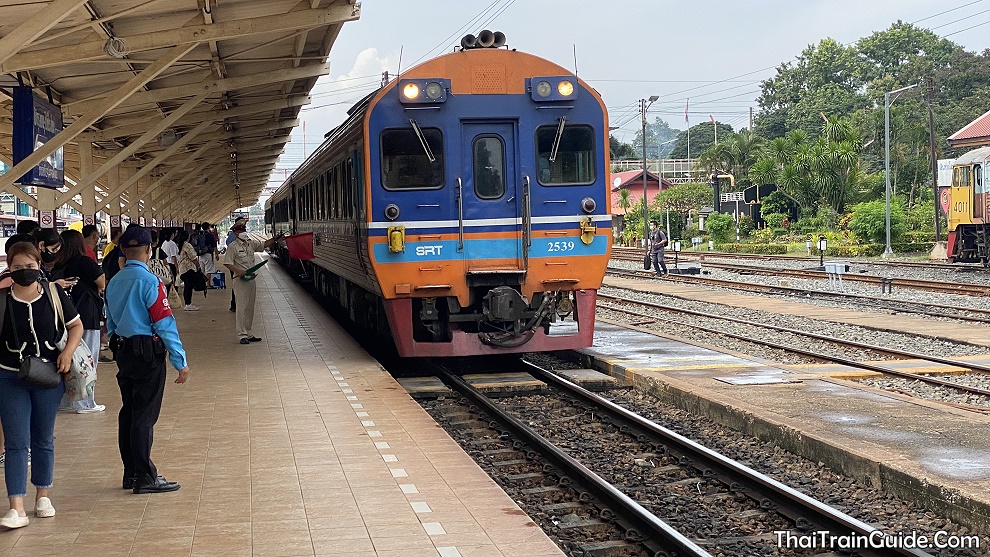 My train journey back home is onboard Special Express No. 8 that goes from Chiang Mai to Bangkok. Ticket price was 479 Baht which includes a meal.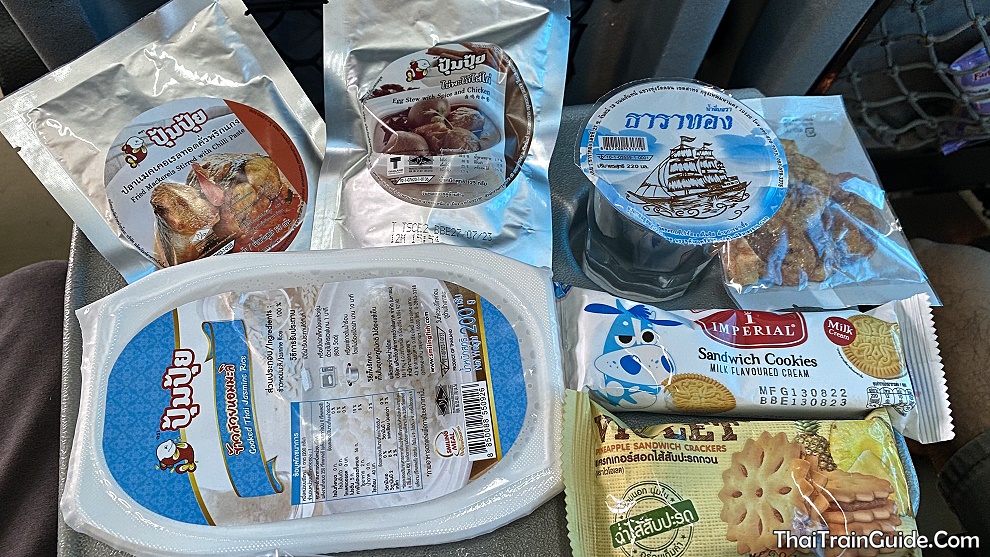 This is the food that was served us onboard the special express train. This time it was Fried Mackerels with Chilli Paste and Egg Stewed with Five Spices and Chicken. To be honest, not very appetising.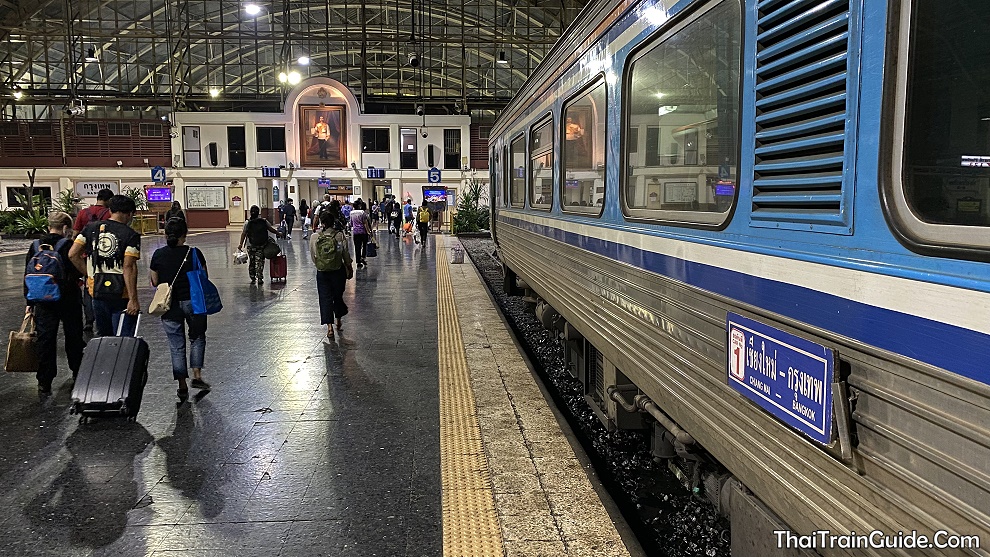 I've arrived safely back in Bangkok. Not only that, the train was actually 12 minutes early! I'm used to these trains being an hour or so late. Anyway, I hope you enjoyed my train trip to Sukhothai. Please join me for my next one.