The State Railway of Thailand (SRT) run a number of weekend excursion trains to various tourist destinations around Thailand. Two of the most popular routes are to Sai Yok Waterfall in Kanchanaburi and Suan Son Pradipat Beach to the south of Hua Hin. This page is about the day-trip to Kanchanaburi. The train goes every Saturday and Sunday and public holidays from Bangkok Railway Station (Hua Lamphong). The train leaves at 6:30 a.m. and makes its first stop in Nakhon Pathom at 7:45 a.m. for forty minutes of sightseeing.
The next stop is at 9:34 a.m. at the Bridge on the River Kwai. You have about 25 minutes here. The scenic highlight of the train trip is at around 11:00 a.m. when it goes along the wooden trestle bridge near Tham Krasae station. The final stop is at Nam Tok station at 11:30 a.m which is a short walk to the waterfall. They give you nearly three hours here. The return train leaves at 2:25 p.m. In Kanchanaburi town, they give you about one hour to visit the war cemetery near the station or to buy snacks in the market. You are then back on the train at 4:53 p.m. If it is on time, you will get back to Bangkok at 7:25 p.m. please note, all times and stops are subject to change
Photo Blog: Day Trip to Sai Yok Noi Waterfall by Train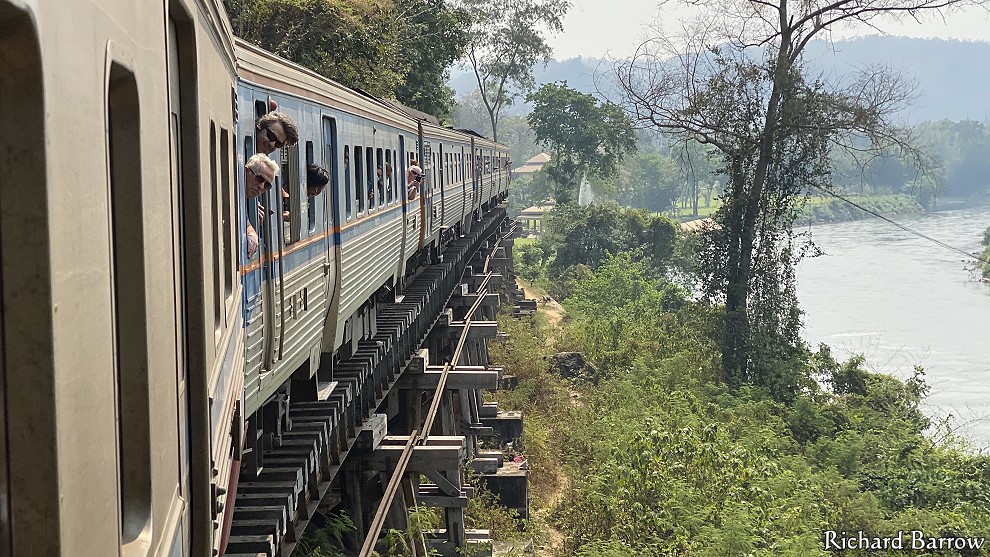 HOW TO BUY TICKETS: You can book tickets online on the official D-Ticket website. You can also buy tickets at your local railway station. This can be done up to 30 days in advance. A 3rd class seat costs 120 Baht for the return journey. A 2nd class ticket in air-conditioned carriages is 240 Baht per person for the return journey. The advantage of going 3rd class is that the windows are open and it is easier to take pictures of the countryside. In 2nd class, although you have air-conditioning and comfortable seats, you might also have dirty windows. This is a personal choice. The outbound journey is broken up in Nakhon Pathom and the Bridge on the River Kwai. The return journey is broken up in Kanchanaburi town.
HOW TO GET TO THE STATION: Most people will get on at Bangkok Railway Station, otherwise known as Hua Lamphong. There is a car park which is 20 baht per hour or 300 baht for the day. There is also a subway station here called MRT Hua Lamphong. I personally like to start and finish my journeys at this station. But many people also get on further down the line such as at Bang Sue Junction or Salaya Station. You can park your car for free at Bang Sue Grand or go there on either the Blue or Red Line trains.
HOW TO TRACK THE TRAINS: You can use the Train Tracking System to check the live progress of these trains: 909 (outbound) and 910 (inbound) when they are running at the weekend.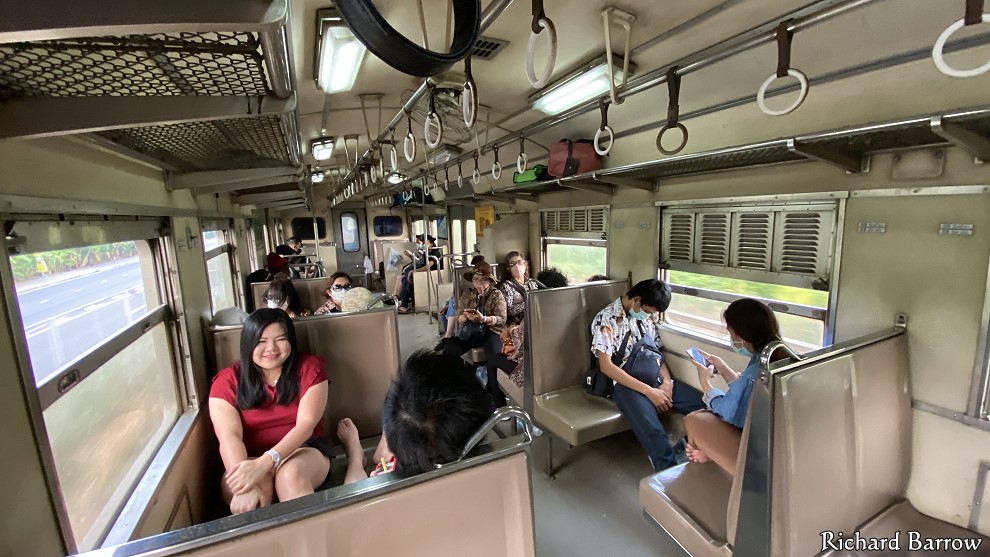 TRAIN SCHEDULE
All times are subject to change.
| TIME | STATION | NOTES |
| --- | --- | --- |
| 6:30am | Depart Bangkok Station | 909 train – outbound journey |
| 6:43am | Sam Sen Station | |
| 6:50am | Bang Sue Junction | Nice view on the left as the train goes around the curve after the junction |
| 7:06am | Bang Bamru Station | |
| 7:24am | Salaya Station | |
| 7:45am | Arrive at Nakhon Pathom Station | 40 minutes to visit Phra Pathom Chedi |
| 8:20am | Depart Nakhon Pathom station | |
| 8:32am | Nong Pladuk Junction | The train will be split here so make sure you're in your assigned seat |
| 9:26am | Kanchanaburi Station | |
| 9:34am | Bridge on the River Kwai | 25 minutes to visit the bridge |
| 10:00am | Depart Bridge on the River Kwai | |
| 11:00am | Thamkra Sae wooden trestle bridge | Impressive views on the left-hand side |
| 11:30am | Arrive at Nam Tok Station | You have three hours to visit the waterfall and eat lunch |
| 2:25pm | Depart from Nam Tok Station | 910 – return journey |
| 2:44pm | Thamkra Sae wooden trestle bridge | Impressive views on the right-hand side |
| 3:53pm | Arrive at Kanchanaburi Station | You have one hour to visit the war cemetery or buy food in the market |
| 4:53pm | Depart from Kanchanaburi Station | |
| 5:48pm | Nong Pladuk Junction | |
| 7:25pm | Arrive at Bangkok Station | |
MAP OF ROUTE
Photo Blog: Day Trip to Sai Yok Noi Waterfall by Train