I recently travelled along most of the rail lines in Malaysia and so I will be adding lots of information for Malaysian trains on this page in the coming days and months. If you have any questions, please post them here.
QUICK LINKS:
MAP OF MALAYSIAN TRAIN ROUTE
The following is the map for the rail network in Malaysia. There are basically two lines, Western and Eastern lines, with the interchange at Gemas. The Western Line is mainly electric with fast and modern trains. The Eastern line uses diesel locomotives and older rolling stock.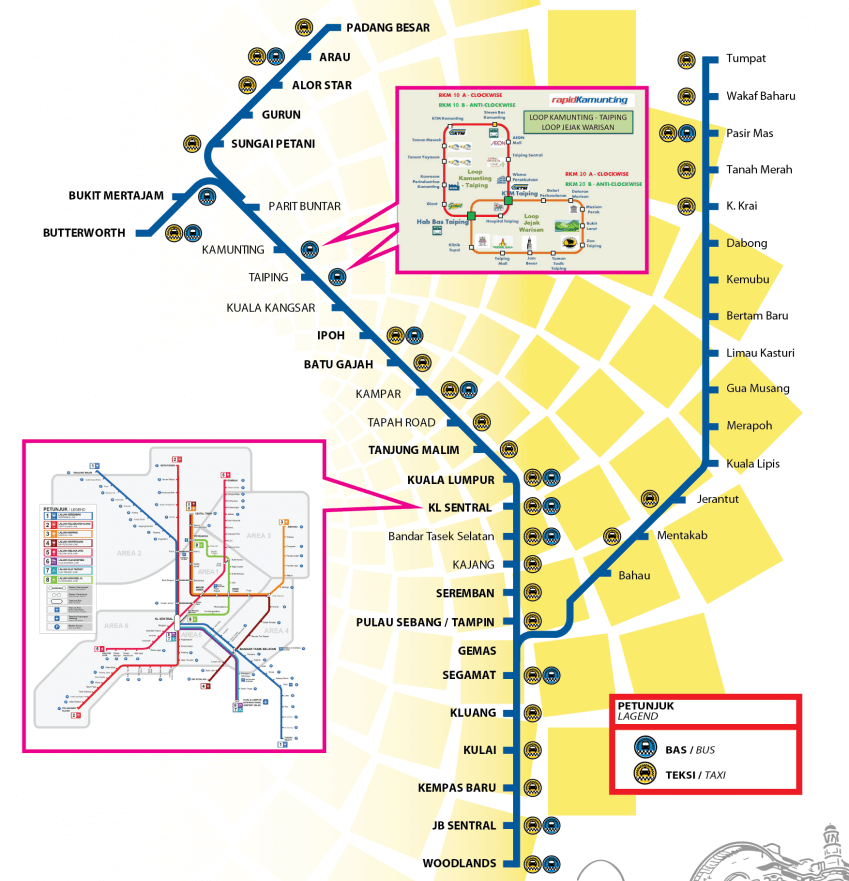 Pedang Besar is the station on the Thai-Malaysian border. From here you can catch a fast train to Butterworth (for boat connection to Penang Island) or straight to Kuala Lumpur (KL Sentral). In the future, the electric train should go all the way to Johor Bahru (JB Sentral) on the border with Singapore. At the moment, you have to take a train from KL Sentral to Gemas and then from there, another train to JB Sentral. Once at the border, you can catch the shuttle train to Woodlands (Woodlands CIQ) in Singapore. For the Eastern Line, you can go all the way from JB Sentral or Gemas to Tumpat at the northern end of the line.
LINKS FOR FULL INFORMATION
No. 45/46 Bangkok > Padang Besar > Bangkok (international train)
Hat Yai to Padang Besar Shuttle Train (international train)
Padang Besar to Butterworth Train
Padang Besar to KL Sentral (Kuala Lumpur) train
Butterworth Railway Station
Butterworth to Penang Boat Transfer
KL Sentral (Kuala Lumpur) Railway Station
Mass Transit Trains in Kuala Lumpur
KL Sentral to Gemas Train
Gemas to JB Sentral Train
JB Sentral (Johor Bahru) Railway Station
Woodlands CIQ Railway Station
JB Sentral to Woodlands Shuttle Train (international train)
Tumpat Railway Station
JB Sentral to Tumpat Train