There are two Padang Besar railway stations. One of them is a small station in Thailand and the other one, a few minutes away just across the border in Malaysia, is the bigger one operated by Malaysian railways (KTM-Berhad). It is this one that has the immigration for Thailand and Malaysia. This is also where you change trains. If you are coming from Thailand, you go through Thai Immigration first and then a short walk away is Malaysian Immigration and customs. You then go upstairs where there are ticket offices for both State Railway of Thailand (SRT) and KTM-Berhad. Here you will also find a food court and a counter to buy SIM cards for Malaysia. Please note, there are no foreign exchange booths in the station and so you should change in advance as some places only accept cash.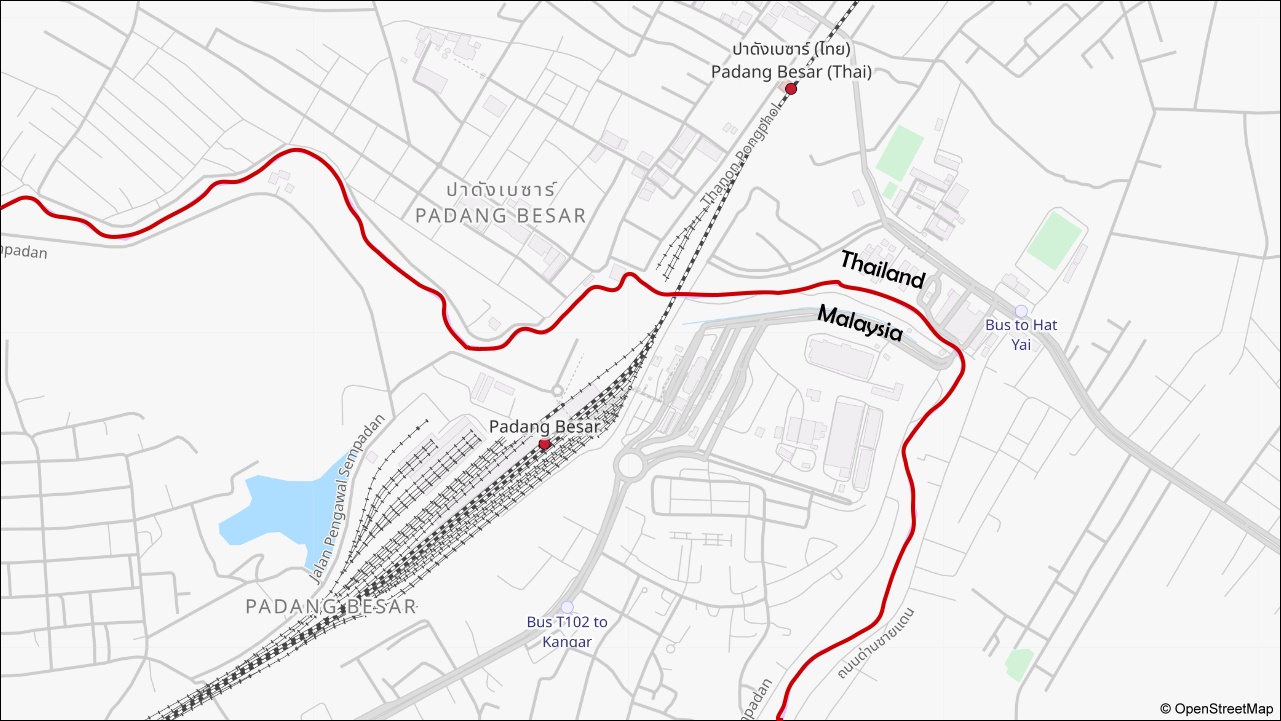 Map showing the two Padang Besar Stations. The one in Thailand is called Padang Besar (Thai) and is in Sadao District of Songkhla Province (Plus Code: M89F+GQ). The second one is Pedang Besar KTM Station and is in Perlis in Malaysia (Plus Code: M87C+G5). It is the latter station which has the immigration offices and is the interchange between Thai and Malaysian railways.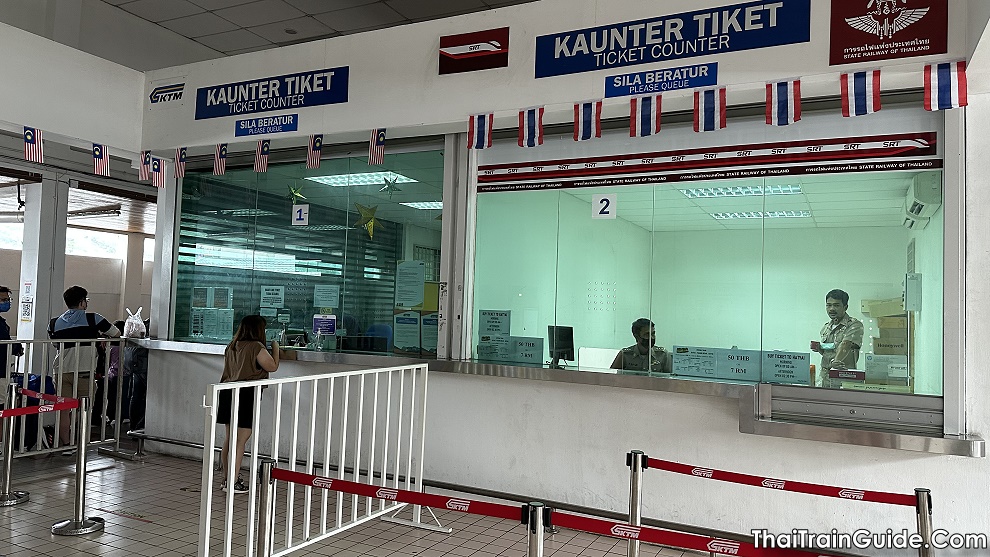 This is the ticket office on the second floor. On the right is the ticket office for the SRT. You can buy a ticket for the shuttle train to Hat Yai here. The price is 50 Baht or 7 Ringgit. You have the choice to pay in either Thai or Malaysian money. The morning train leaves at 9:55 a.m. Malaysian time. The ticket office opens at 9:00 a.m. The afternoon shuttle leaves at 4:40 p.m. The ticket office opens at 2:30 p.m. for this train. In addition to these two shuttle trains, there is an international SRT Express train No.45/46 that goes between Bangkok and Padang Besar via Hat Yai. The train leaves at 6:00 p.m. They add a couple of 3rd Class carriages just for people going to Hat Yai. If you are going further, you should buy the tickets in advance.
On the left is the ticket counter for KTM-Berhad. Here you can buy a ticket for the KTM Komuter train to Butterworth if you want to go to Penang. This cannot be bought in advance. Trains go thirteen times a day from 5:20 a.m. to 9:35 p.m. and cost 11.40 Ringgit. There is no seat number or even train number on the ticket which means you can sit where you like and go on any of the trains on this route. There is also an ETS train (Electric Train Service) all the way to KL Sentral in Kuala Lumpur four times a day. You can buy these tickets in advance and I suggest that you do so on the official KITS Ticketing website if you want a particular class or seat. There is also one ETS train a day that goes all the way to Gemas.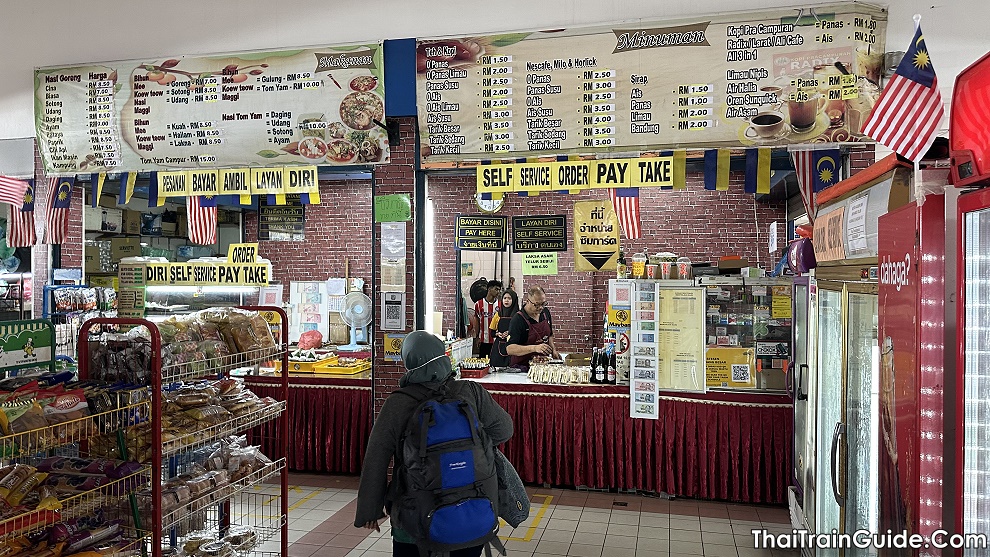 TRAINS TO AND FROM PEDANG BESAR: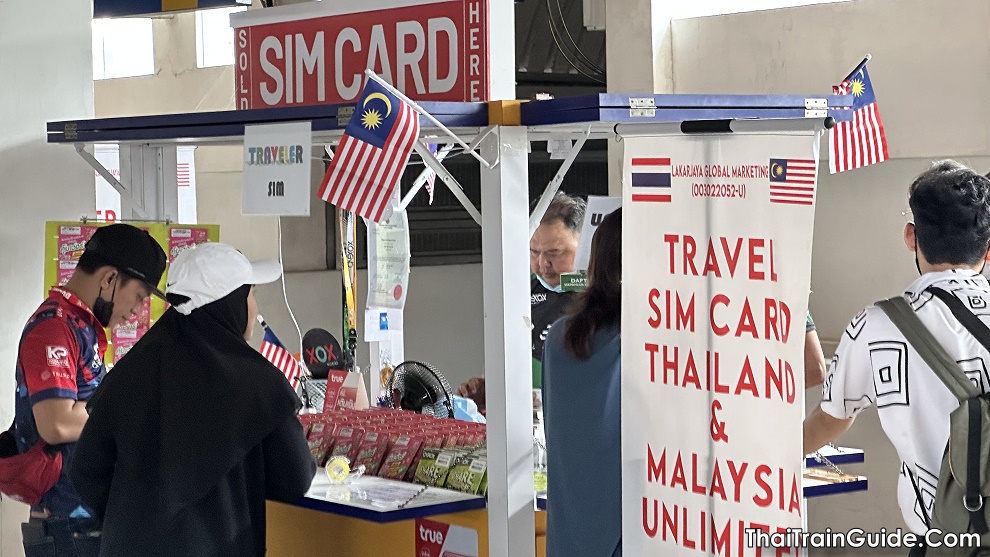 On the 2nd floor there is this booth that sells SIM Cards for both Thailand and for Malaysia. The Malaysian cards when I visited in October 2022 were 25 Ringgit for 2 days of data, 35 Ringgit for 10 days, and 60 Ringgit for 30 days. For myself, I bought a Travel Sim Card for Asia from True when I was in Bangkok. This was good for all countries in the region and made life easier for me as I didn't need to worry about finding a shop and going about activating it each time. My SIM card was activated in Bangkok and started working as soon as I picked up a signal.

To go to the platform, if you are taking a Malaysian train, you need to scan the QR Code on your ticket on the ticket barrier. You can go down to the platform at any time but there are no shops down there. Please note, they don't check tickets on the train and so when you reach your destination, you need your ticket again to get through the ticket barriers. So, don't lose it. A handy tip is to take a picture as you can scan from a photo on your smartphone.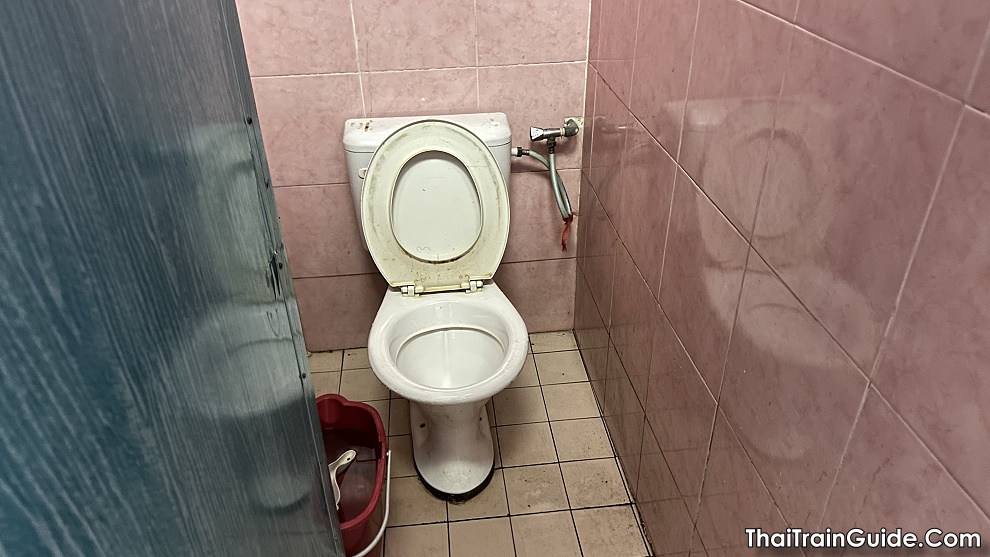 After the ticket barrier, you pass these toilets on your right before you go back down to the platform. You have to pay to use them. They are not in the best of conditions. But please note, if you are taking the KTM Komuter train to Butterworth, there are NO toilets on this train.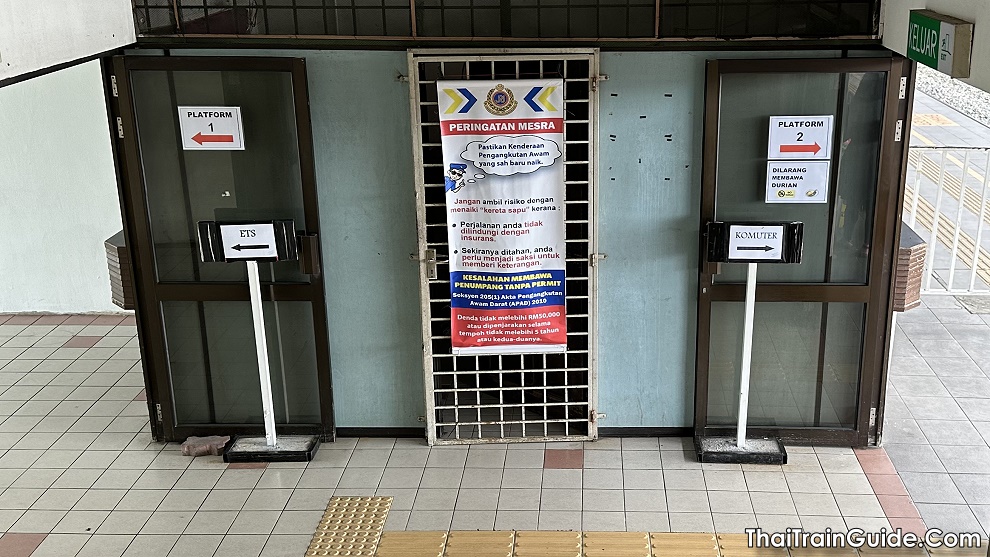 When I came down to thew platform during my trip in October, Platform 1 was for the ETS service and Platform 2 was for the Komuter service. My shuttle train from Hat Yai was also on Platform 2 on the other side of that barrier you can see on the right.