Chumphon Railway Station is in Tha Taphao Subdistrict, Chumphon City, and is the main railway station for Chumphon Province. It is a class 1 railway station, 468.534 km (291.1 miles) from Thonburi Railway Station. It is the first fueling station from Bangkok, and thus all trains going further south must stop here. Chumphon is also the site of a locomotive depot. During the Second World War, Chumphon was a junction for the 90 km military line to Khao Fachi, Ranong, under the coordination of the Imperial Japanese Army. The line was built in December 1943. In March 1945, Allied aircraft destroyed Chumphon station and the line to Khao Fachi. Chumphon Station was rebuilt in 1948. – Wiki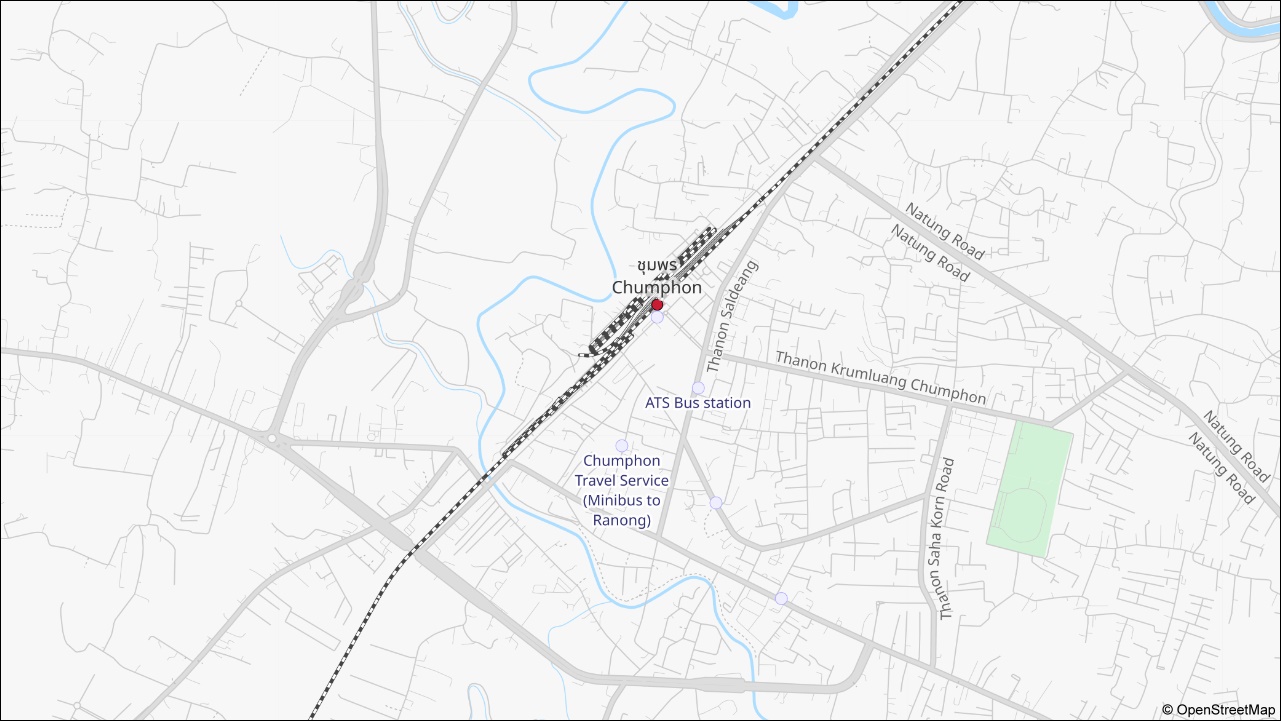 DOWN TRAINS:
There are some nice views as the train passes through Prachuap Khiri Khan and Chumphon provinces and so you may want to consider a day train. The best one is Special Express No.43 which is an air-conditioned diesel rail car. If you prefer sleeper trains, Express No. 85 and Special Express No. 39 arrive at a good time. If you are planning a boat connection to Koh Tao, please note these trains are often an hour late.
The following trains are in order of arrival starting with the afternoon trains.
Special Express No. 43: Bangkok to Surat Thani

Departs Bangkok at 7:50am and arrives in Chumphon at 4:26pm
Diesel rail car, 2nd Class seats with A/C, meals included

Rapid No. 171: Bangkok to Su-Ngai Kolok

Departs Bangkok at 12:30pm and arrives in Chumphon at 10:00pm
2nd Class Sleeper, 2nd and 3rd Class seats with fan

Special Express No. 31: Bangkok to Hat Yai Junction

Departs Bangkok at 2:30pm and arrives in Chumphon at 11:05pm
1st and 2nd Class CNR sleeper train

Special Express No. 37: Bangkok to Su-Ngai Kolok

Departs Bangkok at 3:10pm and arrives in Chumphon at 12:06am
1st and 2nd Class Sleeper, 2nd and 3rd Class seats with fan

Special Express No. 45: Bangkok to Padang Besar

Departs Bangkok at 3:10pm and arrives in Chumphon at 12:06am
2nd Class Sleeper

Rapid No. 169: Bangkok to Yala

Departs Bangkok at 3:35pm and arrives in Chumphon at 1:37am
2nd Class Sleeper, 2nd and 3rd Class seats with fan

Express No. 83: Bangkok to Trang

Departs Bangkok at 5:00pm and arrives in Chumphon at 2:30am
1st and 2nd Class Sleeper, 2nd and 3rd Class seats with fan

Rapid No. 167: Bangkok to Kantang

Departs Bangkok at 6:30pm and arrives in Chumphon at 4:45am
2nd Class Sleeper, 2nd and 3rd Class seats with fan

Express No. 85: Bangkok to Nakhon Si Thammarart

Departs Bangkok at 7:30pm and arrives in Chumphon at 5:38am
1st and 2nd Class Sleeper, 2nd and 3rd Class seats with fan

Special Express No. 39: Bangkok to Surat Thani

Departs Bangkok at 10:05pm and arrives in Chumphon at 6:57am
Diesel rail car, 2nd Class seats with A/C