The State Railway of Thailand organises steam train excursions six times a year on important public holidays. These go to three different destinations. The day trips to Ayutthaya are the most popular and the one that is often sold out within hours of going on sale. The trips to Ayutthaya go on 26th March, 28th July and 23rd October. You can buy tickets online or at your local train station 30 days in advance. Even if you don't buy tickets to join these trips, it doesn't mean that you cannot go to the station to take photos. This page contains my notes on how to take photos of the steam locomotive on the days that it goes to Ayutthaya.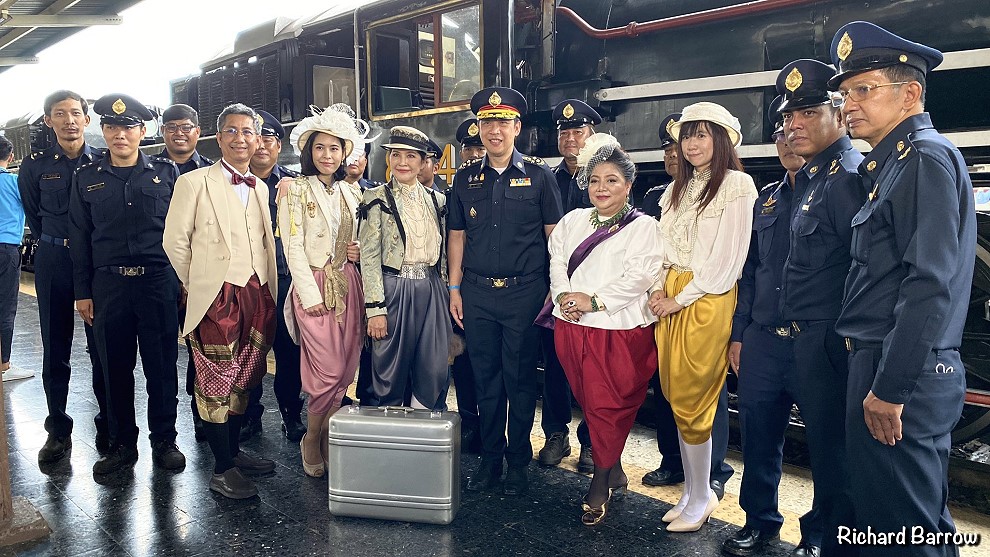 The best place to start is at Bangkok Railway Station, otherwise known as Hua Lamphong (see map). Unlike in other countries, you don't need a train ticket or even a platform ticket to go and take photos. The train leaves at 8:10 a.m. I suggest that you arrive by 7:00 a.m. at the latest so you will get a good hour to take photos. If you come in your own car, you can park at the station car park for 20 baht per hour. For a full day, ten hours or more, it costs 300 baht. There is also an MRT station called Hua Lamphong which is a convenient way to arrive.
TIMETABLE FOR TRAIN NO. 901 TO AYUTTHAYA
| STATION | ARRIVE | DEPART | NOTES |
| --- | --- | --- | --- |
| BANGKOK | | 8:10 a.m. | Take photos on the platform |
| SAM SEN | 8:25 a.m. | 8:25 a.m. | |
| BANG SUE JUNCTION | 8:32 a.m. | 8:34 a.m. | Close to Red Line Station |
| BANG KHEN | 8:44 a.m. | 8:45 a.m. | Close to Red Line Station |
| LAK SI | 8:53 a.m. | 8:54 a.m. | Close to Red Line Station |
| DON MUEANG | 9:02 a.m. | 9:03 a.m. | Close to Red Line Station |
| RANGSIT | 9:16 a.m. | 9:17 a.m. | Close to Red Line Station |
| AYUTTHAYA | 10:25 a.m. | | |
SUGGESTIONS FOR CHASING THE STEAM TRAIN
You could take pictures up until 8:00 a.m. at Hua Lamphong and then jump into a taxi to Bang Sue Junction. Please note, although there is an MRT station at Bang Sue, the train goes the long way and the steam train will get there before you. If you go by expressway, it will take you about 15-20 minutes to get there. The steam train is scheduled to arrive at Bang Sue Junction at 8:32 a.m.  You could then take the expressway to Rangsit Station. This will take you about 35 minutes while the steam train will take about 45 minutes. The steam train leaves Rangsit at 9:17 a.m. and is scheduled to arrive in Ayutthaya just over one hour later at 10:25 a.m. If you take the expressway, you should get there in only 50 minutes.
All of this is doable if you use a taxi for the first part so as not to worry about parking. But the last part to Ayutthaya would be cheaper and easier if you had your own car. One way to do this is to park your car at Rangsit Station early in the morning and then take a train or taxi to Hua Lamphong for your starting position. If you have any suggestions for good places to take photos along the route, please post them in the comments below. I will add them to the google map.
TIMETABLE FOR TRAIN NO. 902 TO BANGKOK
| STATION | ARRIVE | DEPART | NOTES |
| --- | --- | --- | --- |
| AYUTTHAYA | | 4:40 p.m. | Take photos on the platform |
| RANGSIT | 5:48 p.m. | 5:49 p.m. | Close to Red Line Station |
| DON MUEANG | 6:02 p.m. | 6:03 p.m. | Close to Red Line Station |
| LAK SI | 6:11 p.m. | 6:12 p.m. | Close to Red Line Station |
| BANG KHEN | 6:20 p.m. | 6:21 p.m. | Close to Red Line Station |
| BANG SUE JUNCTION | 6:31 p.m. | 6:33 p.m. | Close to Red Line Station |
| SAM SEN | 6:40 p.m. | 6:41 p.m. | |
| BANGKOK | 6:55 p.m. | | |
GOOGLE MAP OF THE ROUTE