Starting from Bangkok, the Northern Line passes through eight provincial cities (names in bold) and 12 provinces. Namely: Pathum Thani, Ayutthaya, Saraburi, Lop Buri, Nakhon Sawan, Phichit, Phitsanulok, Uttaradit, Phrae, Lampang, Lamphun and Chiang Mai. There is also a branch line to Sukhothai Province. The first stretch of the northern line opened in 1896 but it didn't reach Chiang Mai until 1922.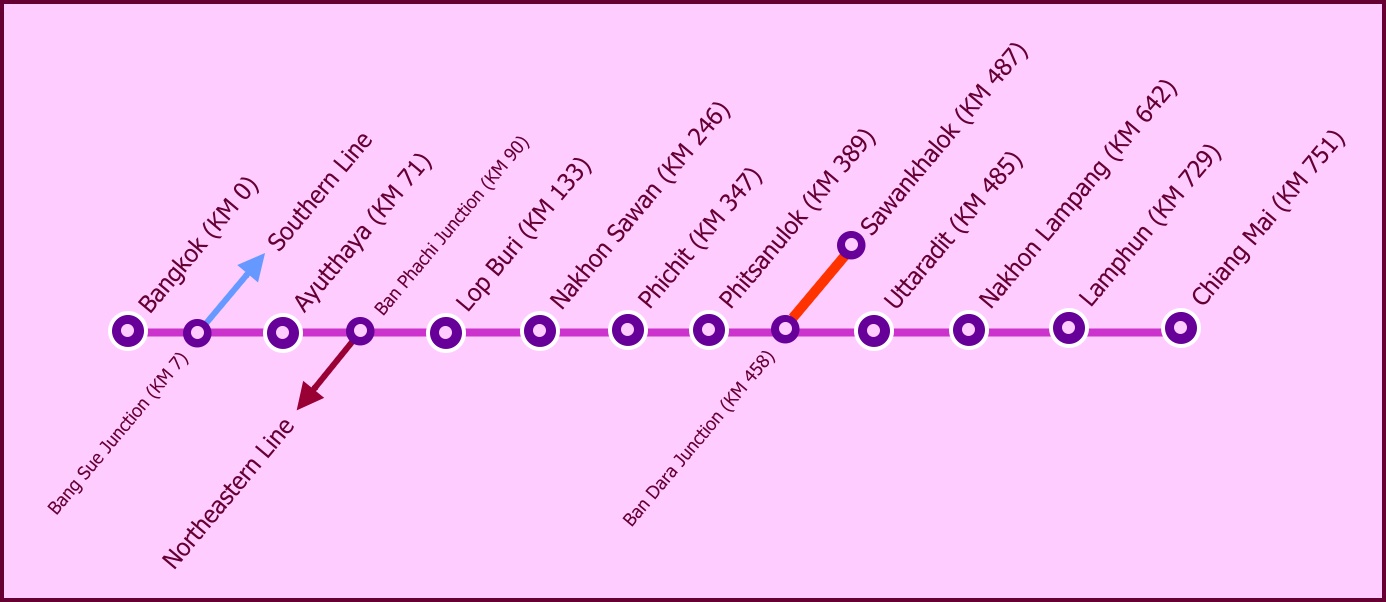 BRANCH LINES:
At Ban Phachi Junction Station (KM 90), the line splits with the Northeastern Line that takes trains to Nong Khai and Ubon Ratchathani. At Ban Dara Junction Station (KM 458), there is a branch line to Sawankhalok Station in Sukhothai Province. In the future, there will be a junction at Den Chai that will take you to Chiang Rai and Chiang Khong on the border with Laos. This new branch line will be 323 kilometers long. The earliest that it will be ready is 2028.
PLACES OF INTEREST:
The Northern Line is 751 kilometers (467 miles) from Bangkok Railway Station to Chiang Mai Station. The daytime Special Express can do this run in eleven hours. There are 130 railway stations and halts on this line. If you are going straight to Chiang Mai, then it is advisable to take one of the sleeper trains such as No. 9 Special Express. If you want to see the scenery or maybe stop off at places along the way, then No. 7 Special Express is a good choice.
The following are notes about the major stops and ones that might be of interest.
BANG PA-IN (KM 58): Visit Bang Pa-In Summer Palace and Wat Niwet Thammaprawat Ratchaworawihan. The station itself is also very beautiful as it is a royal stop.
AYUTTHAYA (KM 71.08): Visit the Ayutthaya Historical Park. Worth spending a least one night here.
LOP BURI (KM 132.81): Visit the historical ruins and say hello to the monkeys. Just don't get too close.
NAKHON SAWAN (KM 245.78):
PHICHIT (KM 346.79): One of the most beautiful stations.
PHITSANULOK (KM 389.28): Take a bus to Sukhothai and the nearby Sukhothai Historical Park.
DEN CHAI (KM 533.94): This is the provincial station for Phrae. You can also catch a bus from here to go to Nan Province.
BAN PIN (KM 563.86): One of the most beautiful stations.
NAKHON LAMPANG (KM 642.29):
KHUN TAN (KM 683.14): Visit the nearby Khun Tan National Park for hiking and camping. Also, there are a couple of nice bridges to the south of this station and Thailand's longest tunnel at 1352.10 meters long.
LAMPHUN (KM 729.21):
CHIANG MAI (KM 751.42): Lots to do in the city or take a bus from here to Pai or Mae Hong Son.