In the past, if you wanted to buy train tickets, you had to go to your local railway station. However, this wasn't useful for people who lived outside of Thailand and wanted to buy tickets in advance of coming here on a holiday. Some tourists also had a communication problem at smaller stations that didn't often see foreign tourists. The good news is that you now have a variety of different ways of buying tickets online.
Options for buying train tickets online in Thailand:
I always like to try and use the official site to buy my train tickets, but when I was abroad recently, I had trouble verifying my payment and couldn't buy my tickets. Other people living abroad also told me they sometimes had trouble opening the website. It is true that the official site now has an English version, but they don't translate everything. Sometimes important information is only shown in Thai. Overall, the interface and the support is not user-friendly which is why many people choose to use an agency site such as 12Go even though there is a service fee. But agency sites have the added advantage that everything is in English including the support.
ADVANCE TICKETS: In the past, you could buy tickets 90 days in advance at the railway station or on the official D-Ticket website. However, since 29th June 2020, this advance time has been reduced as follows:
Passengers who buy tickets for less than 25% of the train distance can only purchase one day in advance
Passengers who buy tickets for more than 25% of the train distance can buy 30 days in advance
You may notice that the travel agency websites such as 12Go sell tickets more than one month in advance. These are not confirmed ticket sales. However, it does have the advantage that the minute these tickets go on sale, their agents will be in the queue to buy the ticket for you. This is very useful for popular routes such as from Bangkok to Chiang Mai.
TOURIST TRAIN TICKETS: For the Special Weekend Excursion trains, you have no choice but to buy on the official D-Ticket website or at your local train station. Change the language to English and then click 'Exploring Thailand by Train'.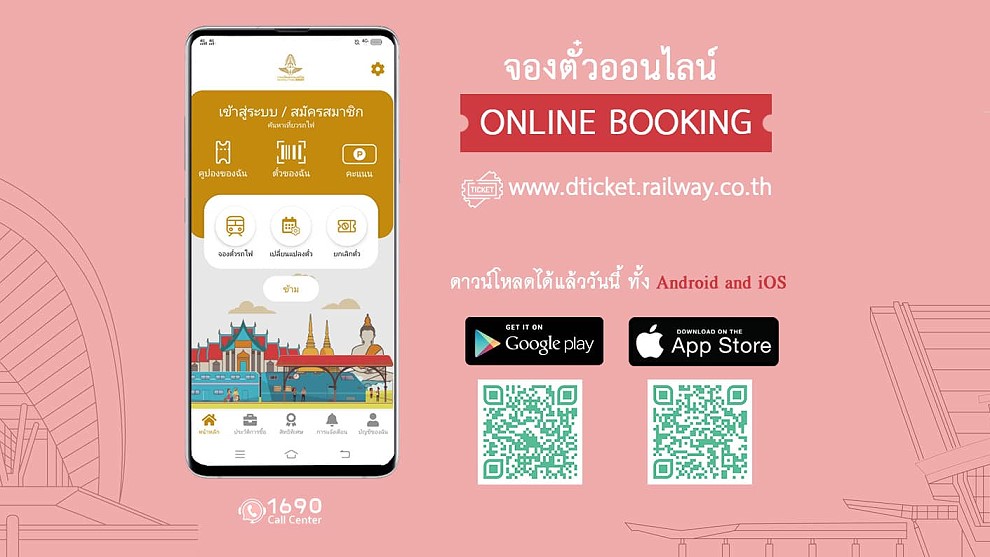 HOTLINE: The SRT hotline is 1690 and they have English speaking operators. You can reserve a seat with them 24 hours a day, but you then need to go and pay at one of the stations on the list below before 10:00 p.m. of the following day. Failure to pay and pick up your ticket on time will result in automatic cancellation of your reservation.
Railway stations where you can pick up reserved tickets:
Bangkok, Samsen, Bang Sue Junction, Bang Khen, Lak Si, Don Mueang, and Rangsit

Makkasan, Mae Nam, Khlong Tan, Hua Mak, Ban Thap Chang, Lat Krabang and Hua Takhe

Thonburi, Bang Bamru, Taling Chan Junction, Sala Thammasop and Salaya
Wongwian Yai and Talat Phlu
DISCOUNTS: The following people are entitled to a 50% reduction in ticket prices (excluding fees)
Children who are taller than 100 cm but not more than 150 cm.
Children less than 100 cm tall can travel for free but they don't get a separate seat
Buddhist monks and novices and Christian priests and Muslim imams.
Soldiers in uniform and people who have received certain medals.
Thai people sixty years and over from 1st June to 30 September every year.
Village Health Volunteers get 20% discount between 1st June and 30th September every year.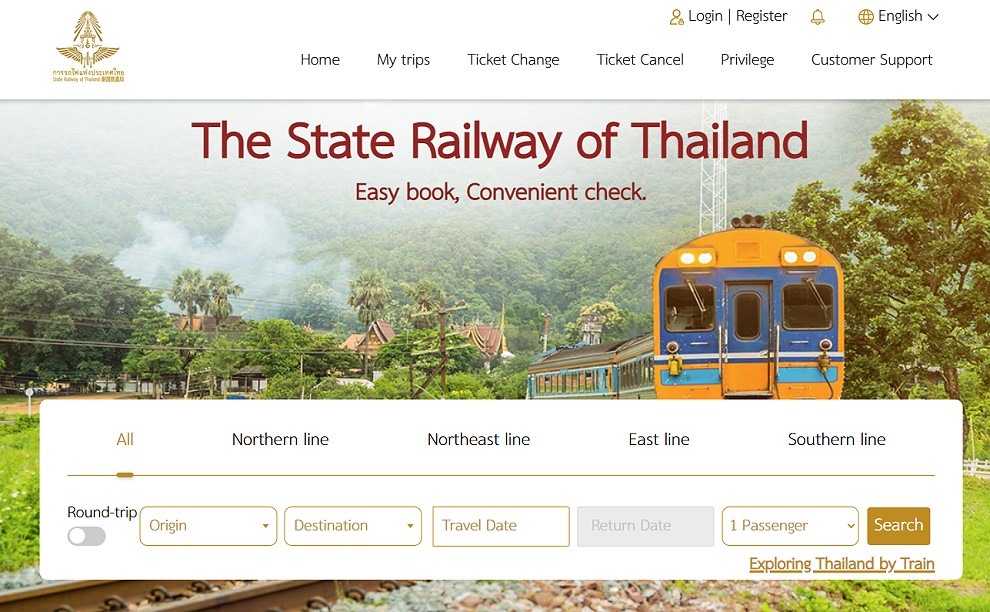 FINES: When a passenger is found to be travelling without a ticket, they have to pay the full ticket price plus a fine as follows
250 baht if onboard special express, express, and rapid trains
100 baht on all other trains
Exceptions to paying a fine are as follows:
Passengers who are classified as children
Students in uniform up to secondary school age
Passengers boarding from a halt that doesn't have a ticket office
Stations which have reported a disruption to ticket sales
CHANGING TICKETS AND UPGRADING: Tickets can be changed at the office you bought your ticket not less than one hour before departure time. You will be charged 20 baht for all classes of ordinary train and 50 baht for all classes of air-conditioned/sleeping train. If you are upgrading you also need to pay the difference between the two classes.
TICKET REFUNDS: Everyone is entitled to a refund on their tickets if they inform the ticket office in time. If you paid with cash then you get your money back straight away minus the fee.
Seek refund three days or more before the date of travel will get 80% back.
Seek refund less than three days but not less than one hour before departure will get 50% back.
LUGGAGE: Passengers are allowed to take personal luggage for free as follows
1st Class maximum of 50 kilos
2nd Class maximum of 40 kilos
3rd Class maximum of 30 kilos
Free allowance cannot exceed 15 kilos when travelling from Bangkok to Prachinburi, Kaen Khoi, Lopburi, Thonburi and Ratchaburi.
Excess luggage may be carried at an extra charge
Bicycles can be carried on the train for an extra charge of 90 baht