The State Railway of Thailand run a number of excursion trains throughout the year with the intention of promoting tourism. The two most popular trains go at the weekends to Sai Yok Noi Waterfall and Suan Son Pradipat Beach. Another tourist train is Rapid No. 997/998 on the Eastern Line to Chonburi Province. Popular stops along the way include Si Racha Station (Sriracha Tiger Zoo and Koh Si Chang), Pattaya Station (the beach, the Sanctuary of Truth, and Koh Lan), Pattaya Floating Market Station (the market of the same name and Cartoon Network Amazone Waterpark), Wat Yansangwararam Station (the temple of the same name and Ramayana Waterpark), Nongnooch Pattaya Garden Station (the garden of the same name), and Ban Plu Ta Luang Station (Nang Ram Beach). Please note, in most cases you have to take local transport from each station to visit the attractions.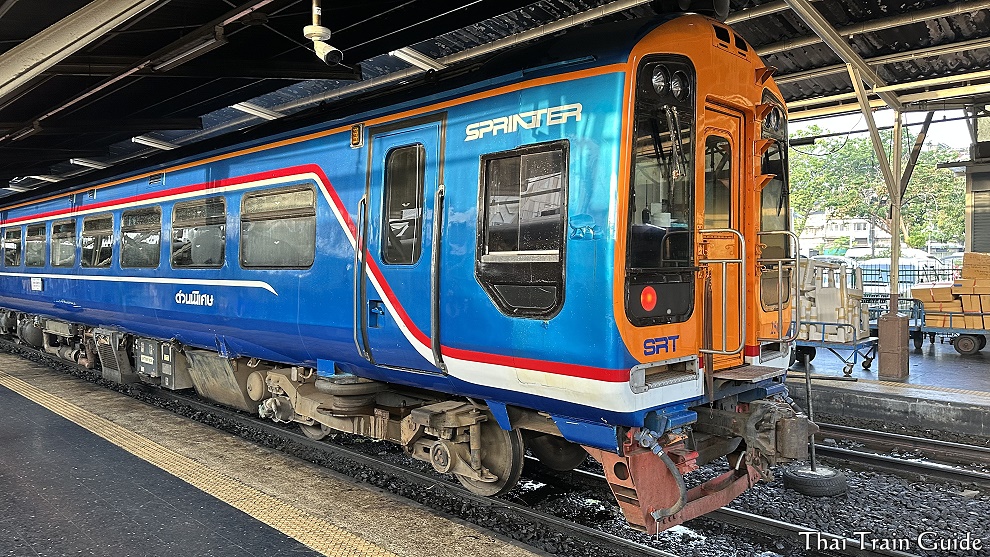 For rail enthusiasts and trainspotters, there is another reason for taking the tourist train to Pattaya. This is because the diesel multiple unit (DMU) that is used is the Sprinter which is based on the British Rail Class 158 train.
TRAIN TIMETABLE
All times are departure times except the destination stations. The train will arrive one minute before departure. All times are subject to change. Please note, these trains only run at the weekends.
| OUTBOUND TRAINS | STATION | INBOUND TRAINS |
| --- | --- | --- |
| 6:45am | Bangkok (Hua Lamphong) | 6:55pm |
| 6:59am | Makkasan | 6:42pm |
| 7:07am | Khlong Ton | 6:33pm |
| 7:15am | Hua Mak | 6:26pm |
| 7:28am | Lat Krabang | 6:12pm |
| 7:33am | Hua Ta Keh | 6:06pm |
| 8:02am | Chachoengsao Junction | 5:37pm |
| 8:37am | Chonburi | 5:03pm |
| 9:14am | Siracha Junction | 4:45pm |
| 9:14am | Pattaya | 4:26pm |
| 9:25am | Floating Market | 4:15pm |
| 9:34am | Yansangwararam | 4:05pm |
| 9:39am | Suan Nong Nuch | 4:00pm |
| 9:50am | Ban Plu Ta Luang Station | 3:50pm |