Weekend Train Trip to Kanchanaburi
One of the few places that I knew about in Thailand before I arrived here was the famous Bridge on the River Kwai. Over the years, I have been to Kanchanaburi about half a dozen times. It is only about two hours or so west of Bangkok. One of the best ways to travel there is by train. And so I was really happy to be invited by the Tourism Authority of Thailand (TAT) to join them on a special "company outing" to the province by train. But, no ordinary train. They hired three of the special SRT Prestige carriages that included a boardroom so that they could hold their monthly meeting while travelling to Kanchanaburi. These are the photos that I posted live on social media during this trip.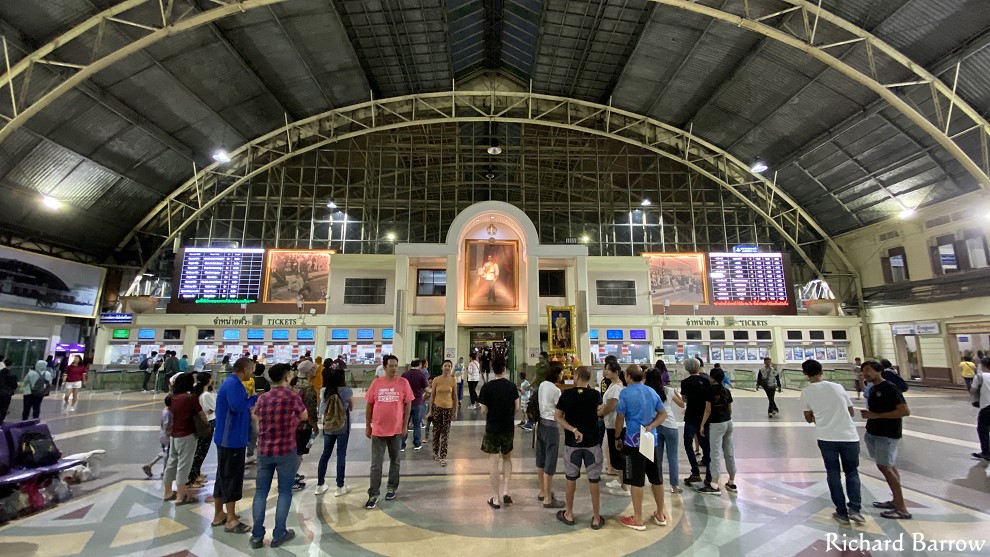 DAY ONE: Good morning from Bangkok Railway Station. Today I'm catching the special excursion train from Bangkok to Namtok in Kanchanaburi. The train leaves at 6:30am every Saturday and Sunday. There are stops in Nakhon Pathom, the River Kwai Bridge, Sai Yok Noi Waterfall and the Kanchanaburi war cemetery. You are advised to book two weeks in advance. Visit my Train Excursion to Sai Yok Noi Waterfall page for more information. It is also possible to rent special carriages for yourself and family & friends to go on this trip. This is what the TAT did today for our trip.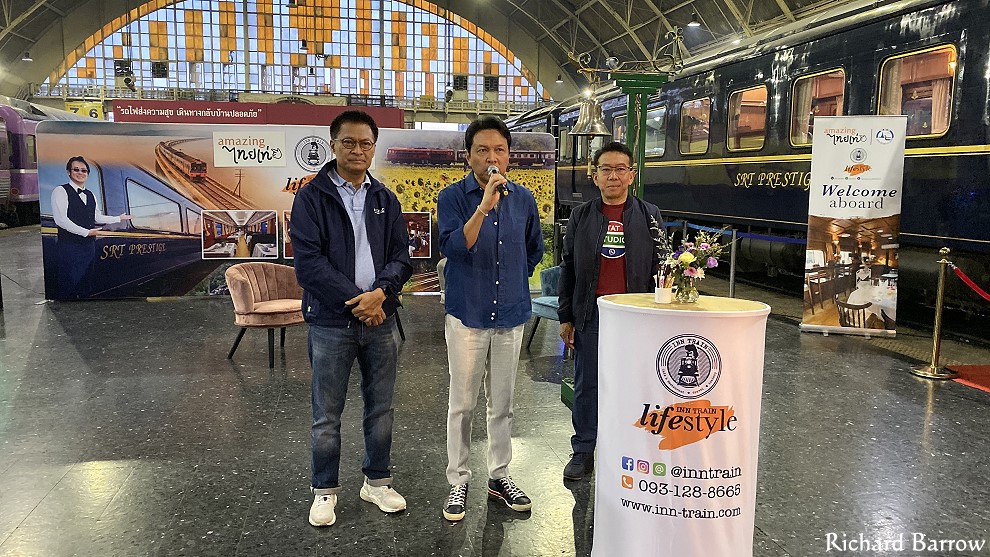 You can travel by train in Thailand in a number of different styles depending on your budget and your needs. As well as the regular 2nd and 3rd Class carriages, there are also four special carriages that you can rent that come under SRT Prestige. Today we had the use of three of these special carriages for our trip to Kanchanaburi. Our carriages were added to the end of the regular weekend excursion train. Our trip was arranged by INN TRAIN who cooked and served the meals.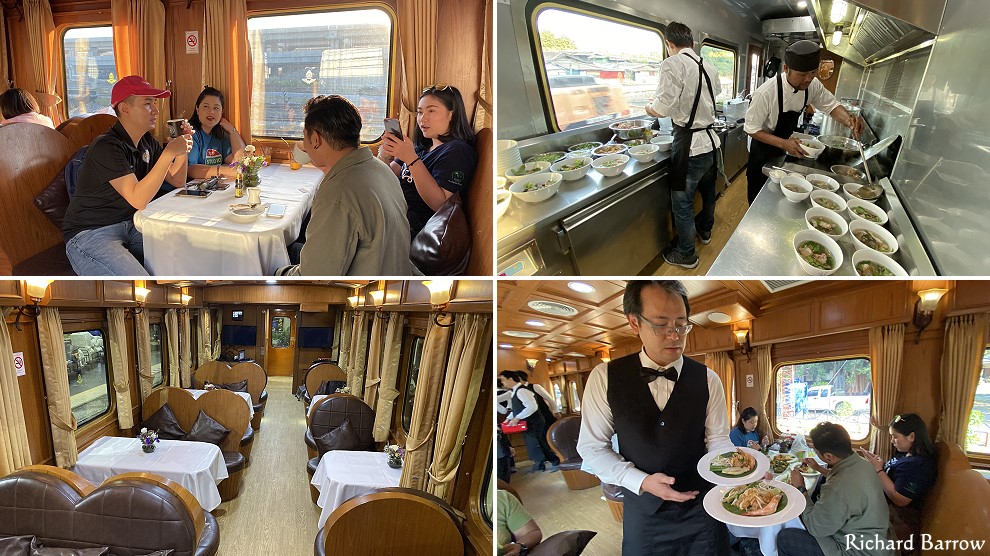 Rot Krua Rawn (Hot Kitchen) – This has sofa style seats and tables for up to 25 people. There are four tables with four seats each and three tables with two seats each. As the name implies, there is also a fully equipped kitchen. Cost to rent this carriage is 17,000 Baht one way for 1-500km and 27,000 Baht for 501km-onwards. Price doesn't include food, service or decorations.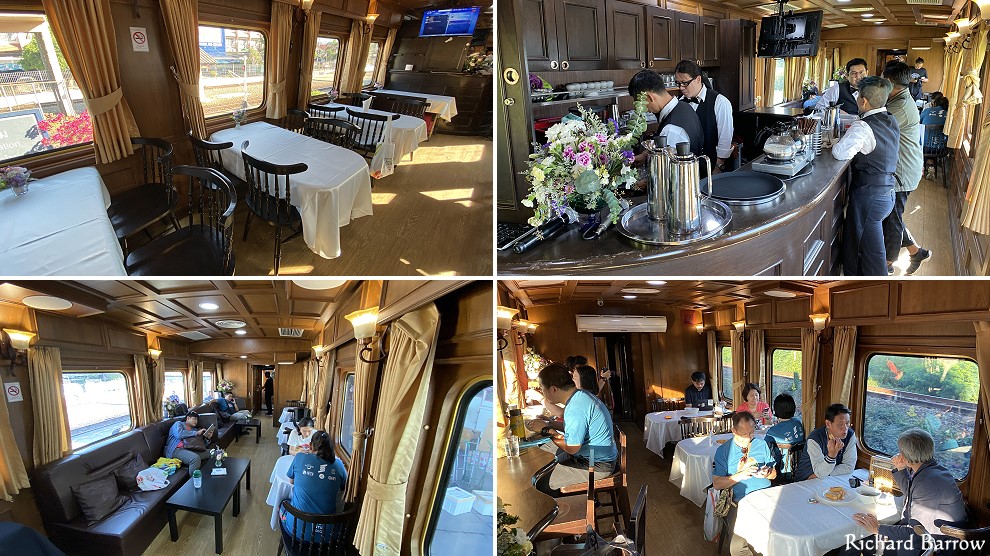 Rot Krua Yen (Cold Kitchen or Bar) – This one is less luxurious but has room for up to 35 people. There are tables with four and two seats and seven bar stools. Cost to rent this carriage is 17,000 Baht one way for 1-500km and 27,000 Baht for 501km-onwards. Price doesn't include food, service or decorations.
‪Rot Prachoom (Meeting Room). This one has a very long table for meetings for 32 people, a karaoke room and a sofa for 6-8 people. Cost to rent this carriage is 20,000 Baht one way for 1-500km and 30,000 Baht for 501km-onwards. Price doesn't include food or service.
Rot Norn (Bedroom Carriage) – There is one large bedroom with a 5 foot bed, a medium sized bedroom with a 3 foot bed, and two small bedrooms with bunk beds. This carriage is not on this train and so I have no pictures. Cost to rent this carriage is 20,000 Baht one way for 1-500km and 30,000 Baht for 501-onwards. Price doesn't include food, service or decorations.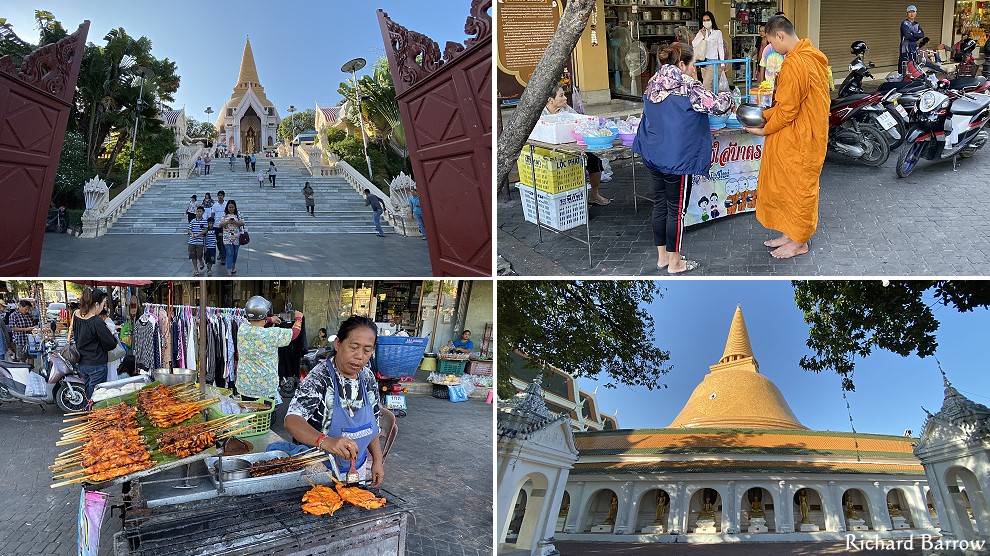 Our first stop on the Kanchanaburi weekend excursion train was at Nakhon Pathom. The train stops here for 40 minutes. Here you can explore the local market or visit Phra Pathom Chedi. It's a brisk ten minute walk there and so you don't get that much time. The train won't wait for you and so don't be late back! Map: https://goo.gl/maps/QCFNUNH4BkbD5xmx7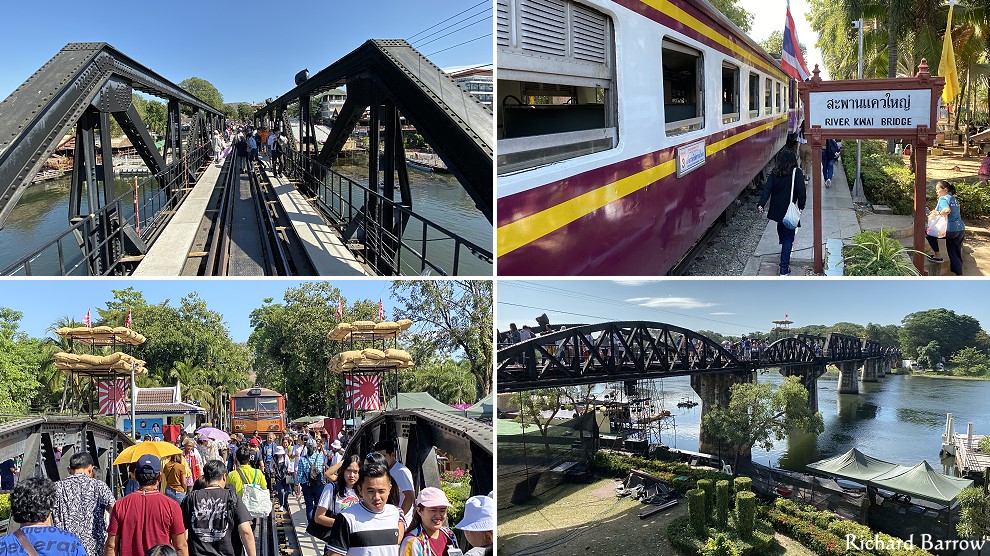 The second stop on the Kanchanaburi weekend excursion train was at the River Kwai Bridge. Here we could get down from the train to take pictures for about twenty minutes. The views today are not regular as the bridge has been decorated for the light and sound show this week. It is not normally decorated to look like a Japanese prisoner of war camp. Map: https://goo.gl/maps/vpYASxyRfPtZ1umUA
A video clip of our train crossing the Bridge on the River Kwai in Kanchanaburi. The video was shot from the back of the train.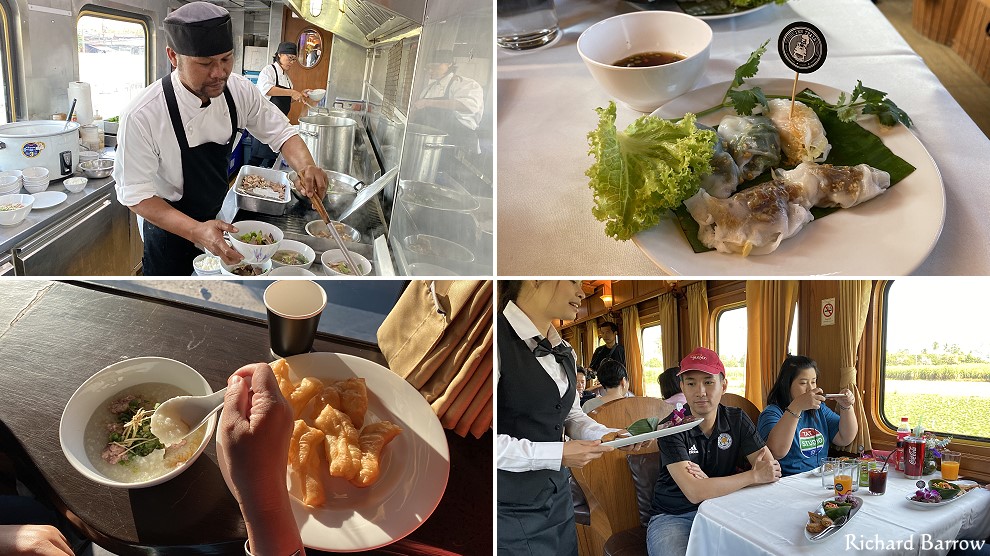 If you rent one of the special SRT Prestige train carriages from the State Railway of Thailand, food and service is not included. You can either do your own catering or hire the services of people like INN TRAIN which is what we had today for our trip. Breakfast was rice porridge followed by fruit som tam, grilled chicken and other snacks. Check out their Facebook page as they do a number of different luxurious train trips around Thailand.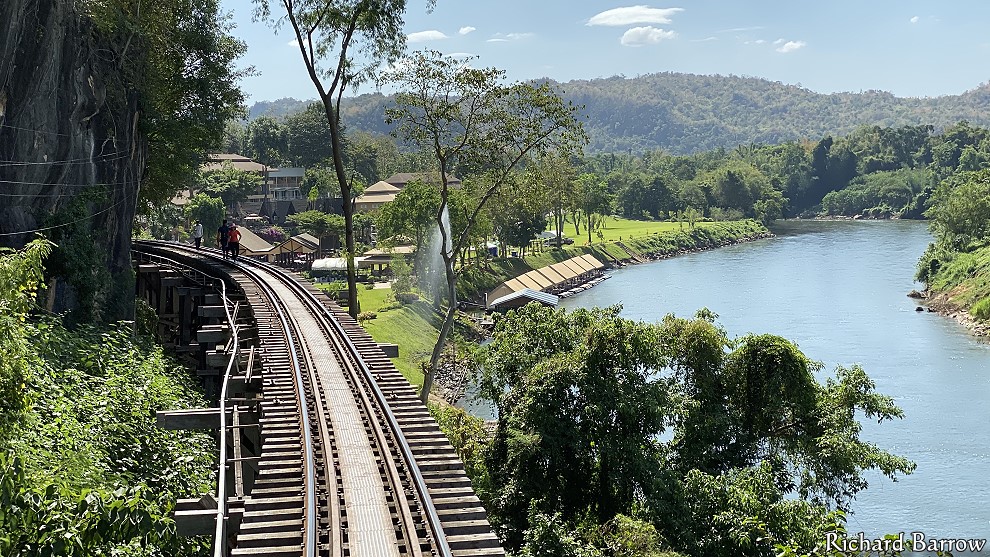 The most beautiful section of the railway in Kanchanaburi is the approach to Wat Kra Sae Cave and station. It hugs the cliff face on a wooden trestle bridge. If you're in third class then you will get a good view from your seat. In the air-con carriages you need to hope the windows are clean.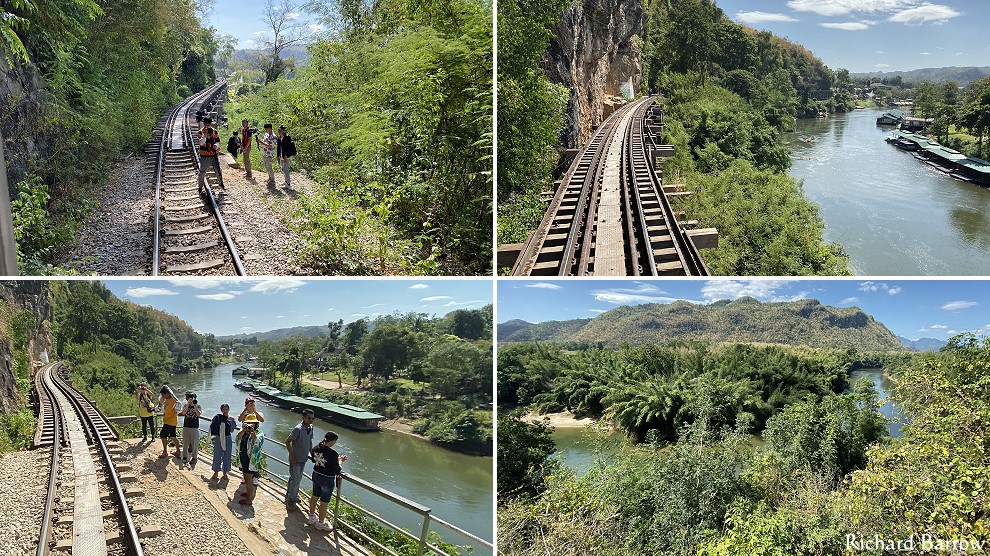 I was lucky as our carriage was right at the back of the train and so I could take some pictures and video from the door at the back. If you are in the carriages, the best views are from the left hand side of the train. The special weekend excursion train doesn't stop at the cave long enough for you to get down. It continues beyond to Nam Tok station.
This is a video clip shot from the back of our train as we crossed over the wooden trestle bridge in Sai Yok district of Kanchanaburi. As you can see, lots of people walking on the bridge. Trains don't come that often, but you don't want to be caught on the bridge.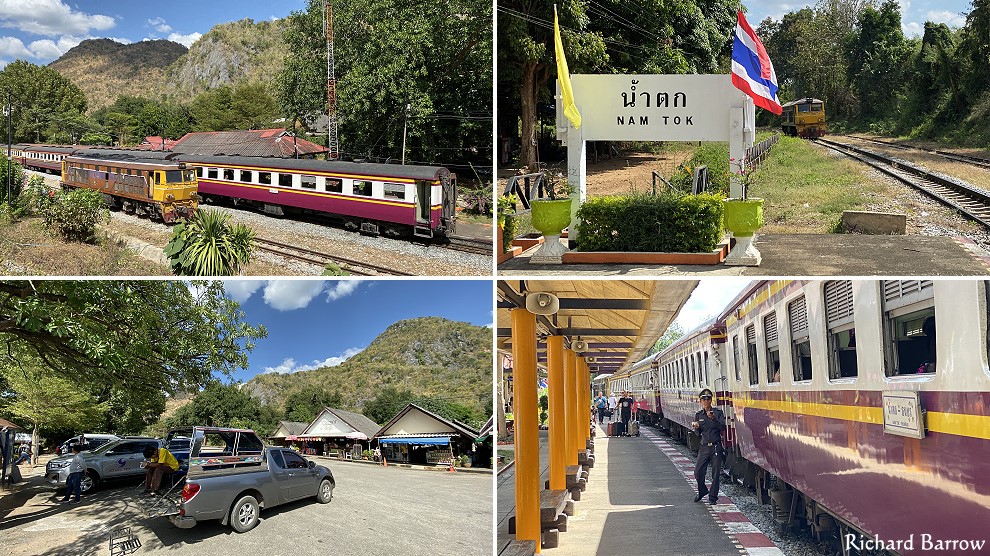 We're at Nam Tok station now. The tourists on the weekend excursion have taken a songtaew for the short journey to Sai Yok Noi waterfall. They have 3 hours there. On the way back to Bangkok, they will stop briefly at the war cemetery in Kanchanaburi. We are not going with them as we now have our own trip by van. For us, the train trip was one way.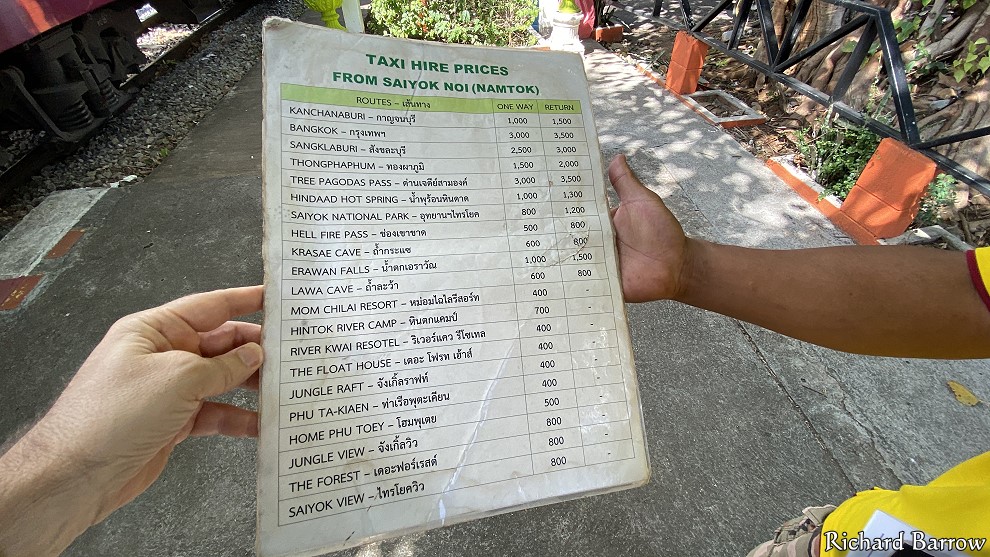 At Nam Tok station, there are Songtaews that will take you to the nearby waterfall for 20 Baht per person though it is near enough to walk. You can also hire the songtaew to take you to various destinations like Hellfire Pass (800 Baht return) and even Kanchanaburi (1,000 Baht one way). So, if you are on the one-day excursion trip, you can skip the waterfall if you like and visit the museum at the Hellfire Pass. You should then be able to get back in time to catch the train. Visit my Day Excursion to Sai Yok Noi Waterfall in Kanchanaburi page for more information about that train trip.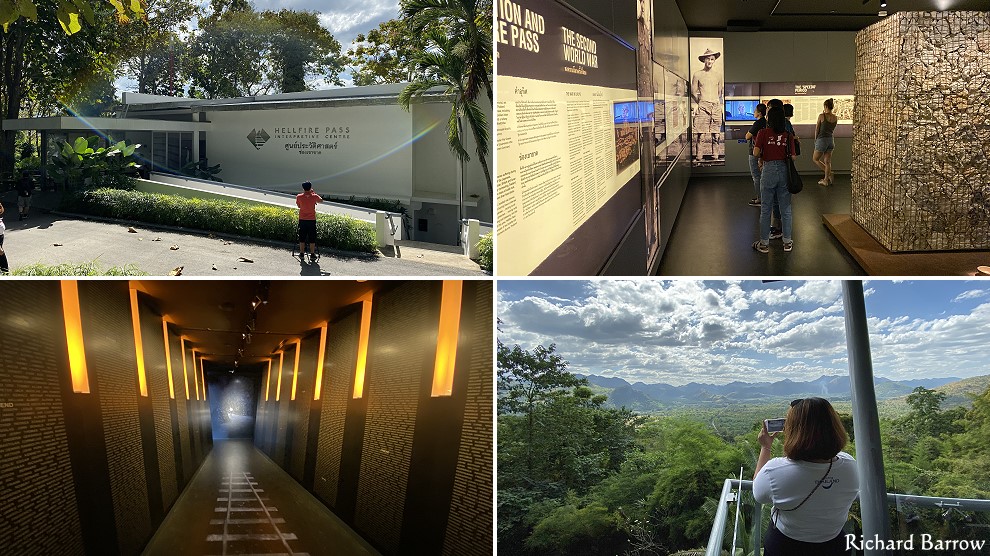 Any trip to Kanchanaburi should include a visit to Hellfire Pass Interpretive Centre in order to understand the horrors that the Allied prisoners of war and Asian laborers were put through by the Imperial Japanese army. It is estimated that 12,500 Allied soldiers alone lost their lives building the Death Railway connecting Thailand and Burma.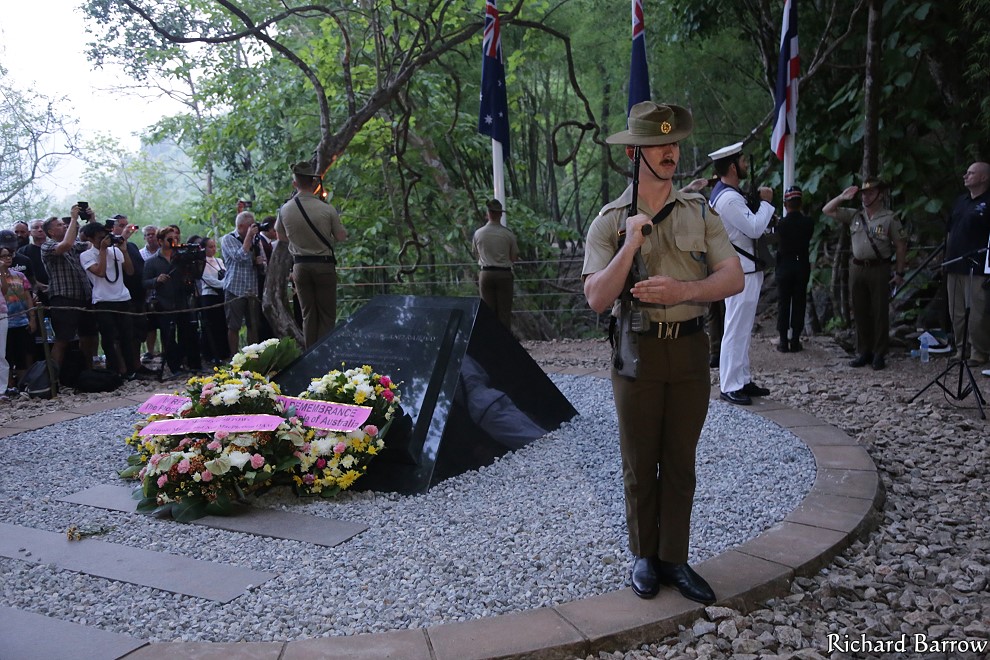 From the information center, there is a trail that goes down to Hellfire Pass where you can walk along a stretch of the original railway line. Though only a few sleepers are left. There is a remembrance service here every year on ANZAC Day.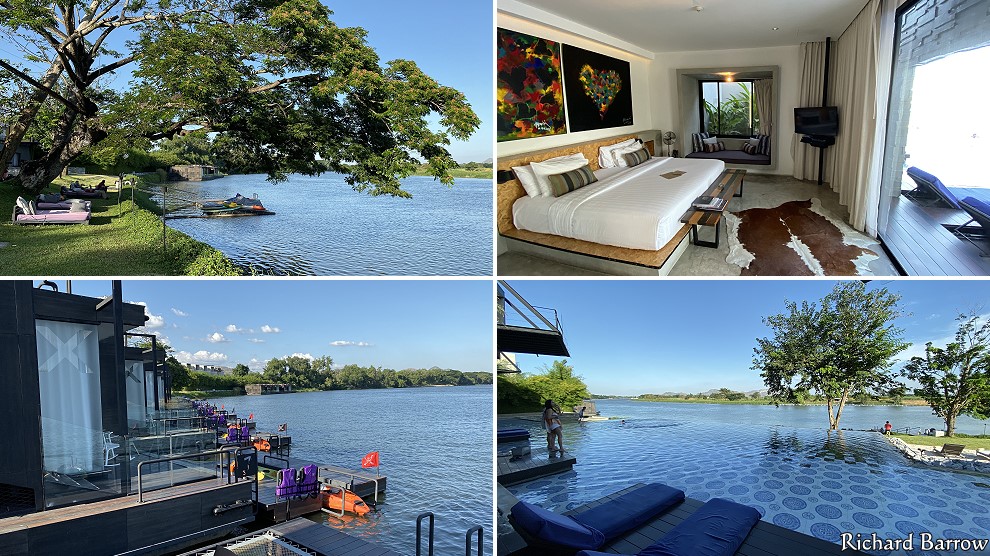 Hotel inspection and evening meal at X2 River Kwai Resort in Kanchanaburi. Looks very nice and peaceful by the river. The more expensive rooms even have their own dock and kayak. Prices start at 4,500 Baht and go up to 12,000 Baht. Unfortunately, we are not staying here tonight.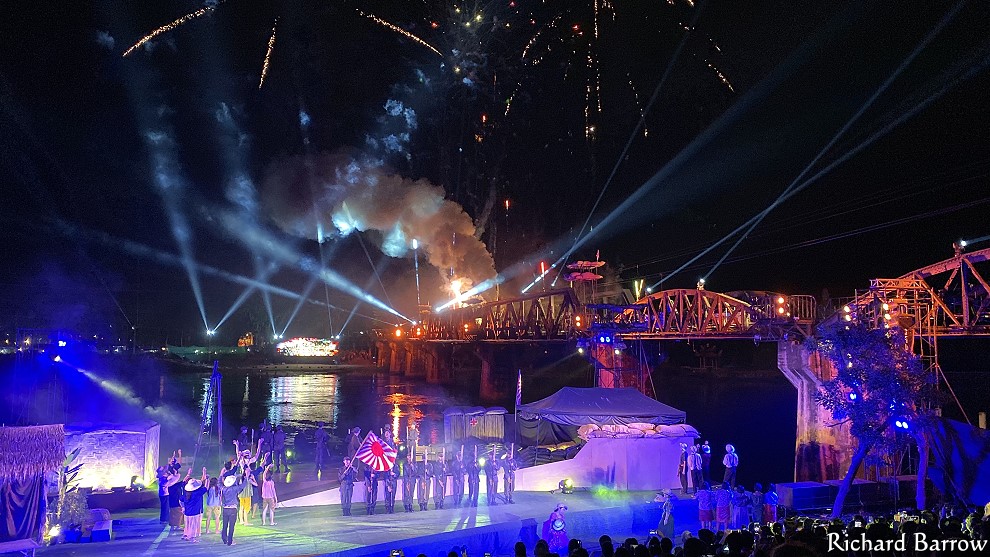 This evening, I attended the annual River Kwai Bridge Week and Kanchanaburi Red Cross Fair which usually takes place from the end of November to early December. The highlight is the light-and-sound show that tells the stories of World War II in honour of the prisoners of war and Asian labourers who built the infamous Death Railway, the Bridge on the River Kwai and the Hellfire Pass.
Video clip from the light and sound show during the annual River Kwai Bridge Week. The video clip starts with a steam train crossing the bridge.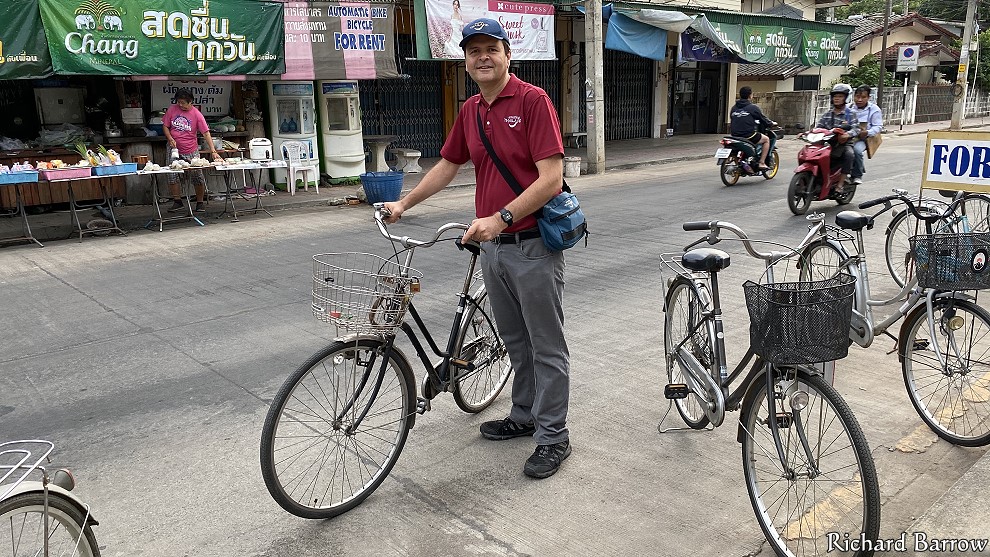 DAY TWO: Good morning from Kanchanaburi. I just rented a bicycle to do a bit of exploring around the town before it gets too hot. The town is not very big and so a bicycle is a good way to get around. I have about an hour or so of exploring before we have to check out.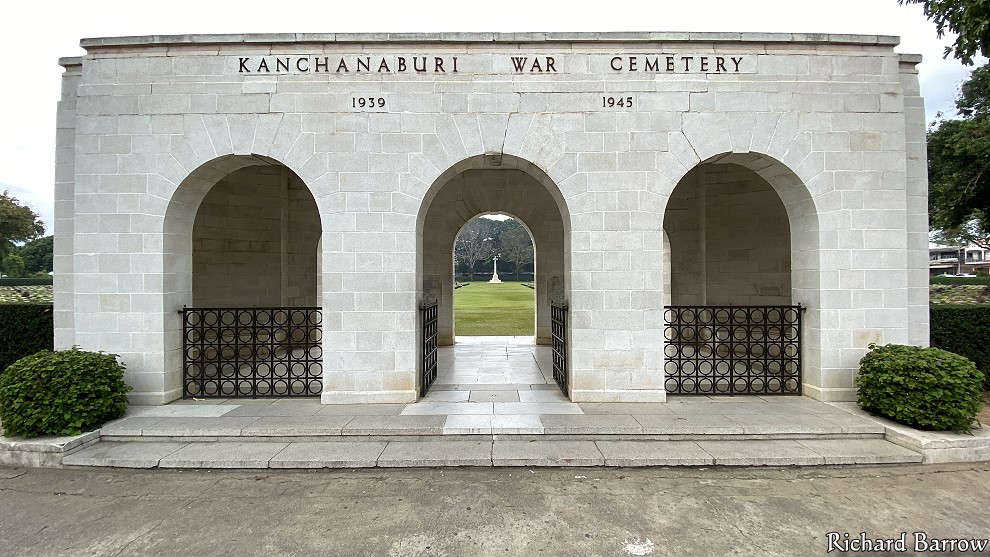 One of your first stops when visiting Kanchanaburi should be at the Kanchanaburi War Cemetery on Sangchuto Road to pay respect to the Allied prisoners of war that lost their lives during the building of the Death Railway. More than 12,000 soldiers and tens of thousands of Asian laborers died building the railway.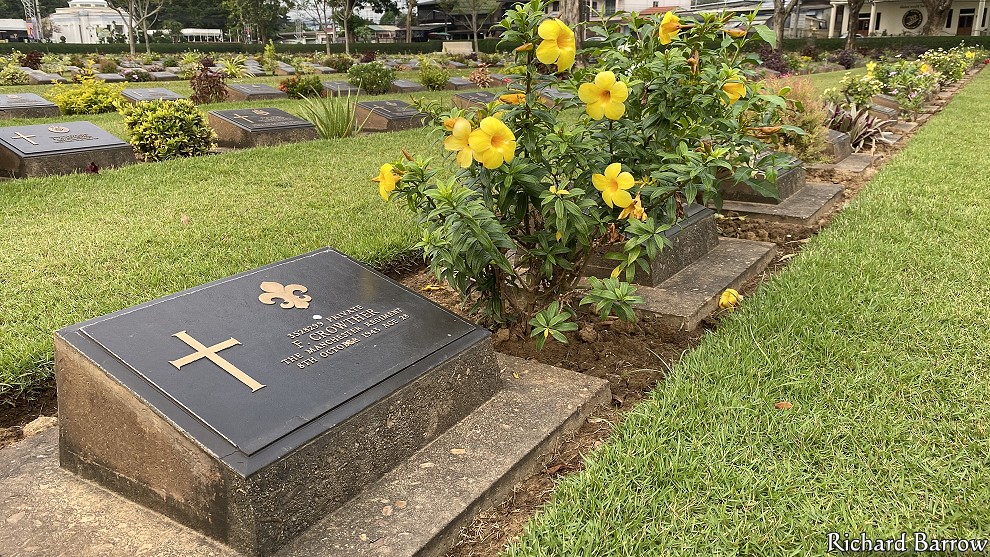 After the war, the remains of Commonwealth and Dutch soldiers were brought here from nearby cemeteries. Today there are more than 5,000 Commonwealth and 1,900 Dutch soldiers buried or commemorated here. The nearby Death Railway Museum is well worth a visit to learn more.
Map: https://goo.gl/maps/iXJzjqp8A5sDVrzz8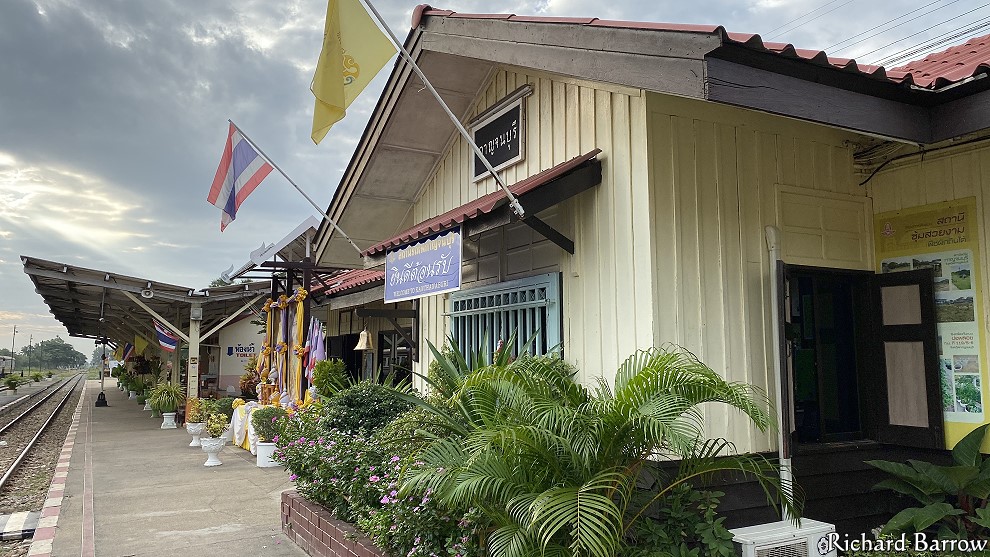 If you're on the special weekend excursion to Kanchanaburi, you can visit the war cemetery on your way back to Bangkok. It's less than a 10 minute walk from the railway station. At other times, regular trains come here from either Thonburi or Bangkok railway stations and go as far as Nam Tok station. You can then either wait for the return trip or rent a songtaew to bring you back to Kanchanaburi via Hellfire Pass.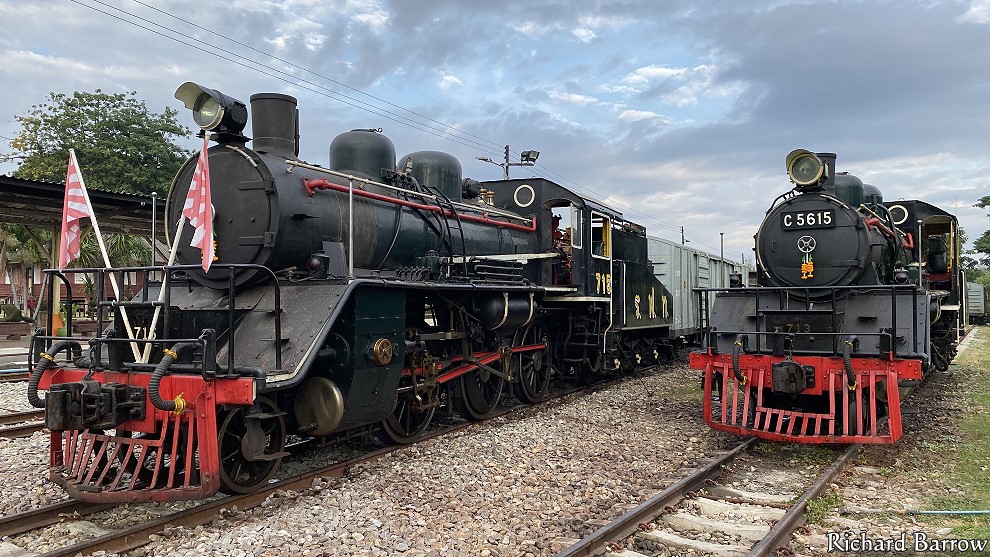 I was really lucky to see steam locomotives 713 and 715 at Kanchanaburi railway station this morning. They are here to take part in the light and sound show during the River Kwai Bridge Festival. As there was no-one around, I quickly boarded steam locomotive 713 to take a few photos of the interior. I was about to do the same with 715 when a diesel locomotive shunted it away! I guess it was taking it to the bridge for the light & sound tonight. It would have been a great ride.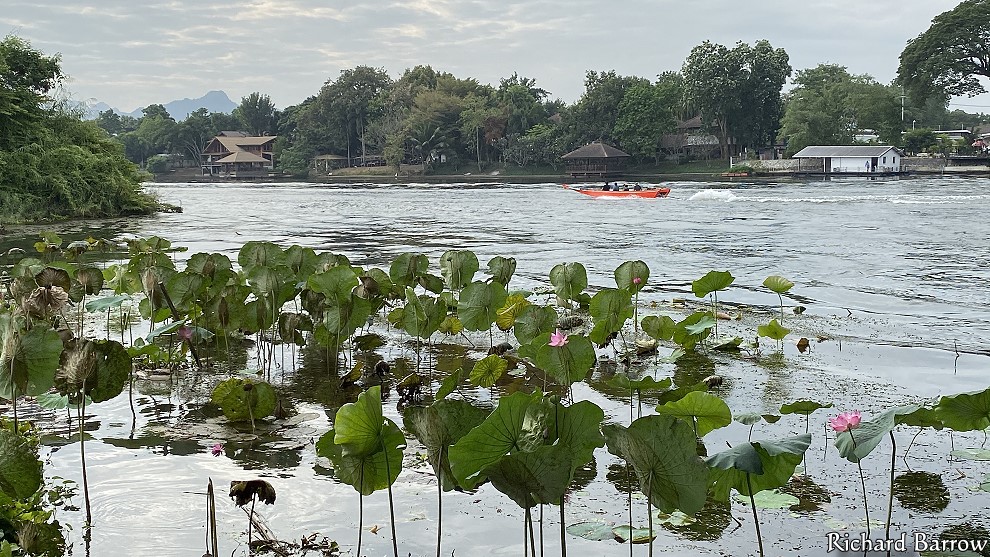 Like Bangkok vs. Krungthep, only foreigners call the river in Kanchanaburi River Kwai. For Thai people, it is Kwae Yai (rhyming with square). This runs into Mae Klong which goes all the way to Samut Songkhram and out into the Gulf of Thailand.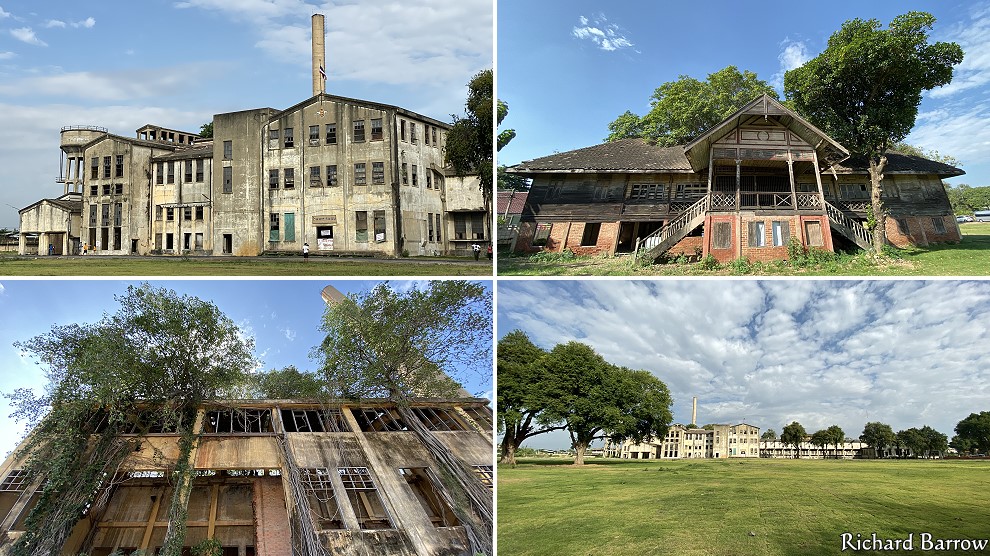 A relatively unknown attraction in Kanchanaburi is the 84 year old Thai Paper Mill (โรงงานกระดาษกาญจนบุรี). It was built in 1935 by a German engineer. The paper mill produced pulp to make paper which was used to print banknotes during the Second World War.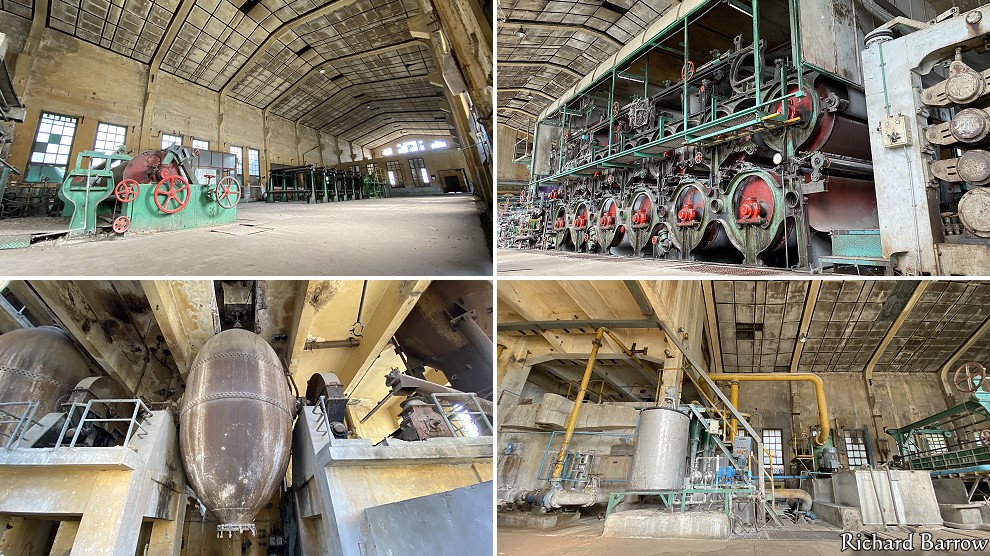 The original plan was to lease this plot for private development, maybe a boutique hotel. But after intervention by the local community and influential figures, it will now be turned into a museum and community center. In the meantime you can visit to take pictures, but it's too dangerous to go inside.
Map: https://goo.gl/maps/iaMKhSXco3nNNfSc8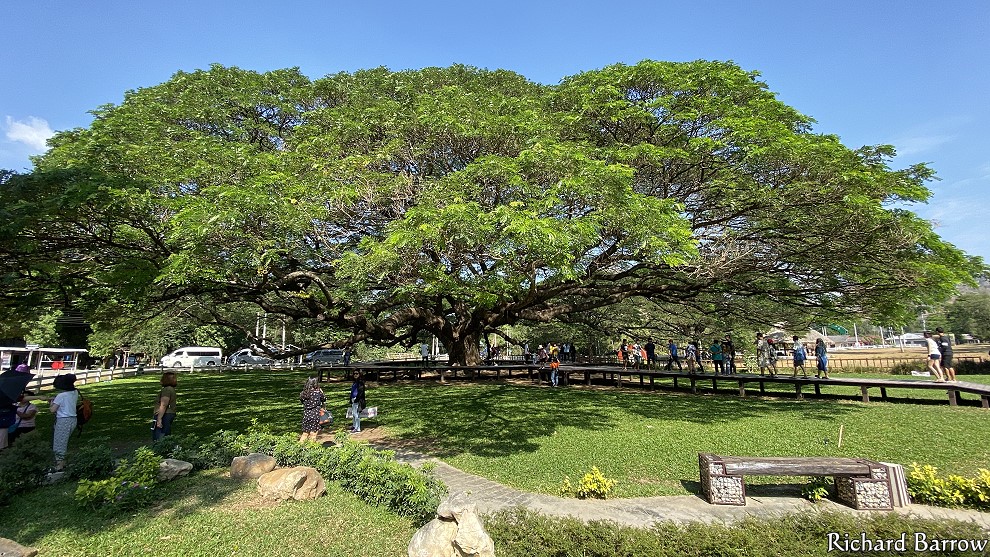 The Giant Monkey Pod Tree (ต้นจามจุรียักษ์) in Kanchanaburi is believed to be older than one hundred years. It is twenty meters high from the top to the ground. The shady canopy is an incredible 51.75 meters in diameter. In total, I'm told it covers an area of 2,416 square meters.
Since I last came here, they've now built a wooden walkway around the tree. The idea is to stop people damaging the roots and the grass. I was against this when they first announced the plan, but they have done a good job.
Map: https://goo.gl/maps/E2cqdP5tDk7LSnJYA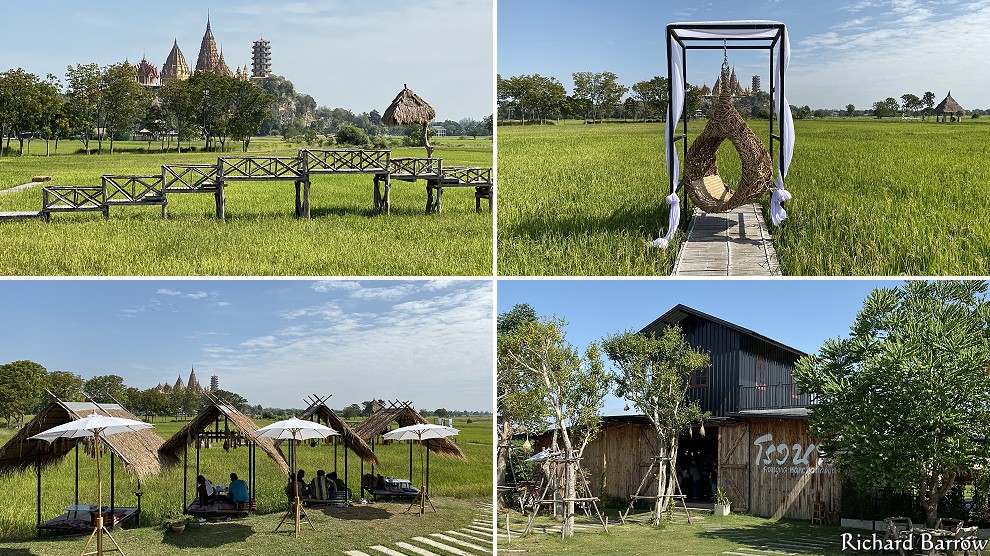 First there was Meena Cafe with a wonderful view of rice fields and Wat Tham Suea (วัดถ้ำเสือ) beyond. Then came Sapanna Cafe and this one Rongna Cafe. However, Meena remains the firm favorite with dozens of cars parked outside. Looks like a fourth cafe will open soon on the edge of the rice field. At least they are not blocking the views. A good place to visit while in Kanchanaburi but try and avoid weekends.
Map: https://goo.gl/maps/Y1eeg296PJZS7vve9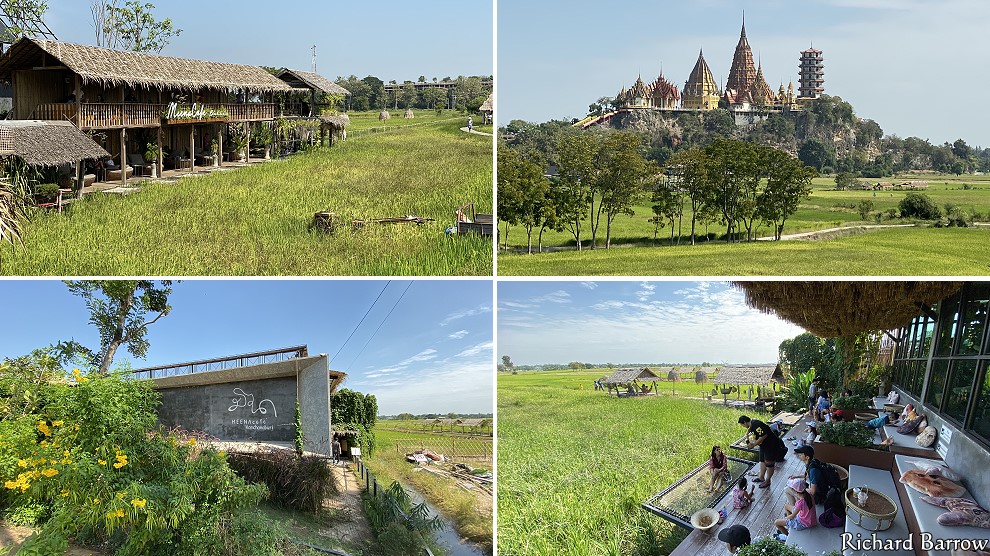 Although it has more competition now, Meena Cafe overlooking a rice field in Kanchanaburi remains my favorite. The temple on the hill (top right) is Wat Tham Suea, or Tiger Cave Temple, and is also worth visiting. ‬
‪ Map: https://goo.gl/maps/FYpWqZB9BLDzDBhv6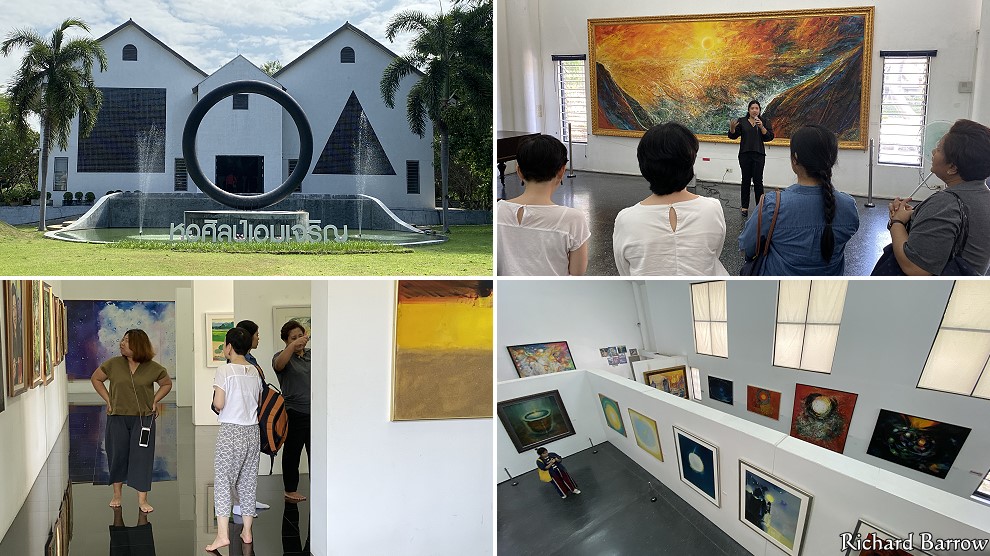 EmCharoen Art Gallery in Kanchanaburi is an art learning centre by the Mae Klong River founded to exhibit the art pieces of Thailand's national artist, Pratuang Emjaroen. Open from Thursday to Monday. Admission is 50 Baht for foreigners and 20 Baht for Thais.
Map: https://goo.gl/maps/ttsCxFgK42BgTTxB6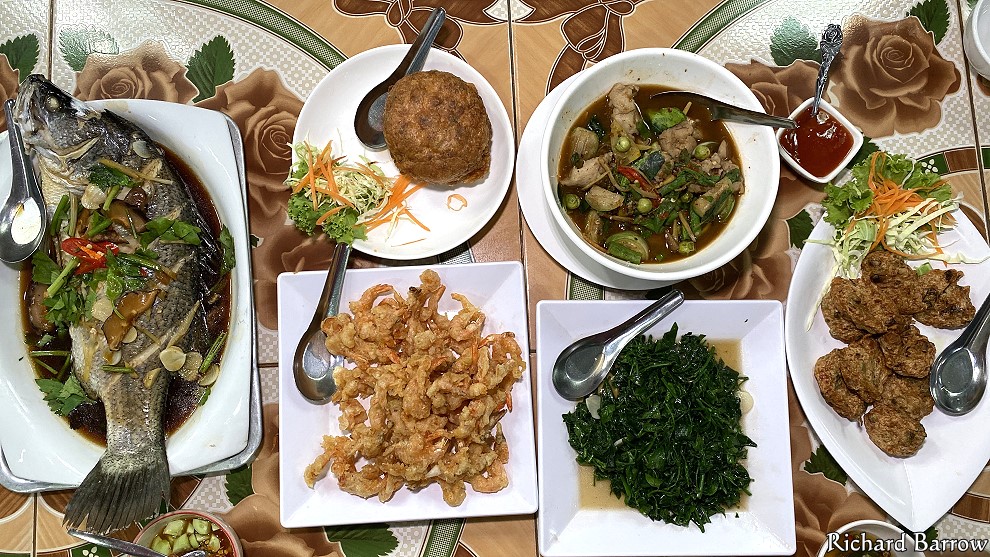 Eating lunch at Krua Tha Ruea (ร้านครัวท่าเรือ) in Tha Muang District of Kanchanaburi. Map: https://goo.gl/maps/uufqxveyj78nCo2A7
Street art around Tha Ruea Market, Tha Maka District of Kanchanaburi. This area along the Mae Klong River is being developed as a new tourist destination under the brandname of "local experience". You won't find many tourists here.
Map: https://goo.gl/maps/vKXjS1SZbyHtJf1WA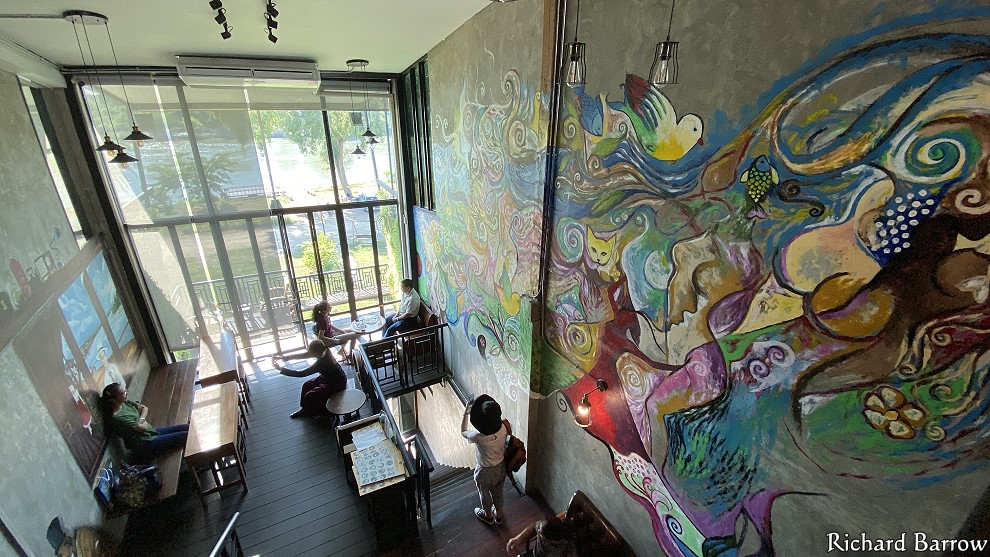 A coffee break at Chaaii-Samai 2498 coffee shop (ชายสมัยคาเฟ่ 2498 กาญจนบุรี) in Tha Ruea, Kanchanaburi. Nice decorations inside and good views of the Mae Klong River from the balcony. This looks to be the first of its kind here but that might change if tourists start coming.
Map: https://goo.gl/maps/c3N5L7uACS9Ztos96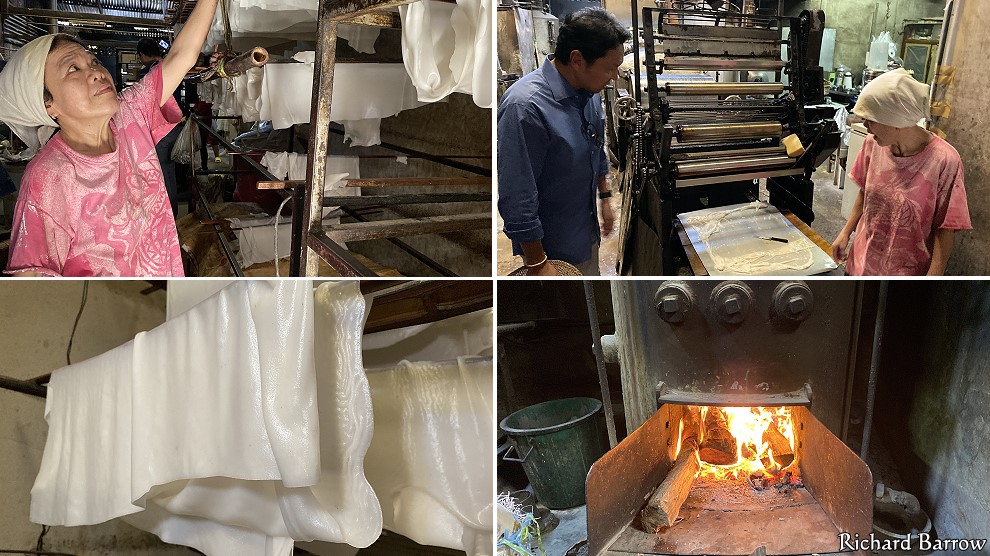 This is the oldest noodle factory in Tha Ruea district. They supply noodles for many of the popular noodle shops in this area. The machinery is very old but still in good working order. Unfortunately they had just finished making noodles when we arrived and so I will need to come again. A really good find.
Near the Chinese shrine: https://goo.gl/maps/W4mencduXf6mgkvV7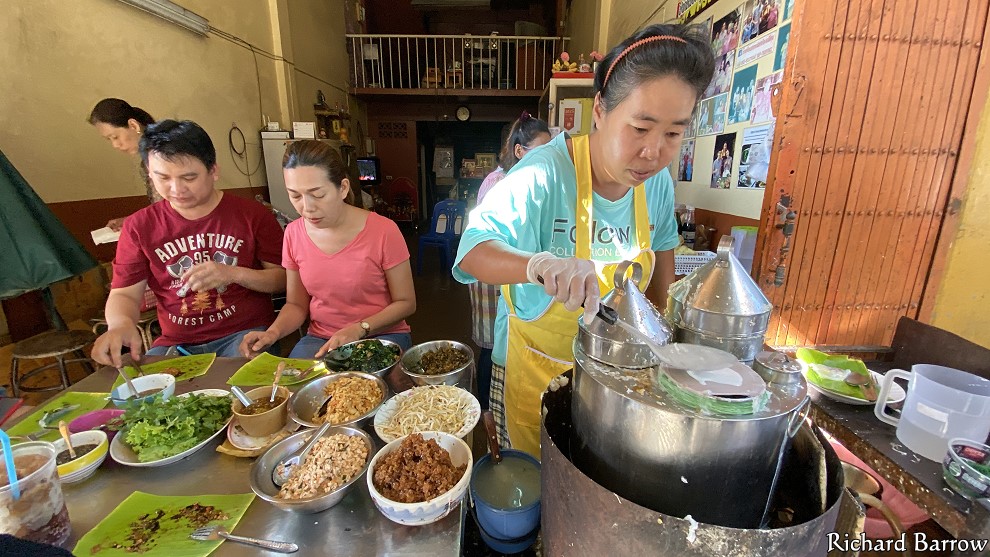 In Thailand you will never be hungry as there's always some delicious street food to tempt you to eat. So, here are some of my afternoon snacks from Tha Ruea Market in Kanchanaburi, starting with steamed Thai rice dumplings (ข้าวเกรียบปากหม้อ).
Map: https://goo.gl/maps/xyonGL497nXqwiwC9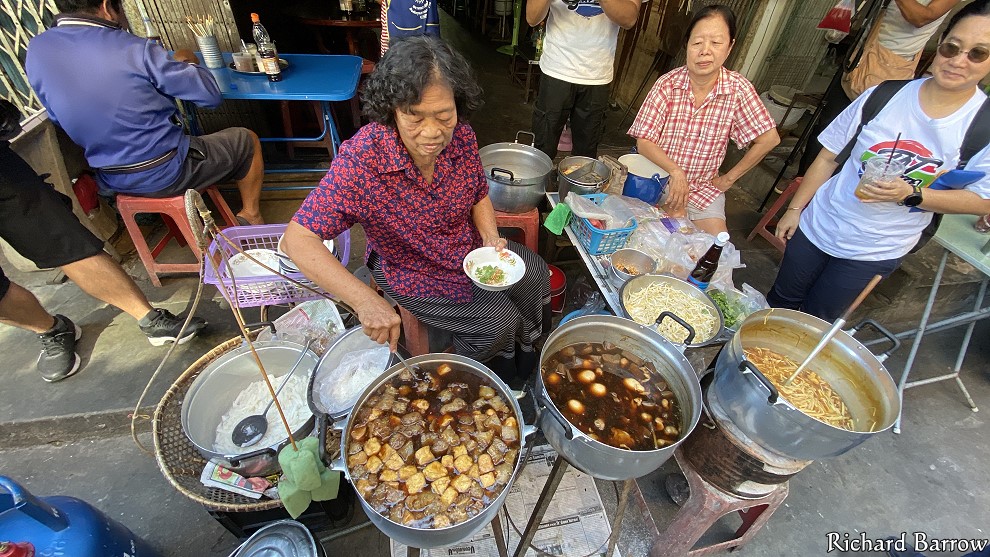 That's a wrap on my two day trip to Kanchanaburi with the Tourism Authority of Thailand (TAT). We went by train but returned to Bangkok by van. Thanks to the TAT for being good hosts and inviting me along on their "company outing" and also to INN TRAIN for their hospitality on the train.