Day Trip to the Market on the Railway Tracks
The following is my live trip report that I posted on Facebook and Twitter as the train journey progressed. All photos were shot on my iPhone. For more details about this trip, please visit the main page for The Maeklong Railway that has timetables and a map of the route.
LINK: How to Buy Train Tickets Online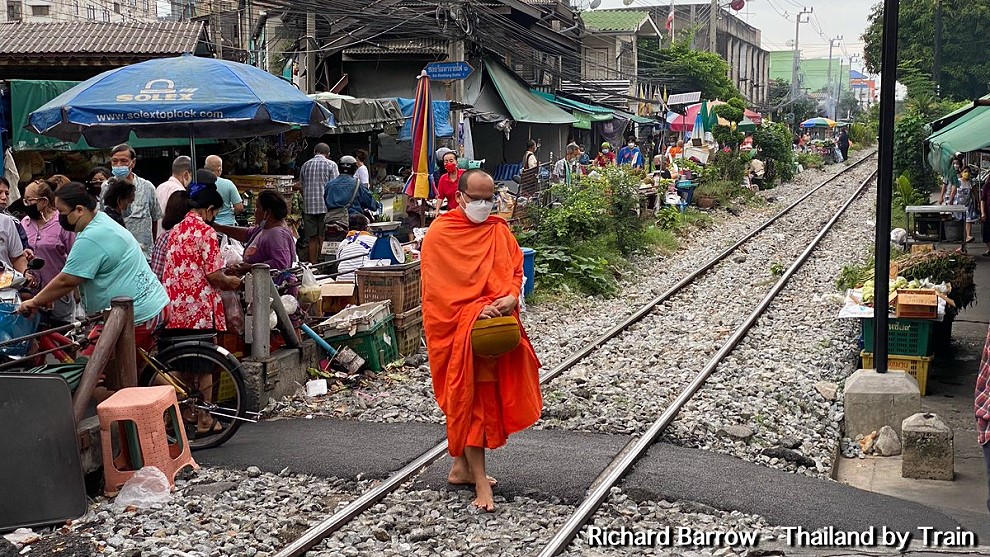 Good morning from Wongwian Yai Railway Station in Bangkok. Today I'm on a day trip to Samut Songkhram by train. This line is unique in that it is not connected to the main rail network. This is because it used to be a private line that transported fish and other fresh produce from Samut Sakhon (otherwise known as Mahachai) and Samut Songkhram (otherwise known as Maeklong).
MAP: https://goo.gl/maps/npej268XtDziM3VZ8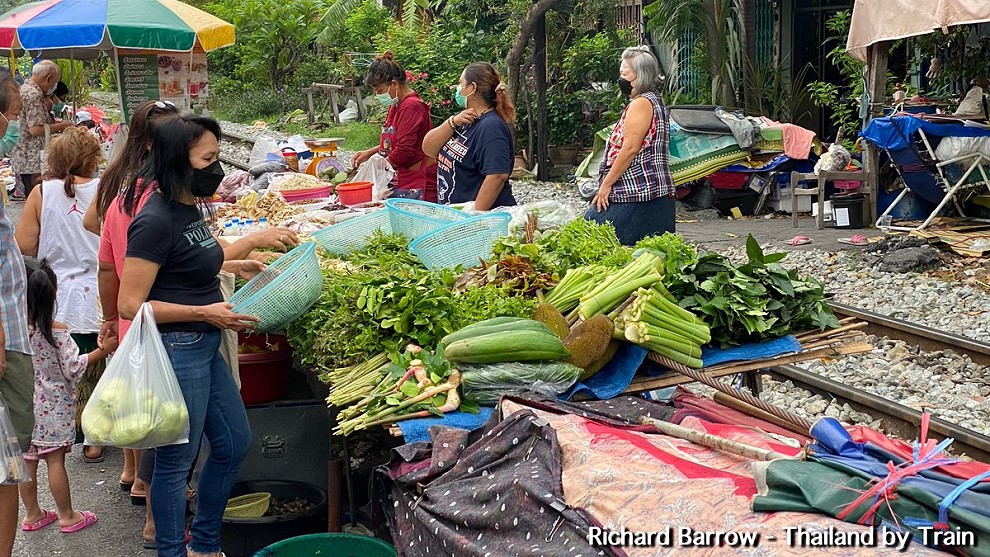 Even if you are not catching a train, Wongwian Yai Railway Station is a great place to explore and buy some food. The best time to visit is early in the morning just after sunrise. You will also see monks out on their alms round at this time. Once you have finished here, you can follow the tracks for about 20 minutes to Phlu Market which is another great place to explore.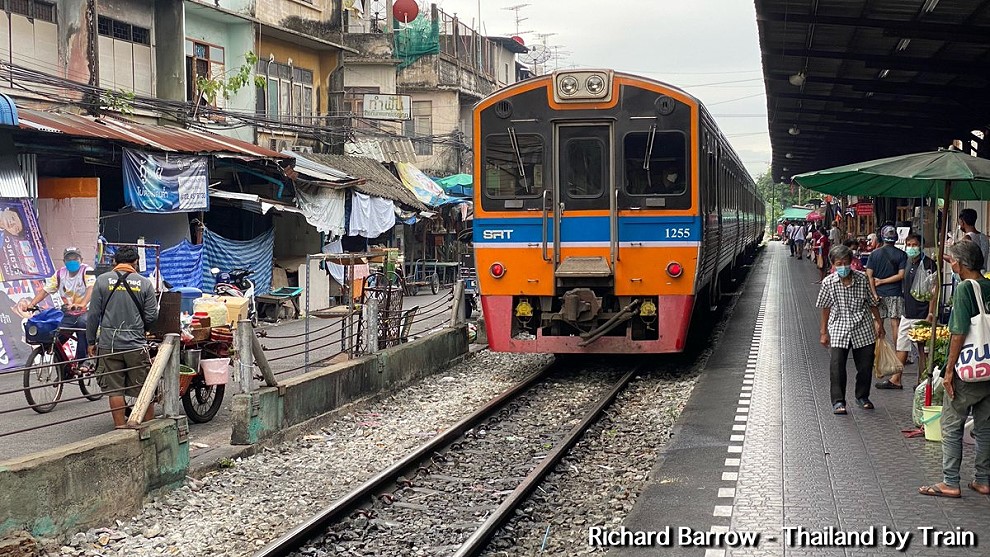 Tickets for the one hour train trip to Samut Sakhon (Mahachai) are only 10 Baht in 2nd Class with fan. You cannot buy online. You have to buy at the station. The seats are hard but it doesn't really matter as the journey is short. For this trip, we caught the No. 4341 train that left at 7:40 a.m. But first we grabbed some breakfast while we were waiting for the train to arrive. Plenty of choices here.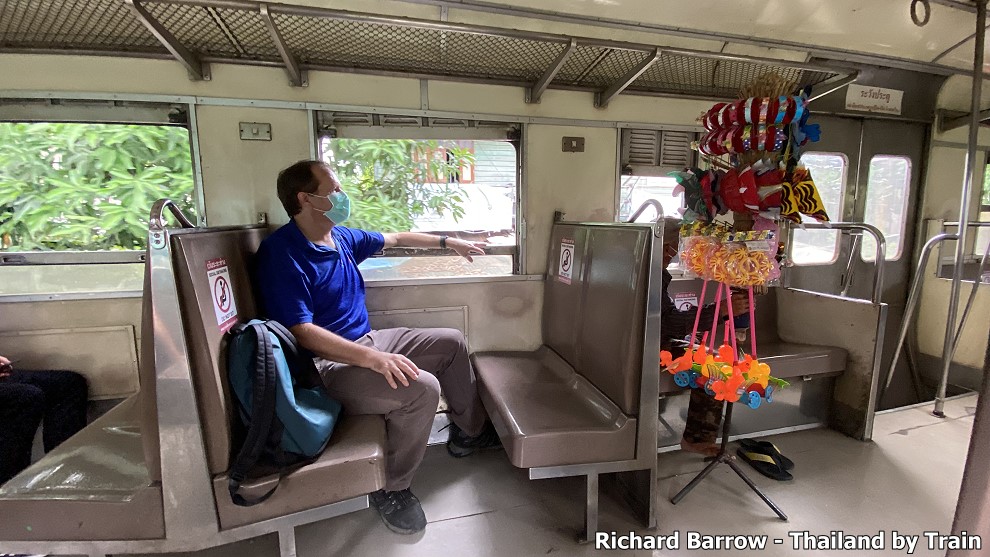 The space between facing seats on this carriage is quite narrow at only 40 centimetres. As you can see, it might be a problem if two people with long legs sit opposite each other. Luckily on this carriage you can sit where you like. However, the weekend excursion trains to Kanchanaburi and Hua use the same style of carriages. One way to get around it is to book a ticket on the inward facing seats you can see on the right of this picture.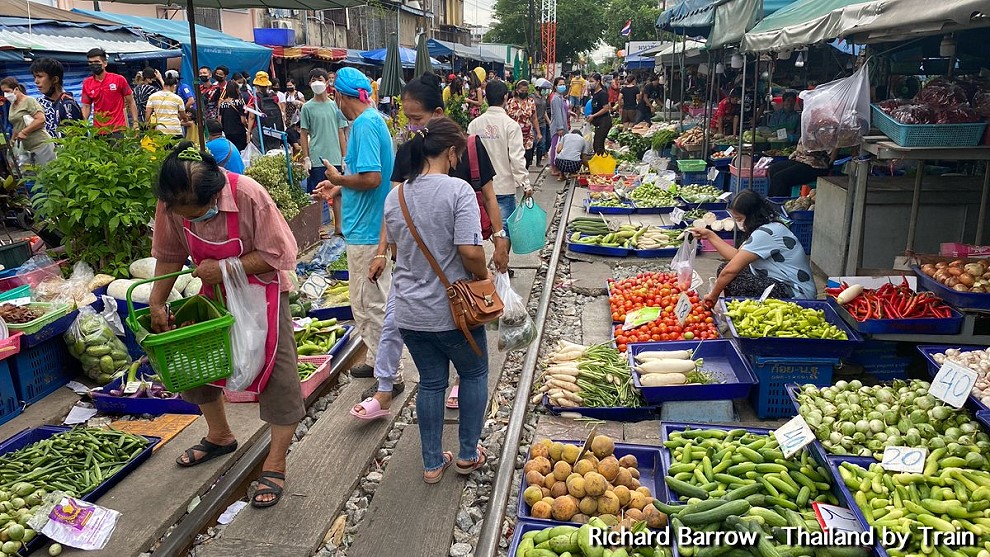 The ride to Samut Sakhon passed very quickly. All of the tourists head straight to Samut Songkhram on package tours for the famous market on the tracks. But really, this one in Samut Sakhon is just as good, albeit smaller. But I like it better as there are no foreign tourists.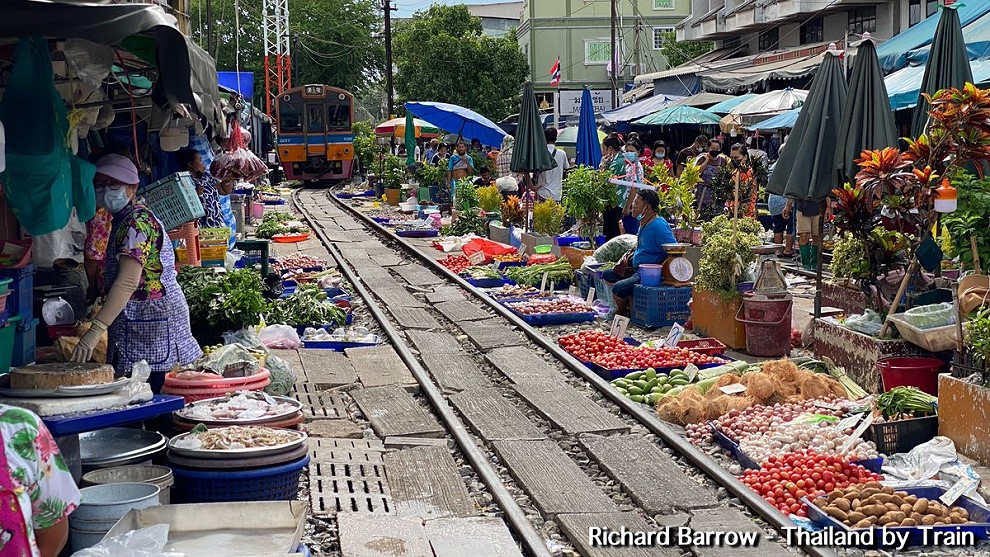 We had about an hour in Samut Sakhon to explore the market on the tracks and the nearby fish market. We went back to the train market to get some pictures of them moving umbrellas and produce from the tracks to make way for the next  train to arrive. This is train No. 4305 that left Wongwian Yai at 8:35 a.m. and arrived here in Samut Sakhon at 9:28 a.m.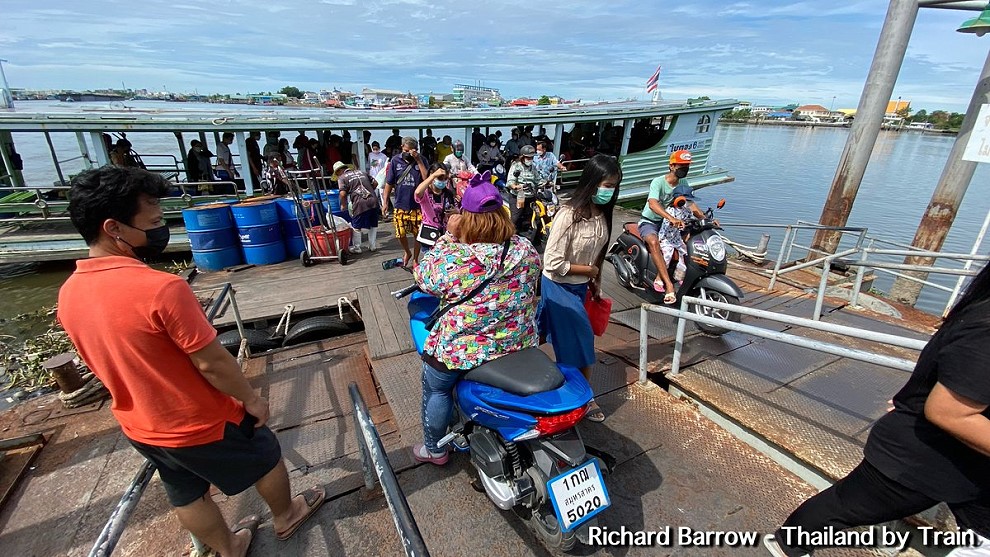 There is no bridge in Samut Sakhon and so we had to take a ferry across the river for 3 Baht to the other side. The pier is about a ten minute walk from the train station. As you have to wait for the boat to come, it is best to be here by 9:40 a.m. so that you have enough time to make your connection on the other side. Trains leave from the other side at 7:30 a.m., 10:10 a.m., 1:30 p.m. and 4:40 p.m.
MAP: https://goo.gl/maps/zqxqXTCaxrLtbCDCA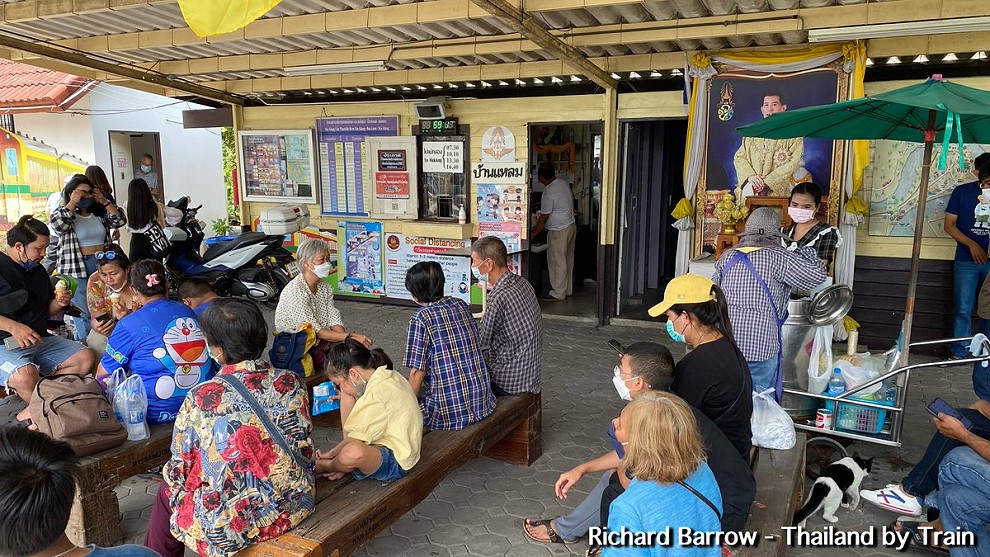 When you get off the ferry on the other side, walk out onto the main road and turn right. It's about a five minute walk to Ban Laem Railway Station. Near the station you will see a giant Seated Buddha on your right. There are only four trains a day to Samut Songkhram and so you need to time it right. The train can also get crowded at the weekend. Our train left at 10:10 a.m. Cost of the ticket was 10 Baht.
MAP: https://goo.gl/maps/EUQo8rm6xcwrKbXF9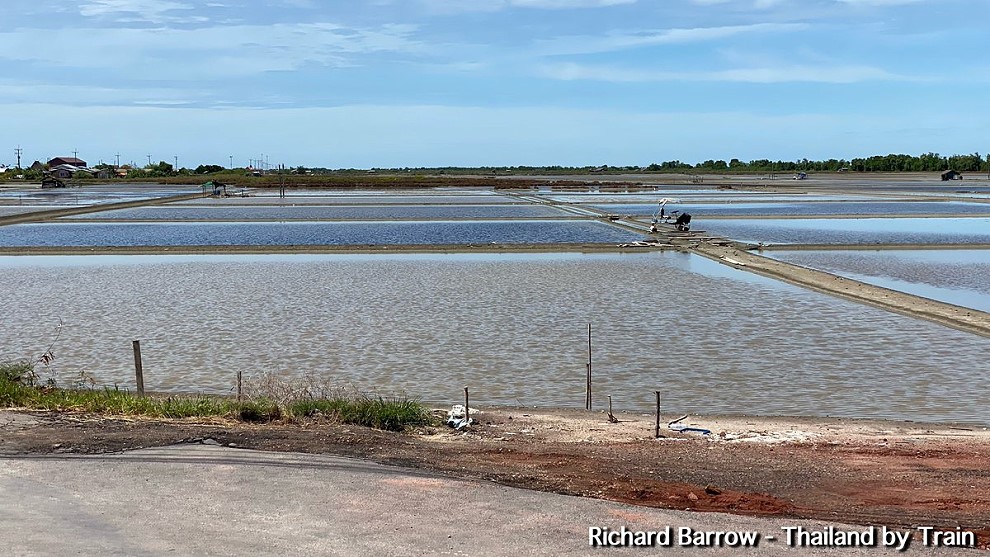 The train between Ban Laem in Samut Sakhon and Maeklong in Samut Songkhram is only one hour. Time goes quickly as this section is very scenic. You will pass quite a few salt fields. Seats are hard but it's a short trip.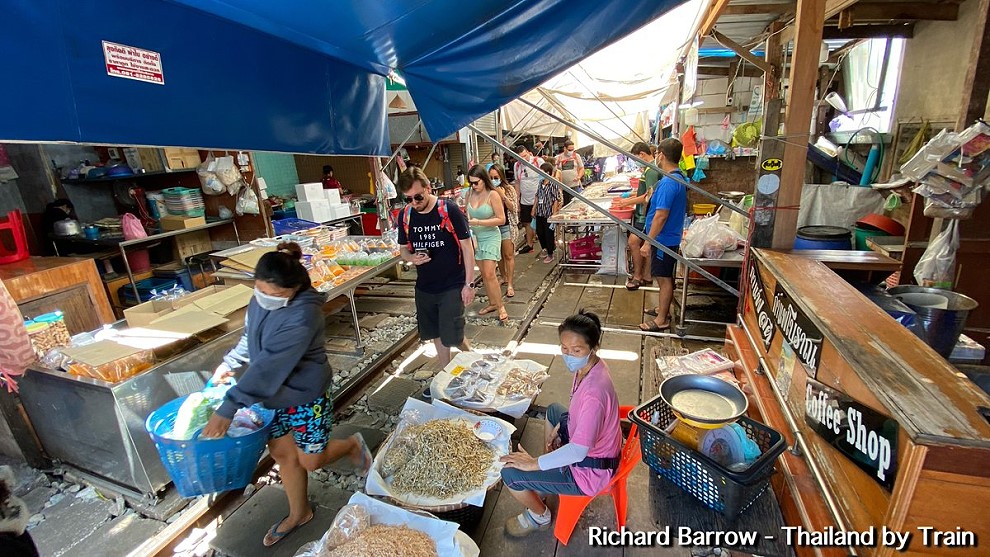 Our final destination was Maeklong Station in Samut Songkhram. The highlight is the market on the train tracks. The best view is from the back of the train as you can see them put the produce back on the tracks as you pass. Watch a live video here: fb.watch/drZENb57ac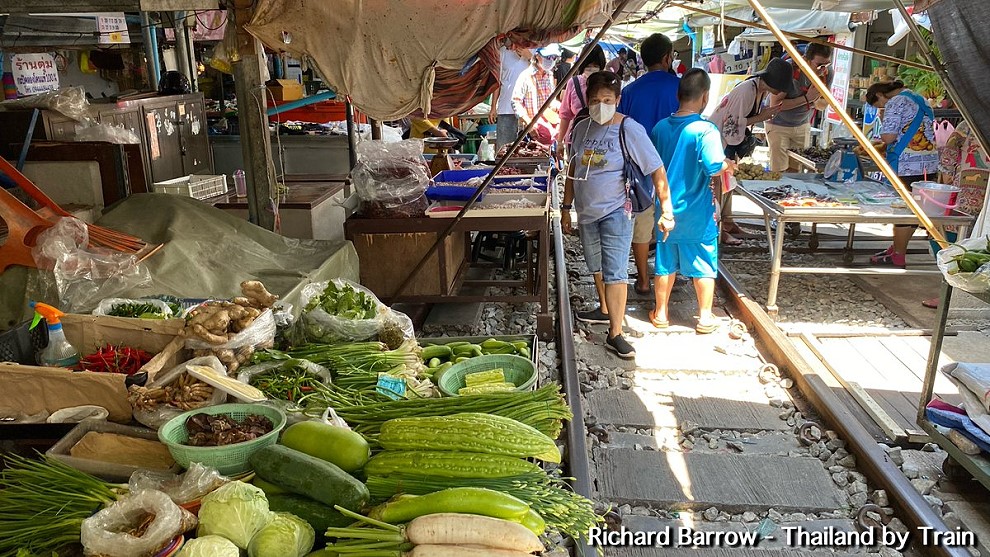 The train passes through Maeklong Market eight times a day. We arrived at 11:10 a.m. We then waited track-side to watch the same train leave at 11:30 a.m. A few minutes beforehand, the stall holders lifted the awning and pulled back their produce from the tracks. Then after it has passed, they put everything back again.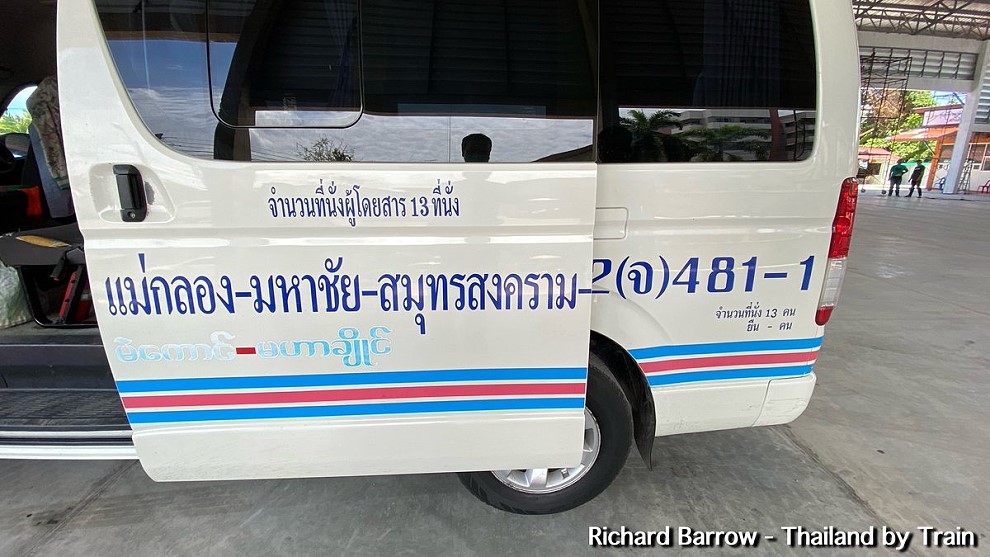 We didn't stay in Samut Songkhram long. The next train wasn't for another four hours and so we decided to walk to the bus station and get a min-van for 30 Baht back to Samut Sakhon and then our plan was to take a train back from there. The trains from there leave every hour.
MAP: https://goo.gl/maps/8GdGUHiU74TYby5i8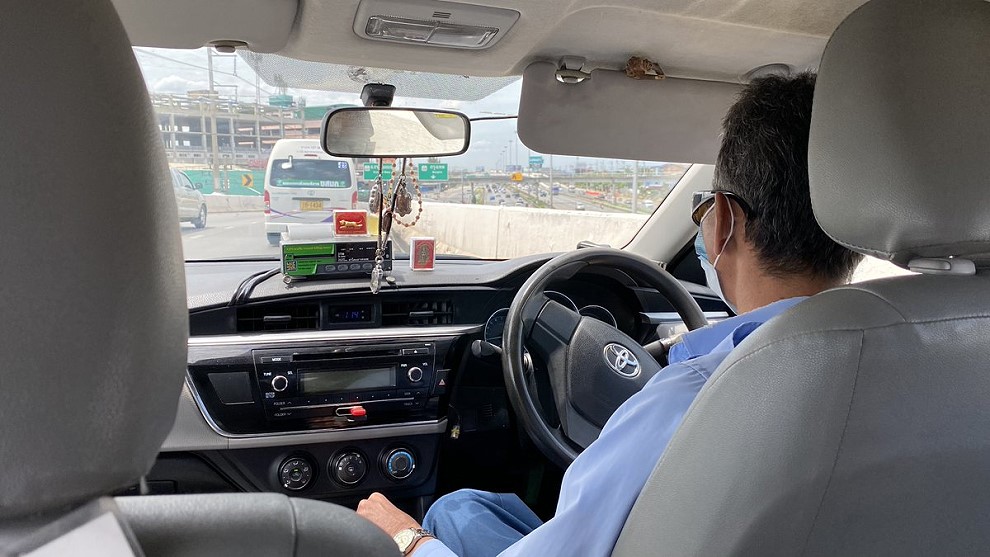 By the time our mini-van got to Samut Sakhon we had missed the train by 5 minutes meaning an hour's wait for the next train. But then we spotted a meter taxi. I checked Google Maps and saw that my home in Samut Prakan was only 45 minutes away. So we did that. Home by 2 p.m. If you live in Bangkok, you can take a minivan all the way there from Samut Songkram. Or do a side trip to Amphawa Floating Market.