Download Free Guidebook for the Excursion Train on the Death Railway
The State Railway of Thailand run special excursion trains at the weekends and on public holidays. These are day trips and the price includes a return ticket and stops along the way. The most popular excursions are to Sai Yok Noi Waterfall (Nam Tok) in Kanchanaburi and Suan Son Pradipat Beach to the south of Hua Hin. The trip only costs 120 baht in 3rd Class and 240 Baht in 2nd Class.
The trip to Sai Yok Noi Waterfall goes along the infamous Death Railway in Kanchanaburi. Stops along the way include the Bridge on the River Kwai and the war cemetery. At these two places you are given time to get down and to take some photos. The train journey also passes through some jungles and very beautiful scenery along the Khwae Noi River. The highlight is the stretch of line along the wooden trestle bridge that was built by Allied prisoners of war at a great cost.
There is no need to join expensive tours. It is easy to go on this trip for as little as 120 baht (around $4). To help you, I have put together this FREE 16-page guide which tells you how to do it. The guide tells you how to buy the tickets and also has useful tips such as which side of the train you should sit to get the best views.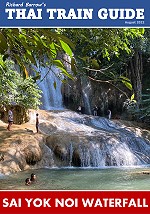 Thai Train Guide to the Sai Yok Noi Excursion Train
This is a popular weekend excursion along the Death Railway to Sai Yok Noi Waterfall. The trip only costs 120 baht in 3rd Class and 240 Baht in 2nd Class for the full day trip there and back. This is just one excursion from the 'Excursion Trains' e-book. There are 16 pages.
Published:
31 August 2022
This is the first edition of the guide and so I would appreciate if people give feedback on how to make future editions more useful and accurate.
This guide book is just a small section of Thai Train Guide 2023 which I am planning to publish at the end of this year. For more information and other news about free guide books as and when they become available, please click here.