Train Trip to the Cambodian Border
The following is my live trip report that I posted on Facebook and Twitter as the train journey progressed. All photos were shot on my iPhone.

DAY ONE: Good morning from Bangkok Railway Station. Today I'm catching the train to Ban Khlong Luk on the Thai-Cambodian border. The train is not due to leave until 5:55 a.m. However, I decided to turn up nearly an hour early as I wanted to make sure I got a window seat. I also wasn't sure if the tickets would be sold out. But, I needn't have worried. Buying a ticket thirty minutes before departure should be fine.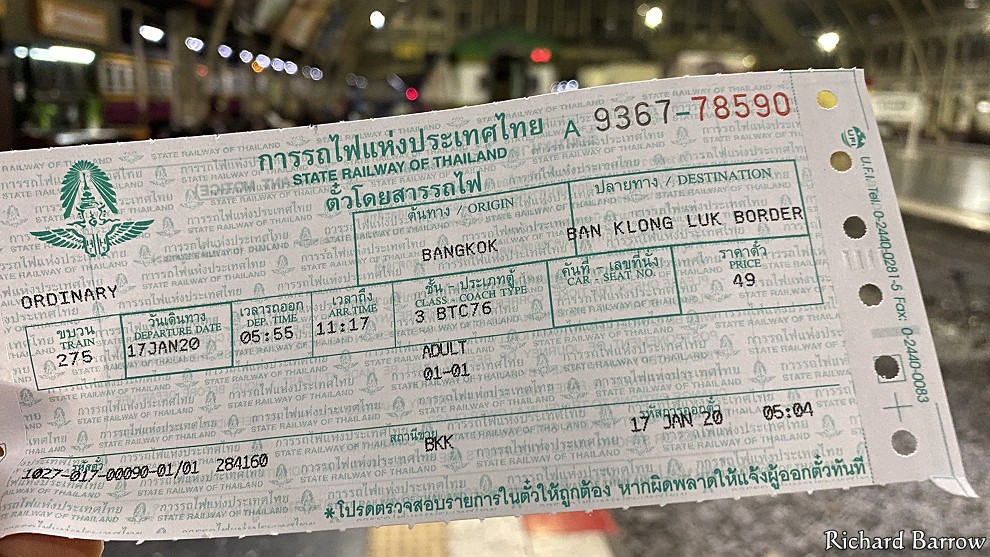 The line I'm completing today is The Eastern Line and is about 260km long. The ride will take just over five hours. There are only 3rd Class carriages on this train. The ticket was 49 Baht one way. Cheaper than the tollway to get to the station! The tickets for this line don't have seat numbers and so it's first come first served. This train used to be free for all Thais, but now it's only free for people with a welfare card.
I'm staying the night in Aranyaprathet and then I will come back tomorrow, doing short stopovers in Prachinburi and Chachoengsao. I've brought along my electric scooter to help me explore these cities. The seats in the carriage I'm in are padded. Other carriages have wooden benches. So I'm glad I came early to get a good seat by the window. The train wasn't full when we left Bangkok train station, but it is filling up now. Some are commuters and others school children.

Obviously a seasoned train traveler sitting across from me. Not only did he bring food and snacks, but also a hook to hang his bag. A good tip for my next trip. Unfortunately, the smell of his food is making me hungry. Hopefully a vendor will come onboard soon.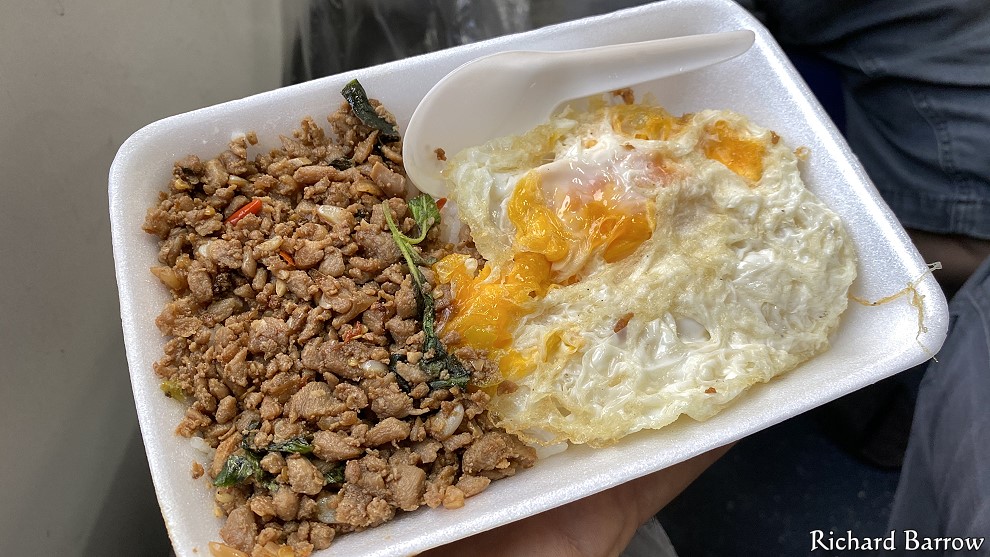 Breakfast has arrived. I'm having stir-fried spicy basil and minced pork on rice with a fried egg. Only 20 Baht. You can't get cheaper than that. I refused her plastic bag but now I wish I hadn't. It would have been useful for the rubbish. Note for next time is to also bring some wet wipes.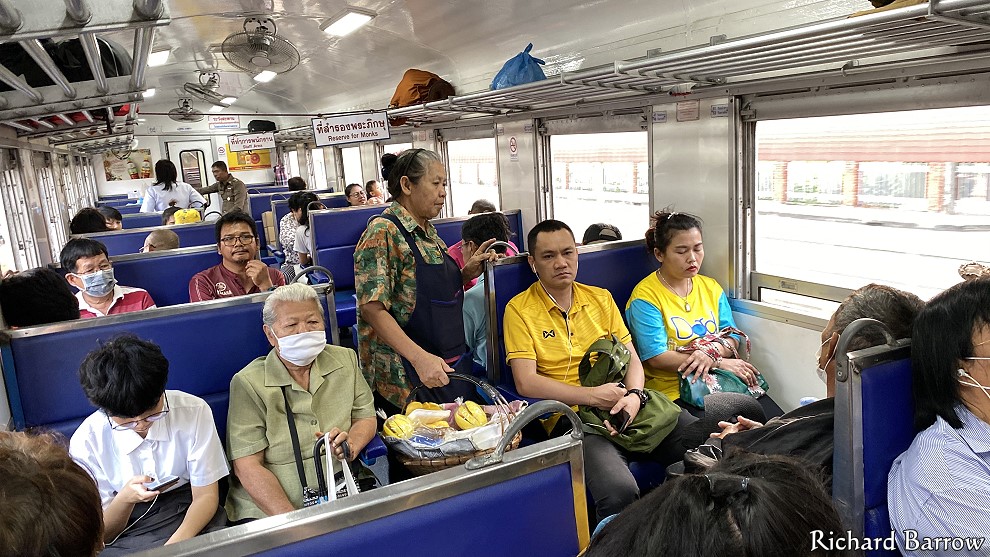 One of the best things about train travel is that food vendors get on and off at the stations bringing food and snacks straight to your seat. Some, like this lady in the photo stay on the train for much longer. One thing is for sure, you won't go hungry or thirsty. However, I think it is wise to bring along some snacks, particularly if you are on a long distance train or traveling during the evening.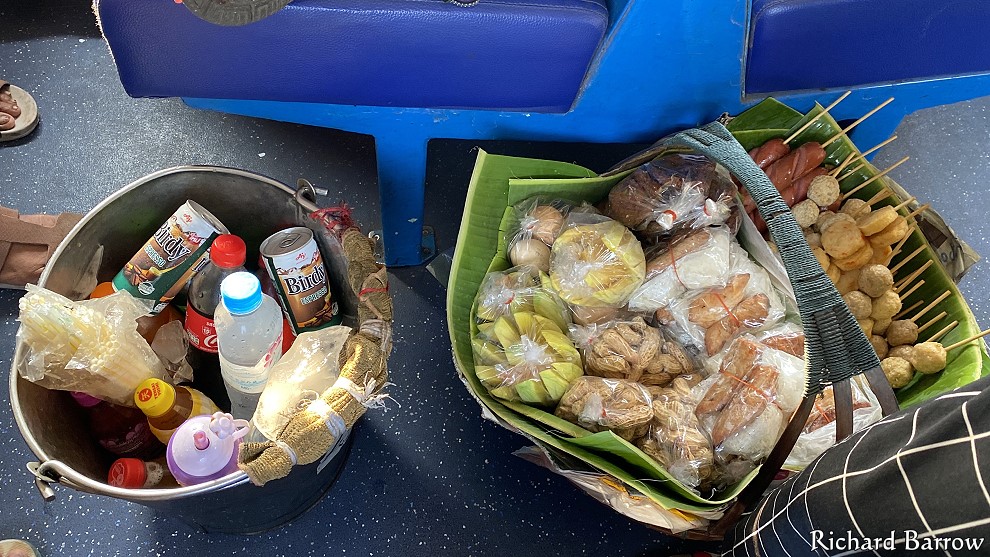 This is just one example of the food that is carried up and down the carriages by food vendors. On the left, some cold drinks. On the right, fruit, peanuts, chicken with sticky rice and various fried meat on sticks. When I bought the ready made meal, it also included a plastic spoon. I am not sure if there is a need to bring your own utensils. Though I did bring my silicone lunch box in case I wanted to buy a meal to eat on the train. I must remember next time to bring wet wipes. A couple of plastic bags would be useful too for the rubbish. Though there were large garbage bags at the end of each carriage.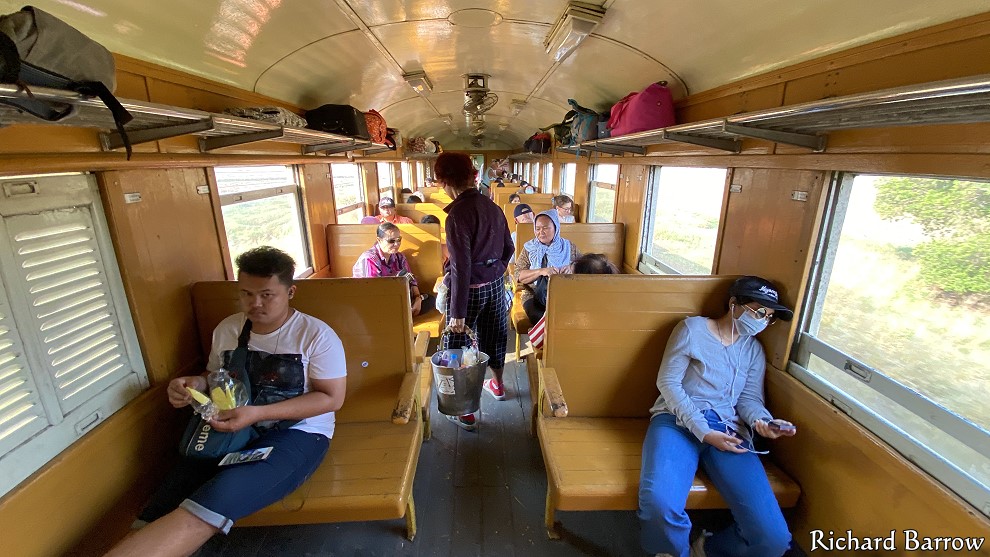 One of the great things about train journeys compared to buses is that you can get up and walk around. It was interesting looking at some of the other carriages. Although they were all 3rd Class, none of them looked the same. The ages varied a lot. The oldest carriage had basic wooden benches. Click here to see pictures of all the different kinds of 3rd Class carriages.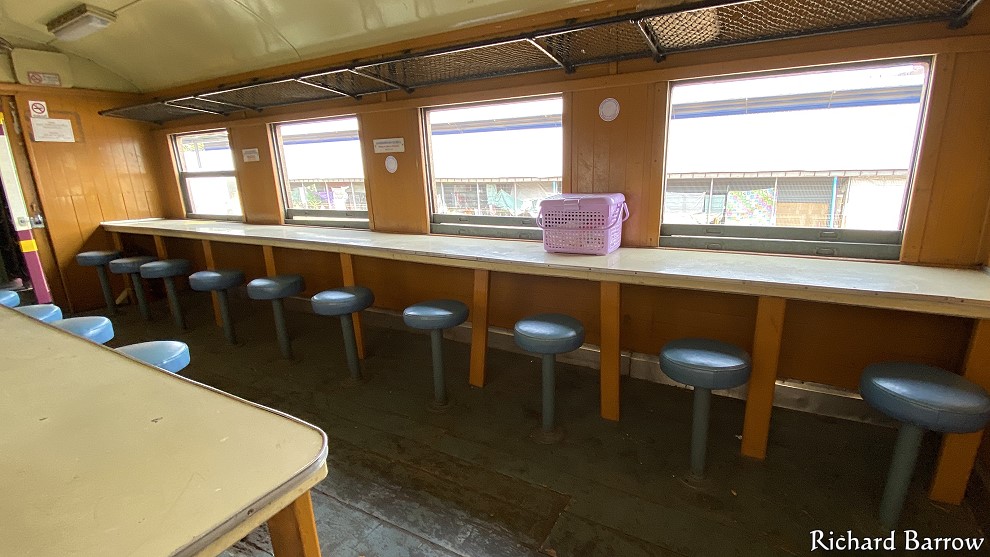 I presume this is an old restaurant carriage. It has a long table and stools on both sides. It was popular with some people. Though I don't think it would be that comfortable for long journeys. Maybe in the old days when you could drink alcohol and smoke cigarettes this carriage would have been packed. But, these days it is forbidden to do either. The only people I saw in this carriage were glued to their smartphones.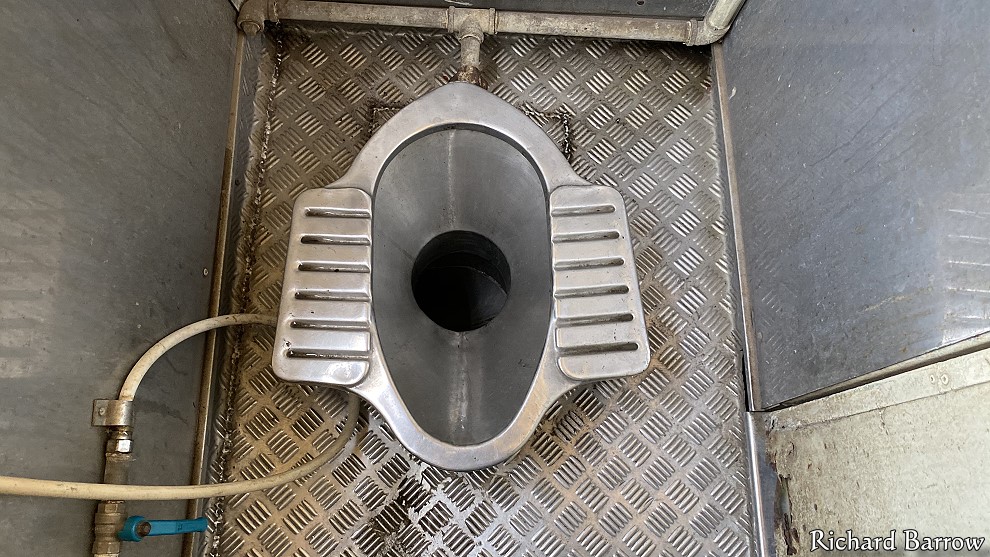 I cannot really talk about a train trip without talking about the toilets. Sometimes you get Western style toilets in third class carriages. Though, more often than not, you get these squat toilets. Now, these are not the easiest of things to use on a good day. But, when it comes to using one on a moving train that is also rocking from side to side, then it is quite a challenge.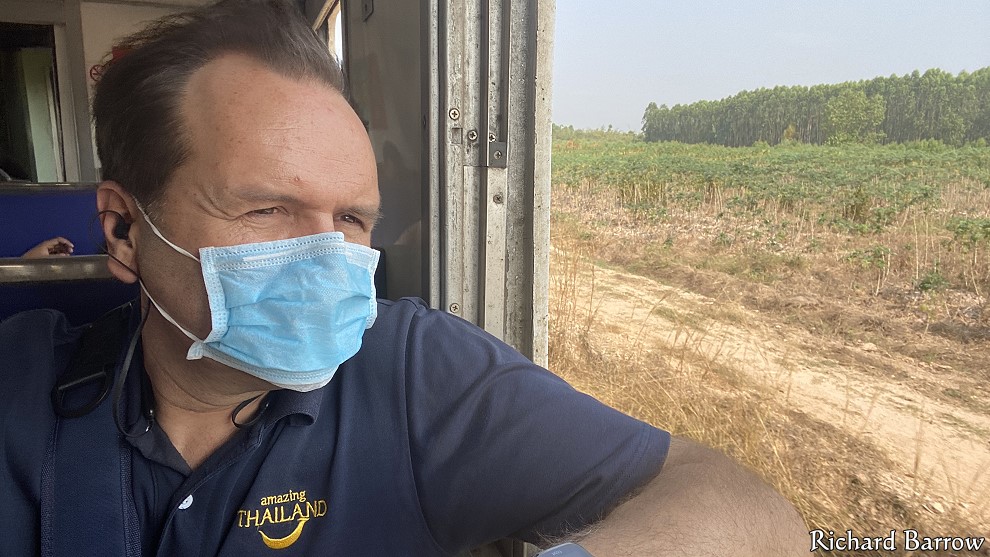 After five and a half hours, I have finally made it to the Thai-Cambodian border in Aranyaprathet, Sa Kaeo province. The train journey was great, though a little dusty. A kind gentleman came around handing out free face masks. Though I will buy a better one as soon as I get a chance. I also need to take a shower and wash my dusty hair. Although the journey was long and the seats hard, it wasn't boring at all.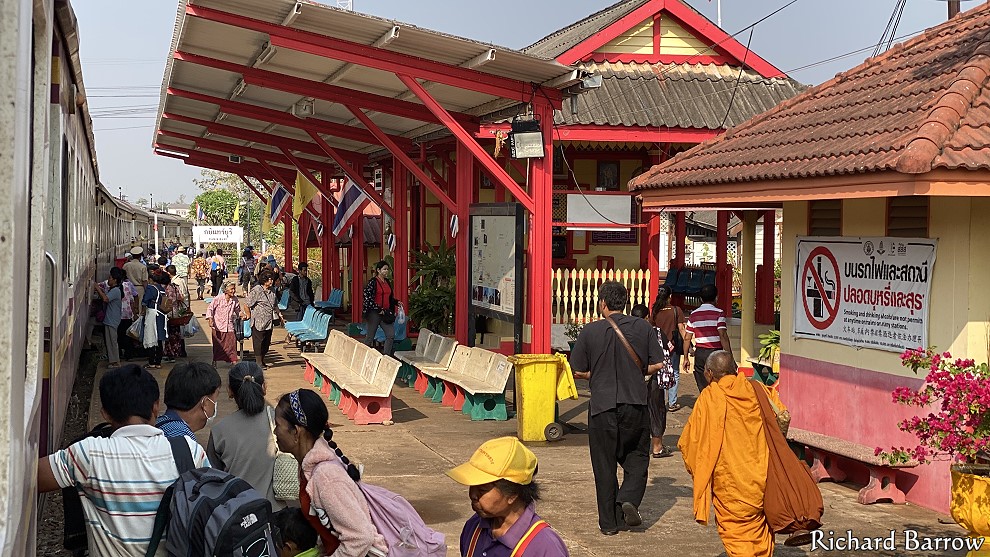 The time went quite quickly, what with watching the changing views out of the window and people watching inside the carriage. Not everyone went to the end of the line like me and so people were coming and going.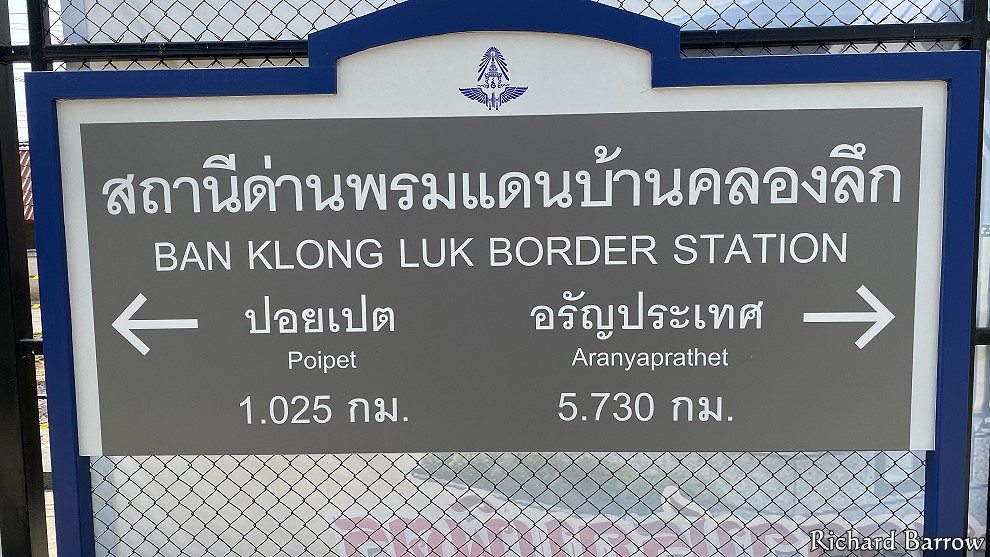 There's a new train station at the Thai-Cambodian border called Ban Khlong Luk Border Station that only just opened last year. Previously you had to get off at Aranyaprathet station which is nearly 6km away from the border. So more convenient now.

Looks like Ban Klong Luk border station is in a no-man's-land as there are gates at both ends. These are only opened about thirty minutes before a train arrives. Which is not often. I am told that for the 6:55 a.m. train tomorrow, I should come at 6:30 a.m. to buy the ticket. I have posted more pictures on the Ban Klong Luk Border Station page.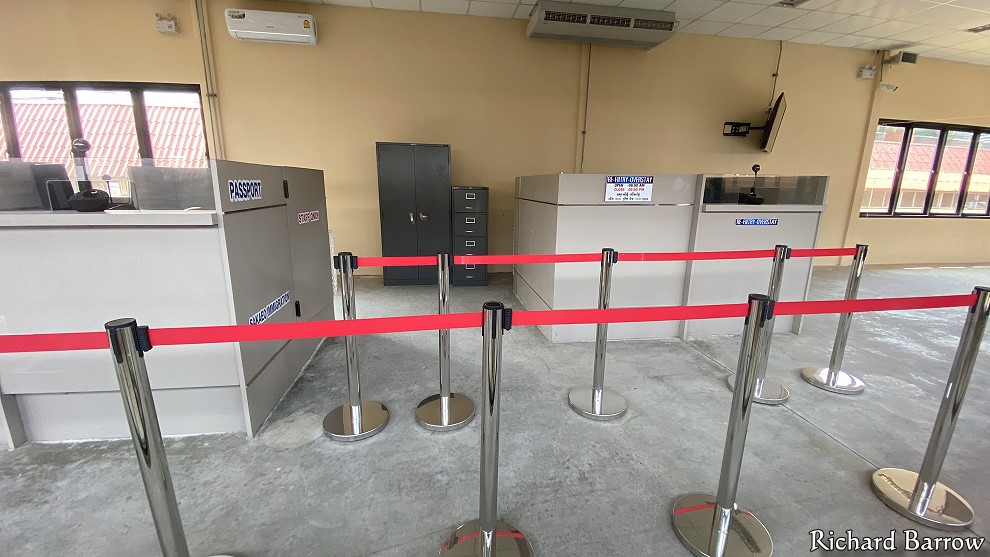 There's even a new Immigration office here but not open. If you want to continue your journey in Cambodia by train, you have to walk over the border through the main Immigration office. As they built an immigration office in Ban Khlong Luk station, it looks like there's an intention for the train to cross into Cambodia at some point in the future. Poipet station is only 1km away. However I'm told that trains on the Cambodian side aren't running properly yet. Once the line and all of the logistics have been finished, you could in theory, go all the way into Cambodia from Bangkok.
‪Tonight I'm staying at @ Border Hotel, which is literally at the Thai-Cambodian border in Aranyaprathet and around the corner from Ban Khlong Luk Border Station. The walk-in price is 780 Baht. (Agoda is about 50 Baht cheaper but I decided to help the hotel rather than a giant corporation.) There's no breakfast but my train is at 6:55am and I should be able to get something there. ‬Check-in time is at noon but they kindly let me check-in a little earlier. I really needed to take a shower and wash my hair after that train ride!

My first meal at the Thai-Cambodian border is a banh mi style baguette. It cost 50 Baht. She probably saw me coming but I don't care as it was delicious.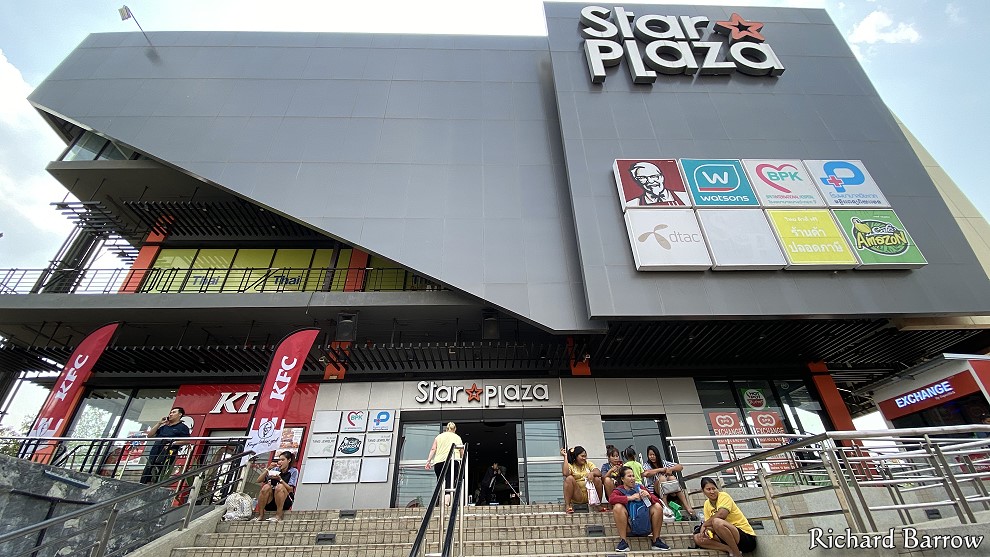 I'm having a coffee break in Cafe Amazon in the Star Plaza mall. They have a KFC at the border in case you fancy some Western fast food. Though there doesn't seem to be much else open in this mall. Next I will go exploring around the large Rong Kluea market. Apparently I need a new wallet according to a few vendors who saw it. I doubt I will visit Aranyaprathet town. It's 6 kilometers away and I don't think there's much there to see.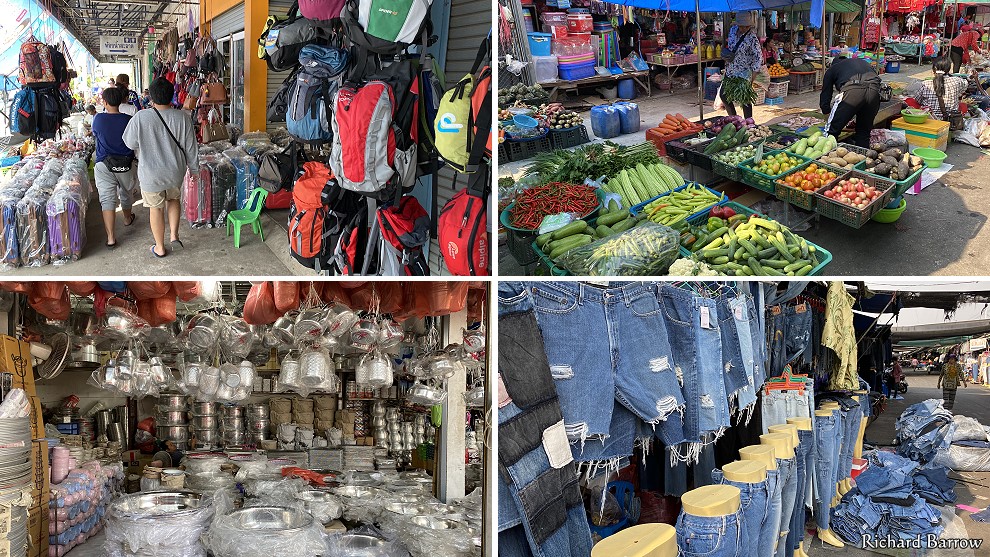 Rong Kluea Market in Aranyaprathet is massive. It feels like it's ten times the size of Chatuchak Market but without the crowds. It's so big that you can rent motorcycles and golf carts to get around. But you need to know your prices and haggle hard. Some of the first prices they gave me were more expensive than Bangkok. ‬
MAP: https://goo.gl/maps/hYsYwT78MmDKBqDDA‬
TRAIN TRIP REPORT – DAY TWO
This is the live report I posted on social media of the return trip to Bangkok. This time I did two stopovers on the way back.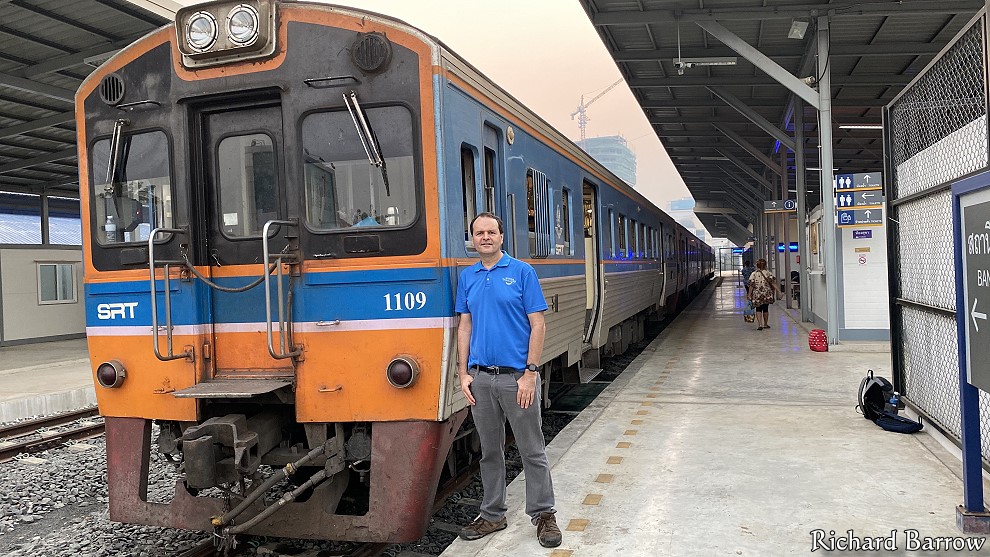 DAY TWO: Good morning from Ban Klong Luk Station in Sa Kaeo on the Thai-Cambodian border. I'm returning to Bangkok on the morning train. There are two trains a day from here. At 6:58 a.m. and 1:53 p.m. It takes about five hours.

Although I'm heading back to Bangkok today, I'm not riding this train all the way. I will stop at two major destinations. First in Prachinburi for nearly 5 hours where I will do some exploring and have lunch. The ticket for this part of the journey is 29 Baht.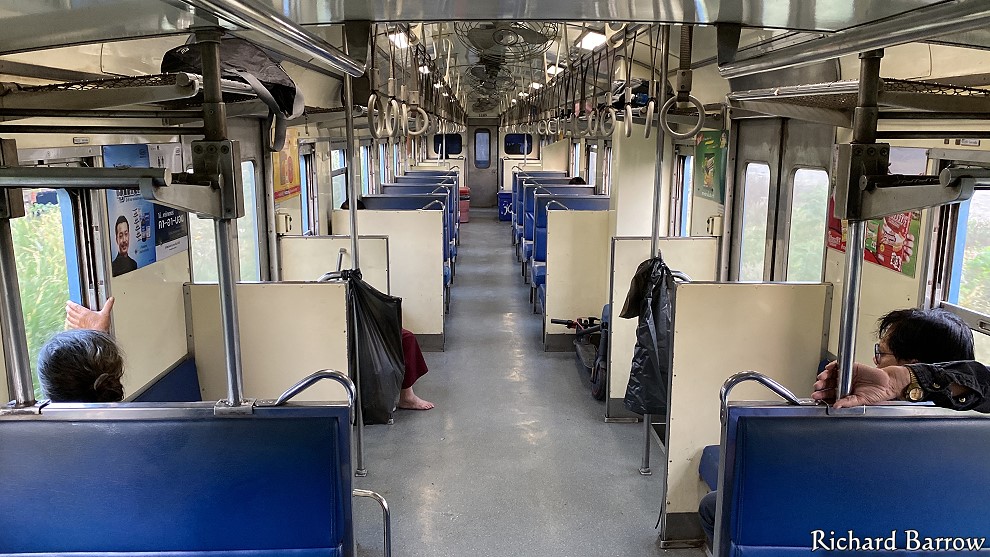 Then I will take the train to Chachoengsao where I will have two and a half hours to explore. I should then finally reach Bangkok by 7:50pm. That's if I don't miss any connections.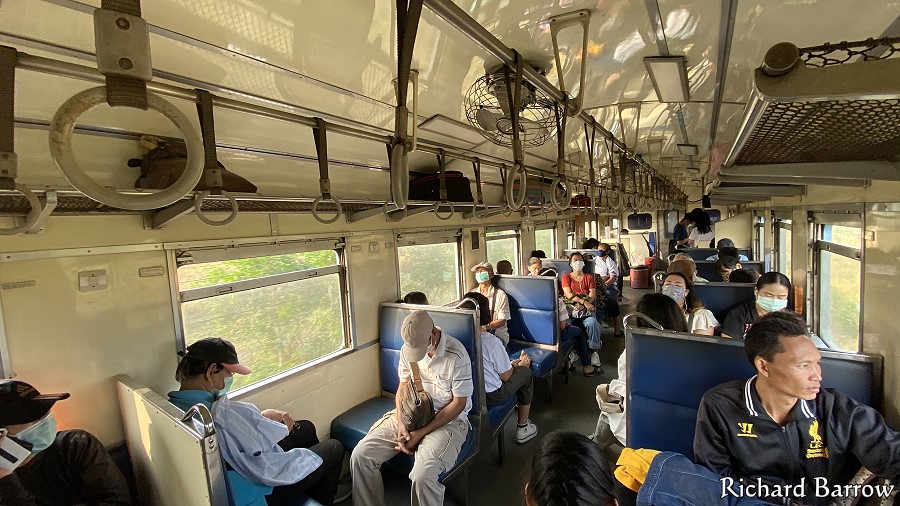 There is never a dull moment on these train rides. I brought along my iPad and Netflix but haven't touched it at all. I'm either looking at the views out of the window or people watching inside. Always something going on. Third class is the best way to travel if you want a local experience.
Here comes breakfast. Delivered to my seat on the train. Stir-fried spicy basil and minced pork on rice with a fried egg. The same as yesterday but I'm not complaining as it's my favorite and only 20 Baht.
The morning train from the border has a lot more vendors. Some of them got on at local stations and didn't stay for long. Others I recognized from the trip yesterday. There was also a good variety of food and drinks. Some fruit as well.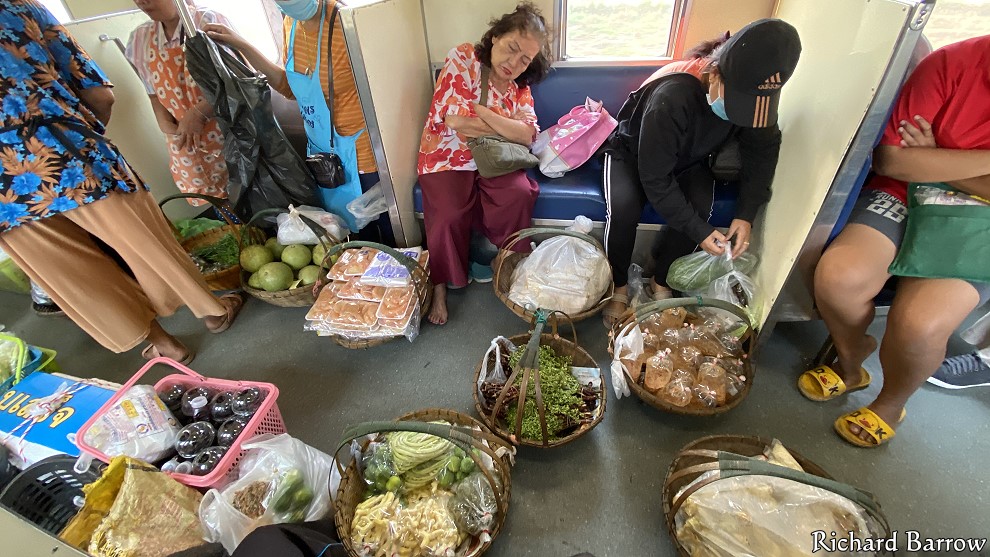 ‪I guess this is what you call a market train. These vendors have set up an impromptu market on the train and are selling their wares. Really good prices too. I bought some pomelo for only 25 Baht. Much cheaper than Bangkok. They are on their way to Kabin Buri which has a big market.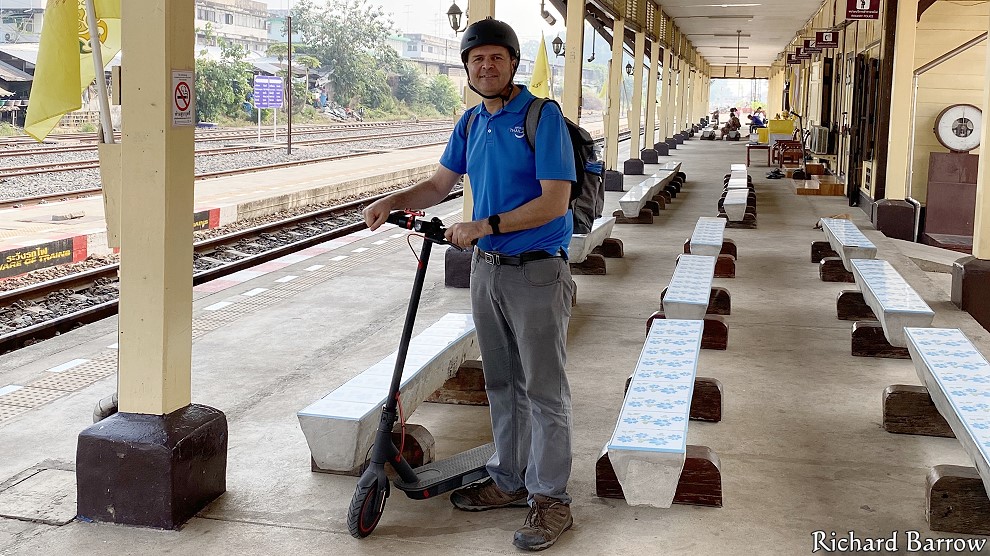 ‪I have just arrived at Prachinburi station. The next Bangkok bound train arrives here at 2:16 p.m. So I have about five hours to explore the city and have lunch. This is why I brought along my electric scooter for this trip. This will enable me to quickly explore the areas around each station. Click here to see some more pictures of this station.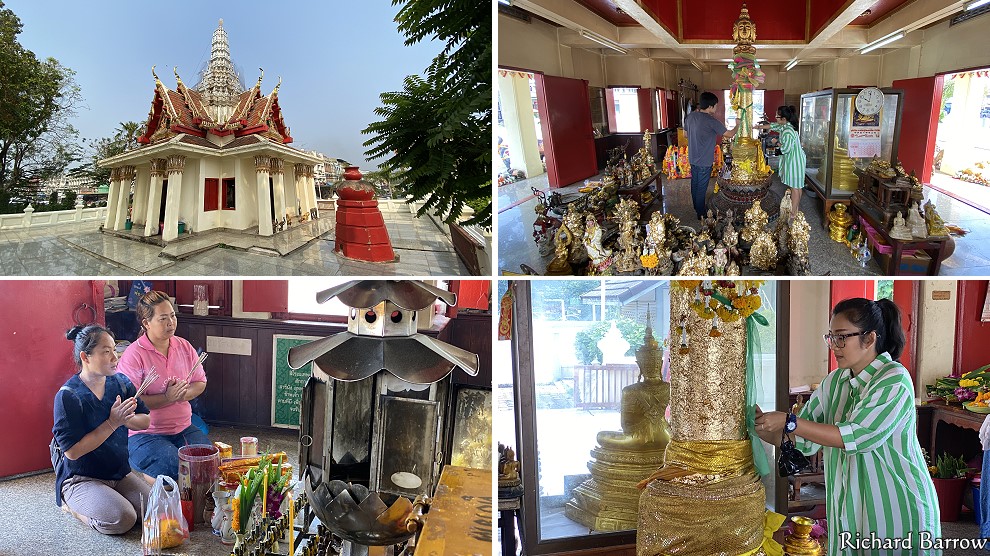 My first stop in Prachinburi is the city pillar shrine. All provincial cities have one. It's like the foundation stone for the city. King Rama V had this one built in 1872 on the northern bank of the Prachinburi River. People come here to pay respects and pray for good luck. Travelers might also pray here for safe passage while in the city.
MAP: https://goo.gl/maps/oZmPFCdWGPMGLgg6A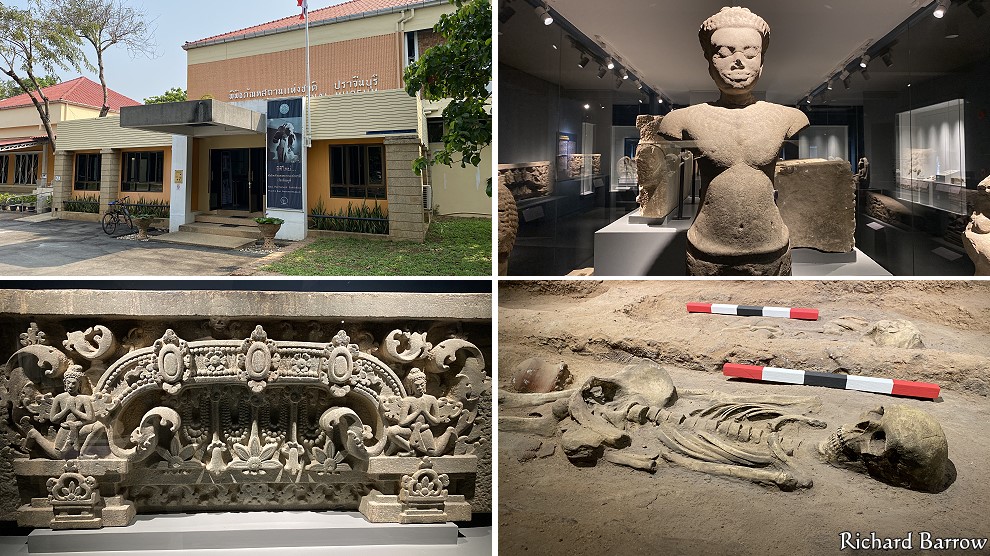 A good place to start a tour of Prachinburi is to visit their national museum. It contains archaeological objects and art pieces from the eastern and neighbouring provinces including Prachinburi, Sa Kaeo, Chachoengsao, Chonburi, Rayong, Chanthaburi, and Trad. What is interesting is that much of this region were coastal communities about 3,000-5,000 years ago. At that time, Bangkok was under water.
The national museum is open from Wednesday to Sunday, from 9.00am-4:00pm. Tickets are 150 Baht for foreigners which includes a free English language guidebook. Thais are 30 Baht. All exhibits are bilingual and some are even interactive. Well worth a look if you want to learn something new.
MAP: https://goo.gl/maps/yyNkhBWnkQLS9vBG7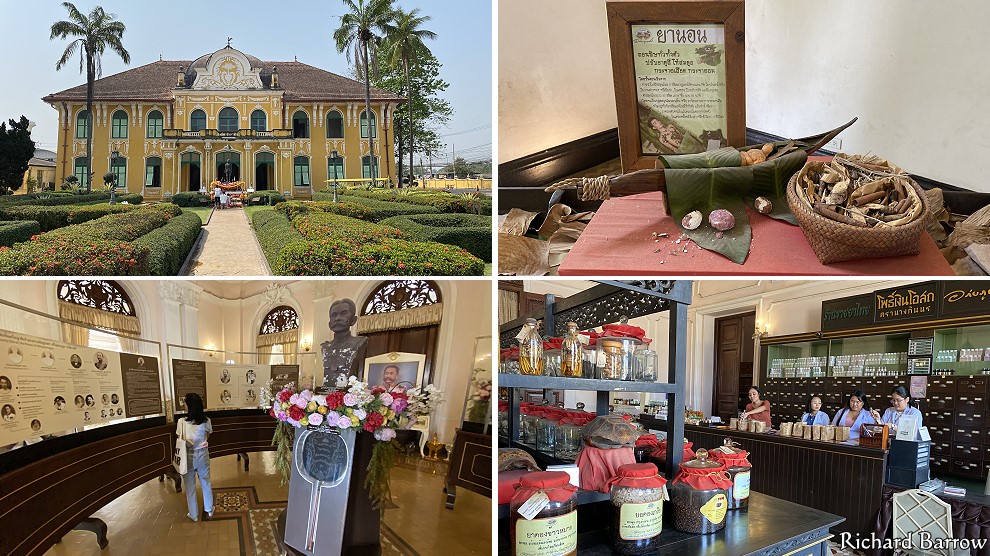 Abhaibhubejhr Thai Herbal Medicine Museum in Prachinburi was established in 1909. The building was built in Baroque architectural style to be the reception palace for King Rama V; however, the king passed away before it was finished. Then, the building was used as a reception hall for King Rama VI and other royal families. The building is now an archive of Thai traditional medicine. It is open daily from 8:30am-4pm. Entry is free.
MAP: https://goo.gl/maps/2PLveaPjmen7LwH7A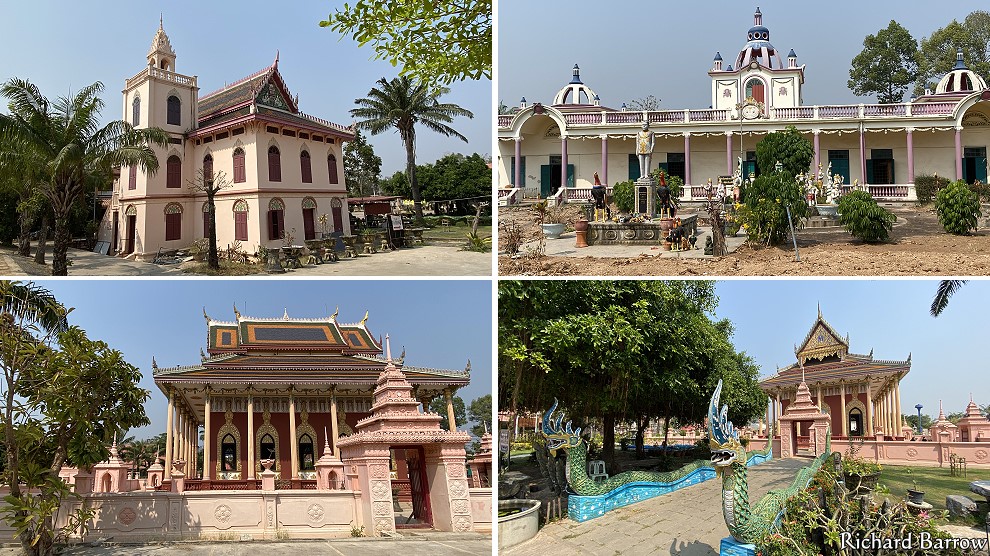 Wat Kaeo Phichit in Prachinburi was established in 1879 during the reign of King Rama V. Its unique architecture is a mixture of Thai, Chinese, Cambodian, and French arts and cultures. In front of the Ubosot is the Greek-Roman building that hosts a Pali school.
Map: https://goo.gl/maps/k16g5DkZNih3aQ5bA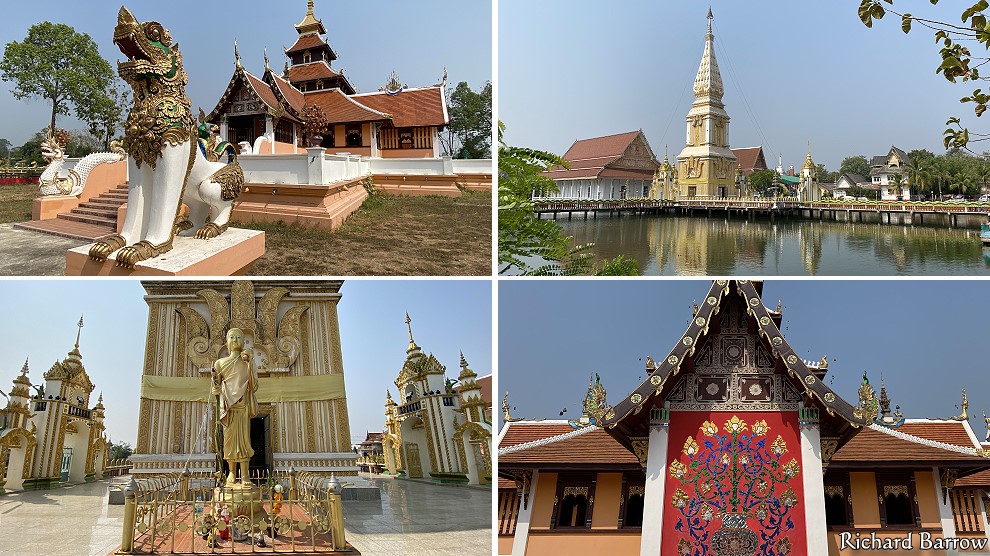 Wat Chaeng in Prachinburi is a highly respected temple for local people as the remains of the former abbot Luang Por Phet are enshrined here in a glass coffin. The wooden building that houses it is particularly beautiful. In the middle of a pond is a large stupa that is modeled after Phra That Phanom in Nakhon Phanom.
MAP: https://goo.gl/maps/xBhX5aJyx3jNf1fZA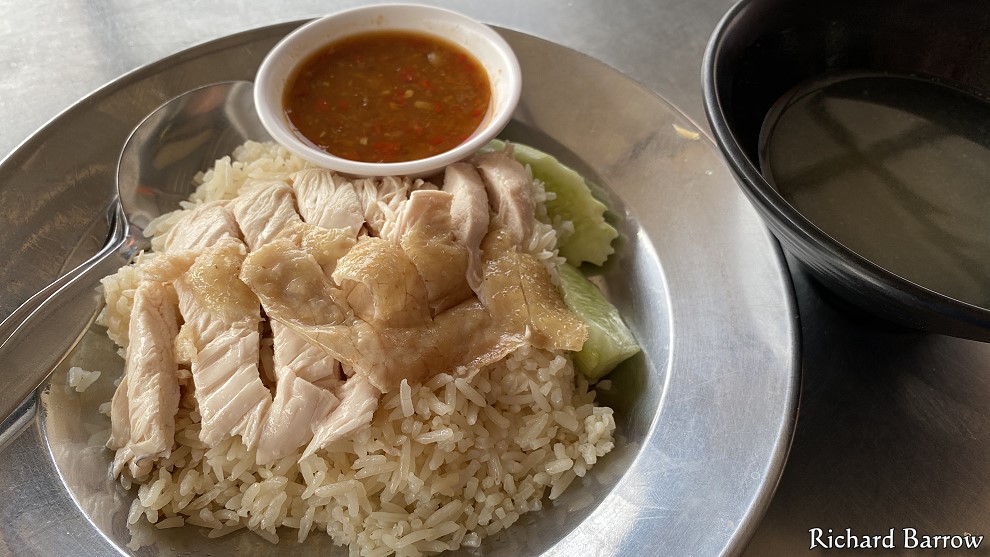 Lunch today was a very quick chicken on rice at a shop next to Prachinburi railway station. A five hour stopover seemed a long time but went very quickly. Several people recommended Home Story restaurant ( Map: https://goo.gl/maps/EmknMCiUvLSeT4Zx9) as a place to eat. I've marked it on my map for next time.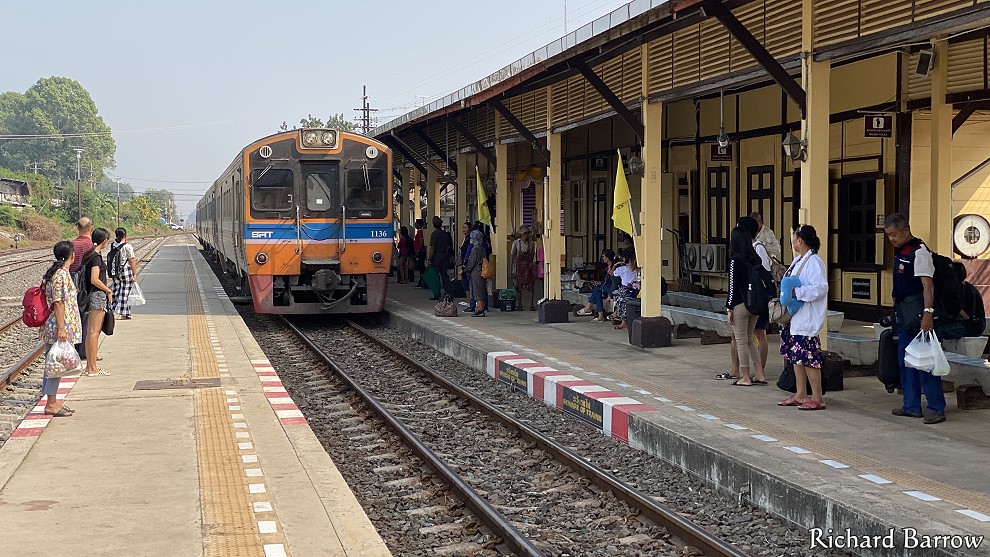 I'm back at Prachinburi station for the next leg of my journey home by train. The plan is to stop at all of the provincial cities and/or major destinations. My next stop is Chachoengsao which is just over an hour away.

Ticket price was 13 Baht. I will have about two and a half hours in Chachoengsao. Hopefully it will be enough time. The train to Bangkok leaves Chachoengsao at 6pm and takes an hour and a half.

Make sure you take a mask if you're traveling by 3rd Class train in Thailand. Some routes are perfectly fine, but during this season, quite a few farmers are doing slash and burn. For them, it is the quickest and cheapest way to clear fields. I passed so many active fires and scorched fields. No wonder pollution levels are so high.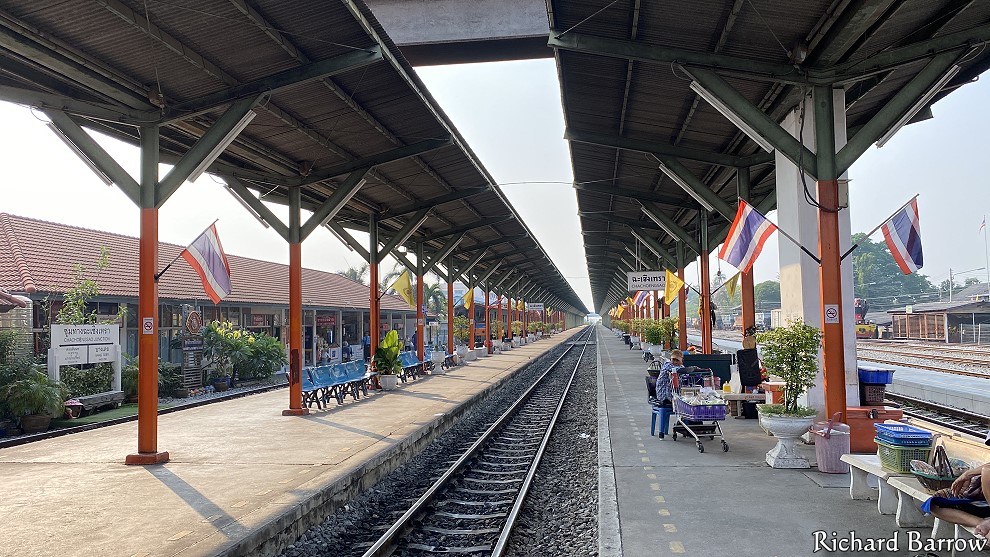 I have just arrived at Chachoengsao Junction. I only have two hours here before my train to Bangkok. It's the last train of the day and so I don't want to miss it. I don't think I will have as much time as I need to see the highlights. But luckily I have my e-scooter that will get me around quickly.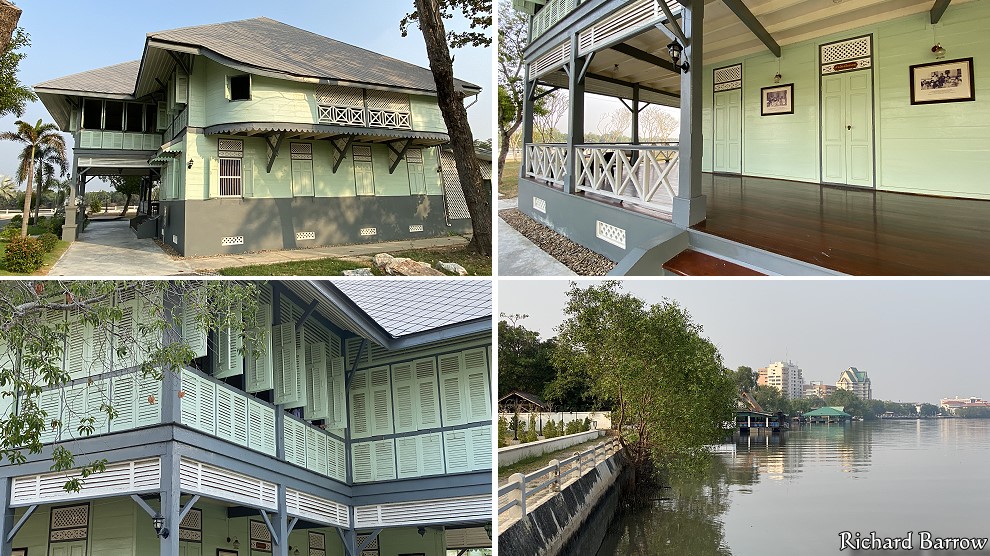 Chachoengsao Museum, on the bank of the Bang Pakong River, was once a palace of Krom Muen Marupong Siripat. King Rama V once stayed here from 24-29 January 1907 after he rode the first train here from Hua Lamphong Station. The museum is open Wednesday to Sunday, 9am-4pm.
MAP: https://goo.gl/maps/nTDxWvzMFpV78Ltw9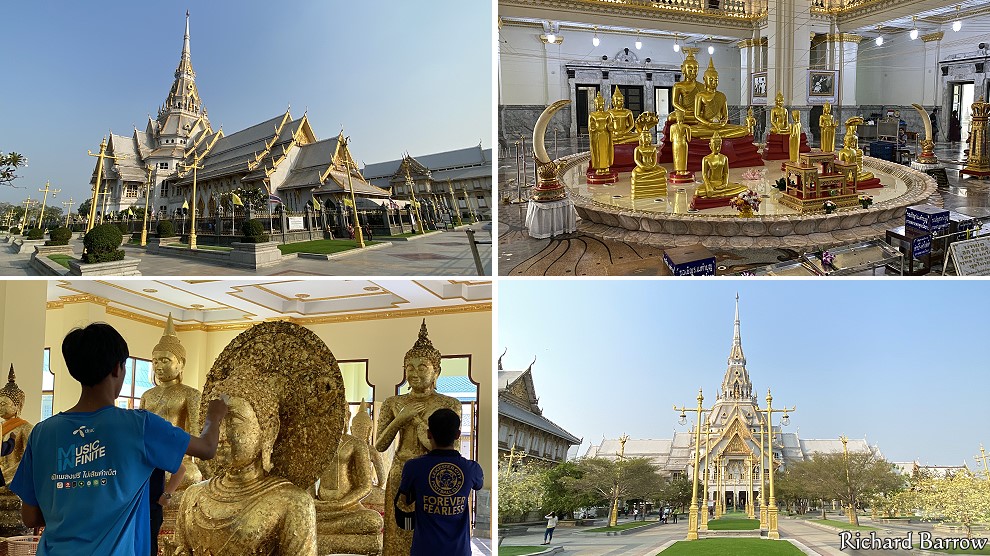 Wat Sothonwararam Worawihan is an ancient temple established alongside the Bang Pakong River in Chachoengsao. Inside is enshrined Luang Por Sothon, a revered Buddha statue. The newer temple building is the largest of its kind in Thailand. In an adjacent building, people make offerings to Buddha images for good luck. Particularly those who want to avoid military conscription. Eggs are a popular offering at this shrine.
MAP: https://goo.gl/maps/j733g7dU996kQDXK8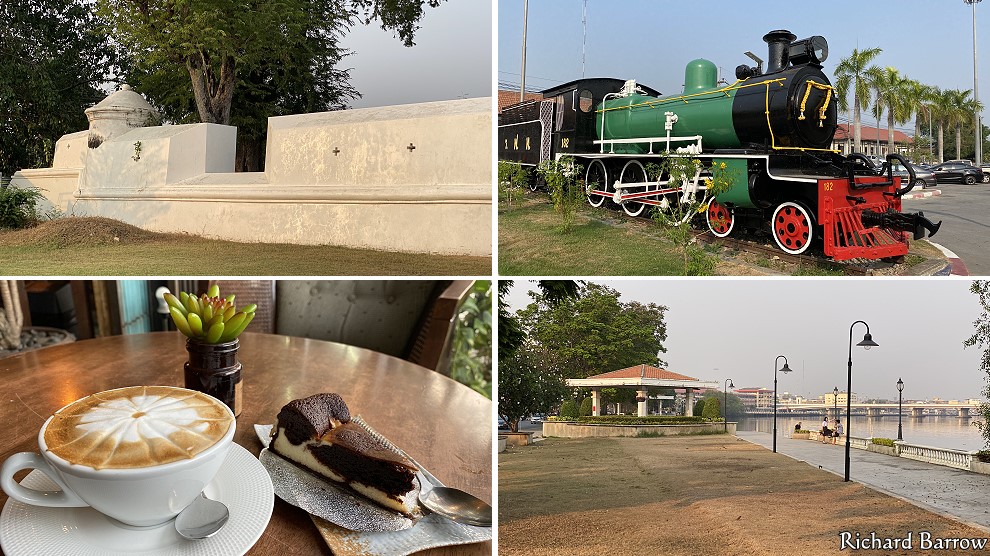 Too much to see in Chachoengsao and too little time this afternoon. I'm at a coffee shop opposite the station waiting for my train to Bangkok. It's been a long day. But I will be back here with my car. I'm planning a three-day road trip here. Lots to see in this province.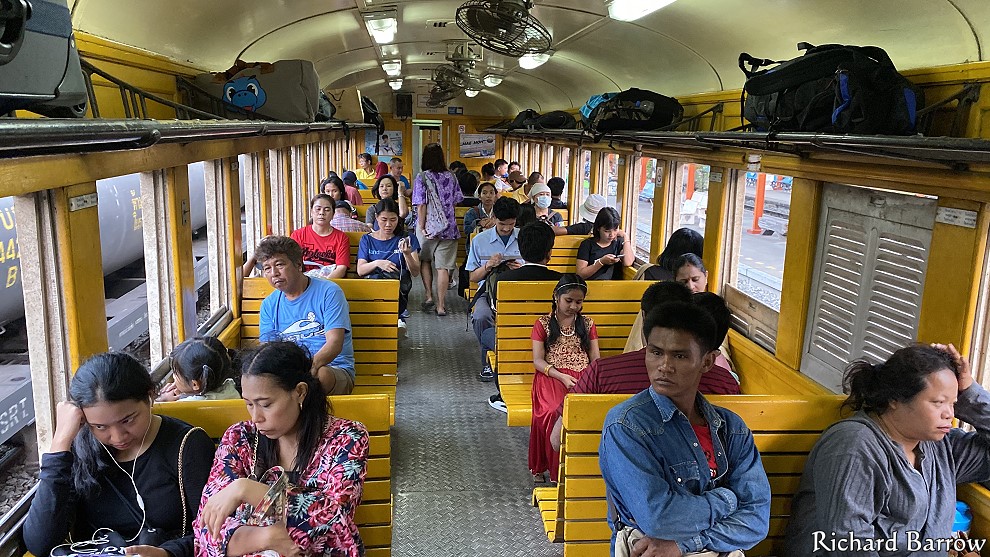 I'm back on the train for my third and final trip today. This time between Chachoengsao and Bangkok. The journey should take about one hour and forty minutes. Ticket price is 13 Baht. This is the afternoon train from the Thai-Cambodian border.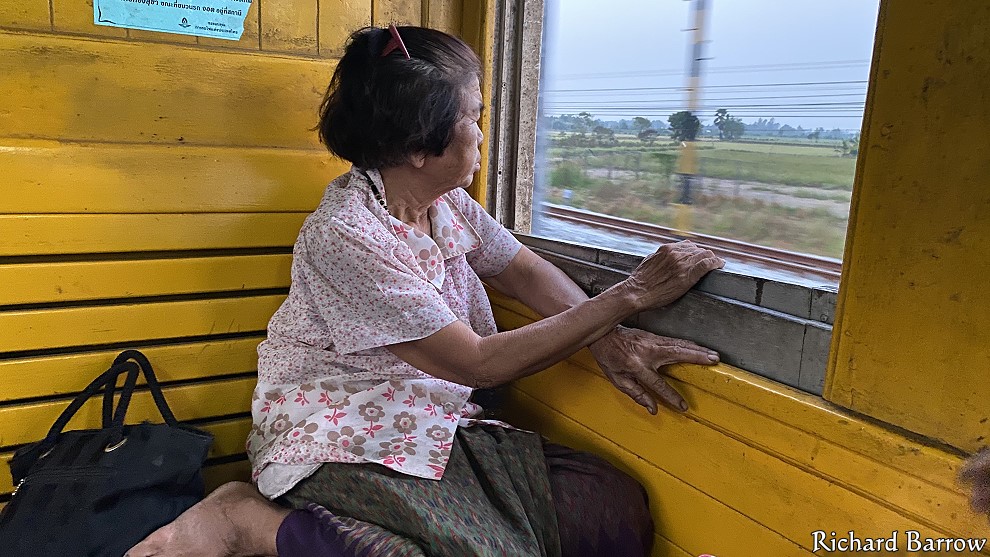 As luck would have it, the carriage that stopped in front of me has wooden benches. Probably the oldest rolling stock in Thailand. For some reason I thought it would be a good idea to try it out. Ten minutes later my back is telling me that this was a bad idea. But I will suffer through it. The granny sitting opposite me looks perfectly comfortable. She certainly isn't complaining. So I won't too.
I did walk down the train just now and came across the "restaurant carriage" complete with bar stools. Those look even more uncomfortable and so I feel better now sitting on my hard wooden bench. Just waiting for my evening meal now to help past the time. Hopefully it isn't stir-fried spicy basil and minced pork again.
I made it back to Bangkok Railway Station. It was a great two-day trip. I next have to do the branch line down to Pattaya before I can tick the Eastern Line off my list. I hope you enjoyed my photos and reports and I've inspired you to do some train trips.