Lam Narai is a branch of the Northeastern Line. The 251 kilometre long branch line opened in 1967 as an alternative route to Nong Khai.  It starts at Kaeng Khoi Junction Station and passes through Saraburi, Lopburi, Chaiyaphum and Nakhon Ratchasima provinces and finishes at Bua Yai Junction Station on the line to Nong Khai. The highlight is the viaduct across Pasak Cholasid Reservoir and the climb through the hills alongside the wind turbines in Chaiyaphum province.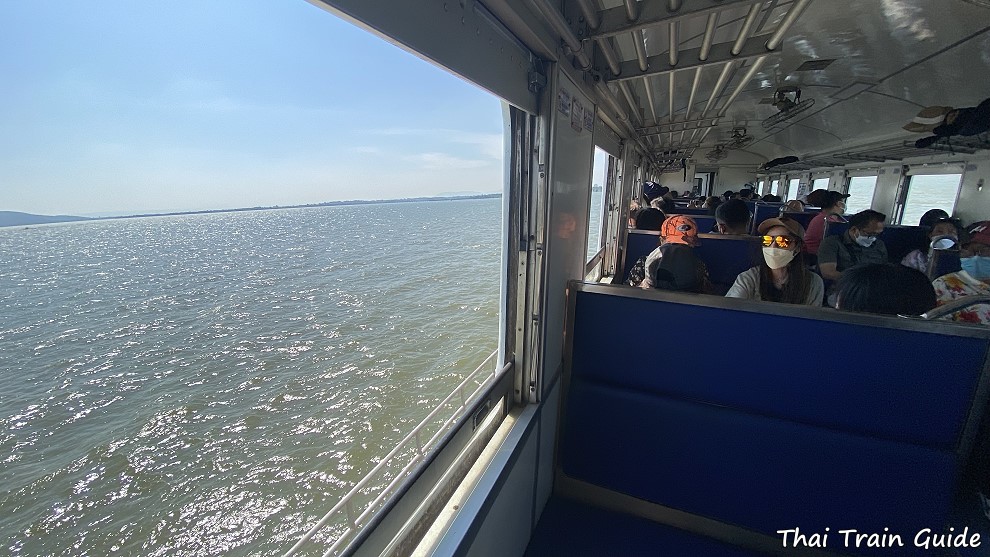 There are two pairs of local trains, Ordinary No. 433/434 and 439/440, that stop at every station on the branch line between Kaeng Khoi and Bua Yai junctions. It takes the train five hours to stop at all 38 stations on the branch line. Ticket price is 44 Baht.
No. 433: Kaeng Khoi Junction (departs 5:30 a.m.) to Bua Yai Junction (arrives 10:08 a.m.)
No. 439: Kaeng Khoi Junction (departs 11:45 a.m.) to Bua Yai Junction (arrives 4:44 p.m.)
No. 440: Bua Yai Junction (departs 5:50 a.m.) to Kaeng Khoi Junction (arrives 10:45 a.m.)
No. 434: Bua Yai Junction (departs 12:20 p.m.) to Kaeng Khoi Junction (arrives 5:10 p.m.)
LINK: How to Buy Train Tickets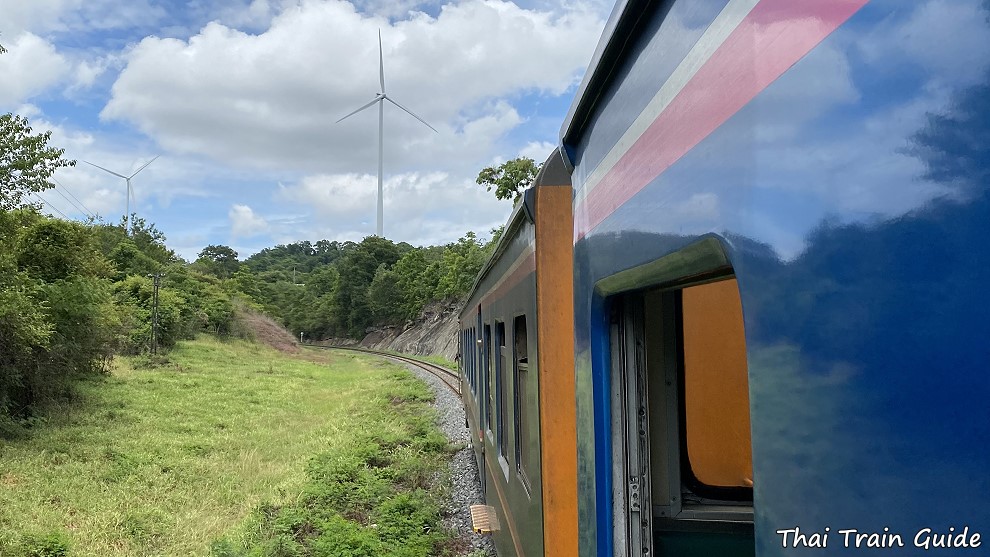 There are also some express trains that go this way on the way to Nong Khai from Bangkok. They stop at six or seven stations. Express No. 75/76 train passes this route during the day (around 10:30 a.m. – 2:04 p.m. outbound and around 10:45 a.m. – 2:42 p.m. inbound) and so have some good daytime views. Rapid No. 133/134 and Special Express No. 25/26 pass over the reservoir and through the hills during the night and so you won't see anything.
TIMETABLES: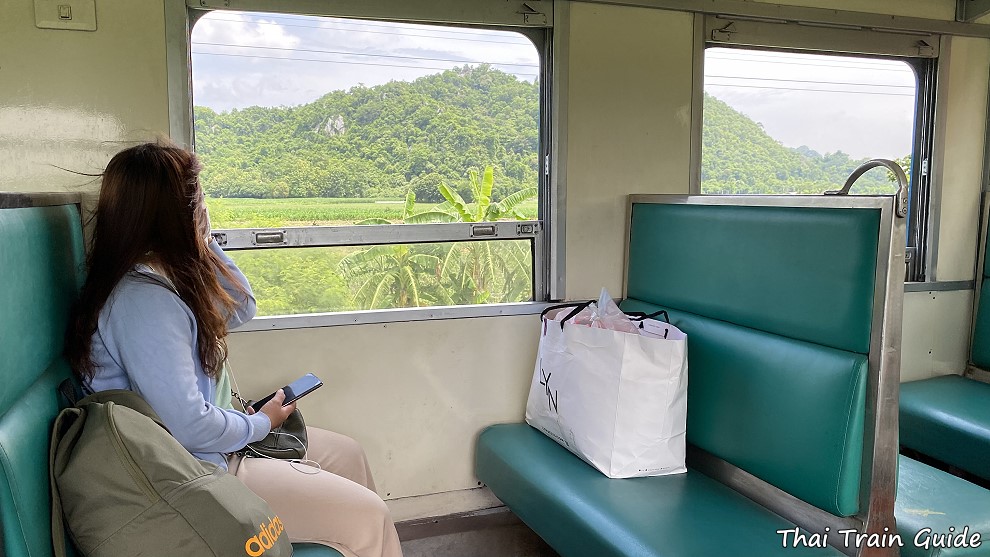 MAP OF LAM NARAI BRANCH LINE:
EXCURSIONS:
The State Railway of Thailand organises a day excursion to Pasak Cholasid Dam during the cool season from around November to January every year. The train takes you out onto the bridge across the reservoir where it stops for around twenty minutes. You can get down on the tracks and take pictures (see photo blog of a recent trip). The train then takes you back to the dam where you can relax and eat lunch before heading back to Bangkok. At other times of the year, you can still go and ride a train across the bridge by catching a local train.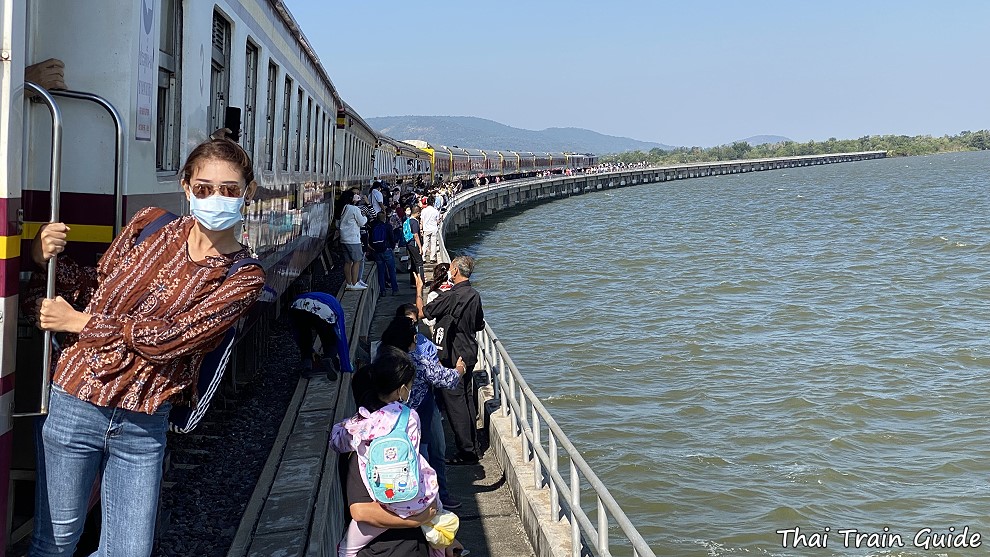 The following is a suggestion on how to do a two-day trip that makes a loop. 
If you are not short of time, take Rapid No. 135 train going from Bangkok to Ubon Ratchathani at 6:40 a.m. This will reach Kaeng Khoi Junction at 9:22 a.m. You then have about two hours to explore the station and town. Make sure you visit nearby Wat Kaeng Khoi as there is a memorial there for the people who died during a Second World War air-raid when the bombers targeted the railway yard. Then catch Ordinary No. 439 train at 11:45 a.m. for the highlight of your trip along Lam Narai branch line. This stops at all stations on the branch line before reaching Bua Yai Junction at 4:40 p.m. If your train arrived on time, catch Ordinary No. 418 to Nakhon Ratchasima at 5:05 p.m. There are more hotel options here. Then, in the morning, take Ordinary No. 234 back to Bangkok at 8:22 a.m. There are some later trains if you want to spend more time in Khorat. But make sure you go back during the day time as there are some great views as the train passes Lam Takong Reservoir.