Exploring the Lam Narai Branch Line
The following is my live trip report that I posted on Facebook and Twitter as the train journey progressed. All photos were shot on my iPhone. I went on the trip from 18th-19th June 2022.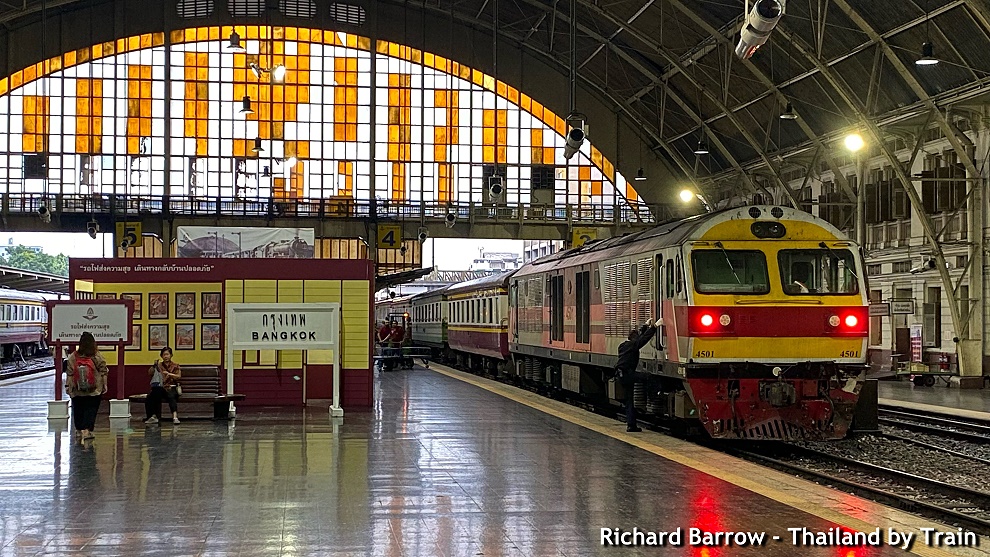 Good morning from Bangkok Railway Station. Today I'm exploring the Lam Narai Branch Line. This goes across Pasak Cholasid Reservoir. First step is a train to Kaeng Khoi Junction where I will change to a local train. To get there I'm taking Rapid No.135 that goes to Ubon Ratchathani. Ticket price for my three and a half hour ride was 50 Baht for 3rd Class carriage with fan. 
RELATED LINK: Map and timetables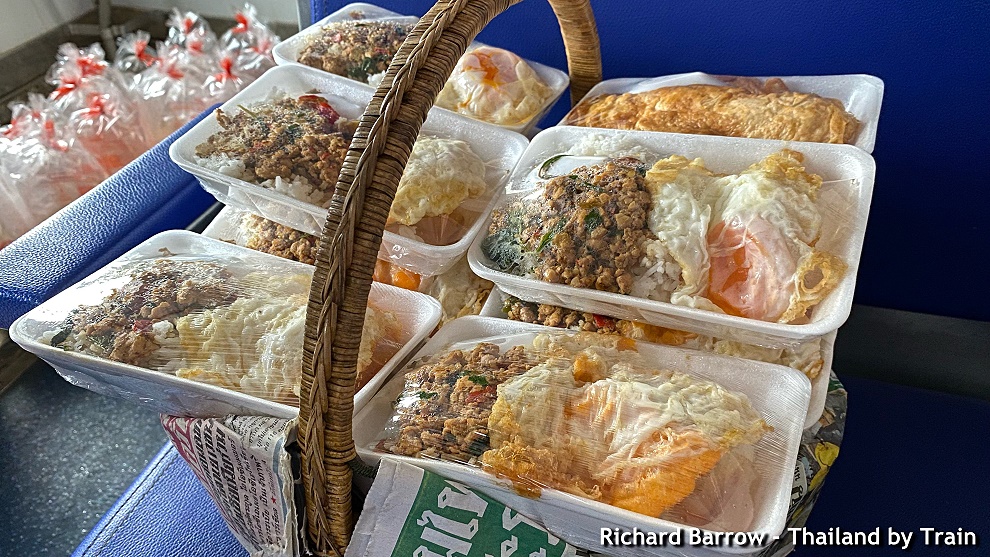 You never go hungry on trains in Thailand as there are always food vendors walking up and down the aisles. My breakfast came onboard in Ayutthaya. I had stir-fried basil and pork with a fried egg. Only 20 Baht. It was freshly cooked too.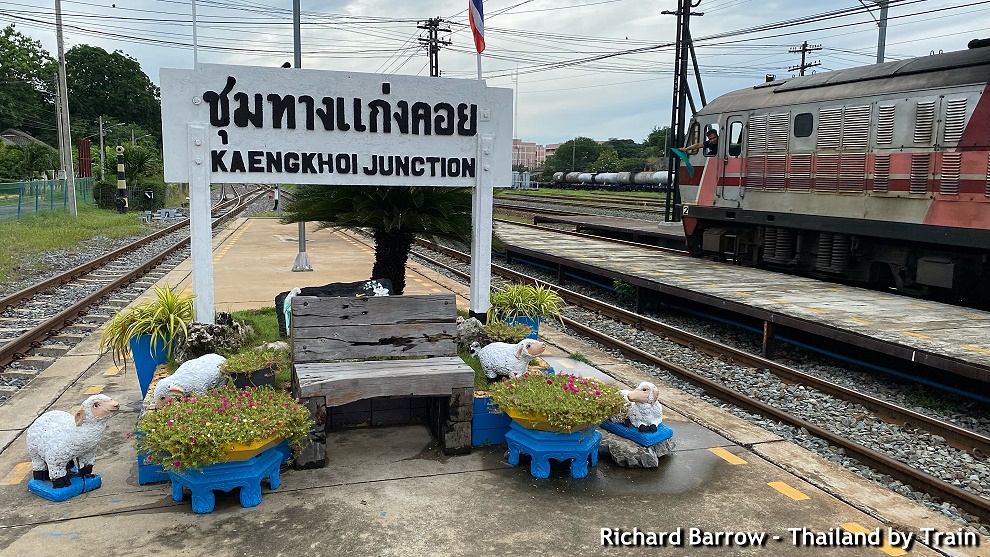 My first stop is at Kaeng Khoi Junction. I have a couple of hours to explore here while I'm waiting for the branch line train. The workshop at the junction was used by the Japanese during World War II.
RELATED LINK: Air-raid on Khaeng Khoi Railway Station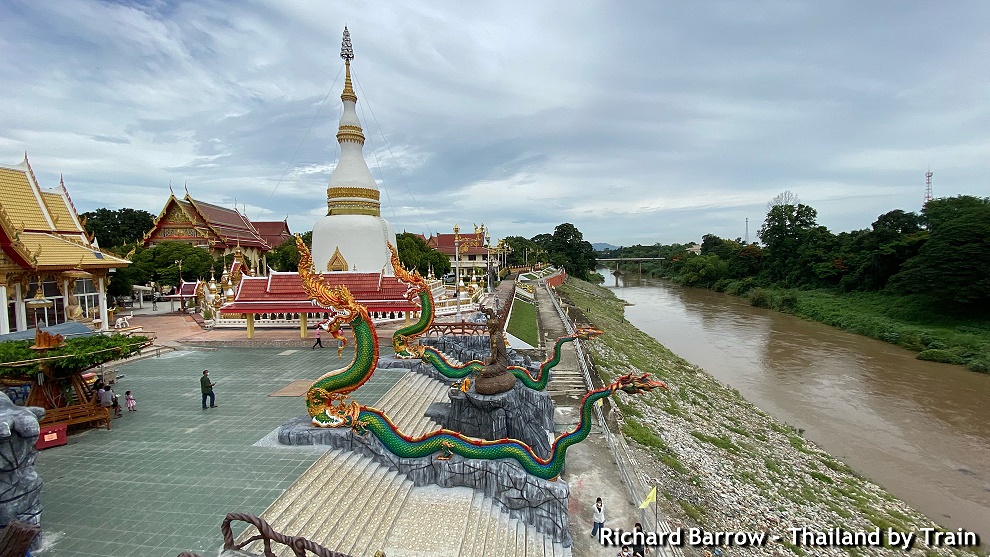 A short walk from Kaeng Khoi Junction station is Wat Kaeng Khoi alongside the Pasak River. Of interest here is the Chedi containing a Buddha relic, a large Reclining Buddha, and the man-made Naga Caves.
MAP: https://goo.gl/maps/adby3Vi8Cc9tnQZr6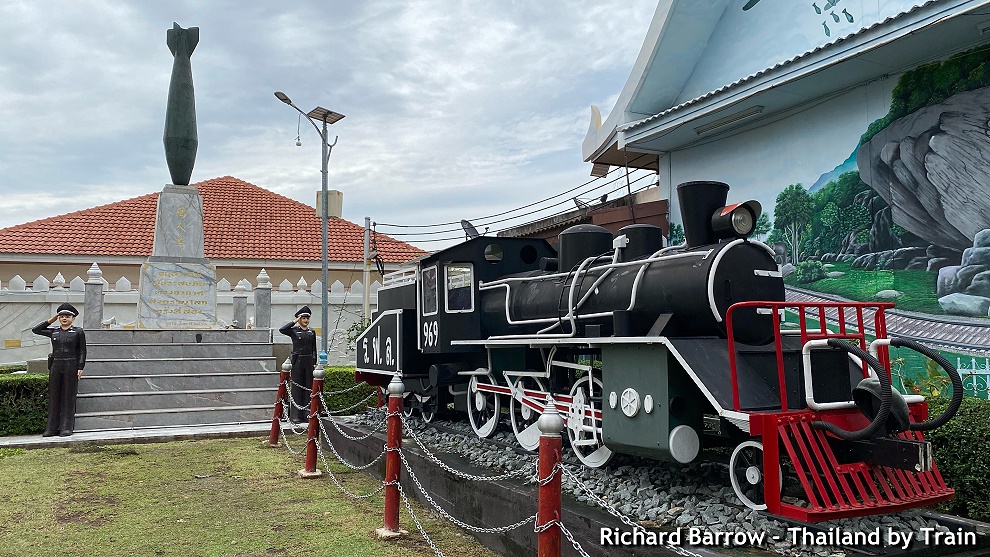 At Wat Kaeng Khoi there is a memorial for the people who died during an Allied air-raid that targeted the railway station. In April there is a festival here to commemorate the event.
RELATED LINK: Train Trip to Kaeng Khoi Second World War Commemoration Festival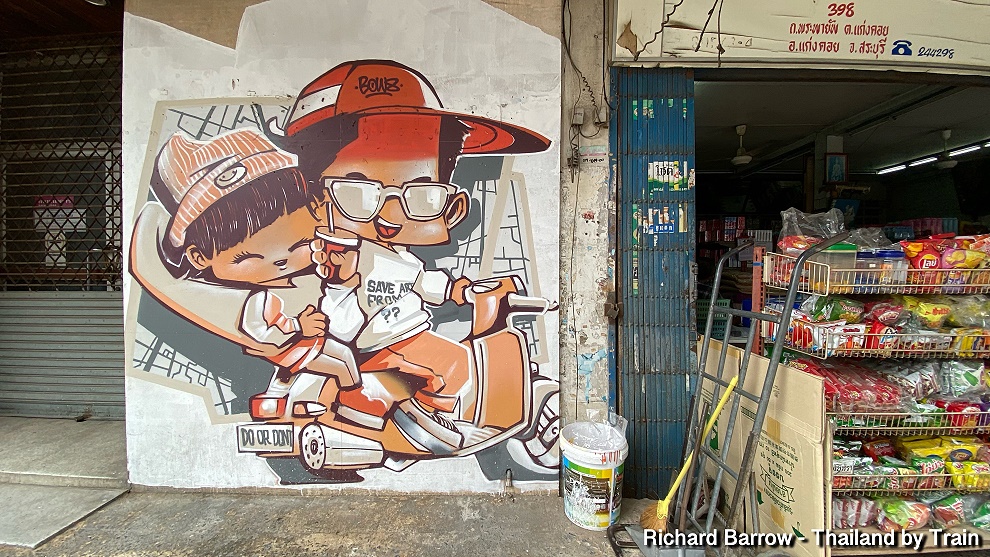 There's some nice street art that can be found near Kaeng Khoi Junction Station in Saraburi. Other than that it seems to be a quiet town with not much to see.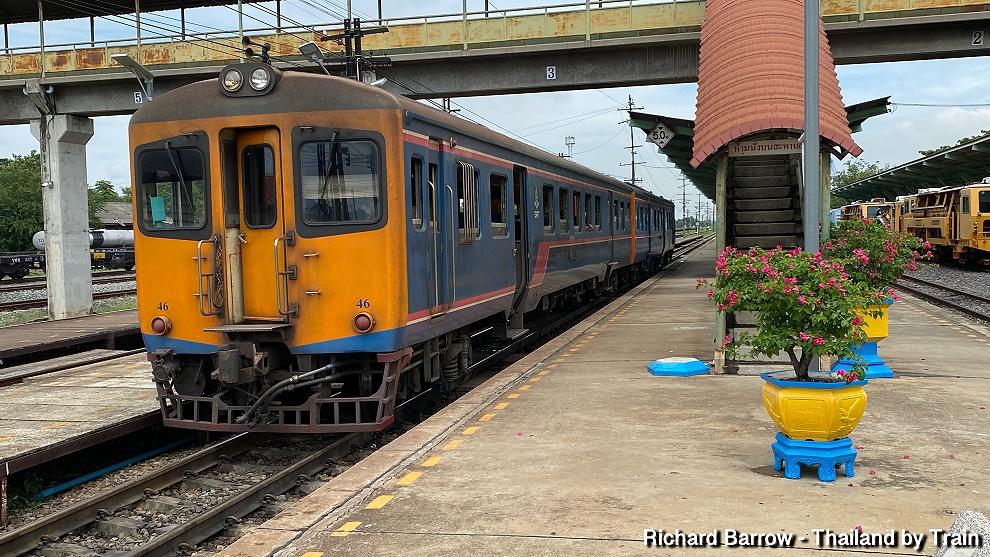 My main trip today is along the Lam Narai branch line. The ticket on Train No. 439 for the 5 hour journey is 44 Baht. The highlight is the viaduct across Pasak Cholasid Reservoir and then the wind turbines. The train left Kaeng Khoi Junction at 11:45 a.m. and will arrive at Bua Yai Junction at 4:40 p.m.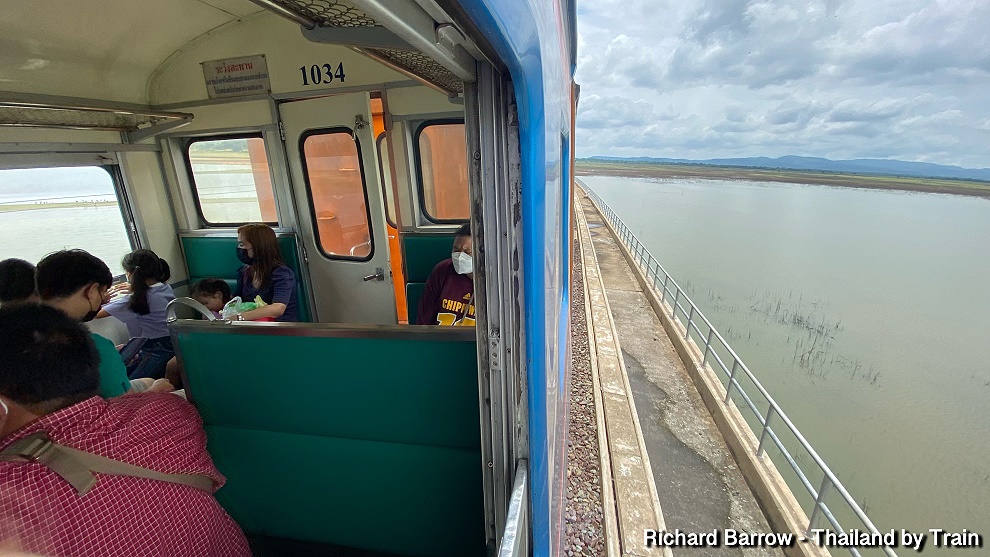 After about 45 minutes, the train went on a viaduct across Pasak Cholasid Reservoir. The best time to visit here is towards the end of the rainy season when the water is at the highest level in the reservoir.
RELATED LINK: Timetable for No. 439: Kaeng Khoi Junction to Bua Yai Junction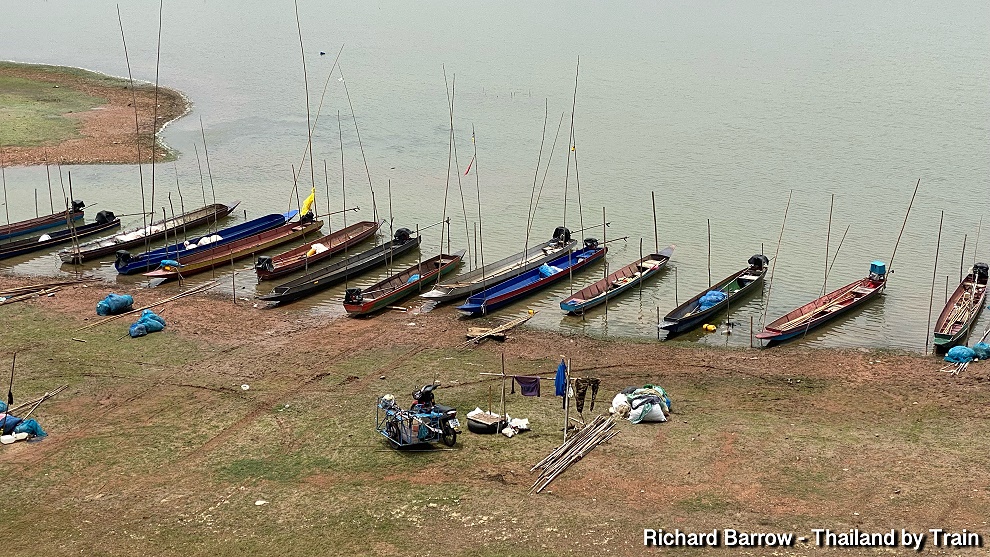 From November to January, the State Railway of Thailand organizes day excursions to the dam and also to local sunflower fields. As the water is very high at this time, they call it the "Floating Train" trip.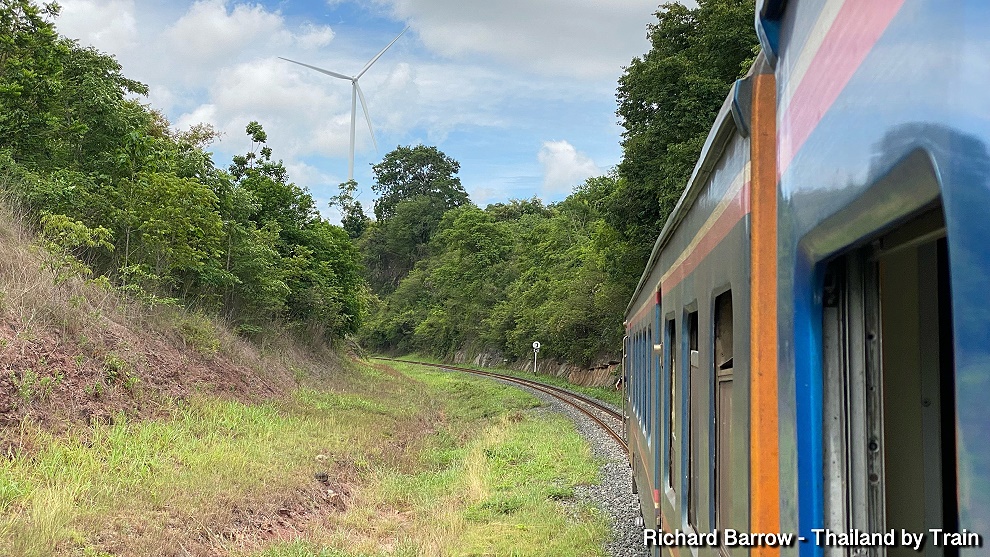 The Lam Narai branch line is proving to be very scenic. Particularly going through Chaiyaphum. A nice variety such as sharp corners, cuttings, wind turbines, and even a tunnel. If you take the No.75 Express to Nong Khai you will pass this way during the daytime.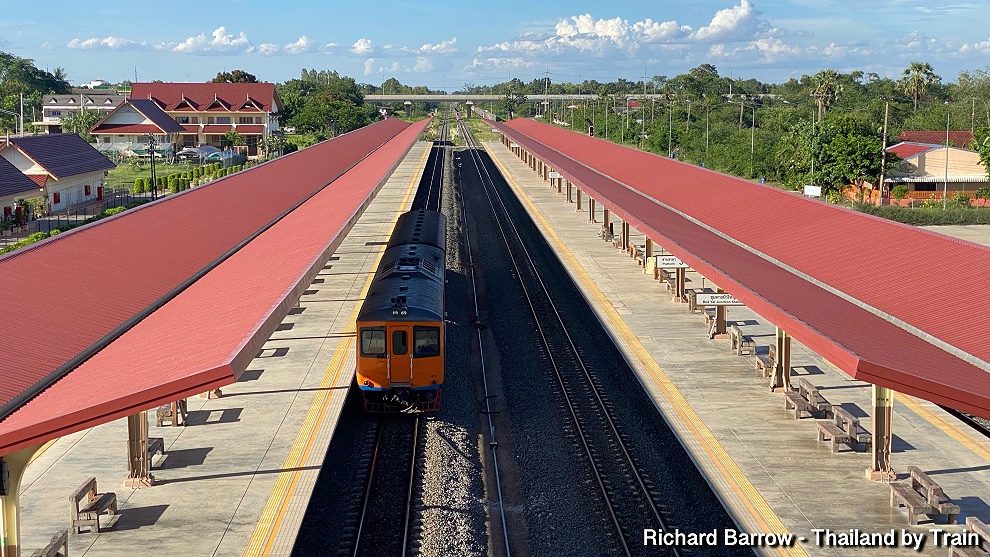 I've now completed the Lam Narai branch line and I'm back on the main line at Bua Yai Junction. I was originally going to spend the night here and then head back home in the morning. But I decided to take the train to Khorat and spend the night there instead. Nothing much to see or do here. The platform at the new Bua Yai Junction Station is so long, the security guards need to use motorcycles to go up and down. I thought at least 800 meters long but the assistant station master told me only 500 meters.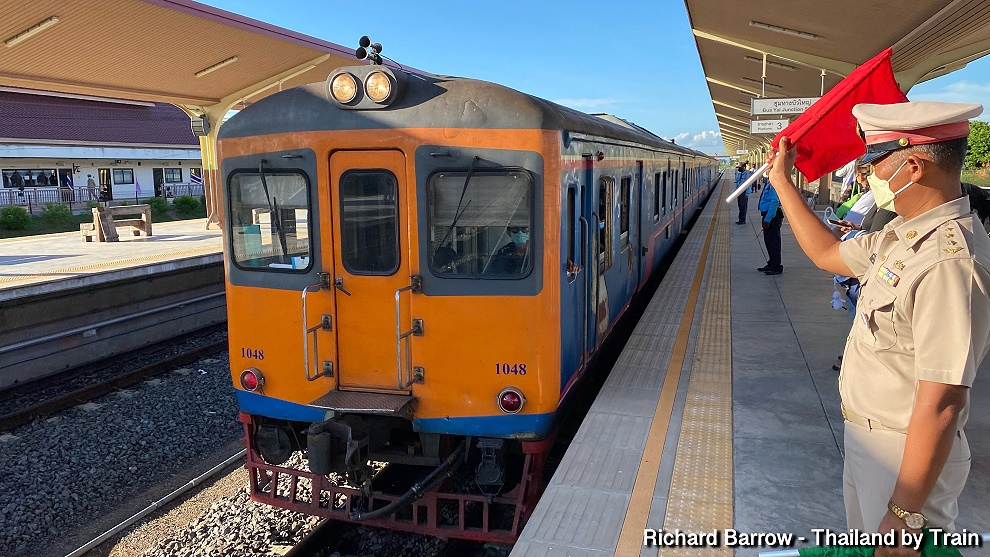 I'm taking local train No.418 from Bua Yai Junction to Nakhon Ratchasima. Ticket is only 18 Baht for the 90 minute journey. This is my third and last train today. I will spend tonight in Khorat as there's more hotels than Bua Yai.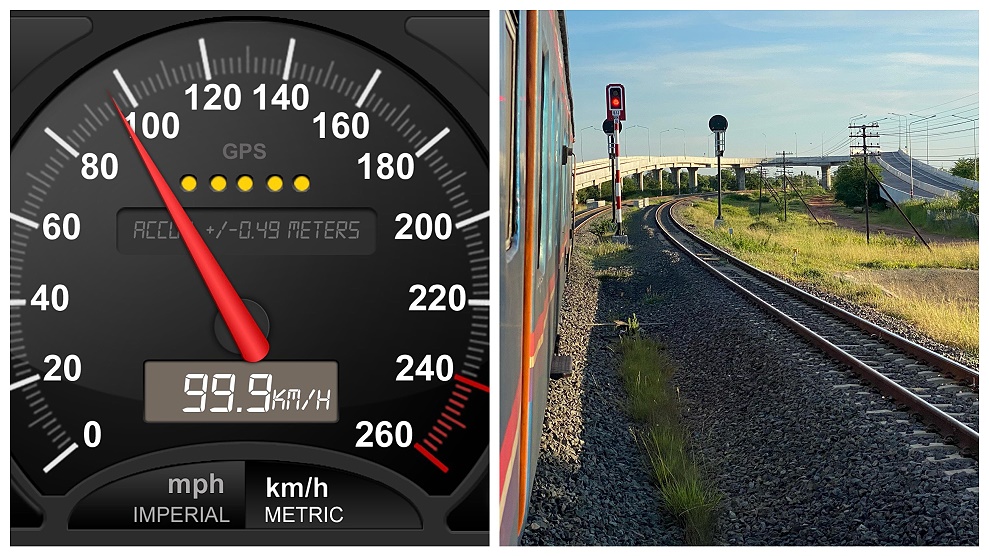 Top speed of 99.9km/hour. With double tracking finished on this section of the Northeastern Line, we no longer have to wait for other trains to pass. There are also many new over and underpasses for traffic. All stations are new too with high platforms. Good for the elderly.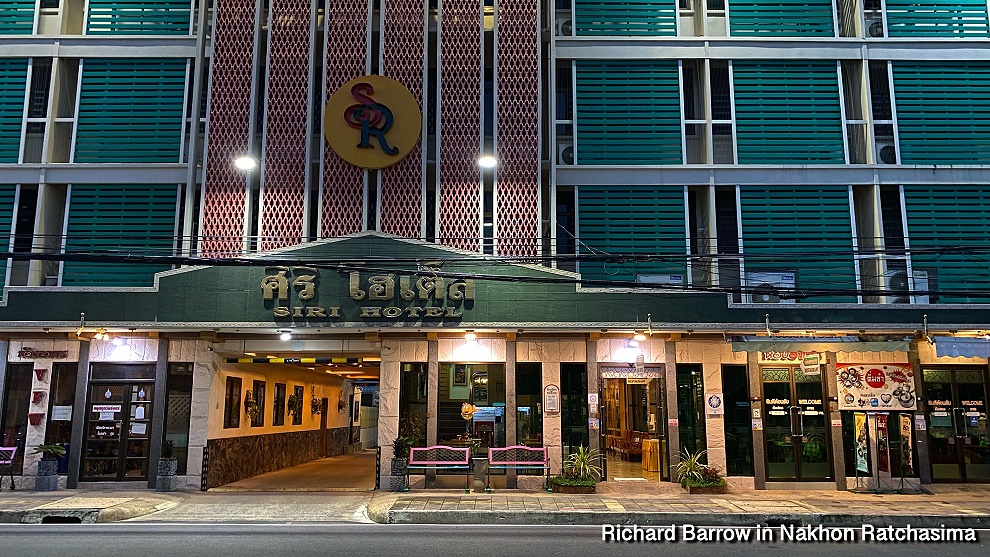 Tonight I'm staying at Siri Hotel in Nakhon Ratchasima. It's about a 12 minute walk from the railway station. Only 470 Baht for the night. Not bad.
MAP: https://goo.gl/maps/jS3C4PvEQTQZL1Yq9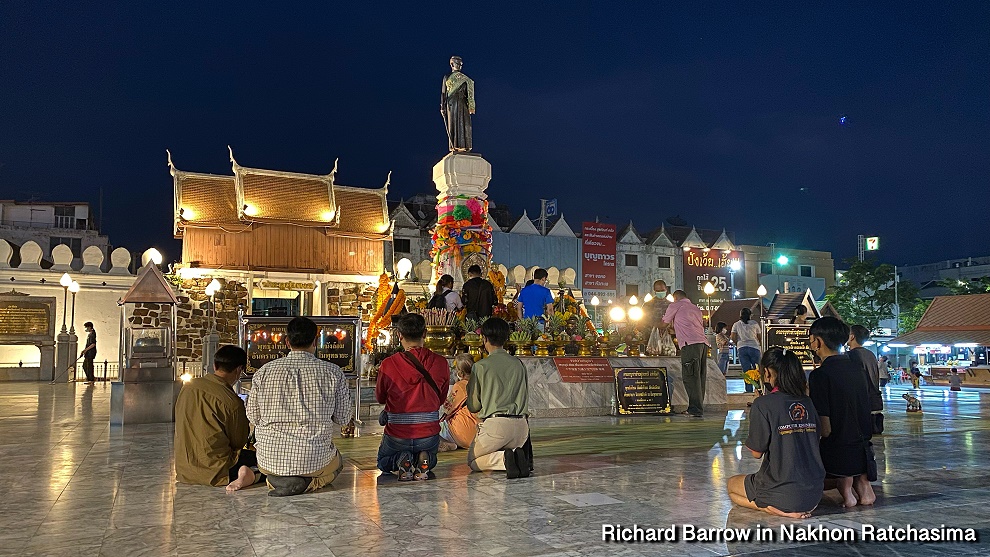 Thao Suranari Monument was built in 1934 to commemorate the bravery of Thao Suranaree or "Ya Mo," a Thai heroine who is revered by local people.
MAP: https://goo.gl/maps/p2oZH3RpgvEWoajX8
DAY TWO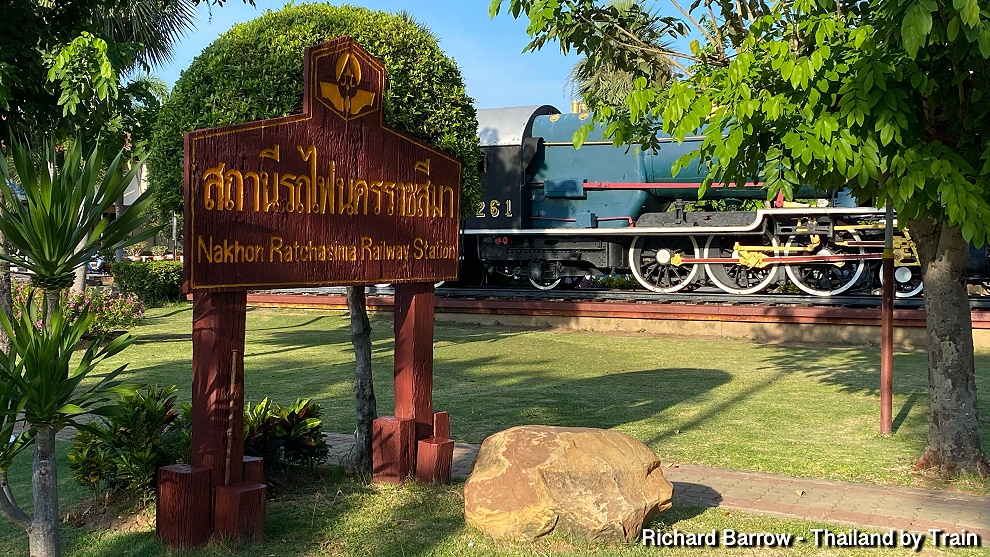 Good morning from Nakhon Ratchasima Railway Station. I finished the scenic Lam Narai branch line yesterday and today I'm taking a train back to Bangkok along the main line. Before I forget, there wasn't really many food opportunities on the branch line and so I would suggest that you take a packed lunch along with you.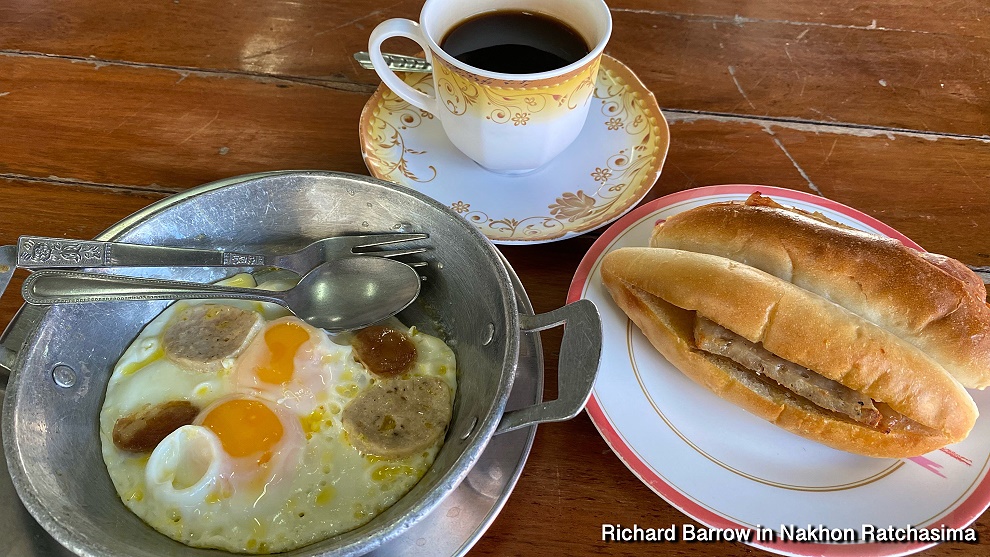 Breakfast this morning was at Muai Son restaurant (ร้านหมวยสร) in Khorat. I had Kai Kra Ta, two bread rolls and a strong coffee.
MAP: https://goo.gl/maps/XsQktRMa9SZsuYKM7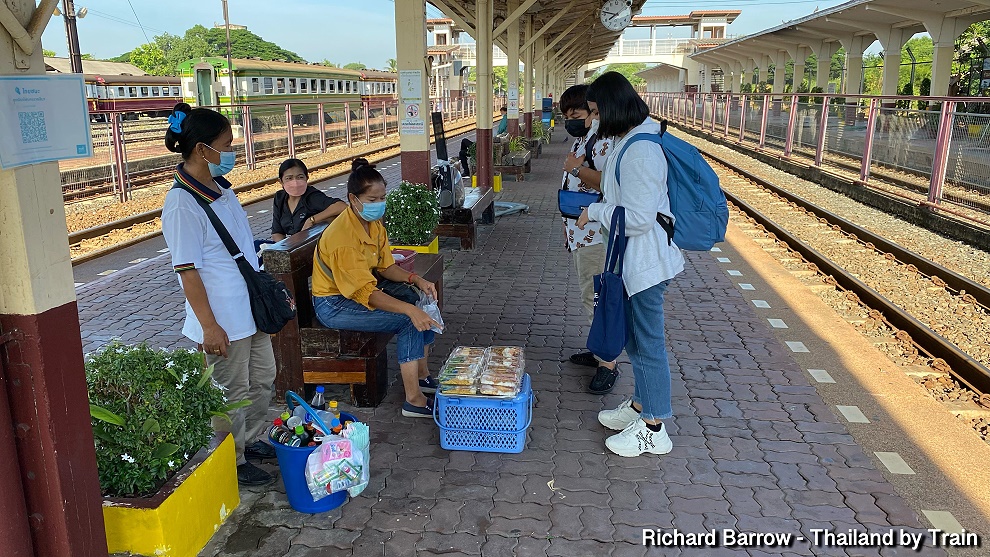 Food vendors at the railway station waiting to board the next train. She said she's selling the meals for only 20 Baht. Shame I've already eaten. Looks good. I could buy for later, as it's a long journey, but I'm sure I won't go hungry.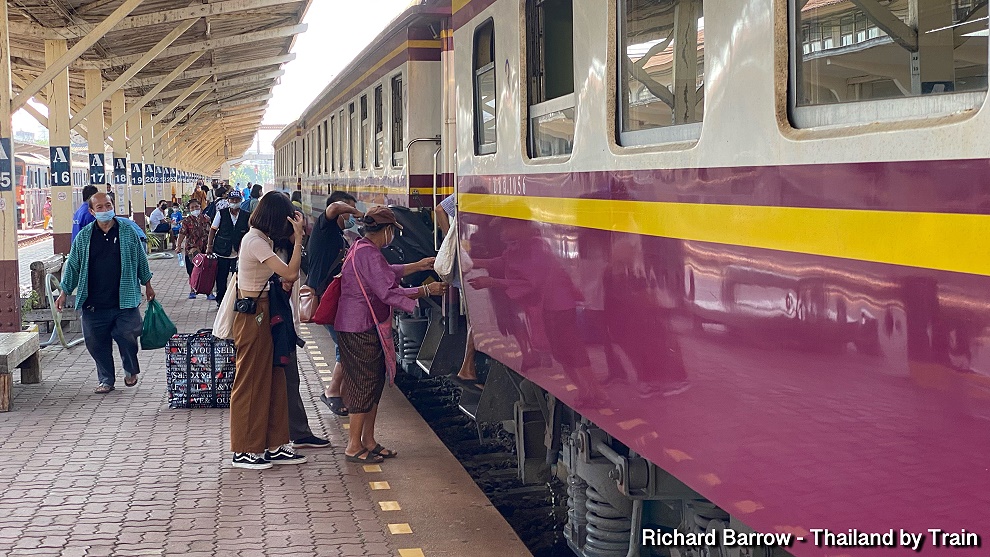 Today I'm taking the Ordinary train No.234 back to Bangkok from Nakhon Ratchasima. The six hour journey in 3rd Class costs only 50 Baht. The seats are padded, good leg room between seats and the windows are open. No complaints from me.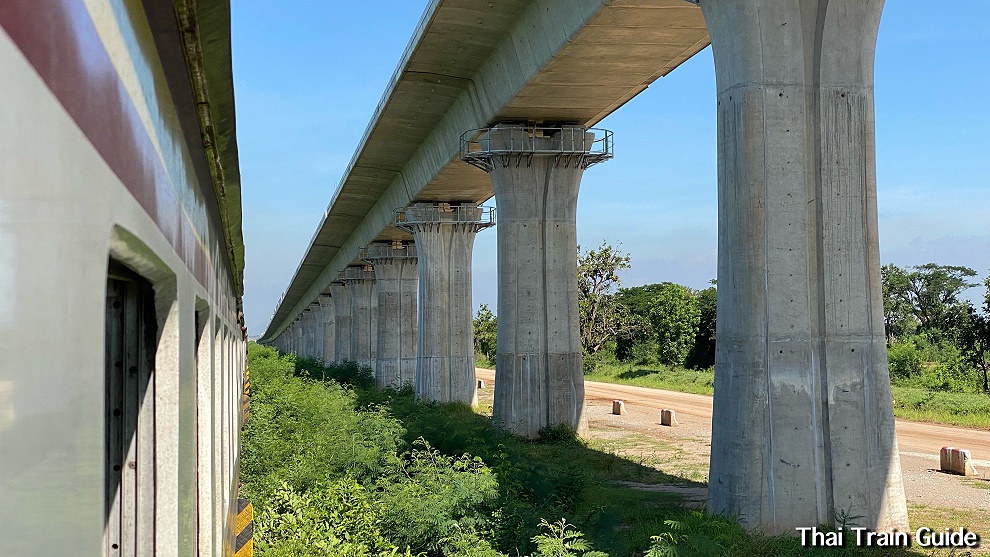 They've made good progress on the elevated high-speed tracks along some sections of the Northeastern Line, but in many places it's not obvious where the line will run as it hasn't been cleared yet. But I cannot wait to ride this to China once completed. Exciting times ahead.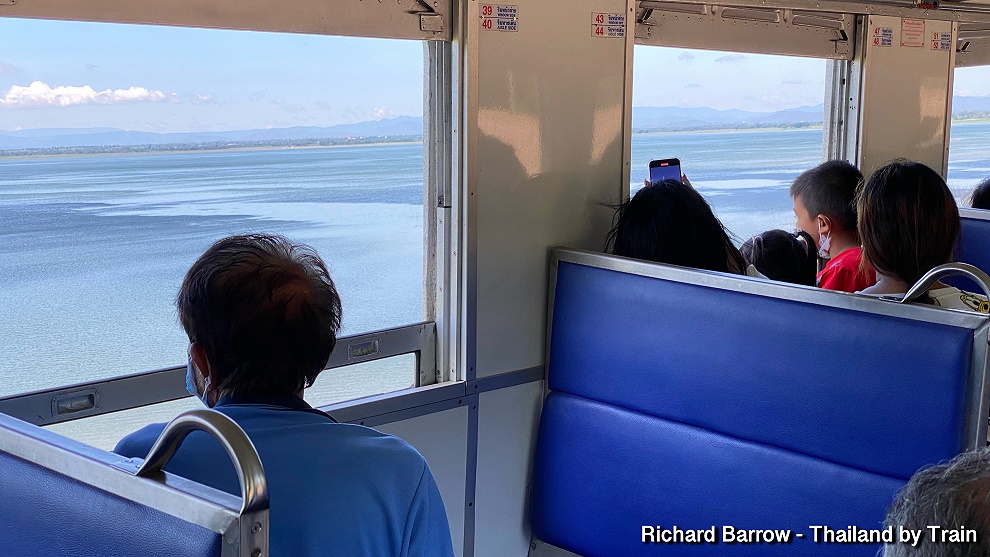 Some really great views this morning from the train of Lam Takong Reservoir in Nakhon Ratchasima Province.
MAP: https://goo.gl/maps/Rnk4nfJi8uiofkAE9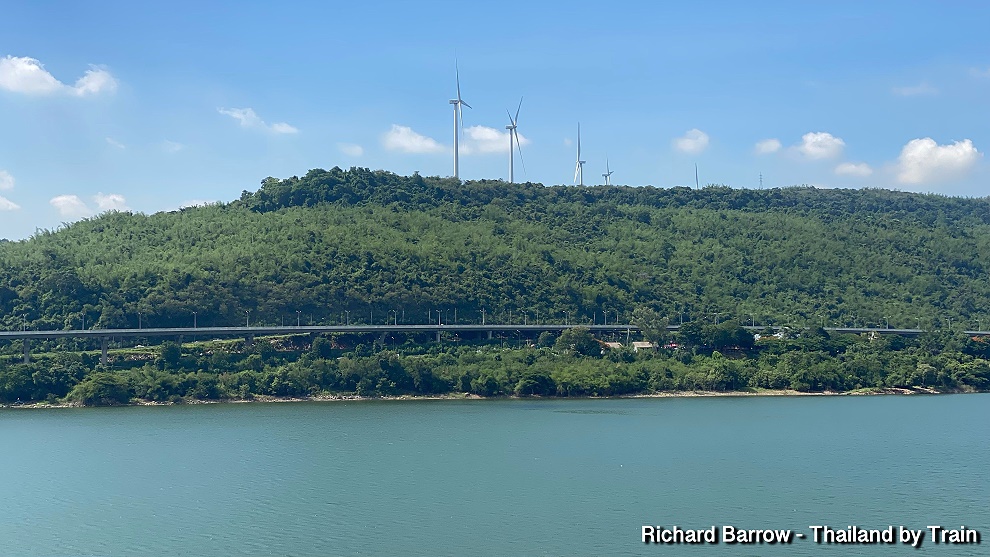 In this photo you can see the elevated motorway and the wind turbines on the hill.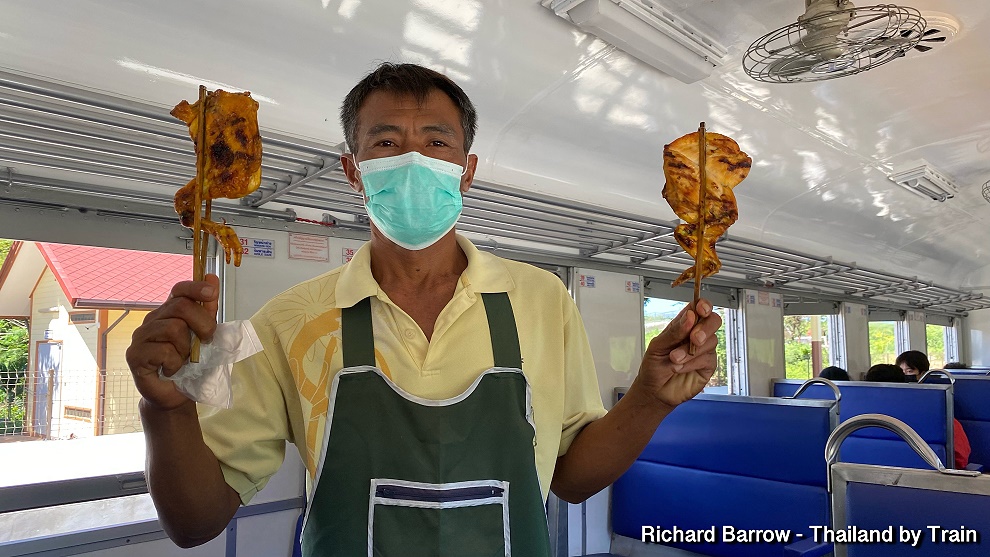 This guy came up and down the train so often that I gave in and decided to have an early lunch. 50 Baht for grilled chicken and sticky rice. On trains in Thailand you get everything delivered to your seat. Food, drinks and even phone chargers.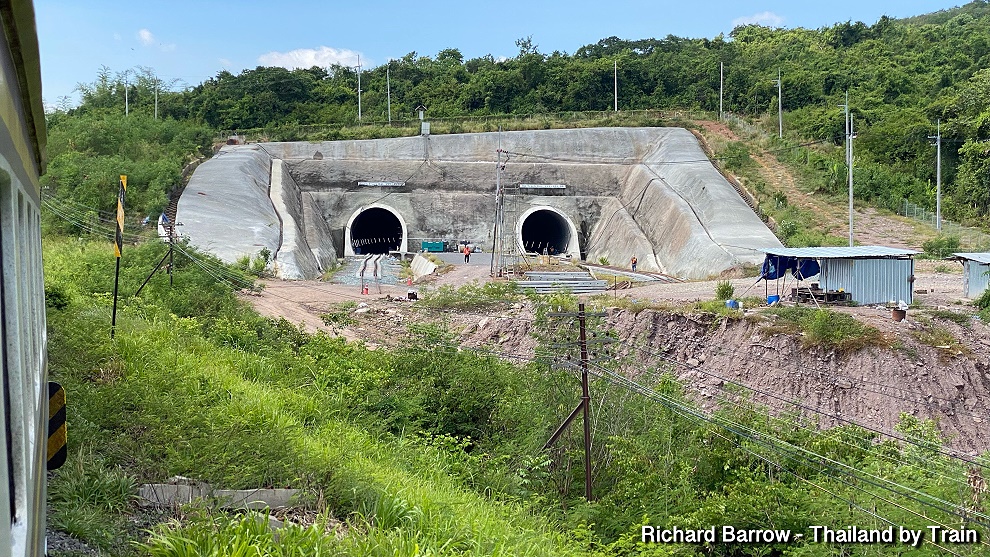 This is Tunnel No.3 being built between Khlong Khanan Chit and Khlong Phai stations as part of the double track project. It is 1.20km long. Tunnel No.1 at 5.20km will be the longest in Thailand.
RELATED LINK: Three New Railway Tunnels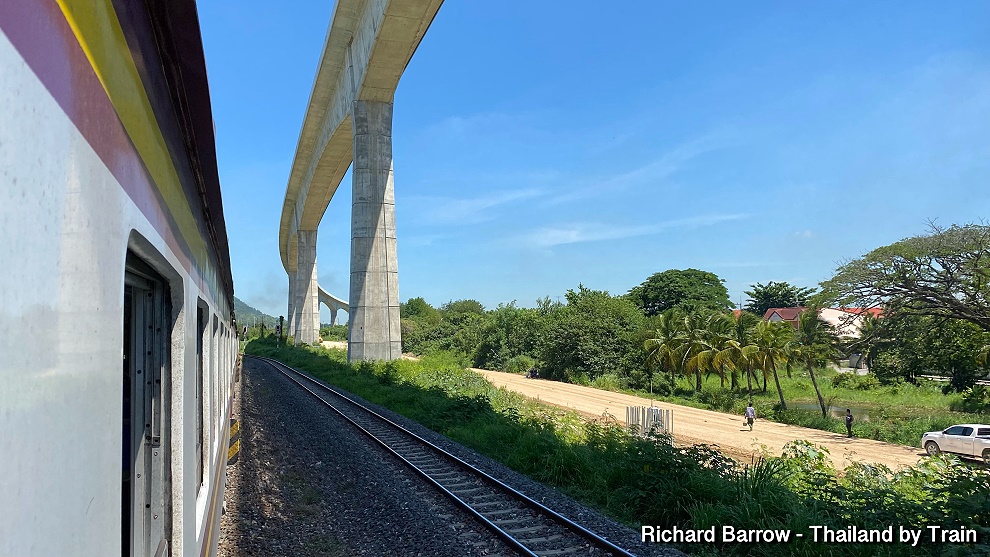 This is the 50 meter high railway viaduct that passes over Muak Lek in Saraburi Province. It's part of the double track project that includes the tunnels. It should be finished by next year.
MAP: https://goo.gl/maps/oGvMJZkei7ZiZFre8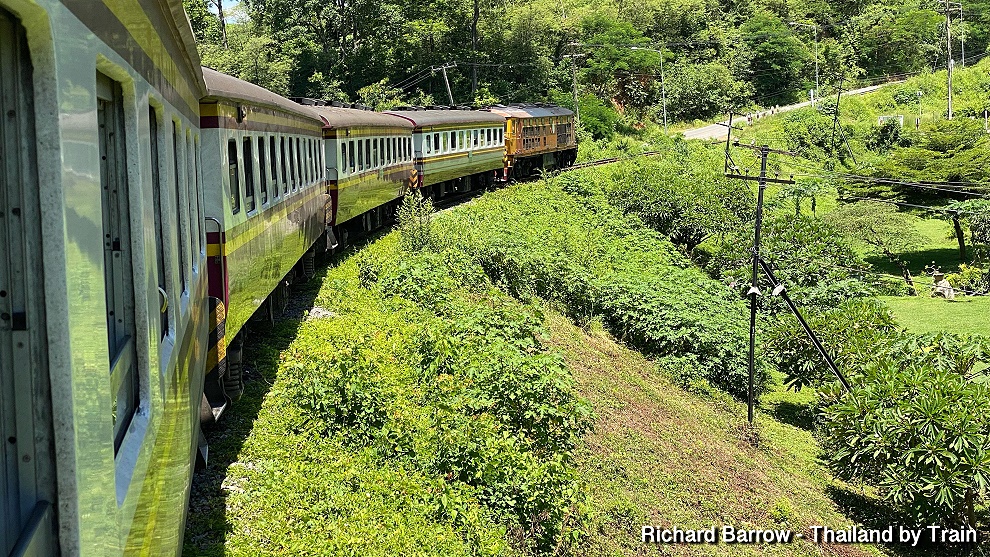 This is the area where the 5.20km long railway tunnel passes underneath. Once completed it will be the longest in Thailand. Our train had to go slowly as we were zig-zagging on a gradient. The tunnel will be much faster. Pha Sadet station is directly above the tunnel.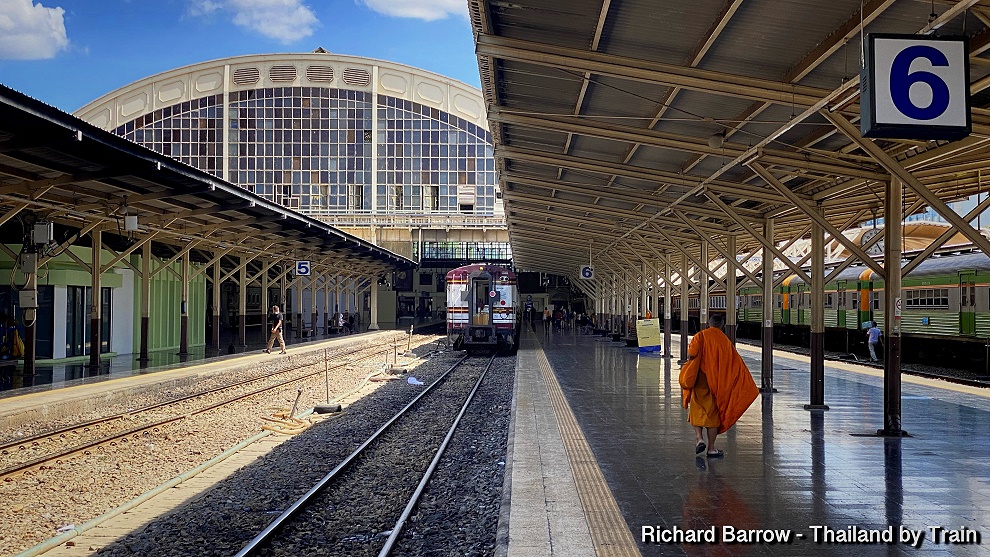 Back in Bangkok at my favourite railway terminal. I hope you enjoyed my photos and I've inspired you to do some train trips.